Dan Wesson Signature Series 8-inch Revolver
10 Meter test of the long barrel BB model Part 2 Part 1
By Dennis Adler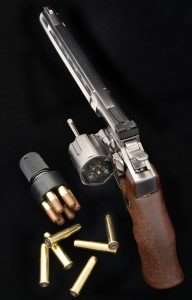 Shades of the Crosman Remington Model 1875, another dual caliber revolver is born. Well, maybe not born, just adapted to multi-cartridge use. Any smoothbore BB cartridge firing revolver, where a compatible (correctly sized) pellet loading cartridge is available, can shoot pellets. The smoothbore is just fine for pellets, other than it doesn't provide rifling for greater accuracy at longer distances. Since the latest Dan Wesson 8-inch BB model has a companion rifled barrel pellet version (in an all black finish), they can both shoot the same pellet cartridges.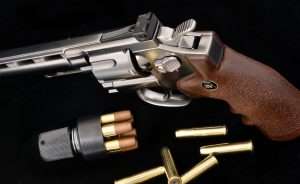 As we have proven with the Crosman Remington Model 1875 and the smoothbore Webley MK VI Service Model, the guns do quite well with pellets at 21 feet and a fairly good job at 10 meters with their respective barrel lengths. The Dan Wesson Signature Series 8-inch smoothbore has the added advantage of a much longer barrel, so my expectations for 10 meter accuracy firing newer rear-loading pellet rounds (as opposed to the standard two-piece pellet cartridges that come with the DW rifled barrel models) is quite high. Furthermore, the Dan Wesson comes with a rear tactical rail that replaces the rear sight (a tool is included for removing the rear sight and mounting the 3.375 inch long rail). This allows adding any type of dot scope or optics to the Dan Wesson. A good optic can dial this long barrel sixgun into tack driving status.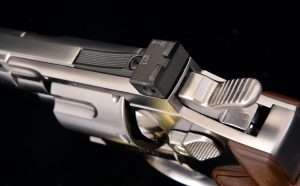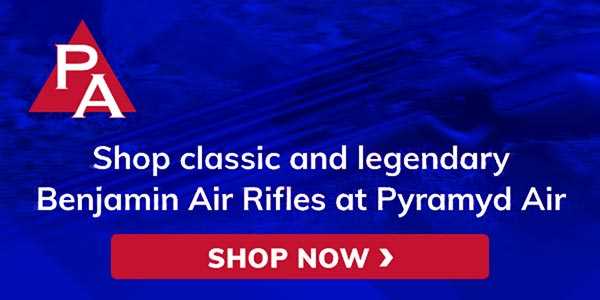 I am going to test the DW with its standard adjustable rear sight, and then with a C-More STS optical sight. This is the same sight used on centerfire and rimfire competition pistols. There are less expensive optical sights just for CO2 pistols, but I want to keep this gun streamlined with the smallest possible optic. It is also convenient as I use the same C-More sight on small caliber rifles and centerfire target pistols. If you shoot both centerfire and CO2 pistols, then having a competition level sight like the C-More is an asset since it works as well with airguns and improves proficiency by using the same optic on all your pistols.
10 Meters open sights
There is one unfortunate caveat when using the rear-loading pellet shells in place of the front loading ones that come with the rifled barrel models, the rims are not the same depth and they will not work in the speed loader, so you have to reload the old fashioned way. On the plus side, since they are rear loading pellet cartridges, you can reload them in the cylinder.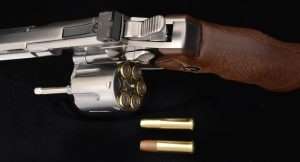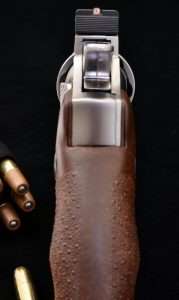 For the 10-meter test I began with the pellet loading shells packing Meisterkugeln Professional Line 7.0 grain lead wadcutters. Average velocity for the lead wadcutters from the DW's 8-inch barrel was 389 fps with a high of 412 fps and a low of 377 fps. Using the open sights, which were just a little high, and firing single action, I managed a 6-round group shooting offhand from a Weaver stance of 1.0 inches.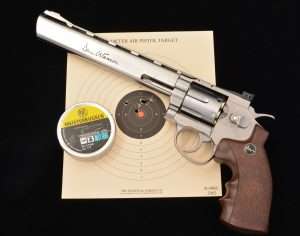 I decided to leave the sights as they were since windage was good and the hold under was just an inch. Shooting at one of my sighting targets I was able to tighten up my 6-shot group to 0.75 inches. For a smoothbore at 10 meters, the Dan Wesson 8-inch model definitely brought its "A" game.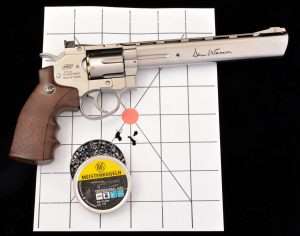 Next week we will conclude with a 10-meter test using lighter-weight alloy pellets for higher velocity and the C-More sight to dial in the best possible accuracy from this long barreled Dan Wesson smoothbore.