Dan Wesson 4.5mm pellet model vs. S&W 327 TRR8 .177 BB model
Wheelgun Shootout – which gun and caliber is best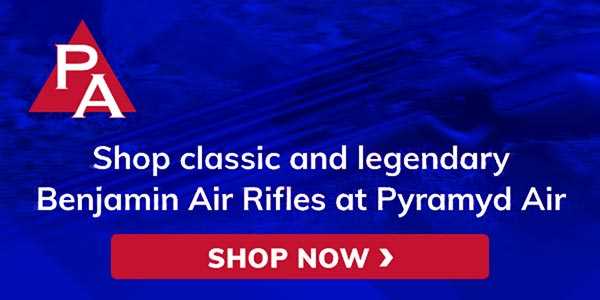 By Dennis Adler
If you are "old school" and like original-style wheelguns, in other words traditional revolvers, the airgun world has a lot to offer with models that are the .177 and 4.5mm caliber equivalents of many of the most famous Colt, S&W, and Dan Wesson models produced. Cartridge firing revolvers produced since the late 19th century have used swing out cylinders that chamber from five to eight cartridges, depending upon the model. With cartridge loading BB and pellet revolvers like the Dan Wesson and S&W Model 327 TRR8, the difference between the actual .357 magnum/.38 caliber wheelguns and their CO2-powered counterparts are pretty much what they are shooting and a significant lack of recoil.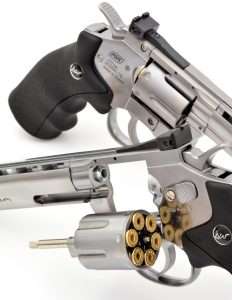 These two revolvers are remarkably precise in their appearance, loading, and single action/double action operation. In essence, they are good enough for firearms training purposes, reloading drills, and target acquisition exercises, as the guns have adjustable sights (green fiber optics on the S&W) and both have the option to add optics, the Dan Wesson with an included removable top rail, and the S&W with mounted top and bottom rails.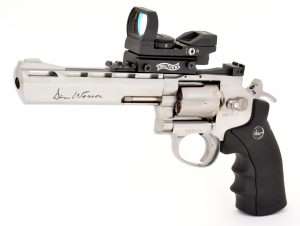 ASG, a Danish-based manufacturer with exclusive international licensing to manufacture and market Dan Wesson branded revolvers, has both smoothbore .177 BB models and 4.5mm rifled barrel pellet models. While there is just one Umarex S&W TRR8 model, ASG offers nine Dan Wesson Signature Series models as .177 caliber BB guns with 2.5-inch, 4-, 6- or 8-inch barrels, and three models, 2.5 inch, 6- and 8-inch chambered for 4.5mm pellets. The Dan Wesson models have the DW inlaid emblem in the large combat style finger groove grips with the general design of the gun based on the Dan Wesson Model 15-2 Series.The 6- and 8-inch models also feature a full length barrel shroud and vent rib.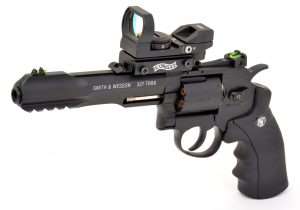 The Umarex S&W has the unique custom barrel profile of the original S&W Model 627, a matte black finish and is marked SMITH & WESSON 327 TRR8. There are also a few alterations for the air pistols that differ from the cartridge models; the traditional Dan Wesson cylinder latch (located in front of the cylinder) is absent and in its place is a frame-mounted S&W-style thumb latch that also serves as a manual safety. This same design is on the TRR8 (correct for that gun), but differs from its .357 magnum counterpart by having only six chambers instead of eight.
The Dan Wesson models are all good looking air guns with a heft and balance that makes them easy to handle and fire accurately and the same goes for the Umarex S&W 327 TRR8, which is remarkably close in design to the .357 magnum version. The weight on the 6-inch Dan Wesson is 33 ounces, empty, which is five ounces lighter than the current 6-inch, .357 Magnum Dan Wesson Model 715. The air pistol's hammer is very wide for easy cocking and single action accuracy; the double action trigger pull is heavy but runs smoothly and cleanly stages the cylinder as you pull through. Trigger pull on double action averaged 8.5 pounds and on single action 6.25 pounds. The Umarex S&W weighs in at 32 ounces, compared to a .357 Magnum model's carry weight of 35.2 ounces. The trigger on the TRR8 is extremely smooth with an average pull of 6 lbs. 12 ounces double action and 5 lbs. 3.5 ounces single action.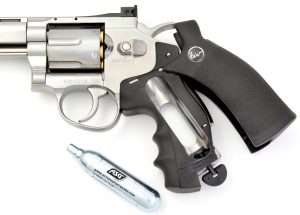 All the test guns have 6-inch barrels. The grips on both guns have a traditional pebble grain finish and break at the frontstrap to allow the main one-piece panel to slide back and expose the CO2 capsule grip channel. The CO2 is easily seated and a hidden turn key moves the capsule up until it is pierced. Then just slide the grip panels back and you're ready to load.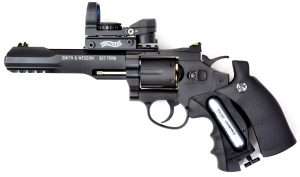 A 6-round speed loader comes with each gun and makes filling the cylinder as fast as a real cartridge revolver. And loading BB cartridges for either revolver is equally fast; you simply place them in the speed loader, pour BBs into a jar lid (or an old pellet tin) and push the cartridges nose down into it. The hollow point plastic bullet tips easily find a BB to seat into the opening. For the 4.5mm pellet gun, however, speed is off the table, and having at least two extra sets of cartridges is a must. Why? Each brass cartridge has a hollow point plastic bullet that must be unscrewed, have a pellet inserted, and then threaded back onto the bullet case.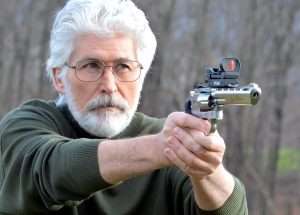 Airing them out
For the test of the Dan Wesson pellet version, I used Meisterkugeln 4.5mm, 7.0 gr. Professional Line wadcutters. These are match grade target pellets for competition and training and are also excellent for sighting in. The Meisterkugeln averaged 412 feet per second (fps) through the traps on a ProChrono chronograph. As for accuracy at 10 meters (33 feet) the Dan Wesson fired off hand using a Weaver stance, two handed hold and the Walther MRS optics produced a best five round group measuring 1.2 inches. Interestingly, the Umarex S&W 327 TRR8 with the same optics delivered a nearly identical 1.2 inch group with Umarex .177 caliber steel BBs at 21 feet. Average velocity was 400 fps. The shorter range was used since the TRR8 does not have a rifled barrel and is shooting BBs instead of wadcutter pellets. The BB version of the Dan Wesson, again with the MRS optics at 21 feet, shot a best five round group measuring 1.25 inches and average velocity was 402 fps.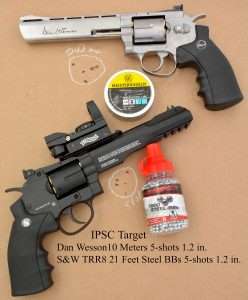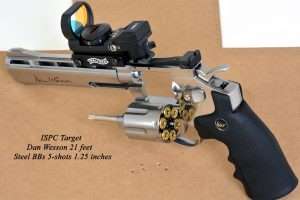 The Dan Wesson models have a much heavier double action pull and are far more accurate fired single action. The Umarex trigger pull is excellent either DA or SA. Overall, all three models were accurate at their respective distances and not being competition air pistols, even with the Walther MRS Multi Reticle red dot sights, shooting 1.2  to 1.25 inch groups off hand is more than satisfactory for a traditional CO2 powered wheelgun. Which to choose out of the three? The prices aren't that far apart, nor is the accuracy, so it comes down to being a Dan Wesson fan or an S&W fan, unless you prefer pellets over BBs, and for now, in a cartridge loading DA/SA revolver, the Dan Wesson has the advantage in both velocity and average accuracy out to 10 meters.
The Airgun Experience will return on December 6th with a new schedule, publishing on Tuesday, Thursday, and Saturday.  
A Word About Safety
Double Action/ Single Action airguns provide the look, feel and operation of their cartridge-firing counterparts. Most airguns, in general, look like cartrrige guns, the Colt Python more so, and it is important to remember that the vast majority of people can't tell an airgun from a cartridge gun. Never brandish an airgun in public. Always, and I can never stress this enough, always treat an airgun as you would a cartridge gun. The same manual of operation and safety should always apply.