Dan Wesson Valor
A 1911-style pellet slinger Part 1
By Dennis Adler
One expects several things from a CO2 powered 1911, first is a self contained CO2 BB magazine, the other is fully operational controls, and last, but not least, blowback action. That's just the basic requirements. This does not apply to the Dan Wesson Valor, because it is not a BB pistol, it is a pellet pistol. This is a non-blowback action air pistol, and unfortunately, has an inert grip safety and a dead hammer. By that I mean it does not cock because the Valor is a DAO, yes, a double action only design with a long-pull trigger blade. Don't throw up your hands just yet…there's more.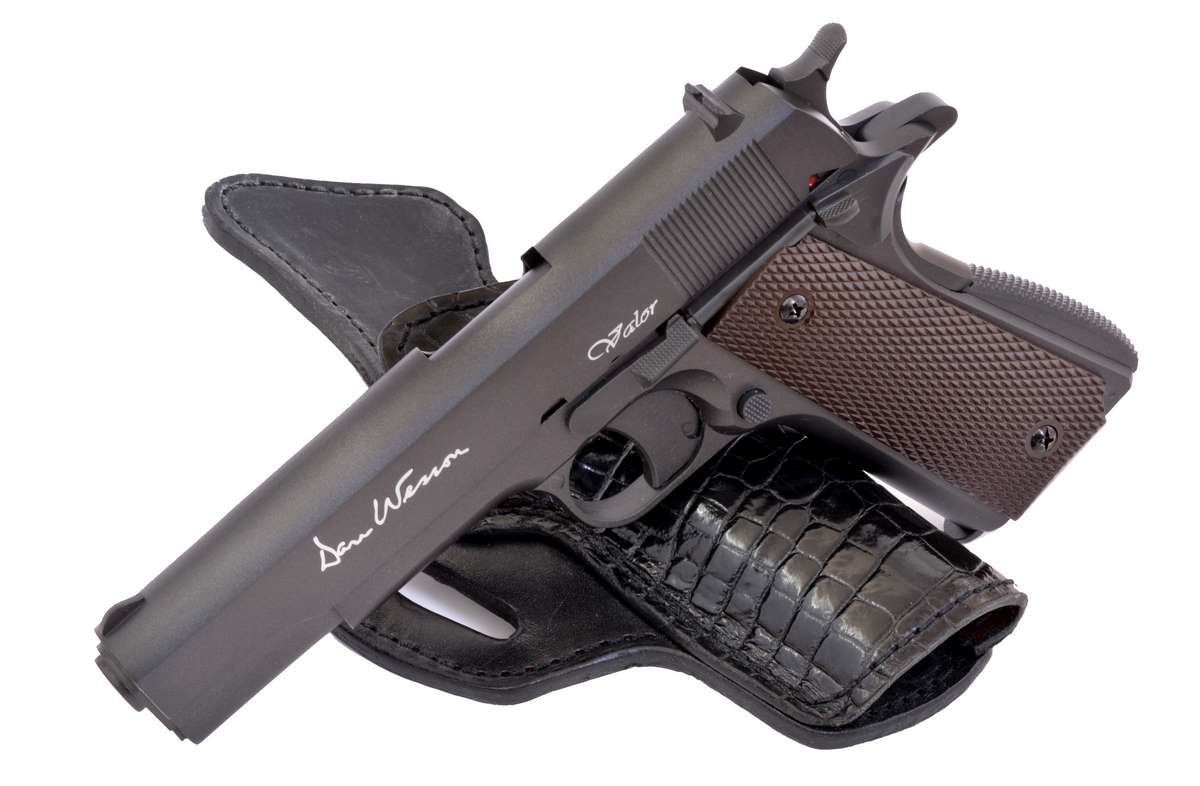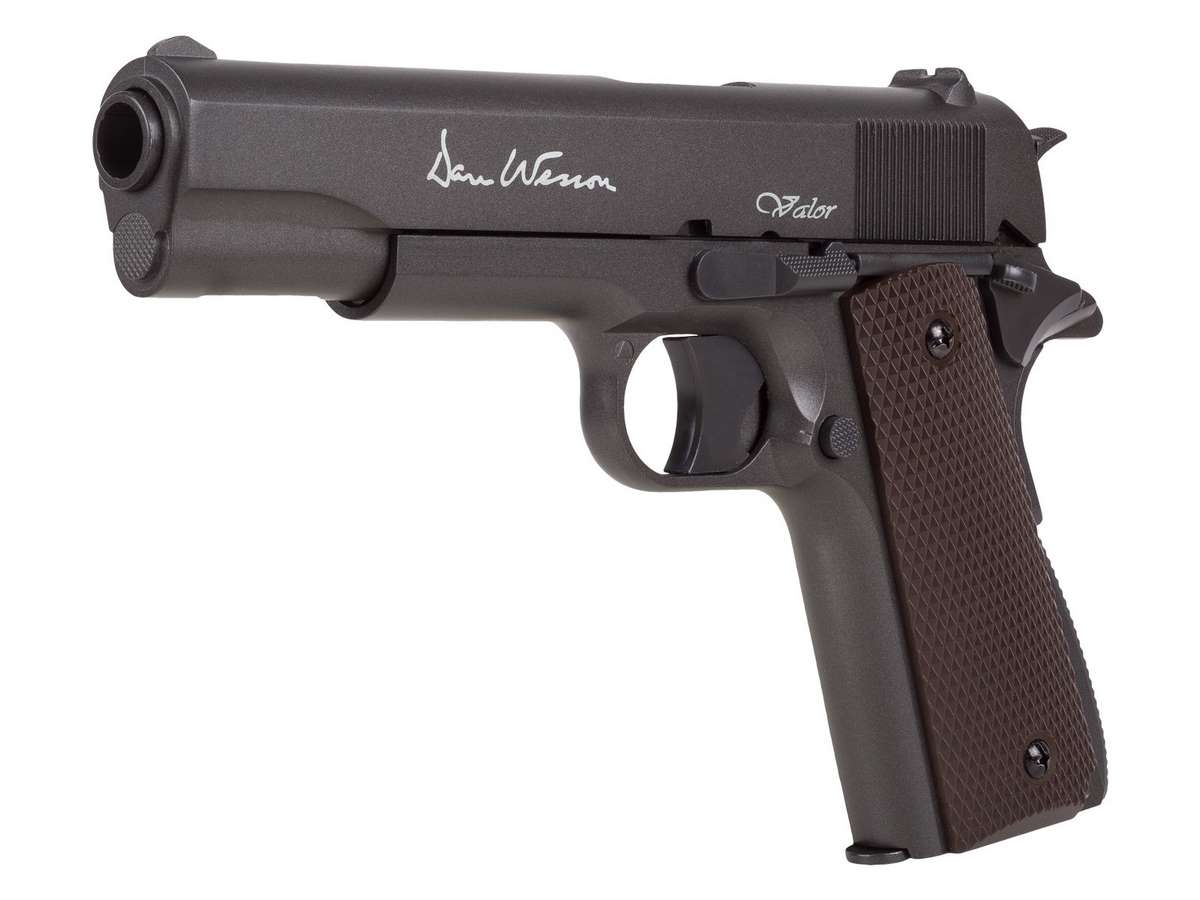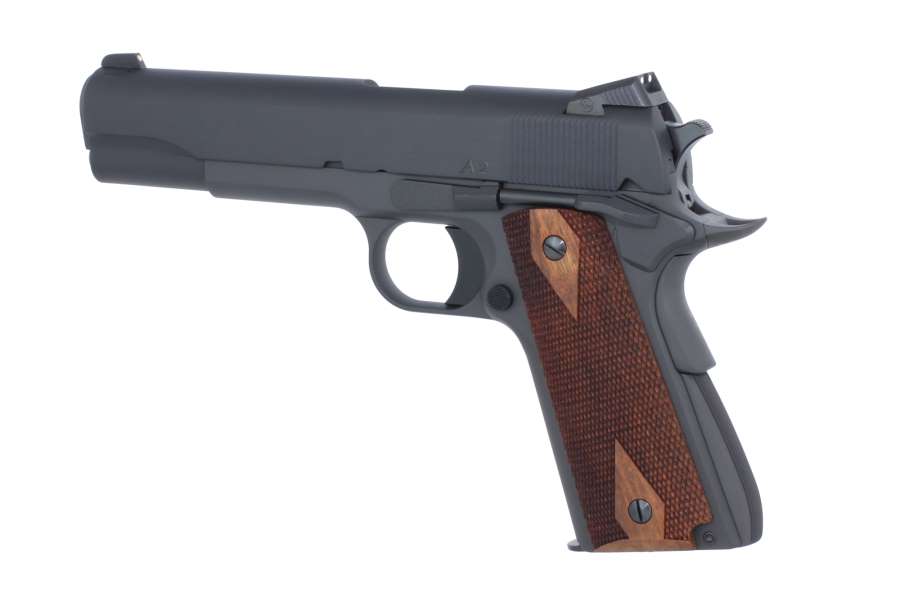 The general exterior design, less the aforementioned trigger, is of the early 20th century 1911-A1 configuration with original-style sights, small hammer, small thumb safety, which works to block the trigger and thus eschews any other type of external manual safety. The Valor design has also incorporated the 1911-A1 checkered, raised mainspring housing and brown checkered military-style grips. Overall, it looks like a WWII era pistol with an unusual trigger.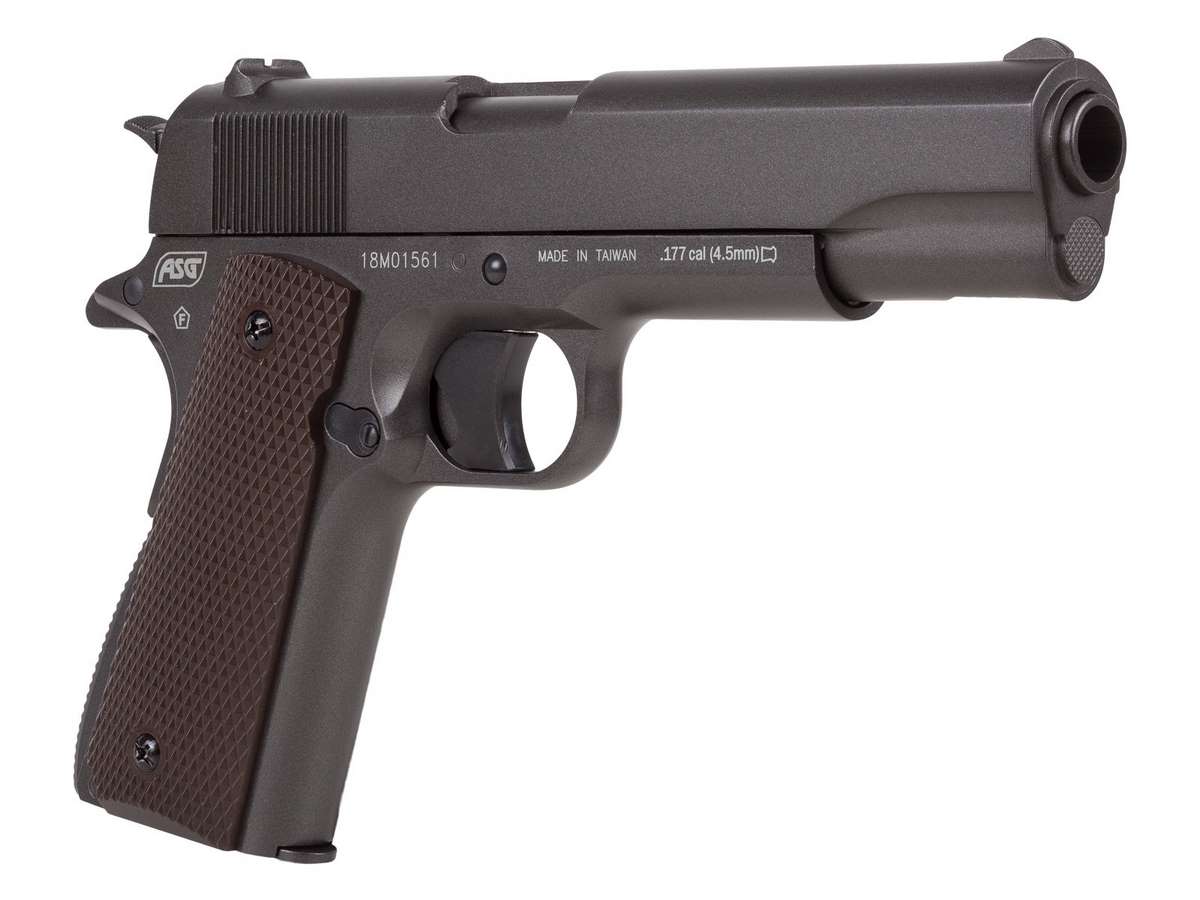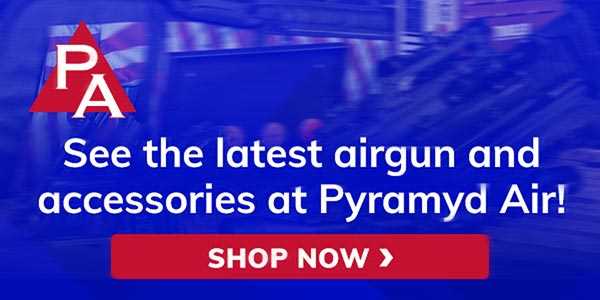 In stark contrast to the majority of its retro 1911-A1 features, the Valor has an in interesting self-contained CO2 pellet magazine and a rifled steel barrel. Now that I have your undivided attention, here's the rest of the Dan Wesson 1911 Valor story.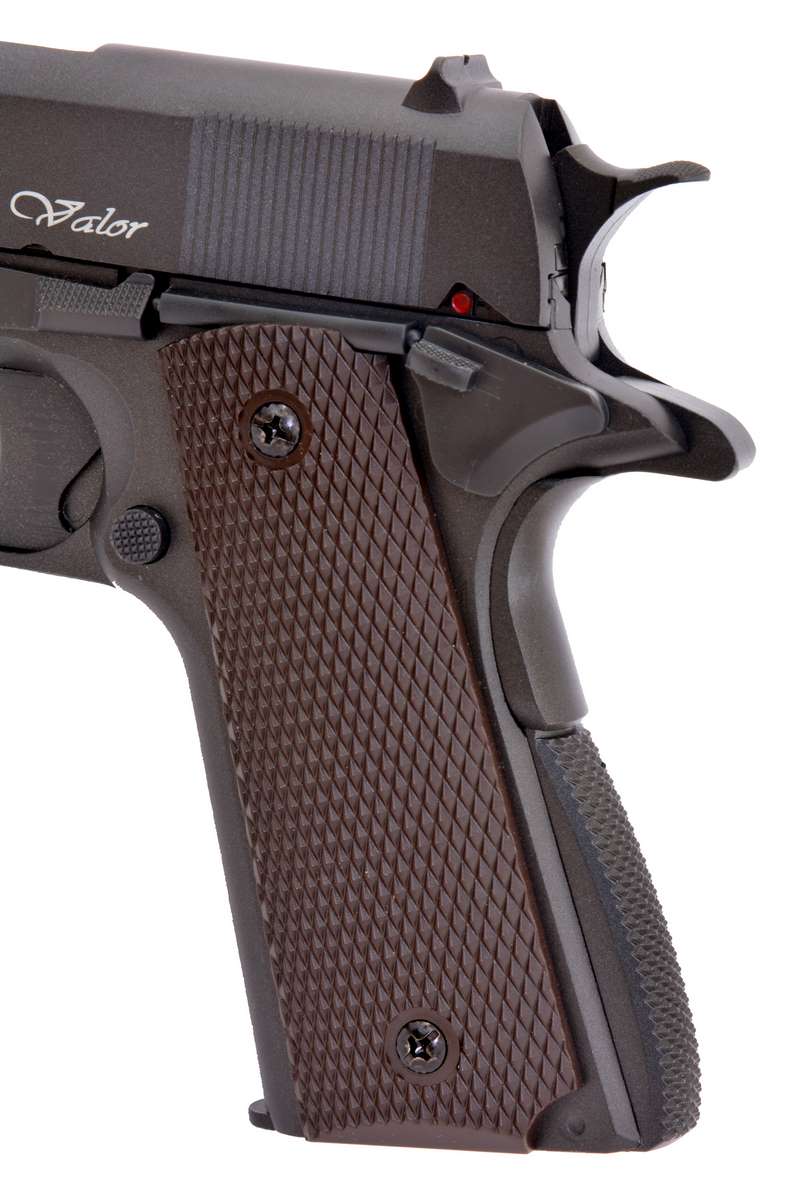 As mentioned earlier, it is not a blowback action and thus the slide is fixed but not a molded in component, it is a slide sitting on the frame rails. The barrel bushing is fixed, and the slide release is fixed, but it too, is not a molded in part, it is an actual 1911-style slide release. There is more than a hint of attention to detail that we saw a couple of years ago with the Umarex Glock 19, which had everything going for it but moving parts (although it was a BB model not a pellet pistol).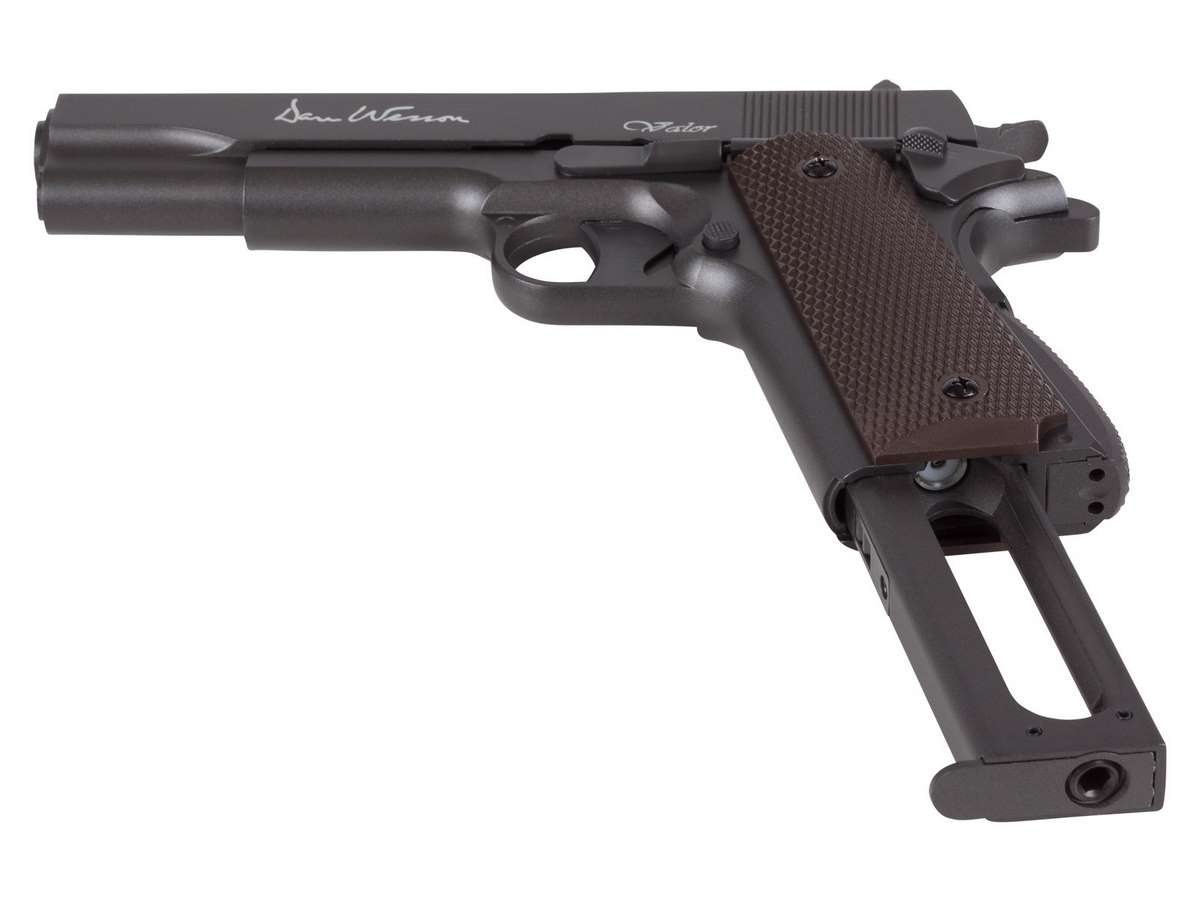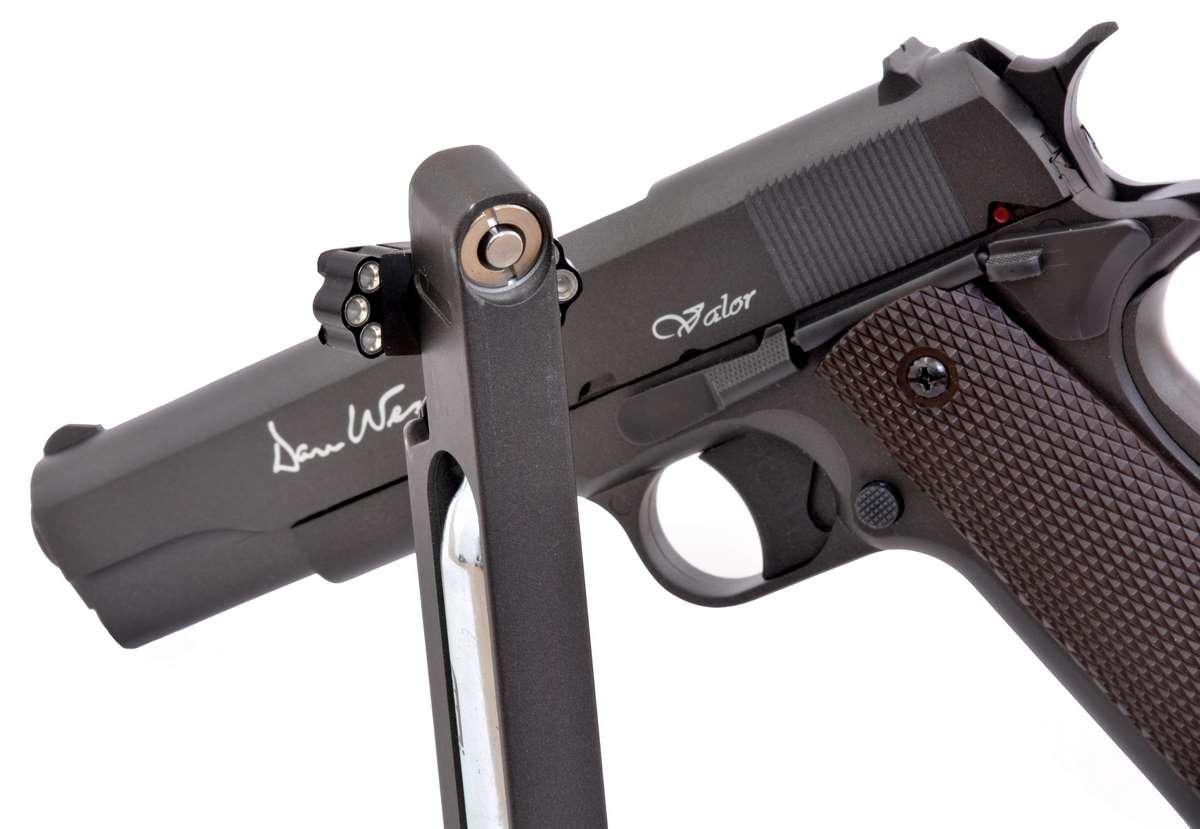 The Valor's magazine release is designed just like an original 1911-A1 and lets the drop free magazine fall from the grip frame. The raised mainspring housing is also a separate component. It is an appealing gun despite its shortcomings compared to a handful of blowback action pellet models like the old Umarex Beretta PX4 Storm with its reversible rotary stick magazine and separate CO2 loaded in the grip frame. The PX4 gave you blowback action, but not realistic reloading. The Valor's use of self-contained, dual rotary pellet magazines in-unit with the CO2 magazine crosses over between older pellet firing guns, like the Beretta, and newer designs like the Sig Sauer M17. It is almost puzzling, because it is so close to being a 1911 counter point to the Sig, but then falls short with the non-blowback action and inert features. This gun needs a better version of itself.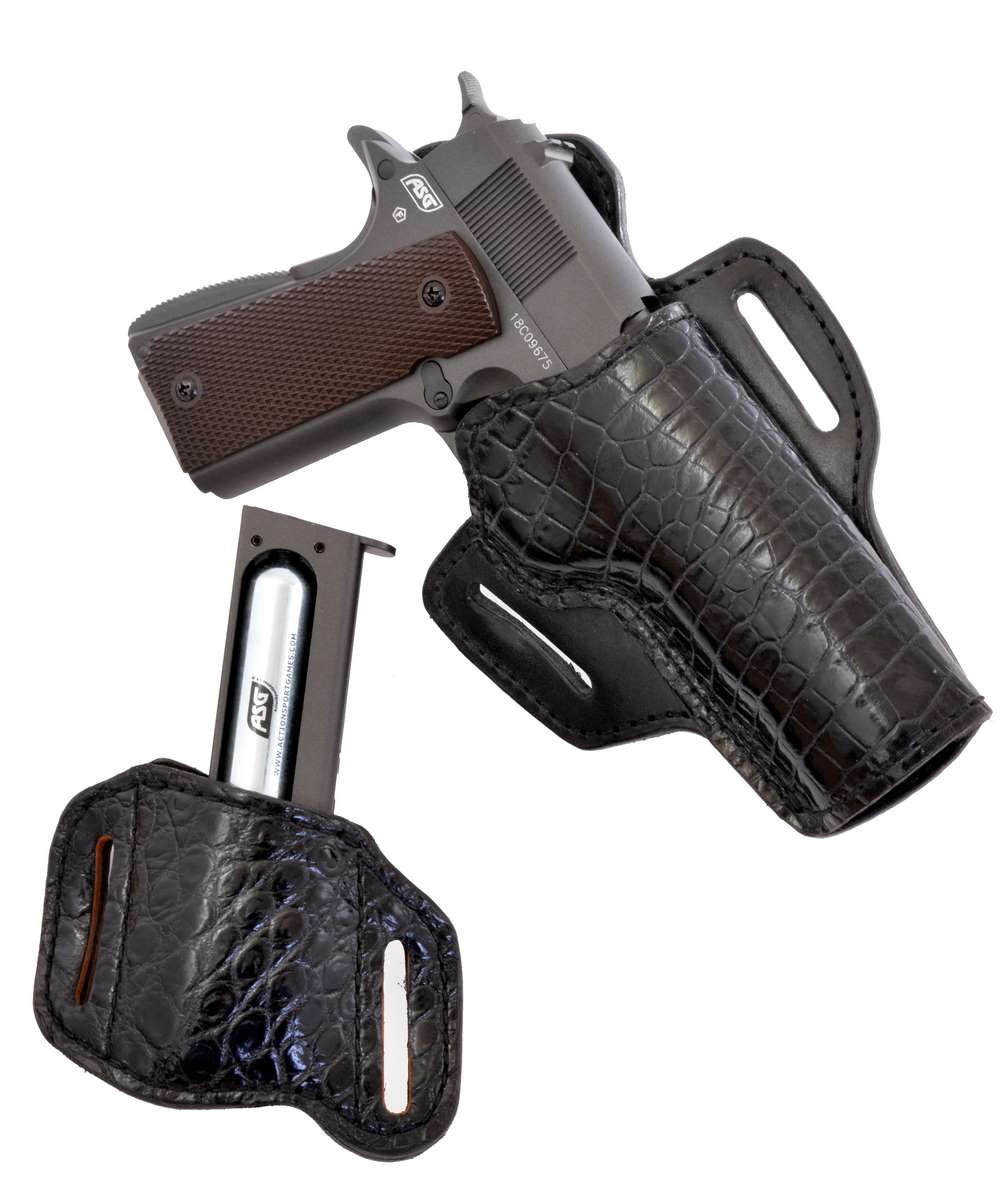 The Valor is an attractive looking pellet model that has the promise of high velocity and military 1911-A1 level accuracy at ranges out to 10 meters. How good is the Valor? We'll find out in Part 2.
A Word about Safety when Training
With realistic CO2 models, you must observe the same common sense rules as with an actual cartridge-loading firearm since they are indistinguishable from the air pistol. Do all CCW carry and drawing practice away from others and always with an unloaded gun, until you have become proficient and are ready to advance to drawing and shooting practice on a shooting range or your own private property. And never practice CCW carry in public without a carry permit, even with an air pistol. These are just good, common sense rules to follow for training with airguns.