Decades of change
What lies behind could be in the future
By Dennis Adler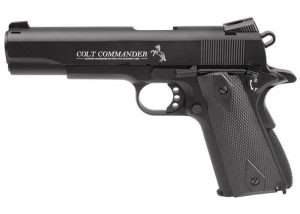 Here we are at the beginning of a new decade, a very special one to me. When I was young I had remarkable expectations for the far, far distant 21st century and the year 2020, which had seemed to me, would be something momentous, it was so far away in the future. When I was 20, I saw Arthur C. Clarke and Stanly Kubrick's 2001 A Space Odyssey with wide-eyed optimism for a world that was still more than 50 years away from the mesmerizing images on the screen. As far off as 2001 seemed at the time, I believed Arthur C. Clarke's vision of the future, at least from a standpoint of technology. I shared his vision of incredible possibilities; it was not implausible, we could do this, and a year later Neil Armstrong walked on the moon; it was a beginning, and that was 51 years ago this coming July 20. We have not reached Arthur C. Clarke's predictions of the 21st century, but in spite of the difficulties, setbacks and politics, we are treading on the periphery of that future, stalled perhaps, by a world that is far different than Clarke envisioned so many decades ago. How does this relate to air pistols?
A little over 50 years ago, the air pistols we have today were just as implausible as Clarke's space station and spacecraft, and honestly, compared to Gene Roddenberry's vision of the far distant future in Star Trek, Clarke's reality wasn't science fiction so much as was yet un-obtained science fact, and that future is no longer so distant.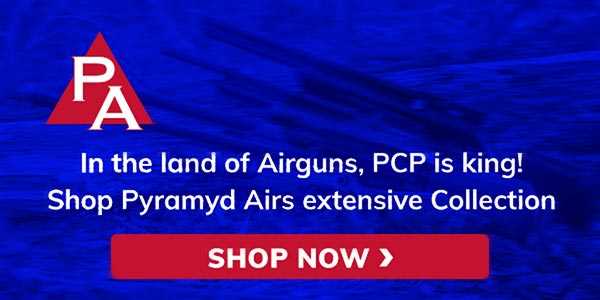 In 2001 when I wrote the First Edition Blue Book of Airguns (see, there is an analogy after all), back then we were treading on the periphery of the future of air pistols. I had used two words to describe the new models appearing in this first edition, "Authenticity" and "Performance" and everyone from Anschutz and Beretta to Daisy and Walther had something new for the dawning 21st century. At the top of my list in that book were Umarex models built in cooperation with Beretta and Walther, the 92FS and CP99 pellet pistols, which exuded authenticity and performance for the time, since blowback action models were all but non-existent, except for the then impressive (in concept) Walther PPK/S, an anemic but fun little pistol to shoot, because of the moving slide and some tangible sensation of recoil like a real handgun. But the important guns of that new decade were not blowback actions, they were the Beretta and Walther pellet models, and no other proof need be offered today, than that these guns are still being manufactured 20 years later.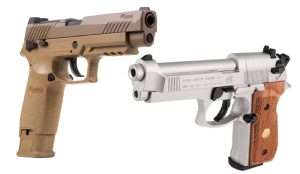 By 2010 (coincidentally, the year of Arthur C. Clarke's Odyssey Two) the world of air pistols was advancing faster than Star Trek sequels and the very world of air pistols was about to change as new blowback action designs were being developed. I was fortunate to test the first of this new era of authentic blowback action pistols in Germany the summer before the Umarex Colt Commander was introduced. In 2014, the Combat Commander was the most realistic, mainstream brand name CO2 air pistol on the market (and it had coincided with .22 LR versions also manufactured for Colt by Umarex) putting the venerable Model 1911 center stage in two markets, entry-level .22 LR pistols and blowback action CO2 pistols. It was the CO2 pistols, however, that would capture an emerging audience of airgun enthusiasts who had grown up in the era of the 1911's emergence as the most famous semi-auto pistol of an entire generation – postwar Baby boomers. I would have to say that a majority of Airgun Experience readers fall into that category of kids who grew up in the 1950s and 1960s, and by the time the Umarex Colt Commander had been introduced, were well-familiarized with the real thing, either through first hand experience, or through the voyeuristic experiences of television and film. Air pistols built to duplicate their centerfire counterparts would become the touchstones to our youth, whether we had handled the real guns or not. And that is where the past decade of air pistol design and technology has finally taken us; back to our own futures.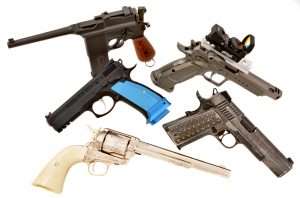 The technology confined in the brief period between 2014 (actually 2012 and 2013 in Europe) to 2020 has eclipsed almost all the designs from the previous 50 years. The latest technology for modern air pistol design, particularly as pioneered by Sig Sauer, Umarex, and most recently Air Venturi's partnership with Springfield Armory, is still breaking new ground as we head into the second decade of the 21st century.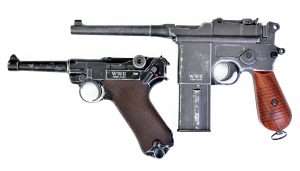 Interestingly, over that same short span of time, this technology has also taken us back in time, through the efforts of Umarex and its deeply rooted history in Germany. The stars of that back story are pre-WWII and WWII-era blowback action models like the 1932 Model 712 Broomhandle Mauser, Luger P.08 and MP40 submachine gun, each a groundbreaking design for CO2 powered airguns. Conversely, pushing the limitations of modern handgun design, as it translates to air pistols, we have seen the evolution of impressively authentic models like the Glock 17 Gen4 and Springfield Armory XDM series. Their success as air pistols, however, is based in the realization that late 20th and early 21st century technology, as applied to cartridge-firing handguns, also moved into the future with the use of plastics (polymers) for frames and other parts. Once, air pistols that used plastics were regarded as mere toys. Today plastics are being used to duplicate centerfire pistols that are themselves made with polymer frames! The only person I can think of from my youth, who would not have found this a strange turn of events, would have been Gene Roddenberry.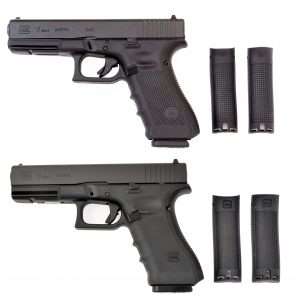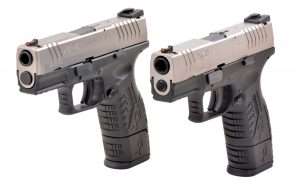 And boldly going  
Of all the new models that were introduced in 2019, there is one that stands out in my mind as the air pistol that achieved the most technological breakthrough, and though it did not win 2019's Replica Air Pistol of the Year title, it opened a door to what is possible when every accepted norm of design limitation is upended and reinvented, when the bottom line is a line that can be crossed, allowing designers to work with a clean sheet of paper. We have seen it in the recent past with the M712 Broomhandle (still a unique design that is unmatched), and we see today with the Micro Compact Sig Sauer P365. What remains now, is to remember where we were 10 years ago, and where designs like the P365 can take us in the new decade. It's a lot to think about on the subject of air pistols, in a world that is as unpredictable as ours.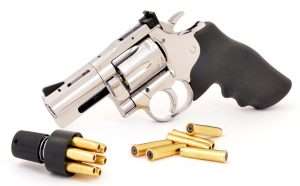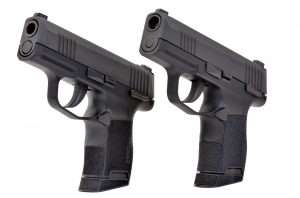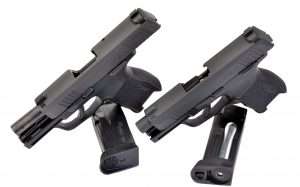 If there is a message in my ramblings, it is that we, as air pistol and airgun (air rifle) enthusiasts and collectors, are the benefactors of technology that has not only given us a second chance at our past with CO2 air pistols and rifles that were simply unimaginable in our youth, but a present that is unrivaled in the history of airgun design with true 1:1 models for serious handgun training and the leisure of sports shooting. The subtext may appear to some to be on the wrong side of history at the moment, but history is what we make it.