Defarbing a Swiss Arms 1911A1 Part 4 Part 3 Part 2 Part 1
Sliding into home, almost…
By Dennis Adler
 "Oh, life is like that. Sometimes, at the height of our revelries, when our joy is at its zenith, when all is most right with the world, the most unthinkable disasters descend upon us."
– Ralphie Parker, A Christmas Story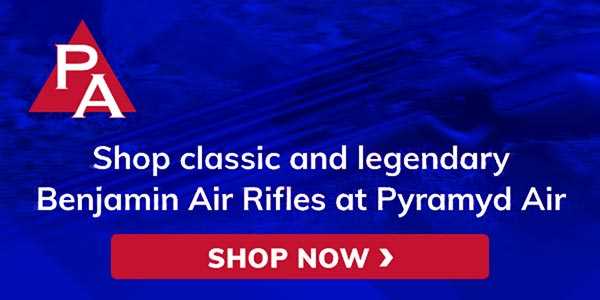 One little problem
Birchwood Casey Perma Blue works on most alloy components as shown with the frame. But…the slide on the Swiss Arms 1911A1 is a different alloy composition than the frame and the Perma Blue won't color it. Now, I have not had this happen with other alloy slides going back to the Gletcher Makarov TT-33, which turned out perfectly. But whatever alloy combination Swiss Arms uses for the slide doesn't work with Perma Blue, it just beads up into little blue droplets and does nothing.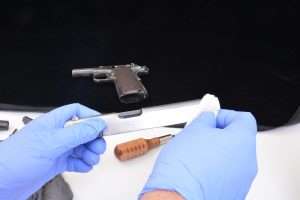 If you are thinking Birchwood Casey Aluminum Black, it does not render a finish that will work. I tried it first after the Perma Blue failed. Aluminum Black takes to the slide but it is too dark, uneven, and does not lend itself to polishing or ageing with 0000 steel wool. But don't count it out yet. The slide became the ultimate challenge. I used the steel wool to polish off almost all of the Aluminum Black so the slide was about 90 percent back in the white. My hope was that the Aluminum Black may have left something behind that would help other bluing solutions adhere. I don't know for a fact that it did, but my next mix was Birchwood Casey Super Blue. It worked, a little.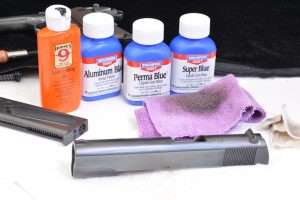 It finally took a mix of Birchwood Casey Super Blue, Perma Blue and Aluminum Black applied in separate applications. To apply the bluing I used a well saturated cotton patch; actually I stacked two patches, and on some applications, like the slide, I used a small piece of microfiber cloth for applying the bluing and rubbing it in. I also wear rubber gloves when working with the bluing. And be sure to have good ventilation when working with the Birchwood Casey bluing products.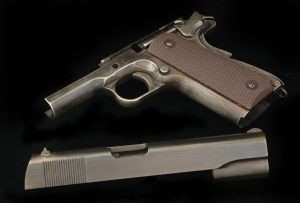 First I used Super Blue followed by a mix of gun oil and Super Blue. This began to build some color. I went over it with Perma Blue, then oil and Perma Blue and the color started to get even deeper but still not the right shade. I gave the next move some serious thought and tried it on the underside of the slide, a direct mix of Aluminum Black and gun oil. This brought the slide to a deep blue grey with a look of aged, polished metal. I know from trying that Aluminum Black alone will not give you the desired result, but mixed with a couple of drops of gun oil on the microfiber cloth and rubbed over the previous Perma Blue and Super Blue coats it brought out a deep blue color that looked great. It is a lot of work and a lot of rubbing the surfaces to get the finish color to take hold and get dark and even in color. But it works. The gun oil is an essential ingredient mixed with the various types of bluing chemicals to create the color you are after.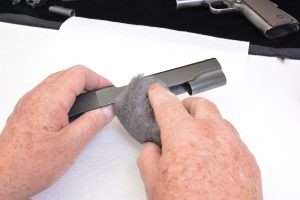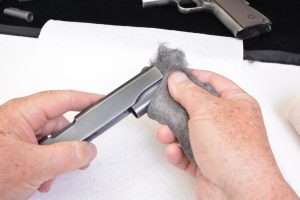 Getting the bluing on the slide is the hard part, at least with the Swiss Arms 1911A1's slide, but like the frame, using the 0000 steel wool to lighten and create edge wear is an equally meticulous project. As one photo shows, the new finish on the slide, compared to the frame, is much nicer, too nice, and so began the slow wearing down of the high edges. This included the tops of the sights and any surfaces that would rub in a holster, or be handled frequently, like the slide serrations. The 0000 steel wool is perfect for this final step but I can't stress enough how lightly to use it, and use a brand new piece that still has smooth surfaces.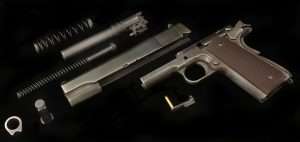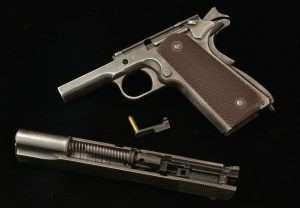 After working down the high edges, a light wipe off of any steel wool dust, a shot of Dust Off, and the slide was ready to be reassembled with the barrel, guide rod and recoil springs. Before putting it back on the frame, since it had been cleaned and wiped so many times, I added a film of RWS Air Chamber Lube to the slide rails one last time.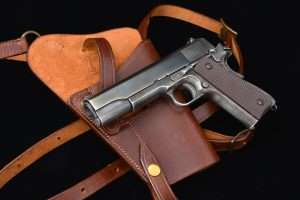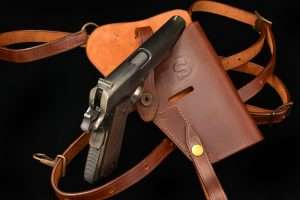 All reassembled, the Swiss Arms 1911A1 looks more like an old c.1926 Colt than any commercially made battlefield edition CO2 model. It is a lot of work, a lot of time (it took about 12 hours total work time), but in the end you have a gun that is uniquely yours.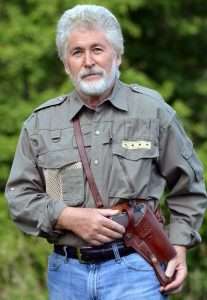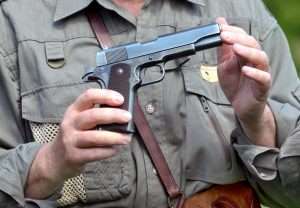 The final look should be about equal to between 30% and 40% condition in the Blue Book of Gun Values Photo Percentage Grading Scale. This is described as: "…the bluing has turned a dark grey patina…some bluing remains in protected areas. The grip straps are very worn and have turned grey." That sounds a lot like this "brand new" Swiss Arms 1911A1, which now appears to be a well used WWII-era 1911A1.