Deluxe Colt 7-1/2 inch Peacemaker Part 1
All that glitters isn't gold – just the cylinder, hammer and trigger!
By Dennis Adler
As far back as the 1850s, the Colt's Patent Fire-Arms Mfg. Co. began offering silver plating and gold washed cylinders, hammers and triggers as options on their percussion pistols and early cartridge conversions. Gold plating (or gold wash) was usually added to engraved guns, but silver plating was not uncommon. Over time, silver plating wore thin on the high edges and tarnished unless cared for, but with the advent of nickel plating in the 1860s, the average revolver could be given an almost impervious finish resistant to rust, corrosion from gun powder (if modestly maintained) as well as providing a smoother, more durable finish than a blued revolver. Nickel also has a warmer color tone than silver and is less susceptible to wear and damage. For handguns, nickel had the added advantage of being much easier to wipe down and clean.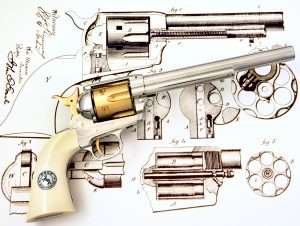 On the Rockwell Hardness Scale, nickel plating is around 40 to 45 HRC; heavier electroless nickel plating (which came into popular use in the 1940s), is 50 HRC. The HRC ratings, however, are based on plating over steel, not alloy; the hardness on alloy actually falls into the HRB (aluminum) category. HRC and HRB ratings do overlap, and the hardness of nickel plating on alloy is not significantly lower.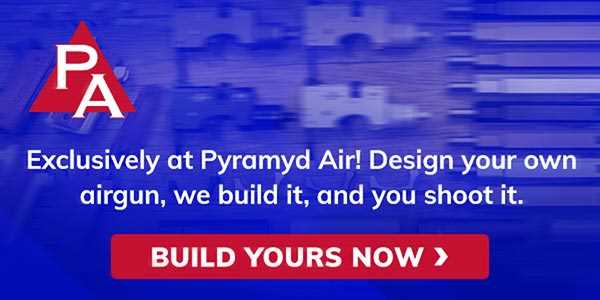 It was the proven durability of nickel plating that prompted the U.S. Cavalry to specifically issue nickel plated Colt Peacemakers to its scouts. This was also the reason a lot of cowboys preferred nickel over blued guns; they were easier to maintain on the trail, the flashiness of a nickel gun wasn't always the foremost reason. Many lawmen also chose nickel plated guns over blued. Bat Masterson owned a total of eight Colt Peacemakers, all of which were nickel plated. Engraving, on the other hand, was pretty much a personal preference (and often used for a presentation gun). Well cared for nickel plated Colts from the 1870s and 1880s (which are very collectible, especially with factory engraving) have survived in almost 100 percent condition for more than 120 years. Today, original engraved examples easily command $10,000 or more. Even plain nickel plated 19th century Colt, Smith & Wesson, and Remington models cost thousands of dollars in excellent original condition. Models with gold or gold washed cylinders, hammers, triggers, and ejectors are even more valuable.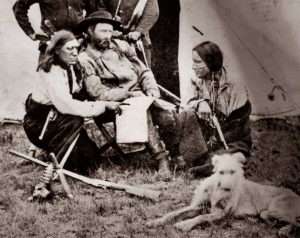 A new 7-1/2 inch Colt Peacemaker sold for around $18. Nickel plating was an extra $2 to $2.50 and gold plating could add another $2 to $3. The charge for adding a gold plated cylinder, hammer and trigger to one of the deluxe hand engraved Umarex Colt Peacemakers sold by Pyramyd Air is around $50 more than a nickel model.
In creating its superb CO2 Peacemakers, Umarex and Colt's did not wait long to introduce nickel plated models, and late last year added a nickel and gold plated 7-1/2 inch pellet cartridge model stocked with attractive aged faux ivory grips and Colt Peacemaker medallions. As non-engraved handguns go, this is one sharp looking revolver and only $20 more than the all nickel model.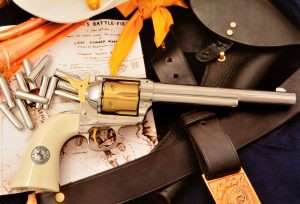 Nickel and Gold and Colt
Colt offered a variety of extras for its standard models including several grades of factory engraving, high polished blued finishes, nickel plating and several combinations including blued with nickel plated cylinder, hammer and trigger, and blued or nickel with gold plated cylinder, hammer and trigger. Gold plating could also be added to the ejector housing and ejector rod if ordered. If you had the money, Colt's had the options. These same options could also be added at the customer's request by specialty retailers like Schuyler, Harley & Graham in New York City. Tiffany & Co. was also a major retailer of custom engraved and finished Colts, S&Ws, and other premium revolvers from the 1860s to the mid 20th century. The nickel and gold and deluxe engraved Colt CO2 models from Pyramyd Air are very much in keeping with that tradition.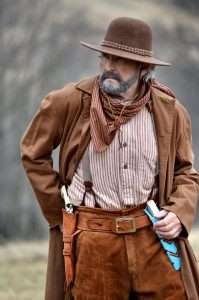 In Part 2 we will look at the details of this latest nickel and gold 7-1/2 inch version and how it holsters and handles.