Deluxe Colt 7-1/2 inch Peacemaker Part 2 Part 1
Getting your cowboy game on
By Dennis Adler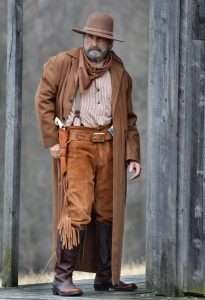 Rather than doing my usual slow fire accuracy test with CO2 handguns, I decided to go Old West with this latest rifled barrel, pellet-firing Umarex Colt Peacemaker and shoot it like a real .45 drawn from the holster and fired duelist style at a man-sized silhouette target at 10 paces (Old West for about 27 to 30 feet; determined by the average distance of a man's step). I want to see what this latest 7-1/2 inch pellet-cartridge model can do in a gunfight scenario, also, we all know how darned accurate this thing is at 10 meters with a modern two-handed hold, so going with a one-handed Western shooting stance will be more challenging. If you are into Cowboy Action Shooting, practice sessions with the 7-1/2 inch CO2 Peacemaker (indoors especially) is time well spent working on drawing and aiming. And if you've got the gear, playing the part to the hilt adds that much more fun with CO2.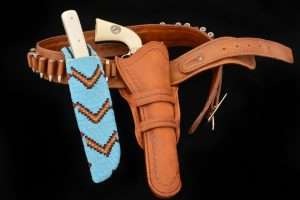 Since I am planning on writing about this new Umarex Colt model in Guns of the Old West I've gone full tilt with photography for this gun test. For those of you who may want to step back in time with me, most of the western clothing I wear in Guns of the Old West and Airgun Experience is readily available, except the old leather fringed pants, which were custom made by Classic Old West Styles (COWS). The brown canvas duster, shirt and bandanna (wild rag) I'm wearing in the photos are also made in Texas by COWS and very affordable. The hat is from Historical Emporium and is known as a Laredo Hat, it's a soft felt with a crown that can be easily reshaped or left as I am wearing it in the photos. As for the holster by Chisholm's Trail, they have a wide variety of rigs for 5-1/2 and 7-1/2 inch Colts and the Umarex Colt Peacemakers fit perfectly. They also have a line that will soon be available exclusively from Pyramyd Air.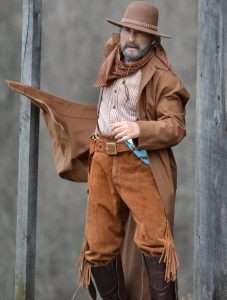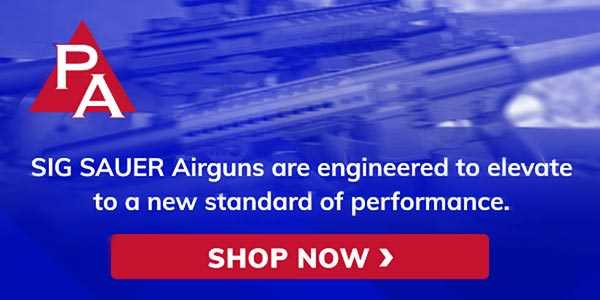 A little drama
In a western movie a little drama is needed, especially in a gunfight, and in fact, if one were wearing a long duster it would have to be thrown back to clear the holster. In my action sequence drawing the Umarex Colt Peacemaker the flaring coattail adds to the effect as it would in a film or even a still photo. As to "fast draw" there really wasn't much of that in the Old West. Holsters just were not designed for it, especially in the 1870s. They were built to cover and protect the gun from the elements. Guns sat low in the holster because the throat was cut shallow to cover almost all of the triggerguard, like the 1870's style example I'm wearing. The best way to increase speed with a period style holster is to wear it crossdraw and sweep the gun across your waist. Pulling a 7-1/2 in shootin' iron from a vertical holster on the strong side takes a long motion before you can rotate the barrel up. That's why you see a lot of cowboys (mostly in films) wearing their holster slung low on the hip. You rarely see this in period photos.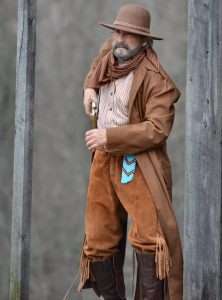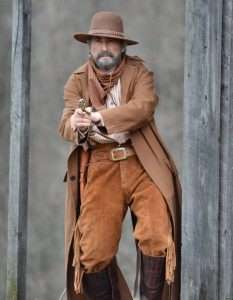 The crossdraw sweep cuts drawing time down a little if you're fast enough; it's really a personal choice. Most gunfights in the Old West were slow and more often than not, guns were already drawn before any shooting started. Sometimes that was enough to prevent it from starting at all if everyone had their wits about them. The quick draw like we see in TV and movies is mostly exaggerated, and back in the days of the great B&W television Westerns, the fast draw was done from specially designed holsters with most of the triggerguard exposed by a deeply cut down throat and a contoured pouch that allowed the gun to be cocked while it was still in the holster. That was part of the secret.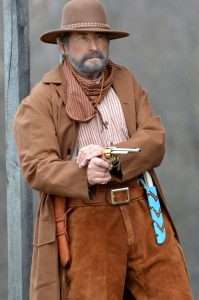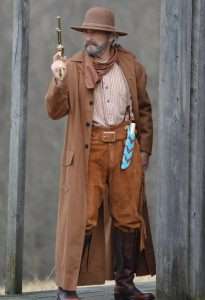 Richard Boone in Have Gun, Will Travel was a master of the quick draw. Most of the Warner Bros. TV Western stars all used the same style fast draw rigs designed by Hollywood quick draw expert and gun coach, Arvo Ojala. Sometime later I'll get into a discussion about those designs and practicing with an Umarex Colt Peacemaker.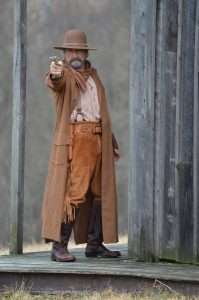 The new Peacemaker speaks
Let's start with comparisons. Using my 2016 hand engraved 7-1/2 inch Umarex Colt Peacemaker as a baseline; trigger pull on this latest model is nearly a hair trigger averaging 1 pound, 11.6 ounces compared to 2 pounds, 9.6 ounces average for the engraved model. The latest 7-1/2 inh model triggers have the same take up but less stacking and a lighter pull.
Average velocity with the engraved 7-1/2 inch rifled barrel model and Meisterkugeln Professional Line 7.0 gr. lead wadcutters was 416 fps. The new nickel and gold model came up a little slower, clocking an average velocity of 395 fps, a deviation of 21 fps. (I am, however, showing a velocity test from last summer for the engraved model, which was taken outdoors at 90 degrees, vs. an indoor chronograph test with different indoor screens, at a temperature of 70 degrees for the newer gun).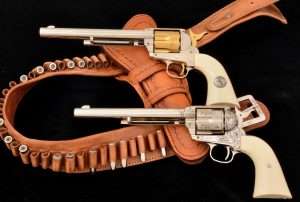 Using a full-size cardboard B-27 silhouette target, the nickel and gold 7-1/2 inch Colt, using a one-handed hold and aimed shots at 30 feet, delivered six rapidly fired rounds at 1.5 inches and a second almost matching group at 1.51 inches all in the 10 and X rings. Shooting from the waist at 10 feet I fanned off six shots that grouped into 1.75 inches, a little low and left of the bullseye. Of course, there's no recoil with the Umarex Colt Peacemaker, so accuracy is a little easier, especially when fanning!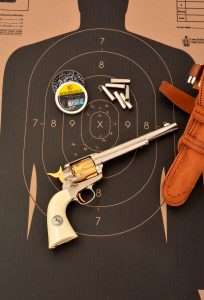 This is all great practice for Cowboy Action Shooting and actually a lot more fun with a Peacemaker than precision shooting at 10 meters! It is also a lot cheaper, much quieter, and easier to clean up after, than firing wax bullets from a centerfire Peacemaker. On the latter topic, this spring we'll get into fast draw practice with the Umarex Colt Peacemakers using fast draw holsters and drawing techniques.
Saturday another question is answered, "Which is faster, a Single Action Colt or a Double Action revolver?"