Diana Chaser Pistol Part 1
An entry level target pistol that impresses
By Dennis Adler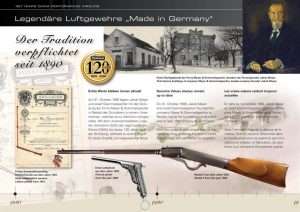 Every so often it's nice to forget about authenticity and training with airguns and focus on what air pistols and air rifles were originally meant to be; recreational, fun, entertaining, and yes, even challenging. Target shooting is still one of the world's favorite sports, and one that anyone can participate in at any level, or no level any further than their own backyard. Among the airgun manufacturers that established recreational airgun shooting in Europe is Dianawerk. This is a very old German company that has been building air pistols and air rifles for 128 years.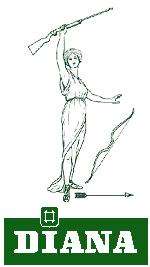 The name of the company is actually Mayer & Grammelspacher GmbH, but that's a lot to pronounce; it's more popularly known as Dianawerk or simply Diana, after the company's logo, the Roman goddess Diana. For more than a century, Dianawerk has had a colorful history surviving through two world wars. During WWI production had to be curtailed and during WWII the manufacturing plant was taken over by Mauser. After the war the facility was dismantled by the Allied Occupation Forces and sold off. Diana had to begin rebuilding itself from almost nothing but ruins, yet in spite of its many setbacks, Diana has manufactured some of the most revered airguns of the 20th century.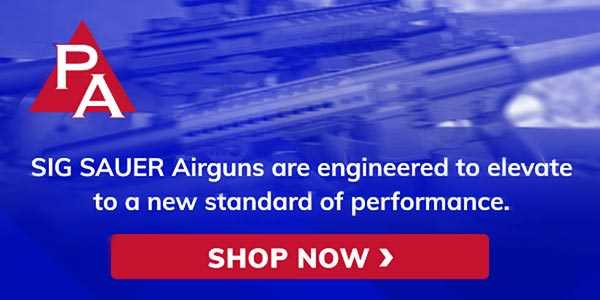 Jakob Mayer and Josef Grammelspacher started out building their first air pistol in 1892 and roughly two years later their first air rifle. But it is the Diana air rifles that have become the most famous and collectible. Some of the classic designs, like the Model 27, remained in production for more than 70 years, beginning at a time in Germany when shooting airguns became a family and leisure sport. Others came along at specific times in history including the rise of competitive airgun competitions in the 1980s with models like the 60/60T, 65/65T, Model 72, and Model 75 Match series. Among more recent designs has been the handsome, full stocked Model 46 Stutzen versions (the last of which were produced in 2010), the current Model 56th Target Hunter, and the classically-inspired Diana Mauser K98.

Diana pistols, however, have seldom been in the limelight (though one could go back to the 1970's-1980's Diana Model 10 recoilless Giss system single shot target pistol, which had a stunning retail price almost 30 years ago of $670), to the more affordable Model 6GS, Model 5 and 5G Magnum P5, and the current Diana RWS LP8 spring piston models. (You can read a lot about these earlier Diana and RWS Diana models in Tom Gaylord's older Airgun Blogs). The new Diana Chaser, however, is not the latest spring piston model, it is CO2 powered.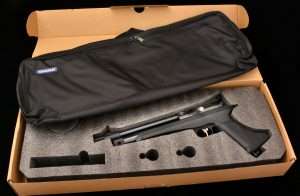 German engineering via China?
Yikes, it's true, (Diana was acquired by German Sport Guns in 2014 but remains Diana as part of GSG GmbH), and we all have to admit that while airguns made in Germany are remarkably superior, whether pistols or rifles, airguns made under brand names in Taiwan (China) and Japan are usually of impressive quality. That Diana builds the Chaser in China is a testament to that ideal. So, let's get past the small Made in China stamping on the beautifully finished receiver, and move on to one of the best entry level-priced CO2 powered, bolt action, single/multi-shot target pistols of the year. That description hints at a lot of points.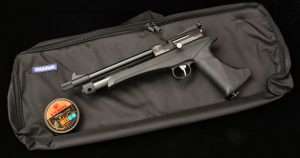 The Chaser is available in two versions; an 8.3 inch rifled barrel pistol and a rifle kit with a longer 17.7 inch rifled barrel, noise suppressor and a detachable shoulder stock. The really cool part is that the rifle kit can be converted into the Chaser pistol! We'll get into that later.
Model and model parts interchangeability
The Chaser pistol is offered in either .177 caliber or .22 caliber and can use the same .177 or .22 multi-shot magazines as the Diana Stormrider PCP rifle. As part of Diana's newest line, the Chaser is offered at a remarkably low price, an MSRP of $131.99 for the rifle/pistol combination, and just $76.99 for pistol. What kind of bolt action, single shot pellet pistol can you get for less than $80? A lot when it's a Diana.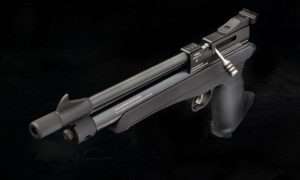 In comparison to older single shot, bolt action, spring piston guns, the Chaser looks very sleek with a uniquely tapered pistol grip that creates a thumb rest and a palmswell sweep which naturally falls into the hand. The triggerguard is also deeply undercut and the trigger crossbolt safety is easy to release with the trigger finger (right-handed shooters) and set with the support hand thumb. Since the grip design is fully ambidextrous this works in reverse for left-handed shooters. Working the bolt for left-handed shooters is another story. Easy enough if you rock the gun over and work the bolt with your right hand, otherwise not so wonderful. What is wonderful is the fit and finish on this under $80 air pistol.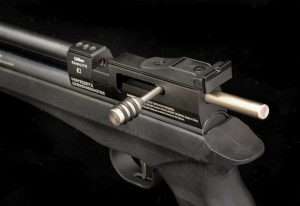 When I compare it to my old Crosman American Classic (and I'm not being disparaging here, just honest), it's like looking at an antique vs. a modern PCP single shot pistol. And I think that is the key visual look of the Chaser, it doesn't appear to be a CO2 pistol but an otherwise much more expensive precharged pneumatic.
In Part 2 we will spec out the Chaser, examine the pistol's top features: the excellent build of the receiver, bolt handle, barrel, sights, and trigger.