Diana Chaser Pistol Part 3 Part 2 Part 1
An entry level target pistol that impresses
By Dennis Adler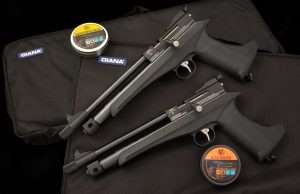 The Diana Chaser models offer more options than many airguns, and I have to use airguns rather than air pistols since the Chaser can also be a carbine pistol or a rifle depending upon how you configure it. I like that a lot because it gives the Chaser so many more possibilities than a single purpose entry-level air pistol.
Before I begin chronographing the 4.5mm and 5.5mm models, I want to explore the three basic forms in which the Chaser can be assembled. If you only have the pistol this is a short story. You have a very neat CO2 model that can be used as either a single shot or multi-shot pistol with the optional Stormrider magazines. If you opt for the rifle kit, you have three different ways to assemble your Diana Chaser and each one gets better.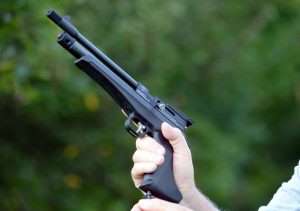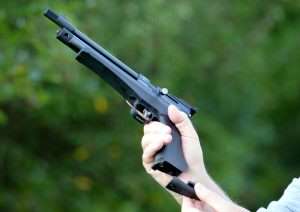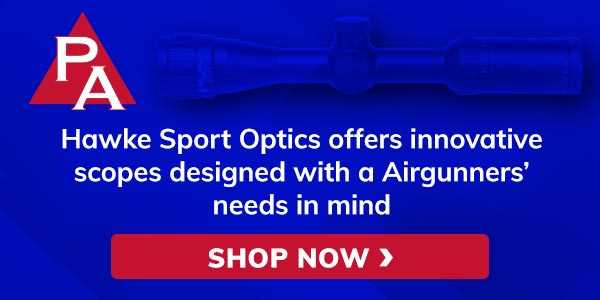 Pistol Carbine
This has been a hot button since I wrote up the new adjustable shoulder stock for the Umarex S&W Model 586 pellet revolver, which allowed me to open with a short history of carbine pistols dating back to the 1800s. The Diana Chaser cashes in on that history with a very simple but solid means of mounting a shoulder stock to the pistol's grip. From a purely historical point of view, it is very clever, requiring the removal of a single locking screw (which has an ample turnkey to make the job tool free) then the base of the pistol grip which is slotted into the main grip, sliding in a new base which is part of the shoulder stock's yoke, and replacing the locking screw. It takes about as much time to do as it takes to read the directions.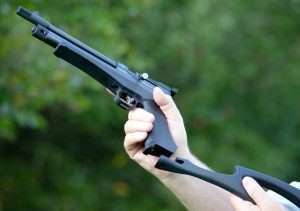 The shoulder stock is a slick design, it has a trim yoke that allows plenty of room for the shooting hand to wrap around the pistol grip; the stock has a high curve to the bottom, a raised comb and a well fitted semi-crescent rubber shoulder pad to hold the stock firmly in place. It is a short stock that provides a length of pull measuring 15 inches, and it is skeletonized to make it as light as possible. With a stylish shape as distinctive as the Chaser itself, this handsomely molded shoulder stock is as well thought out as the pistol it fits.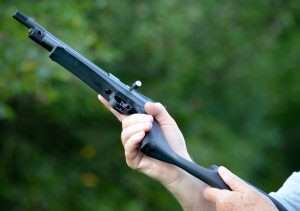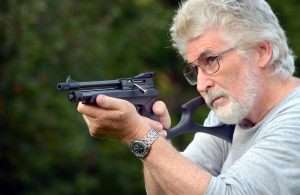 With the shoulder stock and the pistol length barrel you have a classic pistol carbine configuration that is going to be more accurate. This alone is a great feature of the Chaser, but you have that 17.7 inch rifled steel barrel still sitting in the case. When we get to the conclusion of this series of articles, I'll be going over the reconfiguring of the Chaser pistol into a rifle, which is a bit more complicated and time consuming. But when you are done you have a completely different Diana Chaser model.
Chronographing the 4.5mm and 5.5mm pistols  
Starting with the 4.5mm (.177) model I am chronographing the Chaser with three different types of pellets, my favorite RWS Meisterkugeln Professional Line 7.0 gr. lead wadcutters, which are excellent target shooting pellets, RWS R10 Match Premium Line 7.0 gr. lead wadcutters, a higher grade pellet used for competition level shooting, and to see what kind of velocity alloy pellets can attain, H&N Sport Match Green 5.25 gr. wadcutters.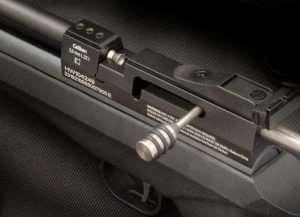 For the velocity tests I am shooting the Chaser with the single shot pellet tray installed and firing five shots to attain an average velocity and standard deviation. With Meisterkugeln the highest velocity out of five rounds was 526 fps, a low of 517 fps, and an average velocity of 520 fps with a standard deviation of 5 fps. Maximum factory rated velocity for the Chaser pistol in 4.5mm is 525 fps. With the R10 Match wadcutters the Chaser delivered an impressive high of 538 fps, a low of 530 fps, an average of 533 fps and a standard deviation of only 3 fps.
Last, for a run at an even higher average velocity, I ran five H&N Sport Match Green alloy wadcutters through the traps and got a high of 578 fps, a low of 574 fps, and an average velocity of 575 fps with a standard deviation of just 2 fps. All three wadcutter pellets delivered higher than factory maximum rated velocities.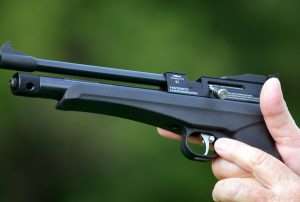 As a little side note, when you load the Chaser the bolt handle locks down into the receiver notch. This assures the action is closed and locked but as soon as you fire, the bolt handle automatically raises parallel to the receiver, which makes working the bolt that much faster.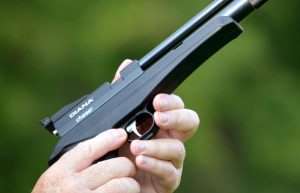 On to the 5.5mm (.22 caliber) Chaser model; again the test is being shot with the pistol barrel. I found myself with a deficit in .22 caliber pellets on hand with only 12.35 gr. Sig Sauer Wraith Ballistic Alloy domed pellets and Copperhead domed 14.3 gr. lead .22 pellets. I will add two .22 wadcutter pellets in next week's shooting tests to expand the range of ammo but I'm pretty happy with the lighter weight Sig Sauer rounds all the same.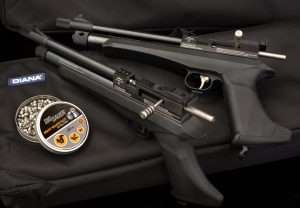 With the Sig Sauer 12.35 gr. domed pellets, the highest velocity clocked 453 fps, a low of 448 fps, and an average of 449 fps with a standard deviation of 2 fps. The lead Copperhead pellets ran a little slower as expected with a high velocity of 441 fps, a low of 438 fps, and an average velocity for five shots of 439 fps with a standard deviation of just 1 fps. The .22 Chaser is a pistol! (Tested by Diana with a variety of different pellets the factory rated maximum velocity for the .22 model is 460 fps). Overall, in either caliber the Chaser is delivering on velocity.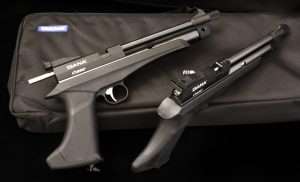 Next week it's Locks, Stocks, and Barrels for 10-meter accuracy in 4.5mm and .22 with the Chaser pistol and rifle combinations.