Range testing the .177 caliber model
By Dennis Adler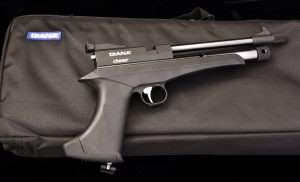 If I was seeing the Diana Chaser rifle kit, or even just the Chaser pistol for the very first time, and had no advance information on its suggested retail price, then saw what features it had, how it came packaged, and how well it appears to be made, I wouldn't have blinked if I was told the pistol sold for $149.95 and $199.95 for the rifle and pistol kit; in fact I'd have thought it was darn reasonable. Why? Because we are talking about an entry-level airgun market where model ranges are often separated in price by less than $50, and retailers look at the MSRP, wholesale cost per unit, allotted shelf space (in stores like Walmart), and then the discounted price it will actually have to sell for. When you consider all of variables, all of a sudden $50 is a big number. This even applies to internet retailers like Pyramyd Air, because almost every gun is sold below MSRP. The beauty is that no one has to drive to the store, you just pick and click and it's on the way.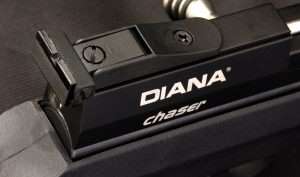 What we expect for under $100 (more often under $80) is a fairly good looking, serviceable air pistol that will shoot accurately. When a new air pistol comes along that breaks the established norm, and offers more than expected for the price, you have to ask yourself "what's the catch?" When it comes to Dianawerk, one of the most recognized names in air rifles, the catch is simply that the Chaser isn't made in Germany. Well, neither are the vast majority of German, Italian or American branded airguns, yet we don't think twice about that. Dianawerk put their new design into the hands of a Chinese manufacturer and they built the gun to Diana's specifications. If Diana is pleased with the results we should be as well, more so, because that $149.95 to $199.95 price that we would have expected to pay is only $76.99 to $131.99 and there is no bump in price for the .22 caliber models. And you still have every right to be skeptical.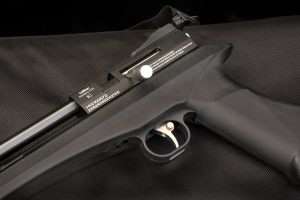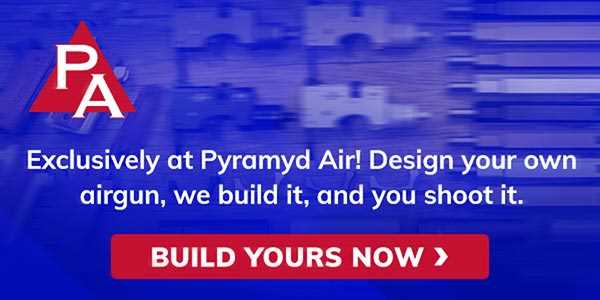 Recapping the Chaser  
Thus far we have determined that the build quality is very good, the fit and finish excellent, accessories well made and interchangeable between the .177 and .22 caliber models, and the additional multi-shot magazines, built for the precharged pneumatic Diana Stormrider air rifle were designed to fit the Chaser as well. We know about the cardboard box, form fit liner and zippered carrying case, and we know that it has a higher value look than other single-shot air pistols in this price range (forget about the multi-shot part, that's something else altogether). The only thing I would like to have seen would be a white outline for the rear sight and a white dot, or better, a fiber optic front sight. A lot of target shooters prefer traditional pistol sights, so that isn't even anything you can honestly complain about. What's left, is how well the trigger works, and how accurate the Chaser is in both pistol and rifle configurations. If it scores high in these last two evaluations, the Diana could be the low ball, back door, best buy of the year for an entry-level airgun. But it has to deliver. Not only does the Diana name build our expectations, but the design of the airgun itself hints at 10 meter accuracy.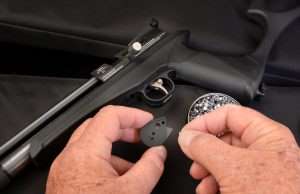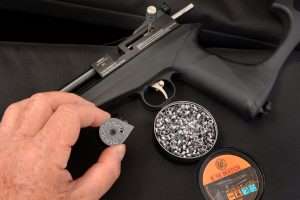 Diana's use of the Stormrider's magazine for the Chaser is not the first time a single shot target pistol has been fitted with a similar style multi-round magazine. The Diana Stormrider magazine is similar in design to the Benjamin Marauder pistol and rifle magazines, as well as the Umarex Gauntlet, and Kral magazines, but again, you have to look at the price point of a Benjamin Marauder precharged pneumatic at a $500 MSRP vs. the CO2 powered Chaser at under $80. The Diana really has no direct price point CO2 competitor with all these features. The closest is the Crosman 2240 but it is only a pistol, only available in .22 (though it has an optional shoulder stock) but doesn't have a multi-shot magazine capability.
Shooting the .177 model
First off, let's look at the two-stage trigger design. This is an alloy trigger with an integral crossbolt safety; nothing fancy. It has a nearly vertical profile (which reminds me of several cast alloy triggers used on centerfire pistol upgrades) and a very short factory set take up of only 0.0625 inches. You absorb between 14.2 and 14.5 ounces of trigger pull resistance during that short 1/16th of an inch take up. The remaining pull is another 0.125 inches with a total trigger pull resistance of 2 pounds, 14.7 ounces average. It has a light sensation of drag as you pull through but it is as close to a target trigger as this price range air pistol can come. It is not as fine a trigger as an Air Venturi V10, which trips at 2 pounds, 1.2 ounces, but is actually very close to the trigger pull on the Tanfoglio Gold Custom, which averages 2 pounds, 13 ounces. This is a better trigger than I have found on the majority of air pistols at this price, and even some costing considerably more. The trigger pull on the Chaser does not induce any negative effect with accuracy. If you miss, it won't be because of a heavy or sloppy trigger.
One point that I have already brought up to Diana is that the adjustable trigger is neither mentioned in the instruction book, nor does the Chaser come with the hex head tool necessary to make adjustments to the trigger take up.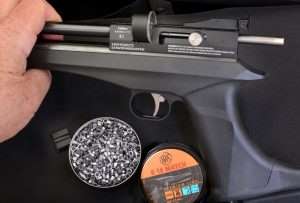 Next, let's look at the sights. This is a basic windage and elevation adjustable target rear sight that comes preset and zeroed in. There is no mention in the instruction book as to what distance the sight has been set, but when I do my initial test it will be at 10 meters and we'll see how the factory settings fair. As for adjustments, the windage setting has five positions (hash marks) on either side of center; the elevation screw is also marked with detents around its circumference, so every change in elevation and windage is precise and there is no guesswork (if you keep notes) as to how far it has been adjusted.
10 Meter Pistol
To test the .177 caliber (4.5mm) Chaser as a target pistol, I fired it as a single shot. With the stock attached, I switched to the Stormrider pellet magazine to make it into a bolt action repeating carbine pistol. All tests were shot at 10 meters with three different types of pellets, RWS Meisterkugeln Professional Line 7.0 gr. lead wadcutters, RWS R 10 Match 7.0 gr. lead wadcutters, and H&N Sport 5.25 gr. Match Green alloy wadcutters. After my first few rounds I found the Diana windage adjustment zeroed in dead center and the elevation almost POA with slight variances depending upon the pellet being fired. In short, I found no reason to make any changes to the settings on the gun as it came out of the box.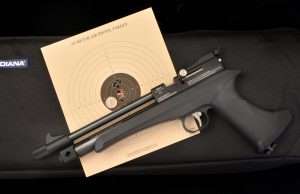 As a single shot pistol, I was hoping for a dime-sized group with H&N but I shortchanged myself a bit with a total 10-round spread of 0.937 inches (a dime is 0.687 inches) but I still had a best five at 0.5 inches using the lightweight H&N alloy pellets. After the H&N I decided to go for the gold (literally the color on the RWS R 10 Match pellet tin) running another 10 shots through the Chaser. This time I got my dime and then some with a bullseye blowout for five shots measuring 0.625 inches and a second group dead center top with a spread of 0.437 inches. The RWS Meisterkugeln Professional Line hit a little higher (or I did) and punched 10 shots into a spread measuring 1.187 inches with a best 5-rounds grouped at 0.74 inches. The R 10 Match pellets won the set.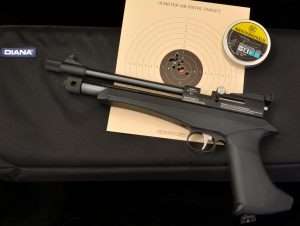 Carbine Pistol at 10 meters
As a carbine pistol (using the shoulder stock from the .22 Chaser) I went with the best shooting pellet from the pistol test, the RWS R 10 Match. Sighting is easier and the stability of the Chaser with the stock is exactly what armsmakers in the 19th century sought to achieve, a rifle-like hold with a pistol to achieve a longer, more accurate shot.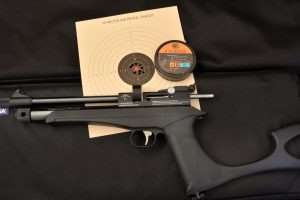 My best 9-shot groups (one full Stormrider 4.5mm magazine) measured 0.875 inches with a best five at 0.56 inches. I had nice round holes thanks to a new baffle box with a fresh backer. I was sort of amazed that I went almost completley around the 9 ring, nicked the 10 and never touched the red bullseye. Yeah, just the way I planned it…
As anyone who has been following the weather in Pennsylvania knows, it rains almost every day and right after a downpour the sun popped out, I grabbed a target stand, took the Chaser carbine pistol outside at 10 meters and shot a 9-round group measuring 0.81 inches with five shots measuring 0.437 inches. Not bad for an $80 air pistol!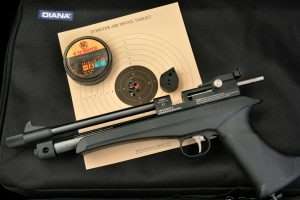 As a repeater, the Diana's bolt action feels very much like a small .22 caliber rifle (and with the 17.7 inch barrel it would be). Unfortunately, I didn't have the 4.5mm Chaser rifle barrel, so this test concludes with the Diana as a carbine pistol. But the results with the 8.3 inch rifled barrel are a very good indicator of what the 17.7 inch barrel can do.
In the conclusion to the Diana Chaser series I will run the .22 caliber model through the same series of range tests in pistol, pistol carbine, and in rifle configurations.