Diana Chaser Pistol Part 5
Range testing the .22 caliber model
By Dennis Adler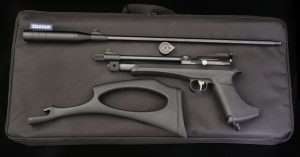 Aside from larger caliber, the .22 Chaser is identical to the .177 model in both pistol and rifle/pistol kit versions. For this test I am using the rifle/pistol kit Diana Chaser. When I chronographed the .22 caliber model in Part 3, I only had domed pellets on hand, so for this evaluation of the .22 Chaser I am going to chronograph the pistol and rifle (in two separate tests) using 14.0 gr. RWS Meisterkugeln Professional Line lead wadcutters, H&N Sport 13.73 gr. lead wadcutters, RWS Hobby Sport Line 11.9 gr. wadcutters, and Sig Sauer Crux Ballistic Alloy 10.3 gr. domed pellets for the lightest possible grain weight. The factory rated maximum velocity for the .22 caliber Chaser is 460 fps (established by Diana with a variety of different pellets), so we'll see if any of these .22 pellets can hit that mark with the pistol barrel.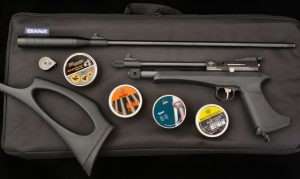 Chronograph test take 2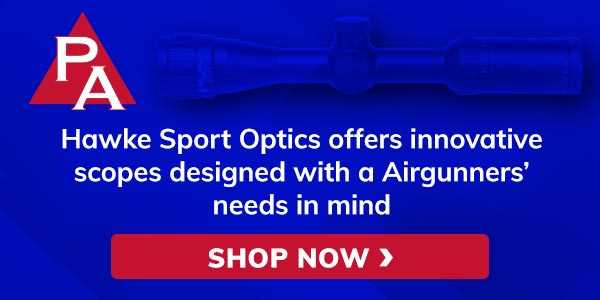 Since I am using the Chaser rifle/pistol kit in the .22 version, today's velocity and target tests will be with the pistol barrel only, and the wrap up on Saturday will be with the 17.7 inch silenced rifle barrel and shoulder stock.
I began the pistol test with the 14.0 gr. Meisterkugeln, which delivered a high velocity of 449 fps, a low of 441 fps and an average velocity of 447 fps with a standard deviation of 2 fps. I am going down in grain weight with each pellet so next is the H&N Sport 13.73 gr. lead wadcutters. The more deeply skirted H&N wadcutters delivered very consistent velocity with a high of 452 fps, a trio at 448 fps, and the fifth shot at 449 fps, for an average velocity of 449 fps and a standard deviation of 1 fps. Stepping down to the next lowest grain weight pellet, I shot the 11.9 gr. RWS Hobby Sport Line wadcutters. These pellets have a ribbed skirt; some say the ribs improves accuracy, others that it is just a decorative touch, I have shot both ribbed and smooth pellets with matching grain weight and I haven't found any noteworthy difference. One difference is a rim on the inside edge of the pellet skirt (creating a thicker skirt), and this is identical to the Meisterkugeln. Both are made by RWS. The slightly lighter weight Hobby lead pellets cleared the ProChrono traps at a highest velocity of 471 fps, a low of 465 fps, and an average of 469 fps with a 2 fps standard deviation. Last come the Sig Sauer Crux Ballistic Alloy 10.3 gr. domed pellets. Not surprisingly, the Sig alloy pellets delivered the highest velocity at 502 fps, with a low of 498 fps, and an average velocity of 499 fps, with a standard deviation of 1 fps. With four different pellets, the .22 Chaser pistol is sending lead (and alloy) downrange at velocities that are well within factory specs, and with two lighter weight pellets that exceed maximum factory velocity tests.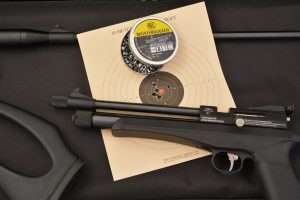 Pistol at 10 meters  
Beginning with the Meisterkugeln, I needed to make two slight adjustments to the rear sight, one click up in elevation and one click to move my point of impact right. My best 5-shot group fired offhand from 10 meters measured 0.875 inches. I had one a little high one a little right to blow out my group with three touching in the 9 ring at 0.375 inches. With the H&N I placed five shots at 0.625 inches. The pellets are not key-holing the target, the backer board is getting shot up already and the pellets are tearing irregular holes. I also had to make another rear sight adjustment bringing the elevation back down to where it was originally.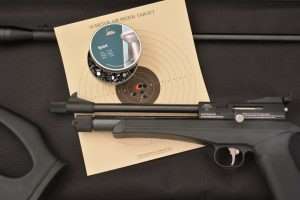 Next up was the RWS Hobby 11.9 gr. wadcutters. I had to make several rear sight adjustments for the Hobby, which was consistently hitting low and left. After a few elevation and windage adjustments I shot a little high (this is why I am not a competition shooter!) but managed to plug three out of five shots into one ragged hole, and two to the left for a total spread of 0.74 inches, so in between the Meisterkugeln and H&N for tightest groups.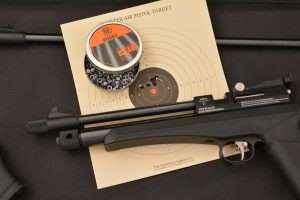 For the last test I shot the lightest grain weight Sig Sauer Crux domed alloy pellets. This required another minor elevation adjustment. My best five shots grouped at 0.625 inches with four of five at 0.437 inches to tie with the H&N for best group.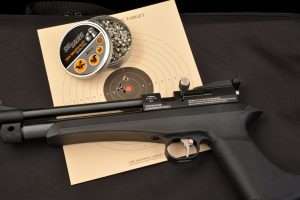 I can't say I am disappointed with the accuracy of the .22 when you have consistent sub 1-inch groups. As a target pistol it is up to the challenge and a better shooter could probably put all five rounds into the 10 and bullseye.
Carbine Pistol
To wrap up the pistol tests, I have chosen the Sig Sauer Crux pellets to shoot with the shoulder stock. Like the .177 caliber Chaser range test, I will be using a Stormrider pellet magazine, which holds seven rounds in .22 instead of nine in .177. As a carbine pistol the .22 caliber model is suited to longer range targets and for small game, which is why I have chosen domed pellets over wadcutters for this test.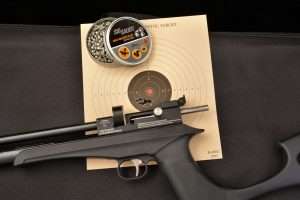 At 10 meters I was shooting a little low but the group was looking so good I kept shooting and punched all seven rounds into a total spread of 0.75 inches with five of seven in a ragged line measuring 0.56 inches. And then a package arrived.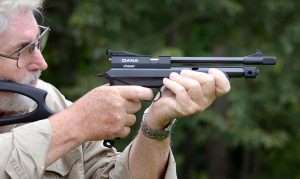 I order test guns well in advance of articles, when the opportunity presents itself, and along with a single shot target model I'll be reviewing in about a week, I received an EyePal peep sight system. This is basically a pin hole sight that fits over the lens of your shooting glasses and gives you greatly improved depth of field for target shooting. It is a very simple stick on that comes in a case like contact lenses. So I decided to give it a try with my prescription shooting glasses and the shoulder stocked Chaser.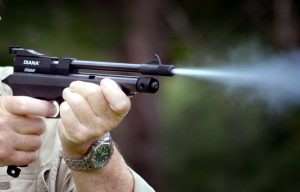 The improvement in accuracy is not the gun, it is already accurate; the improvement is using the EyePal. At 10 meters outdoors, I finally got the target I knew the Chaser was capable of. Shooting single shot with the Sig Sauer Crux domed pellets; I put five rounds into 0.437 inches cutting through the bullseye, 10 and 9 rings at 9 o'clock. This is what the Diana Chaser is capable of.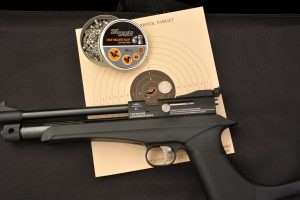 Saturday (weather permitting) I'll wrap up with converting the Chaser pistol into a rifle and run 10 meter tests with the adjustable rear sight and a switch to optics for maximum accuracy.