Double Sneak Preview
Blowback action models from Sig Sauer and Springfield Armory
By Dennis Adler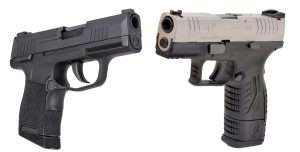 These two CO2 models are about to write a new chapter in blowback action air pistol history. The Sig Sauer P365, due out this summer, and the Springfield Armory XDM 3.8, now available for Pre Order (follow this link), are both Compact pistols with self-contained CO2 BB magazines and 1:1 accuracy of design. The significance of this is that there have never been Compact blowback action models with self-contained CO2 BB magazines that are spot-on understudies for their centerfire counterparts. The Sig and Springfield establish a new category for authenticity and training with a full function compact air pistol. That isn't to say there are no Compact CO2 models, but up until now you either had to live with a separate CO2 chamber in the grip and a stick magazine, like the fine Walther PPS and PPSM2, or a self-contained CO2 BB model like the Makarov, which has an exposed CO2 seating key at the base of the magazine. This totally blows the authenticity of the gun, and a Makarov is hardly a modern CCW training gun, though it is a classic.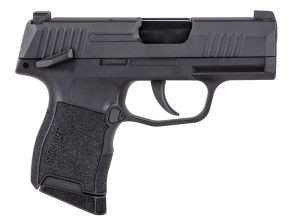 As centerfire pistols that are intended for concealed carry use or as backup guns, the Sig Sauer P365 and Springfield XDM 3.8 are both groundbreaking air pistols flawlessly duplicating their centerfire counterpart's dimensions, weight, trigger design, sights, and overall handling. On the heels of the Umarex Glock 17 and Springfield Armory XDM 4.5, which established new standards for fit, finish, and totally authentic appearance, (no telltale white lettering or obvious manual safeties) the Compact XDM 3.8 and Sig P365, raise the bar even higher. In less than six months the blowback action CO2 market has witnessed a sea change in what can be done to make an air pistol that meets the demands of today's discerning airgun enthusiasts and in pistols suited to hands-on training with air.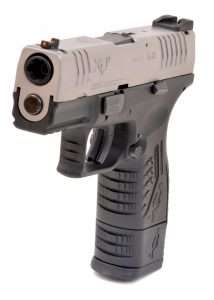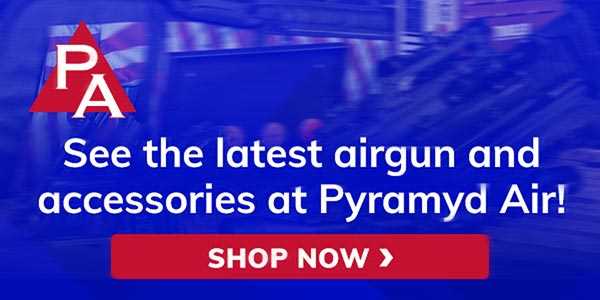 The XDM 3.8 Bi-Tone
The new Springfield Armory 4.5 and 3.8 CO2 models come in the XD Series popular bi-tone finish with a polished alloy slide contrasting the black polymer frame. Unlike many bi-tone air pistols on the market, the XDM models look exactly like their centerfire counterparts with the same finish on the slide. The 3.8 Compact also manages to retain its self-contained CO2 BB magazine by using the same style extended capacity magazine as the centerfire version. The self-contained CO2 BB magazine uses XD Gear Grip Frame extensions for the 3.8 and the pistol comes with all three sizes to match the interchangeable backstrap panels. The CO2 magazines fit XD Gear magazine pouches as well.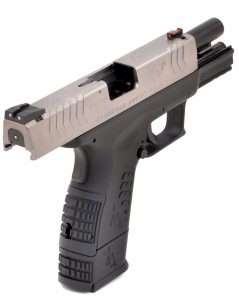 Packaging
This has been a touchy subject as of late since even high end air pistols are coming in non-reusable plastic packaging (I'm being nice!). The XDM pistols come in a heavy cardboard box with all the accessories needed to step into the role of a training gun for CCW practice. It also comes with a very detailed XD Series instruction book in full color, covering all the operating features, loading and proper handling. The ultimate compact CO2 model, the Springfield XDM 3.8 blowback action BB pistol is the definition of doppelganger.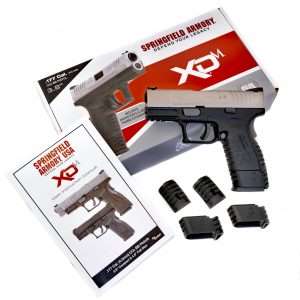 Sig Sauer may snatch victory from the jaws of Springfield Armory
Since I have an actual sample of the XDM 3.8 to examine, and only advance product pictures of the Sig Sauer P365 CO2 model, I cannot say that it surpasses the Springfield Armory model. We won't know that until this July when a head-to-head comparison can be made. At this point, the Sig looks like it will be the new standard bearer for Compact blowback action CO2 pistols, since the photos do not show any white markings on the gun, and with centerfire guns being offered with manual safeties, there is no need for an added safety on the CO2 model. Like the latest Sig Sauer blowback action CO2 models, the P365 is designed with the intent of being used as a training tool for personal defense.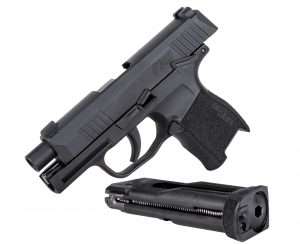 Smaller and lighter than most pistols in its class, the P365 has an overall length of 5.8 inches, 4.3 inch height (with standard capacity magazine, 4.95 inches with 12-round magazine), 1.0 inch width, and 3.25 inch barrel. The P365 CO2 model is designed to fit in available P365 holster systems for easy practice of efficiently drawing from concealment. The 12-round (to match centerfire capacity with the extended magazine) self-contained CO2 BB magazines allow fast reloading and practice for tactical reloads.
Joseph Huston, Vice President and General Manager of SIG AIR notes that "Our new P365 BB pistol will give P365 owners and others who carry for personal protection a training tool of the highest quality when a trip to the range for live fire is not possible.  The P365 BB Pistol has similar balance and handling characteristics as the centerfire model." This will also be the smallest blowback action pistol with a self-contained CO2 BB magazine produced thus far making it unique in the airgun marketplace.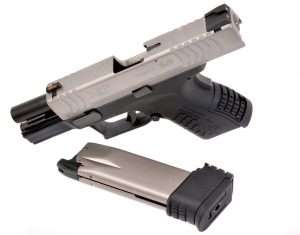 Measuring up
Like the Sig P365, the XDM 3.8 needs the extended capacity magazine, which adds to the height of the gun, in order to work in the self-contained CO2 BB magazine. The XDM 3.8 measures 5.6 inches from the base of the magazine to the top of the rear sight, while the Sig, which is advertised as a Micro Compact, is 4.95 inches. In overall length the XDM 3.8 measures 6.5 inches, the P365, a shorter 5.8 inches, so the XDM is a little more hand filling but still small enough for a Compact, equal to a Glock 19, but considerably better looking than a Glock and with a dual safety system.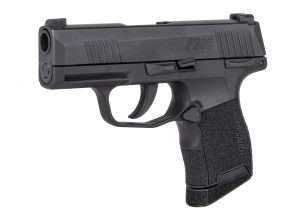 Both Springfield Armory and Sig Sauer have even more to come in 2019, so, at this point it's safe to say that, though we do not know exactly where the blowback action CO2 pistol market is heading this year, we do know who's leading it there.
Postscript
Pyramyd Air is now listing the new Sig Sauer P365 (follow this link) and you can request an email when it is in stock. The discounted introductory price for this impressive new model is going be $79.95 making it one of the lowest prices for a full function blowback action CO2 model.
A word about safety
Blowback action airguns provide the look, feel and operation of their cartridge-firing counterparts and this is one reason why they have become so popular. Airguns in general all look like guns, blowback action models more so, and it is important to remember that the vast majority of people can't tell an airgun from a cartridge gun. Never brandish an airgun in public. Always, and I can never stress this enough, always treat an airgun as you would a cartridge gun. The same manual of operation and safety should always apply.