Favorite airgun and holster combos Part 2 Part 1 Part 3
One gun, one holster…
By Dennis Adler
Deciding on a modern gun and holster combination is actually quite a bit more difficult than a vintage, or pre-WWII gun and holster. There, the choice for a number two could easily have fallen to one of the early-style CO2 1911 models and a World War Supply Tanker shoulder holster; an excellent combination. My choice would have been my custom weathered Gletcher Tokarev TT-33 and the World War Supply Tokarev holster. Choosing a modern day blowback action CO2 model presents a far more varied field, which also makes the point that there are a lot of modern pistols available as CO2 models. Getting the right gun and holster combination can be equally difficult. Back in the pre-WWII era most semi-auto handguns had unique contours and dedicated holsters like those for the Luger P.08 and Walther P.38, or PPK, Russian handguns also had distinctive shapes so again holsters were limited to specific guns and there were few choices. Today, there are more holster makers than gun manufacturers and choices abound for every conceivable handgun and means of carry.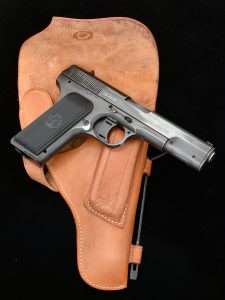 What is a good second choice?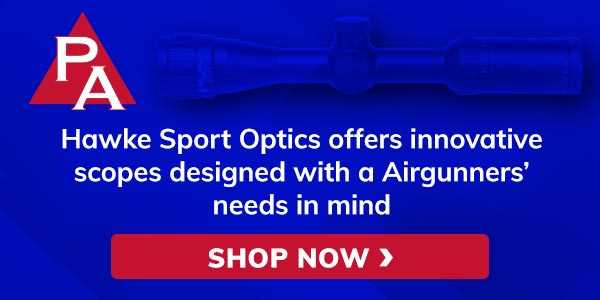 This is going to be a multiple choice, and all of you are going to help make the final decision because, well, there are just too many good guns and holsters out there. A few, however, stand out and when you look to find the best blowback action CO2 models odds are they are going to be brand name makers and any list of top guns is going to have an S&W M&P40, Beretta 92A1, Sig Sauer P226 and a modern 1911 Rail Gun. Sound familiar? Umarex, Sig Sauer and Swiss Arms, three of the current top brands when it comes to offering high-performance, quality-built, blowback action CO2 models. Modern guns also have modern holsters and for this group the choices are actually almost as specific in design as some of those pre-WWII CO2 models, because they all have 1913 Picatinny rails, and that makes holsters for standard non-rail models unsuitable.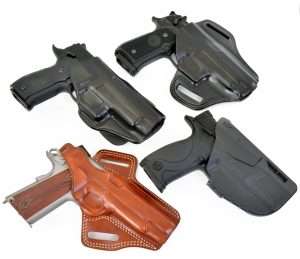 For my second choice and your final opinion on which is the most desirable, the choices are the Umarex Beretta 92A1 in a Galco belt holster, the Swiss Arms 1911 TRS in a Galco Fletch thumb break belt holster, The Sig Sauer P226 X-Five in a Galco paddle holster, and the Umarex S&W M&P40 in a Safariland injection molded Level 1 law enforcement tactical belt holster. All four guns are duty-size pistols and with holsters, are not deep concealment designs but suitable for some concealed carry uses. Paramount among all four is the holster's contour fit for solid gun retention, cant on the Galco belt rigs, ease of adjustment on the Galco paddle holster, and the higher level of security for the M&P40 with the Safariland tactical holster. All four are made for the actual centerfire weapons and the exact fit of the CO2 models demonstrates how accurate they are to their cartridge-firing counterparts for training exercises.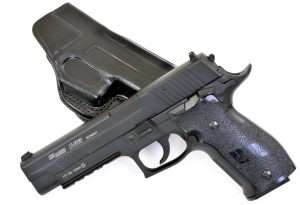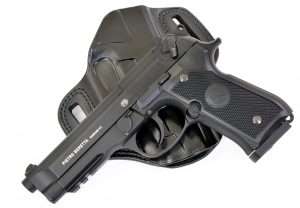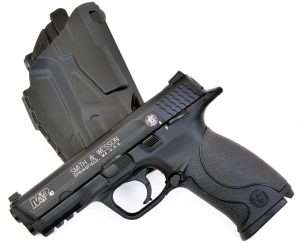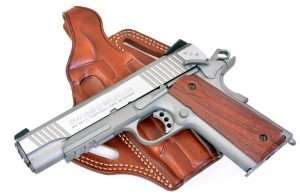 Will that be leather or plastic?  
For many there is only one answer, leather. Nothing feels or smells like a leather holster and for the vast majority of carry situations a leather holster is perfect. But here again I will defer to the legendary John Bianchi, who developed one of the very first non-leather holsters ever manufactured under contract to the U.S. military. As Bianchi explains it, "[Back] in 1981, during the early trials to determine a replacement for the 1911A1, a separate fact finding team had been established within the Department of Defense to look into new holster designs and one day the phone rang and it was the Department of Defense. 'We read your book Bluesteel & Gunleather [Bianchi's first book] and we are convinced that you are the final authority on holster design.' The caller asked if they could send a team of acquisition people out to Bianchi International to visit and get some ideas on how to design a new military holster. When the DoD team arrived they discussed the content of my book and then they dropped the big question, 'What should the new holster consist of?' I told them it needs to appeal to Army, Air Force, Marines, Navy, and Coast Guard, so that means it needs to be environmentally balanced, suitable for extreme cold, extreme heat, humidity, dust, salt water, everything. We talked about the holster needing to protect the gun against environmental factors, as well as abrasion, rolling on it, and falling on it. It also had to be chemically and biologically adaptive and water proof. Troops in the field can't have a wet holster, so that ruled out leather."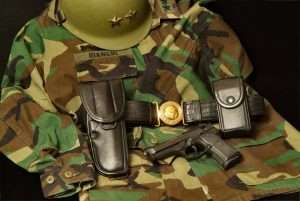 Over 30 months of research and development Bianchi came up with an ambidextrous mounting system (he is left handed) for a new military holster (designated UM84 and M12 for the military) constructed from DuPont Hytrel, a thermoplastic elastomer resin that can be molded into different shapes and has both flexibility and strength, is resistant to extreme temperature, chemicals, and of course, waterproof. The exterior of the holster was comprised of a ballistic weave equally resistant to the same extremes as the core. In the early 1980s the Beretta 92F military holster was an industry first. Today, injection molded thermoplastic and Kydex holsters are used globally for military and police, though many still can't resist the allure of leather, (even the Bianchi UM84 was made in leather for issue to General Officers!) TheUM84 is still manufactured today to fit a variety of pistols.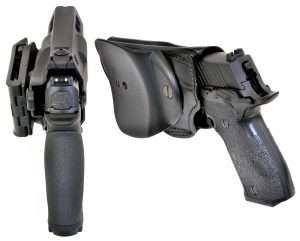 Modern injection molded holsters, like the Safariland pictured with the M&P40 air pistol, also allow the use of retention devices, so choosing between leather and plastic (to use plastic in the broadest sense) ultimately comes down to the holster's intended use. Leather still wins the popularity (and beauty) contest but injection molded holsters are tougher and more desirable for hard duty use whether in the military, private sector or law enforcement.
The wrap up
Of the four CO2 models pictured and their companion holsters, each falls into my second choice for favorite airgun and holster combination. I would like everyone reading this to weigh in with a comment, pick one of the four, and help determine what the best modern CO2 pistol and holster combination is. We'll reveal the results of your votes vs. my choice next week!