First look: Hatsan's new 1911-A1 Model Part 2
What makes this airgun tick?
By Denis Adler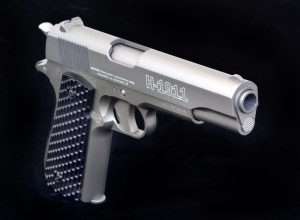 After the initial first look at this 1911-style pellet-firing air pistol, the big question has been "Why?" It all comes down to how it fires 4.5mm pellets. There were only two ways to fire pellets from a semi-auto style air pistol. The first was using an 8-shot rotary magazine, as originated by Walther and Umarex over 20 years ago with the first CP-88, a non-blowback action semi-auto introduced in 1996. It was, and remains, one of the most authentic looking CO2 air pistols on the market.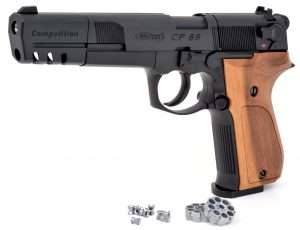 It was followed by the equally authentic looking Beretta 92 FS pellet-firing model in 2000. Both are still manufactured today and have yet to be surpassed, even by Walther and Umarex. They are non-blowback action by virtue of the firing mechanism; internally they function like revolvers with the action rotating the magazine for each shot. The slide release is used to open the action (by allowing the slide to move forward and expose the breech), and a new rotary magazine to be inserted. The second design, also by Umarex, is the reversible stick magazine that loads into the pistol grip. It holds a total of 16 pellets using an 8-shot rotary magazine on either end. It was introduced with the Beretta PX4 Storm in 2007 and the magazine design is used today on a number of pellet-firing semi-autos, including the new Sig Sauer P226 and P250 ASP.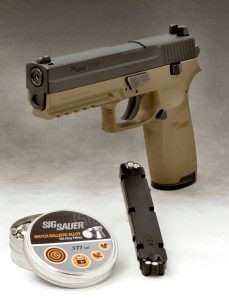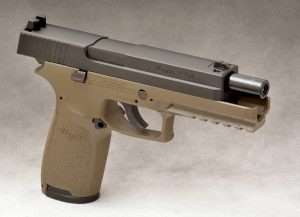 The advantage with the dual rotary magazine is that it allows blowback action with a pellet-firing pistol. And that was about as good as it got until Sig Sauer introduced the blowback action P320 ASP with a 30-round belt-fed magazine. Still, they all use some form of a stick-type magazine and a separate CO2 channel in the grip frame. And none of them are as authentic in total handling as many of their CO2 BB-firing counterparts that have full operating controls, blowback action, and full-sized, self contained CO2 BB magazines.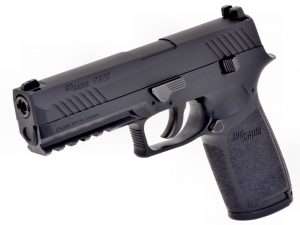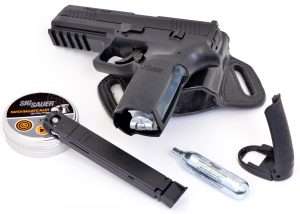 If you are expecting the Hatsan H-1911 to revolutionize the pellet-firing semi-auto market, you're not going to be overly thrilled because it already has one strike against it by not having a blowback action. What it does have is a working thumb safety, solid construction, and a drop free self-contained CO2 pellet magazine. I know, you're saying, "But Umarex beat them to it with the SA-10A." But they didn't. And that's the good news about the Hatsan design, they have breeched the gap and made a one-piece 1911-sized pellet magazine that you can pull from a mag pouch and load just like a centerfire pistol. The last trick up Hatsan's sleeve then, is how the pellets load and this is, for lack of any greater enthusiasm on my behalf, the cool part of the H-1911.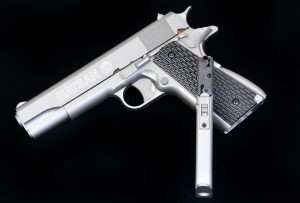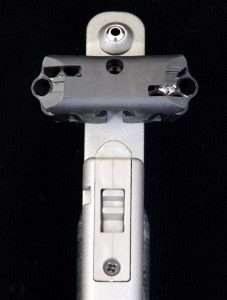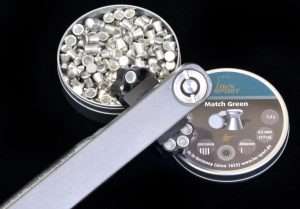 Dual rotary design
If you can imagine what an advance to pellet-firing semi-autos the Umarex Beretta PX4 Storm was in 2007 with its 8+8 reversible pellet magazine, you can get some idea what it is like to see the Hatsan design for the first time. Same basic idea only you don't need to flip the magazine over, it's not a stick magazine, and if you want to switch from an empty to a full 6-shot rotary clip in the same magazine all you do is drop the mag, hit the release on the front of the housing, rotate the clip 180 degrees with your finger and reload. Is it faster than turning over a stick magazine, not much, but it is the entire magazine with all of the critical components, including the CO2 valve.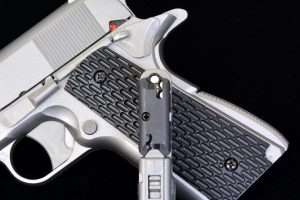 If this gun had a blowback action, a working grip safety and a single action trigger it would have been the achievement of the year. This is still a big step forward, a different step than Sig Sauer's approach with the P320, but a step in the right direction nevertheless. And for its suggested retail of under $90 it certainly qualifies as an entry level pellet-firing CO2 semi-auto. Now, how does it shoot?
Going hot on the firing line
One positive feature of the Hatsan's DAO trigger is that it can stage the hammer for every shot once you get a feel for it. Like any DAO trigger though, it is a heavy pull because it has to cock the hammer. Average resistance measured 9 pounds, 8.5 ounces with a short take up of 0.44 inches. The trigger stacks heavy all the way up until the hammer is staged and then pulls cleanly the rest of the way. If you stage the hammer for every shot the heavy trigger pull really isn't that much of an issue. The H-1911 is a full-sized Government Model, so it's big enough to get a solid two-handed hold and keep on target.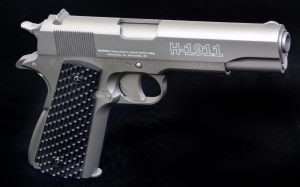 To get the most out of this CO2 model Hatsan recommends using H&N Sport Match Green pellets which have a weight of 5.25 grains. The German-made alloy pellets are factory rated in the H-1911 at a smoking 425 fps. Through the screens on our ProChrono chronograph the Hatsan clocked a high of 398 fps and an average of 380 fps so not quite as high a velocity at the factory specs but 380 fps is still fast for a CO2 pellet pistol. Switching to heavier 7.0 grain Meisterkugeln lead wadcutters velocity dropped to a high of 344 fps and an average of 328 fps. For the 10 meter test I stayed with higher velocity H&N alloy pellets.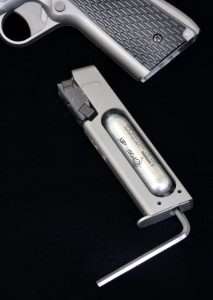 At 10-meters the H-1911 sent its best six shots into a group measuring 0.81 inches. No records broken here but the original-style Government Model sights are about as hard to see on the CO2 slide as they were on a .45 ACP. I have one, so I know for sure. It is not a target pistol, and neither is the Hatsan, but it does a respectable job of keeping its shots grouped fairly tight at 10 meters. I'm not sure if that qualifies it as the pony in the room, but it doesn't take too much horse sense to see that Hatsan likes to build atypical air pistols. This one qualifies.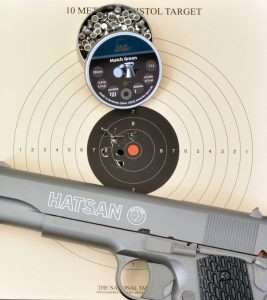 Overall, it is a nice pellet pistol for the money. Does it have a future? At its low price point most likely but an even greater one if Hatsan can get all those separate parts they have used to work together and send that slide back with each pull of the trigger. As for the DAO, I'd change the trigger shape to resemble the LDA trigger on the old Para Ordnance DA/SA 1911. At least it would look better.