First Look: Umarex Glock G19 Part 2 Part 1
Almost the gun you have been waiting for
By Dennis Adler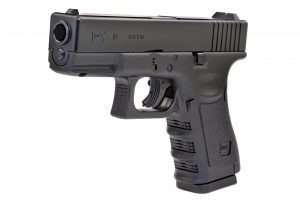 How do we begin to evaluate a "new" CO2 pistol that has its design based on a 3rd Generation G19 at a time with the new Gen5 G19 models are out? First, from a purely external view, this is a physically over the top presentation in fine detail in an otherwise underwhelming package that lacks the two vital features most Airgun Experience readers and air pistol enthusiasts regard as obligatory, blowback action and a self-contained CO2 BB magazine. Nevertheless, for the Glock CO2 model, the major visual differences between a G19, G19 Gen4 and new G19 Gen5 are almost all internal, with the exceptions of ambidextrous slide stop levers, new frontstrap configuration without finger grooves (which is similar to the second version Glock grip design pictured in Part 1), new nDLC black nitride-type finish, and a slightly flared mag-well on the new Gen5. Most of these external changes (particularly the grip redesign) are also in concert with Glock 17M and 19M pistols now built for the FBI, the balance of 20 improvements over the Gen4 deal with changes to internal components and the barrel. However, Glock still makes the 3rd generation G19 and Gen4 models as well, so the new CO2 pistol, on the surface, is simply based one of three G19 designs, not a discontinued model. If you look at the 3rd generation G19 as a lower-priced "entry level" model (the MSRP for a standard G19 is $599, the Gen4 $649, and Gen5 $699), then the CO2 model is by intent an "entry level" gun. You have to think Glock.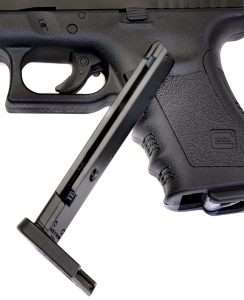 While I have not seen anything from Umarex on the forthcoming blowback action G19 model, I would venture to guess it will be a fully working version of this same 3rd generation gun. The non-blowback model's details are so accurate it is difficult to believe that almost none of them work. As a CO2 pistol, the new Glock G19 is a perfect external copy of the 3rd generation pistol and that in itself brings a lot to the table despite having a fixed slide and 16-shot stick magazine.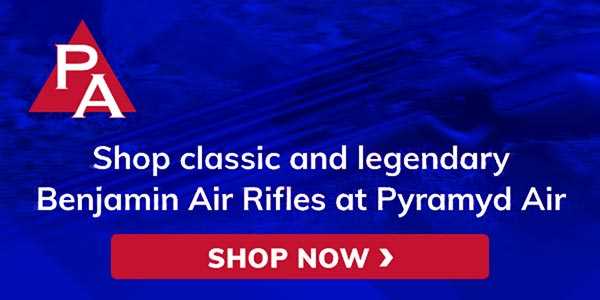 I can find no justification for the non-blowback action even at this price point, but when you look at the excellent Umarex Walther PPS/PPS M2 CO2 models, which have blowback action, and how closely they match the 9mm Walther PPS, how well they handle and shoot, you can easily forgive the stick magazine. Looking at this first Glock CO2 offering, just on face value and how it feels in the hand, its weight, balance, accessory rail, fit, finish, trigger, and correct Glock white outline rear and white dot front sights, I am willing to give it a pass on the stick magazine and non-blowback action even before loading the CO2 and test firing it, because of its fundamental use as a Glock training gun. Remember, that almost 20 years ago when Umarex and Walther built the CP99 as a P99 training gun used by German police, the CO2 pistol was a non-blowback action design using an 8-shot rotary pellet magazine. Secondly, as a first offering of what may be several Glock models down the road, and with an eye on mass marketing through retail outlets, this G19 model makes perfect sense, even if it offends "in its lack of features" those of us (myself included) who expect more. And thus we begin the Part 2 evaluation with an open mind, and if you will, a Glock mindset.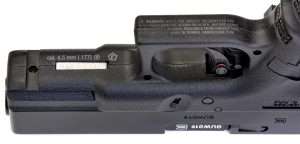 Initial handling
Remember what I said in Part 1, that if you are familiar with one Glock you are familiar with every Glock? This is true, even with the basic handling of the entry level CO2 model. The three key features are sights, trigger pull, magazine release. These are the parts of the pistol you initially interact with. Add to that drawing from a holster, and using rail-mounted accessories and all of these training aspects can be performed with this entry level G19 CO2 model. You are talking about hands-on familiarity training with a Glock G19 for under $80.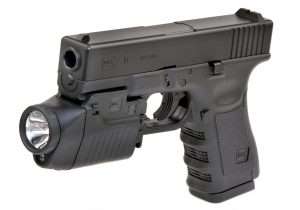 I own one Glock and have one accessory for it, the Glock GTL 22 tactical light and red laser. There are many lights and lasers made to fit Glock pistols, but none better integrate with the gun than the GTL series. And the first thing I did was slip it onto the G19 air pistol's accessory rail. It was the same as fitting it to my centerfire Glock. That already gives this CO2 model a big leg up in the training gun category whether the slide moves or not.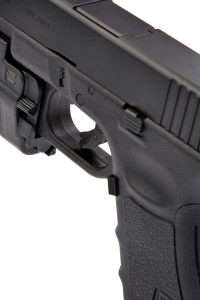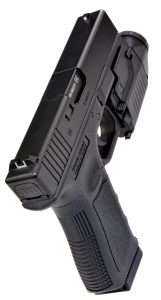 Fine details
Everything on the G19 CO2 model looks like it should work and I believe there is a reason for that, why tool up twice? The slide release is ready to go, the backstrap now allows access to load the CO2, but is also capable of being removed for switching out with Gen4-type medium and large backstraps. The slide locks are ready to be made operational for field stripping, the slide and barrel lug are two separate pieces (or the most convincing molded in design ever). Very simply, the gun is ready for phase II and a blowback action model. Will it be a BB or pellet model, has not been revealed officially, nor when, but rest assured with Glock in the driver's seat it will be a CO2 rival for the forthcoming Sig Sauer M17 and current leader of the authenticity pack, the Umarex S&W M&P40.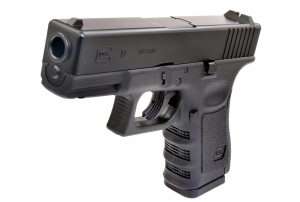 In the Part 3 conclusion, holster fit (or not), operation and steel rounds downrange at 21 feet.