First Look: Umarex SA 10 semi-auto Part 2
If this looks like a very expensive competition pistol, it's no coincidence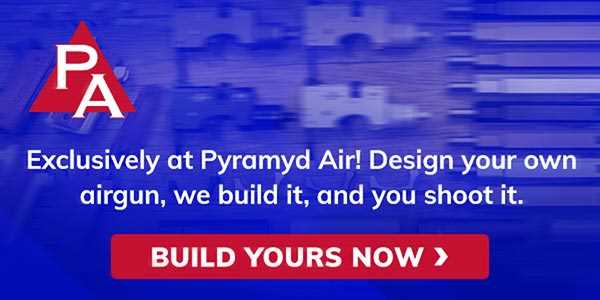 By Dennis Adler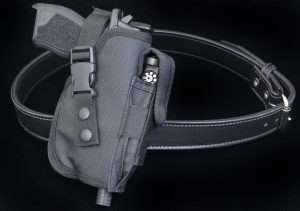 The Umarex SA 10 has more going for it than against it. Building to a price point requires compromises but they are not always as disappointing as one expects. The fact that the airgun does not have a slide that looks back on an empty magazine is not so much a cost savings measure but rather the nature of the 8-shot rotary pellet magazine design. So you can't really call that a cost cutting move, and since the slide release is repurposed as the manual safety to keep the lines of the gun clean, it is really making the most of this gun's limitations. Remember, internally, this blowback action semi-auto still works like a revolver, turning the rotary magazine with each semi-auto shot just like the trigger pull rotates the cylinder on a six-shooter. The fact that Umarex now has a rotary pellet magazine that holds the pellets and CO2 is this gun's most important achievement. One can only suppose how this new design could be used to update existing non-blowback pellet models like the Colt 1911, Walther CP99 and Beretta 92FS, by redesigning them as blowback action models with self-contained CO2 and rotary pellet magazines. But for now, we have the SA 10 and its promise of higher velocities and better accuracy from a 5.0 inch rifled steel barrel.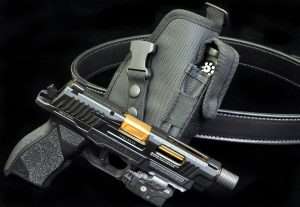 Key operating features
The blade safety trigger is an interesting design since the blade safety serves no purpose other than as a visual styling cue. It is spring loaded and offers the resistance of a Glock-type trigger safety but does not have any effect on the trigger firing mechanism. Good practice but no lessons learned. Trigger pull on the SA 10 averages 7 pounds, 6 ounces for the first double action shot (after which the slide cocks the hammer and every subsequent shot is single action. The trigger pull drops to 3 pounds, 10 ounces average. You can, of course, cock the hammer by racking the slide for the first shot and never shoot double action. Trigger take up is a full 0.93 inches in double action with heavy stacking and a sharp release. You can watch the hammer come back as you pull through like so many DA/SA hammer fired semi-auto handguns. Fired single action, the trigger travels the same 0.93 inches, only there is zero resistance for the first 0.75 inches, then light stacking. It is not a great trigger, but with 3 pounds, 10 ounces of effort and only 0.25 inches of trigger press left, you can keep the SA 10 steady from shot to shot.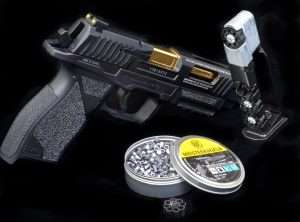 The slide release lever, in its special role as manual safety, is another well functioning control that is easily set and released with the shooting hand thumb or support hand thumb. The magazine release takes a firm push which is good since the heavy drop free magazine (11.5 ounces fully loaded) comes out fast. With two to three extra rotary magazines attached, this in not one you want to let hit the ground. The switch out time to replace an empty rotary magazine is just a few seconds but be sure to have that main magazine laying back in your hand, tilting it forward can allow one or all of the spare rotary magazines to fall out of their retainers. If you are going to shoot with multiple magazines, simply leave the spare rotary mags off and change the entire magazine. Eight shots is average for a 1911, so you really can have a realistic reloading experience with this gun.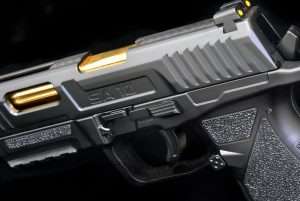 Steel BB and lead pellets downrange
Once again you have the old conundrum; steel BBs down a rifled steel barrel (which causes excessive wear to the rifling over time) and lead wadcutter pellets, which work better with a rifled barrel. Should you even bother to shoot BBs? From one perspective, BBs are much cheaper, but a rifled barrel CO2 pistol with blowback action is where pellet accuracy lives for guns of this type, and with a self contained CO2 pellet magazine the SA 10 is all but in a class of its own. For the sake of argument, I'm going to test the gun with pellets and Smart Shot plated lead BBs.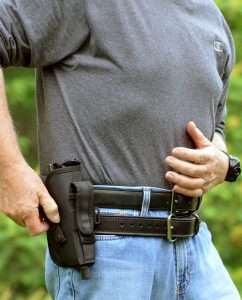 The pellets for this test are my standard Meisterkugeln Professional Line 7.0 gr. lead wadcutters. Average velocity was 392 fps, which is below the 420 fps factory rating. Switching to the Smart Shot average velocity was 322 fps. With a rifled barrel I stepped back to 10 meters (33 feet) instead of the usual 21 feet for blowback action air pistols. The gun shot just slightly high and left (making one wish for an adjustable rear sight) but by correcting with a 2-inch hold under I was able to get a best 8-shot group measuring 0.875 inches. I do have to admit to one small cheat, I taped the front sight so it was easier to see. Between the very bright orange dot rear sights, the low profile black blade front sight is less than wonderful. A little piece of masking tape did the trick for me as always, and most everyone who gets this gun will likely settle on a way to highlight the front sight with white nail polish or a color close to the orange rear sights. I tried it both ways and without taping the front sight my groups at 10 meters opened up to 1.2 inches and my shooting speed dropped as well.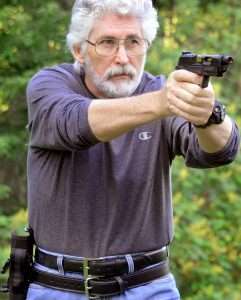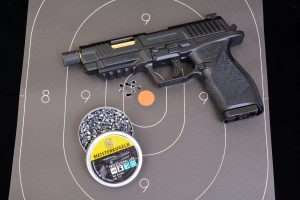 For the Smart shot test I moved back to 21 feet and the best 8-shot group measured just a fraction over 1 inch from center-to-center with three almost overlapping. Although the SA 10 can shoot BBs, it is a far better pellet gun. For the $100 price category (average retail price $89.95 and the MSRP is $129.95), the SA 10 is a unique pellet firing blowback action pistol with its self-contained CO2 pellet magazine. It is not perfect, but it is one noteworthy step forward in blowback action models.