First Test: Springfield XDM CO2 Part 4
Point of Aim
By Dennis Adler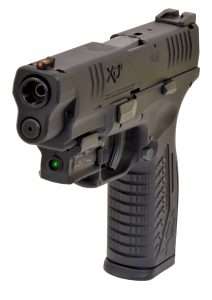 There is little more that I can say about the new Air Venturi Springfield Armory XDM 4.5 that will help better define it as the new benchmark in blowback action CO2 air pistols. Yes, there are blowback action CO2 models that have higher average velocity, but another 25 to 50 fps isn't going to make a significant difference when the cost of that higher velocity is a loss in hands-on performance. While there are certainly other CO2 models that are as realistic in their overall design as the Springfield, they can only make that claim from the left side of the gun, the right side of the slide and frame have white lettering and manufacturing marks that instantly defines them as air pistols, even the very best of them (except the Umarex Glock 17). Only the Springfield has achieved near 100 percent authenticity in every category of comparison to its centerfire counterpart. Why not 100 percent? Because no matter how brilliantly disguised the manual safety is, the fact that it has a manual safety in the first place, is a departure from the centerfire pistol design. It is a strange point of contention but the requirements of CO2 semi-auto air pistol manufacturing require a manual safety be added if the design of the centerfire gun it is based upon does not incorporate one. The XDM CO2 model has managed to comply without any other compromises and close enough in my book compared to every other blowback action model currently offered today.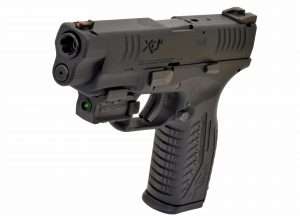 The only issue I have found has been sighting accuracy. The test gun shoots low and there is no way to adjust the fixed white dot rear or red fiber optic front sight. This is easily corrected by adjusting POA when you know where aimed shots hit; no different than learning to correct with any other pistol that does not allow for windage and elevation adjustments, be it a 19th century Colt Single Action or 20th century 1911 with early military-style sights. They were never meant to be target pistols, nor are the XDM 4.5 models, unless equipped with target sights or slide-mounted optics, which Springfield offers for its centerfire guns. For the air pistol, the only way to dial in accuracy to POA without correcting aim is with an accessory rail mounted laser, and that is the reason for this fourth and final installment on the XDM 4.5 CO2 model.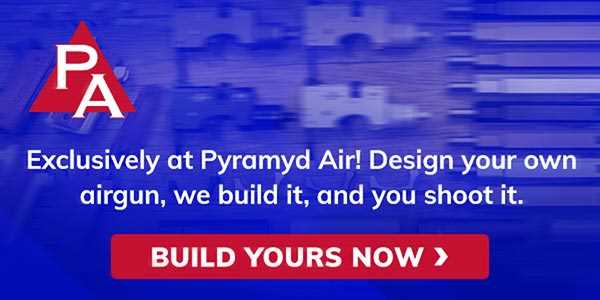 Choosing a practical laser
With an authentic MIL-STD 1913 Picatinny rail, the CO2 model can accept any laser or light/laser combination that would fit the centerfire pistol. If you don't have a laser, you will quickly find that most made for the centerfire pistol cost more than the XDM CO2 model. There are, however, less expensive lasers for air pistols and a couple that are made for centerfire handguns that are priced affordably enough to pull double duty. My personal choice is either the LaserMax Spartan red or green laser, which sell for $89 and $105, respectively, from Pyramyd Air. They are a value for the price and are ruggedly designed for use with centerfire pistols.
Mounting the Spartan on the XDM is the same as with the centerfire pistol and it takes a dozen or so rounds to get the windage and elevation adjusted to the significantly lower velocity of BBs vs. centerfire cartridges, and the pistol's optimum range of 21 feet. Once done, the XDM 4.5 is dialed in and the POA no longer an issue. So how accurate is the 4-inch smoothbore barrel with a laser?
Range test
I have a preference for the green laser vs. the red since it is better suited to shooting outdoors in daylight (though a red laser at 21 feet is still quite visible in daylight). Testing red and green lasers on centerfire guns, I have managed to pick up a green laser on targets out to 25 yards, whereas a red laser at that range in daylight is almost imperceptible to the human eye. Indoors, in dim light or darkness, it is a moot point, but for the difference in cost between the red or green Spartan, might just as well go green.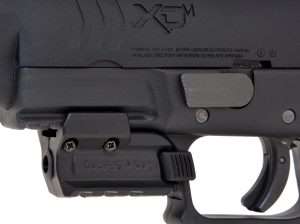 For the final test of the XDM 4.5 I started with Umarex Precision steel BBs. At 21 feet I fired at 1-second intervals with a full magazine (20 rounds) and ended up with every shot in the red except one, for a spread of 1.81 inches with the one flyer outside of the bullseye, and two in the red a little high at 12 o'clock, leaving a best single group of 10 hits measuring 1.0 inches in the center and a best 5-round group overlapping at 0.44 inches.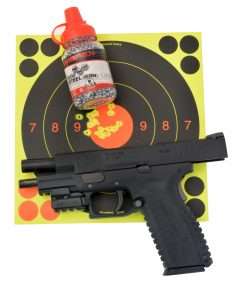 I wanted to give the Dust Devils one last go in the XDM and with 20 rounds loaded, I again fired at 1-second intervals and there were no failures with the Dust Devils and XDM. The 20-shot spread measured 1.875 inches with two tight groups, one shot left of the bullseye and another centered in the red. The best 5-round group, all overlapping in the red, measured 0.55 inches.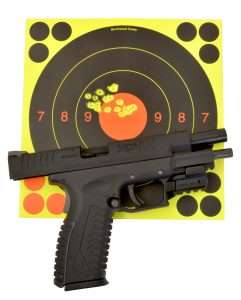 Bottom line with the XDM 4.5, the pistol is capable of tight groups with or without a laser, but for POA shooting, adding a laser does make the XDM a bit more accurate without aiming corrections. Once I have my hands on a production gun we'll find out if the POA issue with the fixed sights is the nature of the beast or just preflight jitters. Either way, the Air Venturi Springfield Armory XDM 4.5 is the new blowback action CO2 pistol to beat!
A word about safety
Blowback action airguns provide the look, feel and operation of their cartridge-firing counterparts and this is one reason why they have become so popular. Airguns in general all look like guns, blowback action models more so, and it is important to remember that the vast majority of people can't tell an airgun from a cartridge gun. Never brandish an airgun in public. Always, and I can never stress this enough, always treat an airgun as you would a cartridge gun. The same manual of operation and safety should always apply.