Gletcher Mosin-Nagant Model 1944 Part 3 Part 2 Part 1
The Russian sharpshooter is back
By Dennis Adler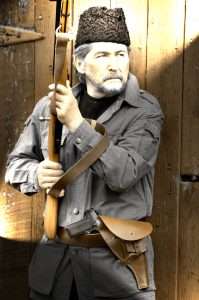 The Mosin-Nagant is among a handful of legendary rifles like the Henry and Winchester lever action models, the M1 Garand, 1903 Springfield, .303 Lee-Enfield, and Mauser 98, that proved their mettle on the fields of battle and became iconic symbols, not only of nations, but of ideals. The Mosin-Nagant was a design that rose above the very history of the nation in which it was created, and played no small role in making that history. As a CO2 model it carries a remarkable heritage that spans from the era of the Czars, to the Russian Revolution, the rise of Communism, through two world wars, and into the present day, where many surviving examples of early to mid 20th century Mosin-Nagant rifles and carbines, and Mosin-Nagant design models (produced by armsmakers in other countries) are still being used. The Mosin-Nagant has had an almost unprecedented 127 years of service since 1891. So, there is a lot to be said about the Gletcher Mosin-Nagant CO2 model, most importantly that it is a worthy representative of its namesake, not perfect, but for an air rifle, quite remarkable.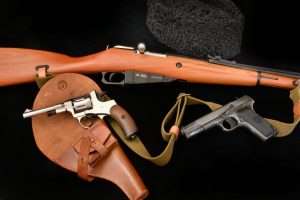 As it measures up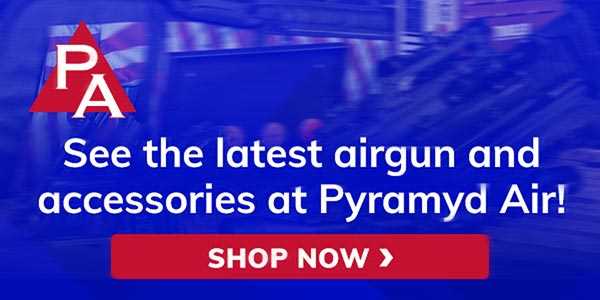 The Gletcher Mosin-Nagant carbine has an overall length of 40.5 inches with the bayonet folded and 53 inches with the bayonet rotated and locked over the barrel. An original M1944 measures 40.4 inches with folded bayonet. The Gletcher weighs 8.21 pounds, a centerfire Mosin-Nagant carbine 8.9 pounds. The 7.62x54mm R Mosin-Nagant Model 1944 had a barrel length of 20.5 inches. The external barrel on the CO2 model measures 20.5 inches (the internal smoothbore barrel is around 15 inches).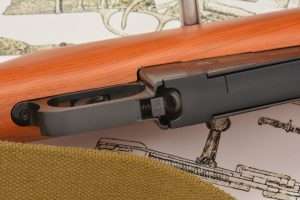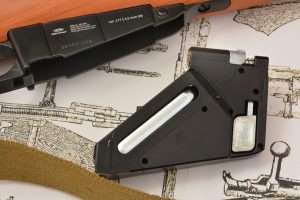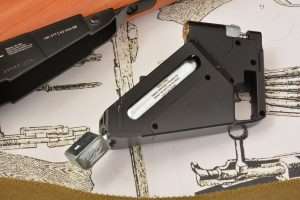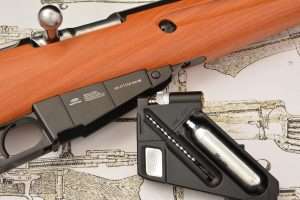 The velocity tests were run with Umarex steel BBs delivering a high of 549 fps, a low of 518 fps and an average velocity for 10 consecutive shots of 524 fps. The CO2 model is factory rated at a conservative 427 fps. Velocity with Hornady Black Diamond was within 8 fps with an average of 520 fps. The surprise was the lighter weight Dust Devils which did not pick up any appreciable velocity with a high of 544 fps and an average velocity of 528 fps, just a fraction faster out of the barrel than steel BBs. A fair trade if you want to engage reactive metal targets at 50 feet. Overall this test gun delivered velocities averaging 100 fps greater than factory specs.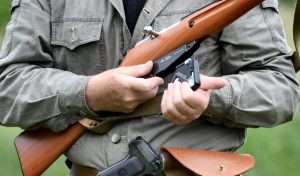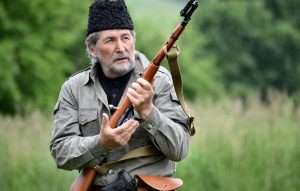 The Mosin-Nagant shoulders solidly, the sling with an arm wrapped through it, is an excellent adjunct to stabilize the rifle, the bolt is quick to open and close and the smoothbore barrel true to point of aim at 50 feet with the light 3 pound, 1.5 ounce average trigger pull (trigger pull on a 7.62x54mm R Mosin-Nagant Model 1944 averaged 6 pounds, 8 ounces, so the Gletcher is closer to the trigger pull on the 91/30 PU Sniper rifles, which had a trigger pull range of 4.4 to 5.3 pounds). Trigger take up on the Gletcher is a mere 0.312 inches with virtually no stacking, just a smooth straight pull. If you can hold the Mosin-Nagant CO2 model on target it will put the .177 caliber round ball where you aim.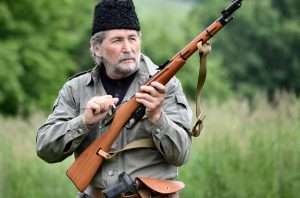 Firing from a standing position 50 feet from the target, average 10-round groups had a spread of 1.5 inches with best 5-round groups as tight as 0.5 inches. The best accuracy was achieved with Umarex steel BBs (once I found the sweet spot with my sights) punching a best five shots into one ragged hole that was 0.5 inches from edge to edge. I was not quite as accurate with the Black Diamond or Dust Devils but my overall spreads were tighter and average 5-shot groups still measured 0.75 to 0.81 inches. At 50 feet you can kick the can with steel BBs. Actually you can hit a tin can or paper target dead center at 25 yards with a little effort and a steady hold. I averaged 2.5 inches for 5-shots fired from a resting position at 25 yards with the Mosin-Nagant and center punched a large #2 tin can (3-7/16 x 4-9/16 inches). This rifle can be a lot of fun at actual firearms shooting distances.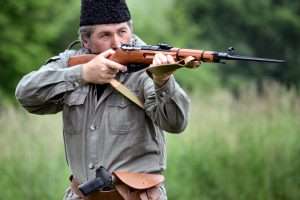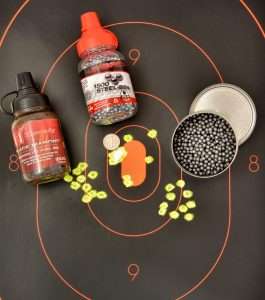 Wrap up
This was an interesting rifle the first time around and it remains one of the most authentic CO2 military rifles on the market. It is the flagship model of Gletcher's Russian Legends line, and paired with the Nagant BB or pellet model pistols and TT-33 blowback action semi-auto (currently not available) you have a classic trio of WWI and WWII inspired airguns.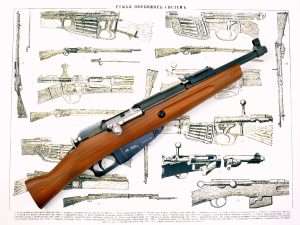 Gletcher also has the cut down M1891 pistol variant of the Mosin-Nagant, known as the Obrez, a field conversion first used during the October Revolution of 1917, and was carried by various irregular forces and partisans for its easy concealment under clothing. It makes an exciting bookend to the M1944 carbine. For military arms enthusiasts, these are must have models, and sometimes they're actually harder to get than the real guns!
Next week, something very special for the Airgun Experience; don't miss it!