The Gletcher Russian Legends Part 3
The Soviet APS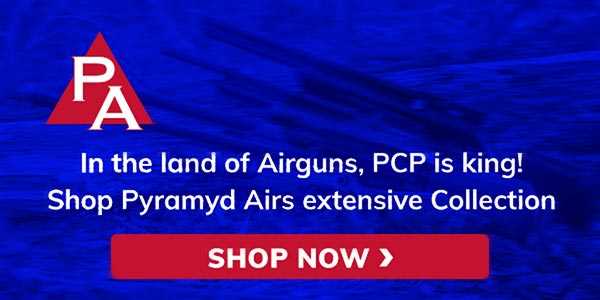 The Kremlin's Cold War Military Pistol
By Dennis Adler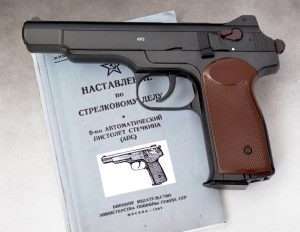 The U.S. had managed with one standard issue pistol since 1911, with the exception of the OSS, the predecessor to the CIA, using a variety of handguns including a custom-built High Standard .22 with an integral silencer. The Soviet Union, on the other hand, had rotated through a series of handguns from the old 1895 Nagant revolver, to the Tokarev TT-33, the Pistolet Makarova Model 1951, and 1951 APS or Automaticheskij Pistolet Stechkina.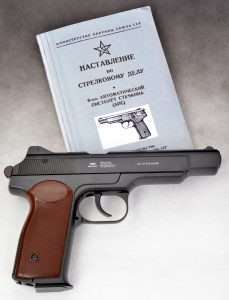 The Stechkin Automatic Pistol was a selective fire, blowback action design intended to give Soviet soldiers the same option they had during WWII with the Model 712 Broomhandle Mauser (Model of 1932), which could be fired either semi-auto, or when needed, full-auto. Unlike the Mauser and Tokarev pistols of the early 20th century, however, the APS was chambered for the 9x18mm Makarov (9mm) cartridge.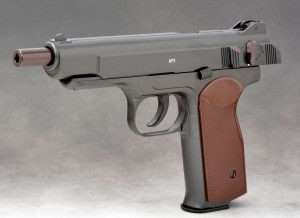 Like the Tokarev and Makarov, the Stechkin was named after its designer, Igor Stechkin, another brilliant Soviet arms designer. The Stechkin selective fire pistol was a big gun, even by 1950's standards, and capable of using a shoulder stock holster (again derived from the Broomhandle Mauser and other WWII handguns designed to accept a shoulder stock). Ultimately, the APS proved to be too much gun for most soldiers and officers in the field to comfortably carry, particularly when using the shoulder stock as a holster. Although the APS had a relatively short military career in the postwar 1950s, it made a stunning comeback almost 20 years later for use by Soviet Spetsnaz military units (the Russian version of U.S. Special Forces and Navy SEALS); GRU Intelligence teams and the KGB, using special APS models fitted with extended threaded barrels and silencers. Even though production ended in 1975, the APS finally found its place, and after more than half a century the guns are still in use by Russian Special Forces. It looks like 1951 was a very good year for Igor Stechkin after all.
Another Russian Legend      
Gletcher has made Russian handguns and rifles into an art form over the years and the APS is right in line with so many other historic, dare I say, legendary models. It is difficult to build complex handguns as airguns, especially one that has as many features as the Stechkin. Externally, this is a solidly-built and heavy airgun tipping the scale at 36.5 ounces, and with an overall length of 8-7/8th inches it makes a Government Model 1911 look like a Combat Commander. It is also a tall handgun measuring 5-3/4 inches from the base of the magazine to the top of the rear sight.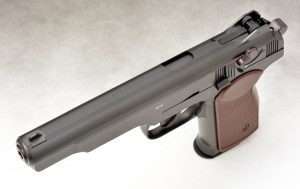 The grip design is an excellent reproduction of the original as is the slotted backstrap to fit a shoulder stock, the magazine release in the base of the grip frame, front and rear sight design, round, knurled hammer, and slide release. The APS air pistol even disassembles identically to the original gun. This is done by pulling the triggerguard downward, drawing the slide to the rear and lifting it up to clear the back of the frame and hammer, and then pulling it forward off the frame. And yes, that is exactly how you disassemble a Walther PPK or Makarov. Of course, as with the majority of air pistols, field stripping is not really necessary for cleaning, but it does add another level of authenticity to the Gletcher model and there are no issues with reassembly.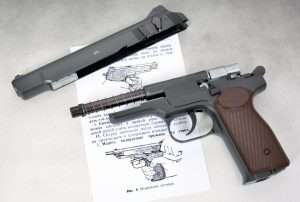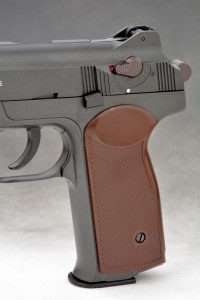 The airgun even has a three position safety lever marked for safe (white dot) semi-auto fire (red dot) and automatic fire. Unfortunately, the lever doesn't actually move to that position and the airgun remains a semi-auto only. That's one feature I would change. Another is the separate CO2 channel in the grip frame and 22-round stick magazine. This gun is certainly big enough to be redesigned to use an authentically-sized combined CO2 and BB magazine like the Gletcher PM 1951. But this is really a small complaint compared with all of the Gletcher's accurately reproduced APS features.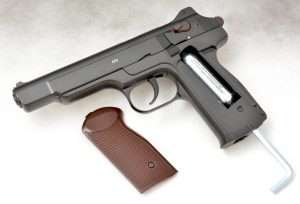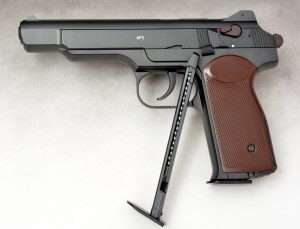 Steel and paper
Getting a firm grip on this pistol is easy, even if you have lumberjack-sized hands. While it is a double action, single action design like the original, you never have to shoot the gun DA since you rack the slide for the first round, which also cocks the hammer; same on the reload since the slide locks back. The only reason to shoot the first shot double action is if you manually de-cock the gun. Trigger pull on double action averaged 9 pounds, 2.5 ounces; single action averaged a light 7 pounds, 0.5 ounces. Shooting double action, the trigger travels a seamless 0.75 inches before you encounter moderate stacking, from there it is 0.125 inches to drop the hammer, and the trigger only needs 0.25 inches of release to reset. With practice you can shoot the APS pretty fast, but, be aware that you only get a maximum of three reloads on a CO2 cartridge, that's 66 shots max, another reason why self-contained CO2 and BB magazines would not only make this a faster pistol to reload but to change CO2.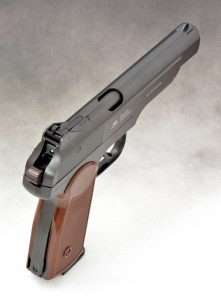 For sighting downrange Gletcher has an original-style elevation adjustable rear sight, so you can dial this gun in cleanly at 21 feet, although there is no provision for windage adjustments. Average velocity for this blowback action airgun is between 361 fps and 380 fps.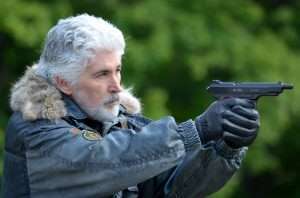 The majority of my groups were center on the target and as I shot I moved from the X bull down to shoot two 10-round groups on each target. I have to admit to one trick on my last few targets, I put a 1/16th wide piece of masking tape on the back of the front sight to make it easier to see and outline it against the rear notch. It's an easy enough thing to do and it's not permanent. My best average groups for 10 shots, fired offhand from 21 feet measured 1.5 to 1.75 inches. This is more than adequate for a 6-inch smoothbore barrel.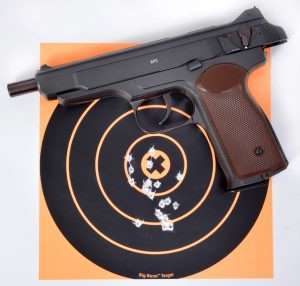 I really like all three of the Russian Legends blowback action pistols tested, with the PM 1951 being my personal favorite. The APS is a lot of gun for the money (in size and quality) and a great shooter, too. Definitely legendary, whether in 9x18mm or .177 caliber.
A word about safety
Blowback action airguns provide the look, feel and operation of their cartridge-firing counterparts and this is one reason why they have become so popular. Airguns in general all look like guns, blowback action models more so, and it is important to remember that the vast majority of people can't tell an airgun from a cartridge gun. Never brandish an airgun in public. Always, and I can never stress this enough, always treat an airgun as you would a cartridge gun. The same manual of operation and safety should always apply.