Glock Analytics
The most buck for the bang!
By Dennis Adler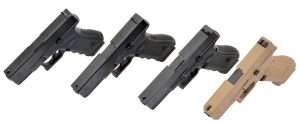 To close out this series on the Umarex Glock models, which, given the very short span of time since the first Glock branded CO2 pistol was introduced, could be something of a record for consecutive new models, I have decided to provide an analysis of all four guns by price, features, and rate each to help make choosing a single gun out of the four models easier. The needs of everyone will not be the same, and there is no "winner" per se, but rather a ranking of features similar to how I calculate Replica Air Pistol of the Year, only we are dealing with one brand of air pistol. In the end one might come out on top and that will help me with 2019's Replica Air Pistol of the Year competition. But today, this is for those of you pondering more than a dozen articles on Glock CO2 models and wondering which one, if any, to purchase.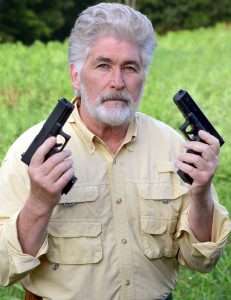 A good number of Airgun Experience readers are, like myself, not only collectors of airguns but centerfire and rimfire guns as well, and there is barely any cartridge loading handgun worth its salt that doesn't cost significantly more than all four Glock CO2 models combined. From that perspective, a total cost of about $400 for the G19, G17 Third Gen, G17 Gen4, and G19X, plus any additional expense for extra magazines (I'm ruling out holsters and mag pouches because the airguns fit the centerfire gun rigs), is more like an ammo budget for a half dozen serious trips to the shooting range. Ammo is expensive and expendable, even if you reload. For basic drawing and firing practice I've saved enough in centerfire ammunition over the span of time since the first Umarex Glock was introduced to pay for all four guns, but honestly, I would not have purchased the first G19, as nice as it was, because I'm not personally interested in entry-level air pistols. That's not to say those of you who are, shouldn't, because if you're a beginner just getting the hang of air pistols and basic gun handling, there's almost nothing out there that is better built, or more authentic looking than that $70 Umarex Glock 19 non-blowback action pistol. So, let's begin there.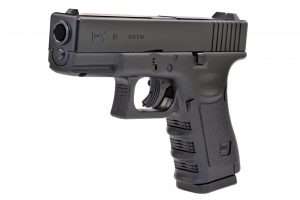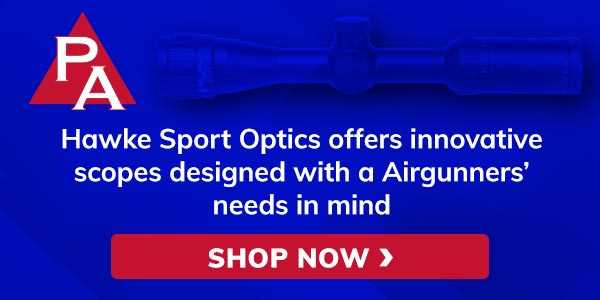 More buck for your bang
No, I didn't type it wrong in the title or here, I mean exactly what it says, "buck" being a metaphor for felt recoil. In the centerfire world, gunmakers strive to find ways to minimize felt recoil, make it as linear as possible, reduce muzzle rise and get the gun back on target quickly. But you can't totally erase the laws of physics with medium to large caliber handguns. Even the most expensive Race Guns have some recoil. So, it is a little amusing to those of us who shoot centerfire handguns to realize that blowback action air pistol manufacturers are striving to achieve just the opposite and see how much felt recoil they can dial into their pistols to make them feel more realistic to the shooter. The first time I shot the new G19X CO2 model, the amusement vanished because it kicked like a small caliber pistol. We'll get back to this in awhile.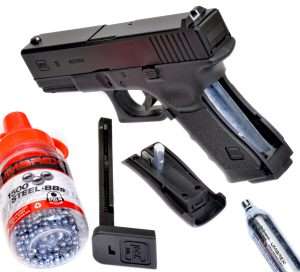 The first Umarex Glock model being a non-blowback design put all of its CO2 into velocity, achieving an average of 430 fps with a high of 439 fps. No blowback action CO2 model will touch this, so if you are looking at velocity and basic drawing, sighting, and firing at close quarter battle pistol (CQBP) distances of 7 to 10 yards for training with a G19 surrogate, this is hard to beat, just so long as that is the sum total of your needs. If you want tactile feedback as well, i.e. the elusive air pistol blowback action recoil, you need to look elsewhere. But as a basic example it is so close in looks to an actual G19 that it is virtually indistinguishable except for not bearing the caliber markings on the slide. Even as an entry level Glock CO2 model this pistol makes no compromises with warnings and manufacturers marks covering the slide, other than those found on the centerfire pistol. This set the standard for all the Glock CO2 models to follow, with the verbiage hidden on the underside of the triggerguard and dustcover. The three key features the G19 provides are proper Glock sights, trigger deign, magazine release. These are the parts of the pistol you initially interact with. Add to that, drawing from a holster, and using rail-mounted accessories, and all of these training aspects can be performed with the G19 CO2 model.
Umarex and Glock already had the next model in development and followed before the close of 2018 with the Glock 17 Third Gen model featuring blowback action and a self-contained CO2 BB magazine. Again, no steps were skipped for authenticity of design, fit or finish. Except for the caliber stamping on the slide, the G17 Third Gen looks exactly like the centerfire pistol, it has an impressive kick (for a CO2 pistol) and achieved a new high velocity standard for blowback action CO2 models of 395 fps and a consistent average of 376 fps, at least 50 fps greater than any other blowback action model with a self-contained CO2 BB magazine. As authenticity of design and handling goes, this new model briefly held on to the title of the most authentic air pistol you could own.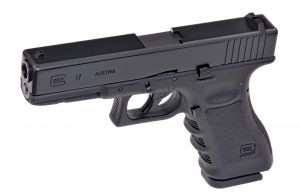 One very big step up from the non-blowback G19, the first G17 model remains a top choice because Umarex managed to combine higher velocity and improved felt recoil with only one compromise, field stripping. And thus the next hurdle for Umarex and Glock to clear.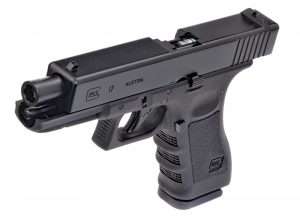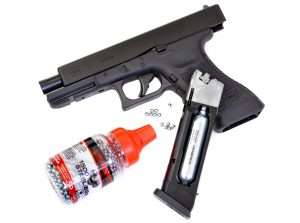 The question that remained unanswered until the release of the Umarex Glock 17 Gen4 earlier this year, was could a field strippable model be built that also allowed for the same higher velocity and level of felt recoil? The Gen4's answer was no. It could not maintain the velocity level of the Third Gen and its short, short-recoil closed CO2 system. Still, enough CO2 could be delegated to the Gen4's blowback action to give the gun an impressive sense of recoil for an air pistol. With the field stripping capability, interchangeable backstraps, authentic dual recoil spring and guide rod design, the Gen4 easily claimed the title of best new blowback action model thus far for 2019 (in an almost head-to-head tie with the new Springfield Armory XDM 4.5).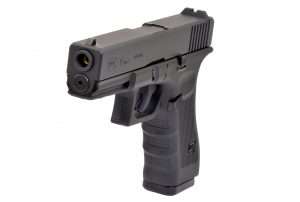 Umarex and Glock could easily have stopped with the Gen4, making an impressive statement with the most authentic looking Glock (and blowback action CO2 model, period) made today. The cost of this Glock Perfection is (discounted) $129.99, a mere $30 more than the Third Gen Glock 17. The consideration was, do you give up significantly higher velocity (and thus effective range) and a little less felt recoil, for more authentic features and the capability to experience the full Glock design by field stripping the gun down to its basic components? With the Gen4 on top of the Third Gen G17, Umarex had just become its own biggest competitor, and to be honest, a $30 difference in price is not enough to force a decision, considering that the relative price for extra magazines is $47.95 for the Gen4 vs. $29.99 for the Third Gen, a price difference commensurate with the cost of the guns. I hate to use this comparison, but honestly, it's the cost of a couple of trips to Starbucks.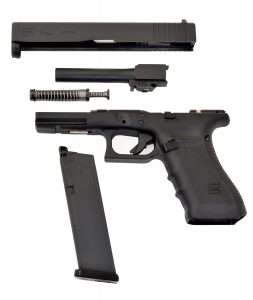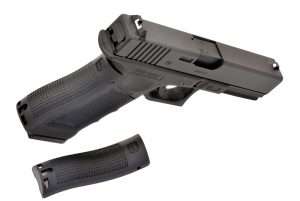 Here again, Umarex and Glock became their own biggest competitor by introducing other models in Europe, including the Gen5 Glock 17 (which will be highly coveted in the U.S.), and Gen5-based U.S. Army MHS entry G19X. With the latter just introduced in the U.S., now there is another model to consider and the prospect of a Gen5 in 2020, stalling potential Gen4 buyers. You can't compare a model that is not here yet.  The Gen5 will be an externally upgraded Gen4, with the same internal components, probable velocity and accuracy. It's an assumption, but a good one. The wild card would be if Umarex holds off on the Gen5 for the U.S. market and jumps to the Glock 32 target model, also sold in Europe. That would be an impressive move for the coming year.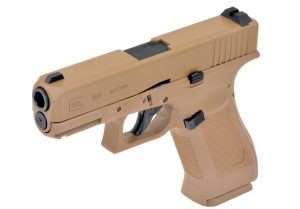 So we are down to the new kid on the block (or is that new kid on the Glock?) with the 19X. As the last series of reviews explained, the Gen4 delivered the closest possible CO2 model to its 9mm counterpart, but at the sacrifice of the Third Gen G17 and non-blowback G19's exceptional velocity and extended accuracy out to 10 yards. The 19X is the gun that bridges that non-blowback, blowback divide, and gives not only the same velocity as the Third Gen G17 in a G19-sized pistol, but the most impressive felt recoil of any blowback action CO2 model; recoil that you can feel with every pull of the trigger, recoil that you would get from a comparably-sized .22 RF semi-auto. Combine that with Third Gen G17's velocity; add improved sights based on the 19X, and impressive accuracy and you have a better Third Gen G17 in new 19X clothing. What is the cost of the new gun's performance and styling? Field stripping, just like the G17 Third Gen. You just can't have it all in one gun.
Squaring things up
Price point is a consideration, but not part of the overall comparison and points system because three of the four are within $30 of each other (two the same price) and the G19 is an entry-level-priced air pistol with the fewest features. Here's the scale from 1 to 10 with a possible total of 80 points.
G19
Authenticity of design:                            6 (heavy DAO trigger pull/non-blowback)               
Self-contained CO2 BB magazine:      0 (stick magazine, separate CO2 in the grip)
Sights/POA accuracy:                             10                   
Ease of handling:                                     8 (2 point loss for slow CO2 reloading)
Downrange accuracy:                            10 (best 5-shot group 0.5 inches)
Velocity:                                                      10 (430 fps)
Felt recoil:                                                   2 (mild kick just from velocity)
Field stripping capability:                       0
Total Points: 46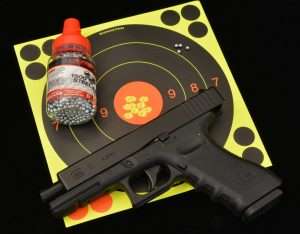 G17 Third Gen
Authenticity of design:                            8 (trigger pull DA/SA, short, short-recoil)  
Self-contained CO2 BB magazine:      10 (very easy to load CO2 and BBs)
Sights/POA accuracy:                             9 (hits a little high)    
Ease of handling:                                     10 
Downrange accuracy:                            10 (best 5-shot group 0.56 inches)
Velocity:                                                      10 (376 fps, highest for a blowback action)
Felt recoil:                                                   8
Field stripping capability:                       0
Total Points: 65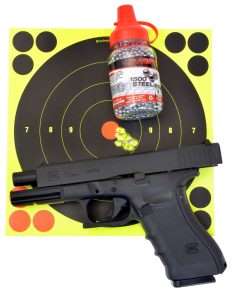 G17 Gen4
Authenticity of design:                            10 (Glock style SAO trigger)           
Self-contained CO2 BB magazine:      10 (easy to load CO2 and BBs)
Sights/POA accuracy:                             10                   
Ease of handling:                                     10 
Downrange accuracy:                            10 (best 5-shot group 0.5 inches)
Velocity:                                                      8 (317 fps)
Felt recoil:                                                   9
Field stripping capability:                       10
Total Points: 77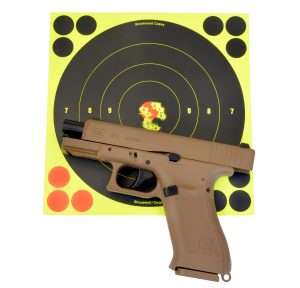 G19X
Authenticity of design:                            8 (trigger pull DA/SA, short, short-recoil)               
Self-contained CO2 BB magazine:      10 (easy to load CO2 and BBs)
Sights/POA accuracy:                             10                   
Ease of handling:                                     10 
Downrange accuracy:                            10 (best 5-shot group 0.5 inches)
Velocity:                                                      10 (376 fps highest for a blowback)
Felt recoil:                                                   10
Field stripping capability:                       0
Total Points: 68
The Takeaway
With four Umarex Glock models, there is no one gun that does it all, but for total points, the Gen4 has to get the win because you can fieldstrip it, and that earns an extra 10 points. It also has the only slide that locks all the way back on an empty magazine.
Along with the trigger and short, short-recoil, the G19X also got an 8 for authenticity of design because of its non-functional right side slide release. For me, I would have to go with the Third Gen over the Gen4 for the velocity advantage and having a slightly easier magazine to load BBs, if I wanted a full-sized pistol. This makes the new G19X an even more interesting option because of the new white dot sights combined with the same higher velocity and accuracy as the Third Gen. There is also a better CO2 seating screw wrench and base pad for the G19X, and the fact that the G19X just looks better.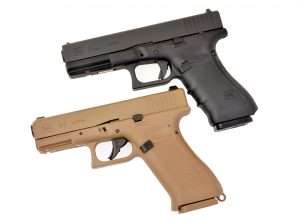 If you want as much authenticity as possible, the Gen4 has it, but if you want to extend your range beyond the traditional 21 feet and train with air, then field stripping shouldn't be the deciding factor. Take away that 10 point advantage from the Gen4 and all of a sudden the winner is the G19X. You have to pick your priorities, but there are two clear choices.
A word about safety
Blowback action airguns provide the look, feel and operation of their cartridge-firing counterparts and this is one reason why they have become so popular. Airguns in general all look like guns, blowback action models more so, and it is important to remember that the vast majority of people can't tell an airgun from a cartridge gun. Never brandish an airgun in public. Always, and I can never stress this enough, always treat an airgun as you would a cartridge gun. The same manual of operation and safety should always apply.