Go West Young Man Part 1
Cowboy Up with Custom Engraved Guns
By Dennis Adler
It's not a myth, men with engraved guns felt a special bond with the gun that made it more than just a gun. Some men were emboldened by it, some more than others, like the Dalton Gang, but an outlaw packing a finely engraved gun was unusual, same for most lawmen, though there are some very famous exceptions (and you can fill in the blanks on that one starting with Wild Bill Hickok). An engraved gun was actually more likely to found in the holster, or perhaps on the desk, of a wealthy rancher, a successful businessman, or ranking military officer. Of course, anyone who saved up enough for a hand engraved gun could have owned one, too. Engraved guns usually meant something personal; a presentation to a friend, brother or relative, others were presented to a Sheriff or Marshall by the grateful citizens of a town. Most lawmen with engraved guns were in fact carrying guns presented to them.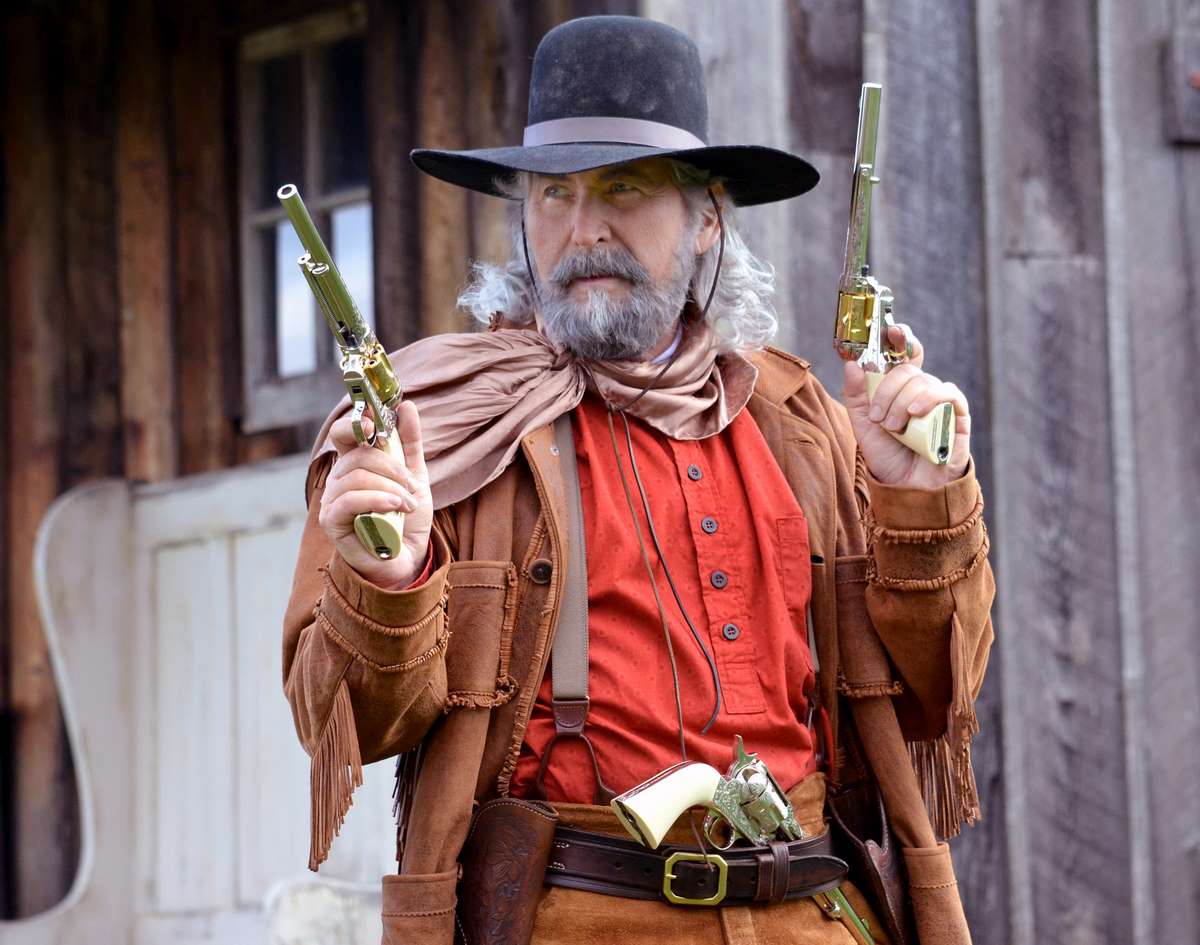 Ten Colts for a bank heist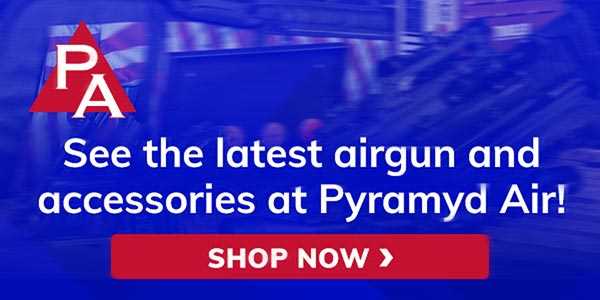 Engraved guns meant a lot of things to different people, but let's start with the Dalton Brothers, Bob, Grat, and Emmett in 1892. With a $15,000 price on their heads, the Dalton Gang wanted to make one last big score and then disappear. Bob Dalton boldly proposed robbing two banks at the same time in Coffeyville, Kansas, the C.M. Condon & Company's Bank and the First National Bank directly across the street. Bob had a strategy to enter the banks simultaneously, he and Emmett taking the First National Bank, Grat, and gang members Bill Power and Dick Broadwell, the Condon bank. The plan was simple; get the money from the cashier's drawers and vaults, mount up and ride off before anyone in town could react. Bob was so confident in the plan that he purchased 10 new guns for the gang, all matching 5-1/2 inch .45 Colts with scrollwork engraving, blued finishes and mother of pearl grips, a pair for each man.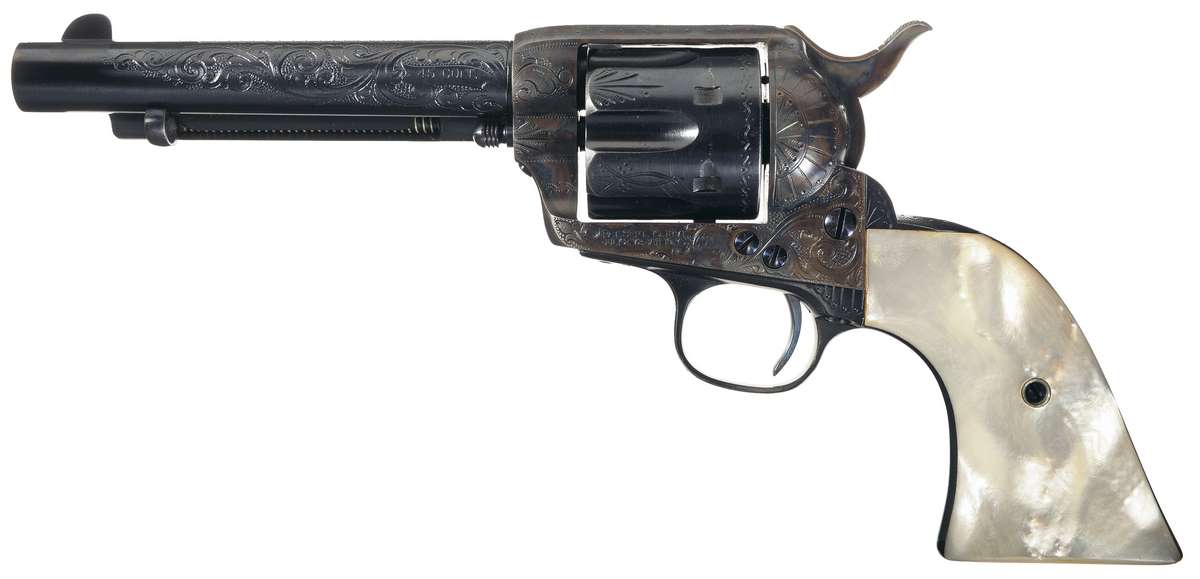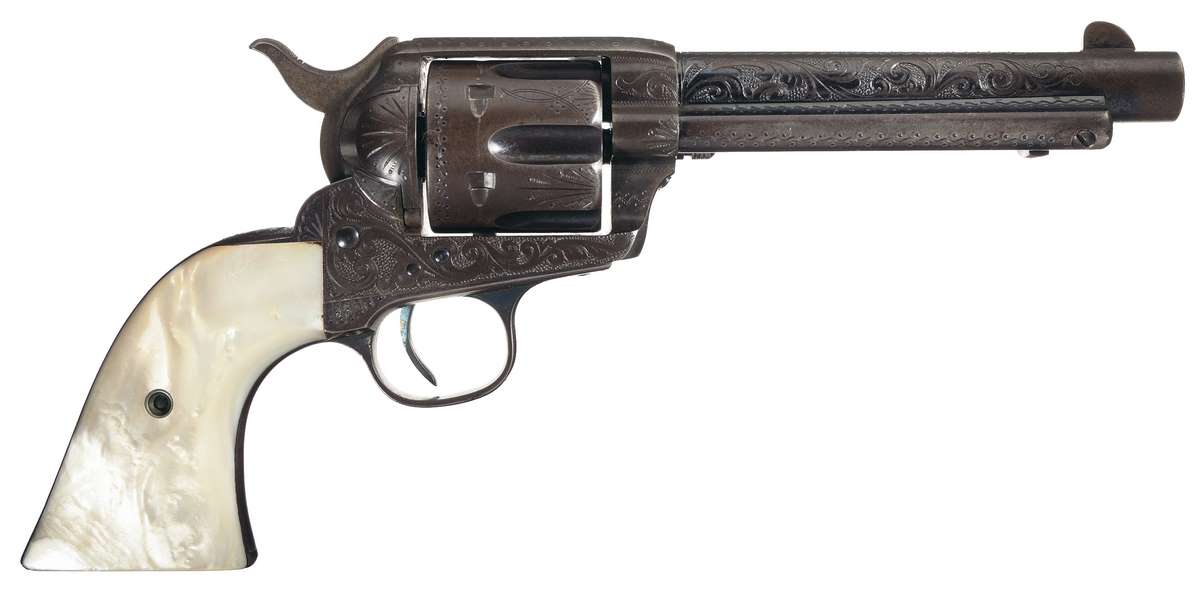 As history records, the Dalton's plan started to unravel as soon as they rode into town on the morning of October 5, 1892. The main street was torn up for repairs and the hitching posts in front of the banks had been removed. They had to tie their horses in an alley on a side street nearly a hundred yards from the banks. There was that, and the fact that they were recognized as soon as they rode into town because Bob, Grat and Emmett had all lived in Coffeyville with their family in the 1880s. Even wearing disguises and long dusters to look like a posse of lawmen, they were recognized by local residents, including one of the bank tellers! There was no surprise bank heist and with a $5,000 "DEAD OR ALIVE" bounty each for Bob, Grat and Emmett, they were as much prey as predator in Coffeyville. This was about to go down as the most failed bank robbery in history since the James, Younger Gang walked into the same situation in Northfield, Minnesota, in August 1876. Fifteen minutes after riding into Coffeyville, everyone in the gang had been shot down and killed except 21 year old Emmett Dalton, who survived his 23 gunshot wounds, was tried and sentenced to life in prison. After serving 15 years, Emmett was granted a parole by the Governor of Kansas.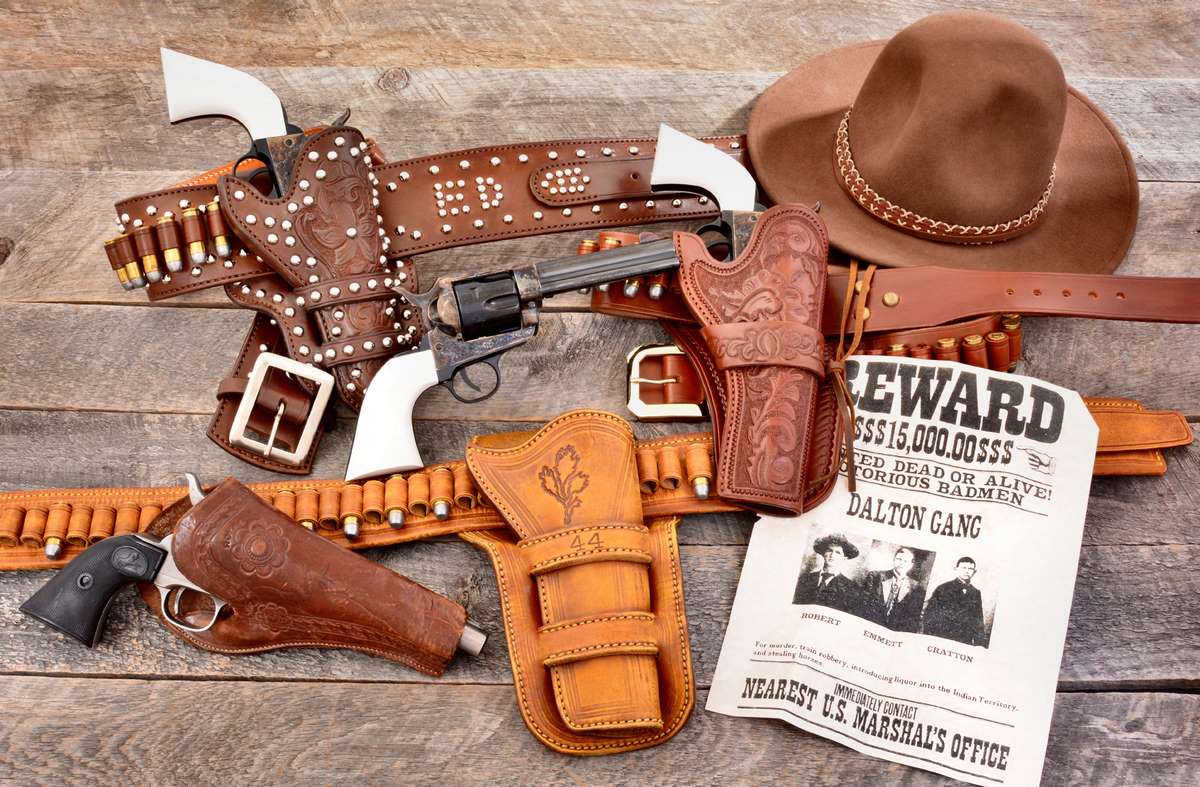 Always plagued by pain from his wounds, Emmett moved to warmer weather in California where he tried his hand at real estate, spent some time with a Wild West show, and wrote a book about his family and the Coffeyville Raid. Along with older brother Frank, a Deputy U.S. Marshal who was gunned down in 1887, Bob and Grat had also been Deputy U.S. Marshals before turning to a life of crime in 1890. The book, When the Daltons Rode was published in 1931 and made into a movie in 1940 starring Randolph Scott.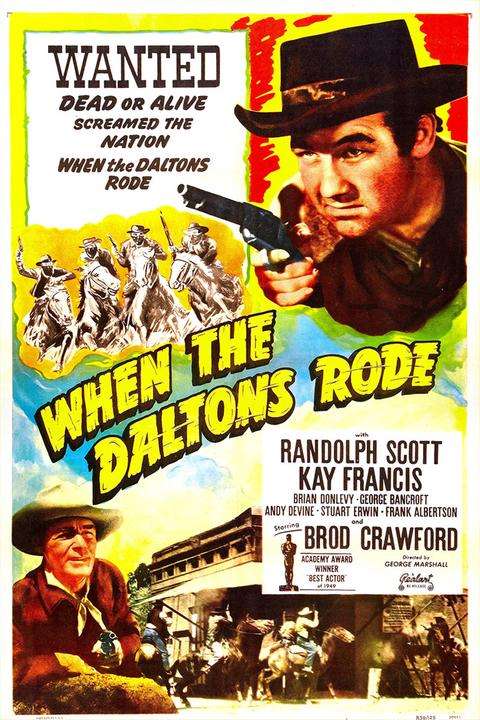 Like I said, an engraved gun meant different things to different people, but mostly it was symbolic of success, reputation, or recognition of an individual. Sam Colt was one of the first to make the presentation of an engraved gun a symbol of respect to U.S. military leaders and government officials, as well as foreign dignitaries. The practice itself goes back before the revolver was even invented, but Colt certainly capitalized on it.
Why an air pistol?
There have been engraved airguns in one form or another since the Lewis & Clark Expedition and engraving is often an essential element of a gun's design. For today's new wealth of CO2-powered Single Action revolvers, engraving is pretty much back to what it was in the days of the original Colt Peacemakers, a symbol of distinct craftsmanship, whether the finished gun is to be a gift to someone else or for one's own use. The Colts, Schofields, and Remingtons all present a period correct canvas upon which engravers can apply the same patterns used on the original centerfire guns and today on current Colt Single Actions and reproductions of Colts, S&Ws and Remington revolvers, among others. The air pistol makes it all more affordable, even with hand engraving because the metal is softer and easier to work with. That cuts down on the time spent but not the quality of the engraving, as evidenced by the models shown here done by John Adams, Jr. of Adams & Adams. Engraving still costs more than the gun but the prices are relative; an engraved CO2 Peacemaker still costs much less than a plain out of the box Single Action .45 Colt. There is, in fact, no better way to enjoy the artistry of a hand engraved revolver without spending a great deal more on a centerfire (or even rimfire) model.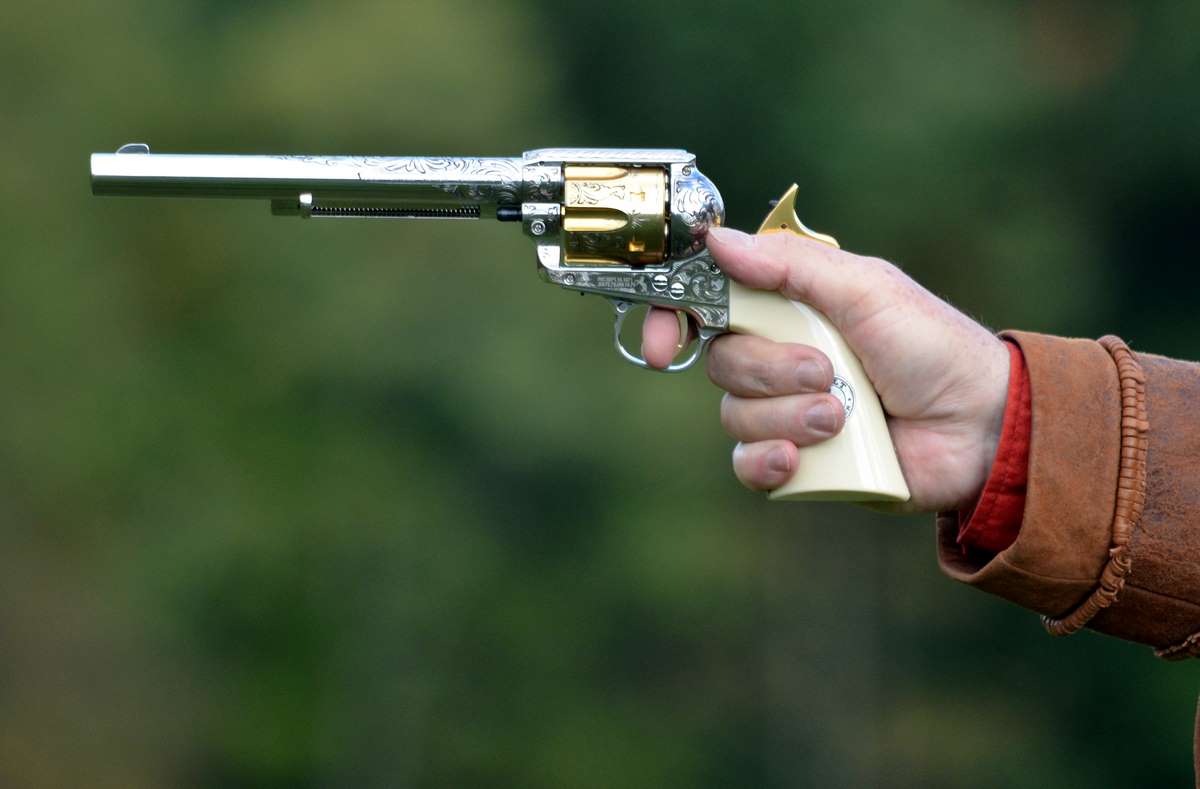 To the limit
The two pairs of CO2 models in this article are examples of "C Expert" engraving which covers at least 75 percent of the gun. The Peacemakers are also inked, which means the engraving has been meticulously hand filled with engraver's ink to further highlight and define the engraving patterns of punch dot backgrounds, vine scrolls, and flourishes used to create these famous patterns used on 19th century guns. This level of work costs more but takes the engravers art to the limit that can be done with a CO2 pistol and still have it priced within reason.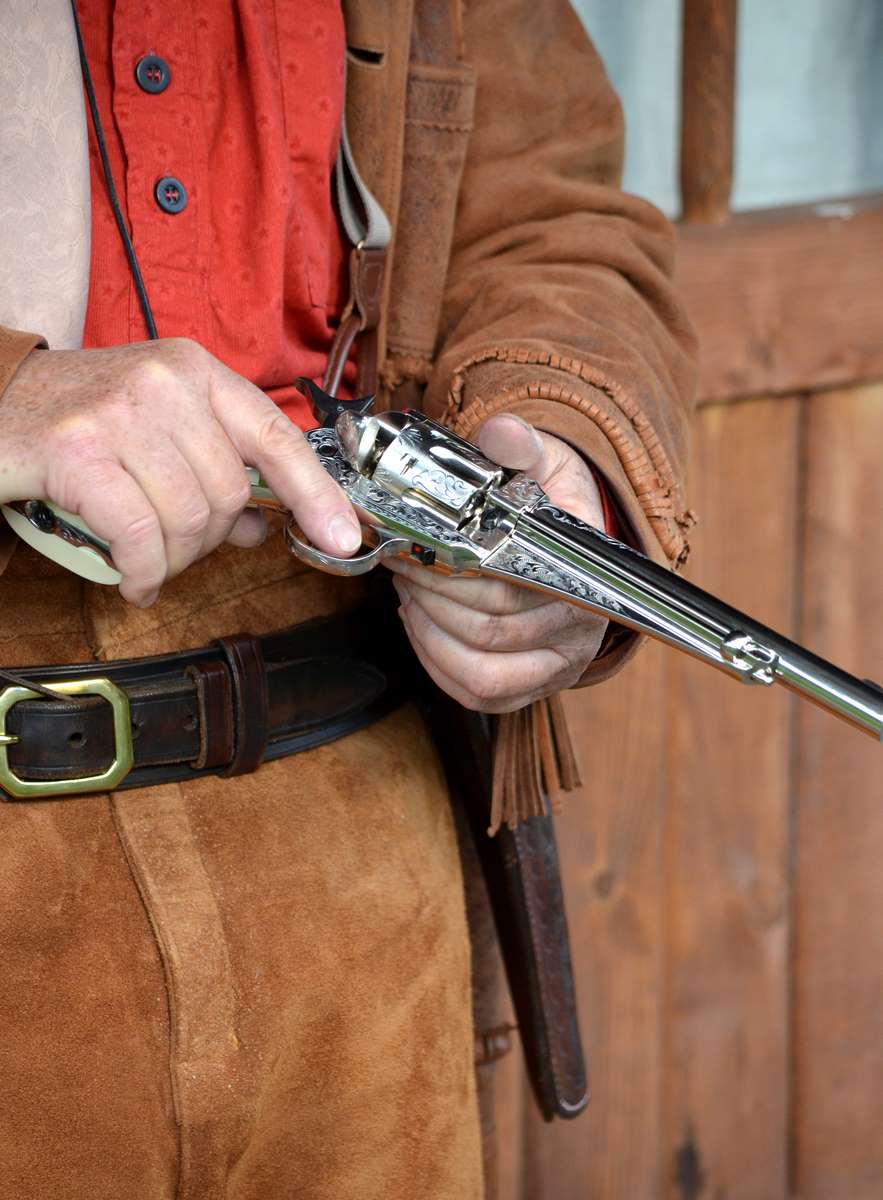 In the Part 2 conclusion we will take a closer look at the detailed workmanship from Adams & Adams on these Colt and Remington CO2 models.