Going Tactical with your Umarex Colt Commander
The Recover upgrade for Government Model 1911s can work with CO2 Models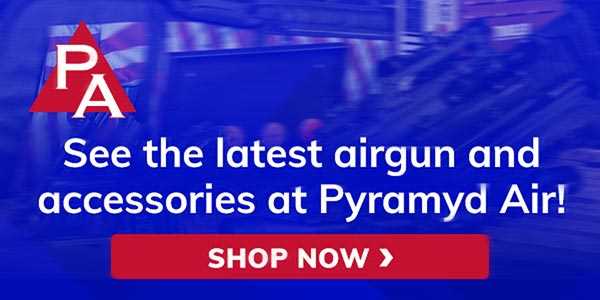 By Dennis Adler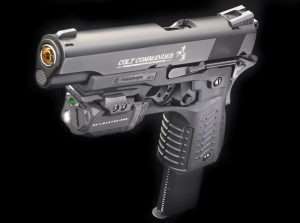 Everyone who owns (or buys) an Umarex Colt Commander loves the gun. It is ruggedly built, easy to handle, and authentic in virtually every operating detail. It has white dot combat sights, a pretty snappy blowback action, and it is more accurate than the majority of fixed sight blowback action 1911 CO2 models. But there is one often heard complaint, that there is no Rail Gun version. Well, with a little time and effort, you can make your Umarex Colt Commander into a Rail Gun yourself!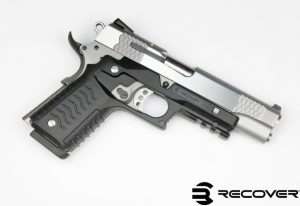 If it fits, it works
Every once in awhile an accessory designed for centerfire handguns also ends up working on comparable CO2 models, if the airgun is close enough to its cartridge firing counterpart, and the Umarex Colt Commander is. This accessory is a very elaborate pair of replacement grips called Recover (manufactured by Recover Tactical), and not only do they replace the standard grips on any Government Model 1911 they add an extended triggerguard and a MIL-STD 1913 Picatinny rail! If you have $39.95 for a Recover Tactical Grip & Rail System and a Dremel in your tool box, what you are looking at could be your Colt Commander Rail Gun. And this brings me to the second biggest complaint about the Umarex Colt Commander (and all 1911 models with self-contained CO2 BB magazines); original 1911 grips won't fit. So how can the Recover grips fit? They don't, at least not at the beginning. Real 1911 grips are flat on the inside whether they are manufactured from wood, hard rubber, G10 or any other material, such as ivory, mother of pearl, bone, stag, etc., but the Recover grips, like the grips on the Umarex Colt Commander, are injection molded (the Recover's are glass reinforced polymer) and have a concave interior. It's just not concave enough, and that's where the Dremel comes in.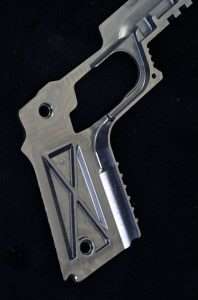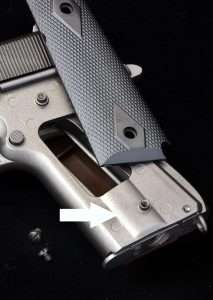 If you remove the grips from a .45 ACP Model 1911, you will see that the grip frame is flat. If the CO2 models had flat grip frames all 1911 grips would fit, but as you see after removing the grips from a CO2 model the grip frame has a bulge necessary to accommodate the curvature of the CO2 cartridge in the magazine; that's how they're able to get a 12 gram cylinder into a correctly-sized 1911 grip frame.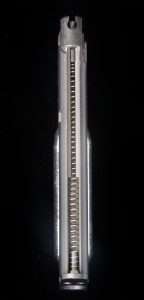 The down side, of course, is that you need hollow grips. The injection molded Recurve grips are most of the way there. By most of the way I mean there is some material that will have to be ground off the inside so that the grips can fit snugly around the frame. This requires grinding down the outer edges inside of the Recover grips (as shown in finished stages) until you have removed enough material to allow them to wrap around the frontstrap forming a very nice finger groove grip. This is another advantage of fitting the Recover Grip & Rail System to the Umarex. Removing the polymer surfaces inside the grips is not hard work with a Dremel and a grinding attachment. But you have to remove material slowly and in specific places only. Care should be taken to use the slower speeds on the Dremel to avoid friction and heat, and also to leave a fairly smooth, even surface. The polymer loses its shine when you cut into it, but since you are working only on the inside surfaces of the grips, it isn't anything you are going to see once they are attached to the pistol.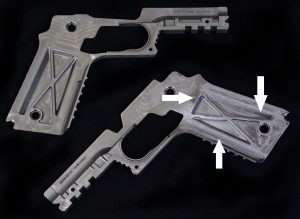 It took me about two and a half hours going slowly and fitting and refitting on the Umarex grip frame until I took off just enough of the inside surface to get a good wrap around the frontstrap. This also requires the careful removal of some surface area at the bottom center of the grips to create an indent to fit over the bulge in the CO2 BB magazine. That is the final step, and once everything has been carefully ground down to the correct depth, the Recover Tactical Grip & Rail will fit over the Umarex grip frame (or other 1911 CO2 models using a self-contained CO2 BB magazine) and screw down using the original grip screws. The Recover also has two of its own screws to securely join the two halves at the base of the triggerguard and front of the rail, making it a secure fit from grips to muzzle. Just add a tactical light and laser combo and you are ready to dial in your Umarex Colt Commander Rail Gun.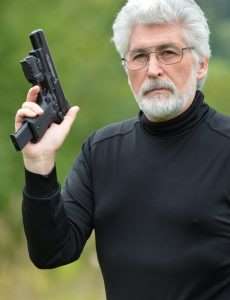 Testing at 21 feet
For the final evaluation I used a Crimson Trace Rail Master Pro green laser and tactical light combination that I have for testing 1911 (and other) Rail Guns. It is a universal fit for just about any standard length Picatinny rail on a full size or compact semi-auto or tactical revolver. Adjusting it to POA with steel BBs flying at 300 fps downrange for 21 feet was quite a change from the last .45 Auto it was used on! But once dialed in for windage and elevation, I managed to punch 10 rounds into a total spread of 0.95 inches and seven of the 10 into a hole measuring 0.5 inches.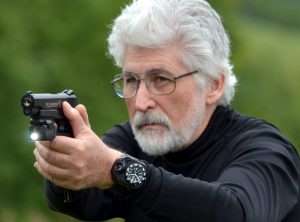 For those of you who want to try a laser on a 1911 without purchasing a dedicated Rail Gun model this is absolutely the least costly and most direct route. There are also folks who prefer a standard Government Model look over a Rail Gun, but want to have their cake and eat it too. Dessert has been served.
A Word About Safety
Colt 1911 CO2 models provide the look, feel and basic operation of their cartridge-firing counterparts. All airguns, in general, look like guns, but those based on real cartridge-firing models like the 1911 even more so. It is important to remember that the vast majority of people can't tell an airgun from a cartridge gun. Never brandish an airgun in public. Always, and I can never stress this enough, always treat an airgun as you would a cartridge gun. The same manual of operation and safety should always apply.