Guns and Holsters Part 1
Packing Alloy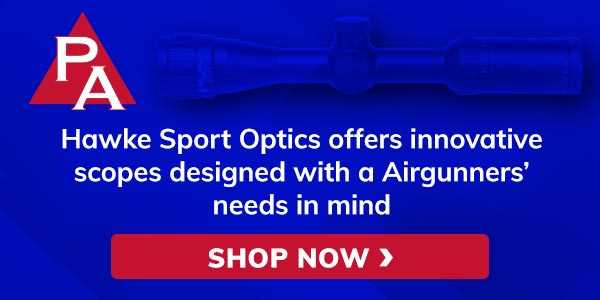 By Dennis Adler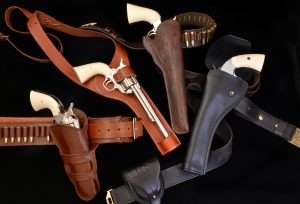 Over the past two years a great deal of thought has gone into creating authentic CO2 reproductions of Colt, Smith & Wesson, and Remington revolvers, even special hand engraved models duplicating the original patterns used in the 1870s and 1880s. These high quality Colt, Schofield and Remington airguns deserve to be worn in proper western gunleather, the problem is that authentic western holsters and cartridge belts usually cost more than the airguns they hold (with the exception of the hand engraved guns, but it can still be close!)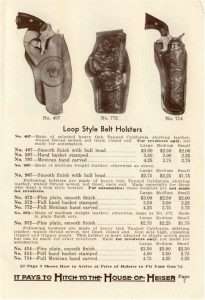 Back in the 1800s, western holsters were very simple designs that, as time passed, became as much a decorative accoutrement for cowboys as it was a practical means of carrying a handgun. Military holsters aside, as far back as the late 1830s civilian holsters were simple leather pouches shaped like the gun and worn on a leather belt. Early military holsters manufactured in quantity for the U.S. Army and Navy added a flap to give the firearms more protection from the elements, but it was still a basic leather pouch with no embellishments other than a U.S. stamp. For civilians, the early designs evolved into more intricate, contoured holsters known as the "California-pattern" which were better finished and more rugged. Most were plain while others were done with various carving styles and border stampings. They were mostly manufactured by saddlers who imparted their own touches to the designs. The "California Pattern" holsters were around long before the advent of the metallic cartridge and gun belts were just belts made to carry the holster. And of course, a gunbelt also helped to keep a man's trousers up instead of suspenders, since belt loops for pants wouldn't become common until 1922, when Levi Straus started putting them on jeans!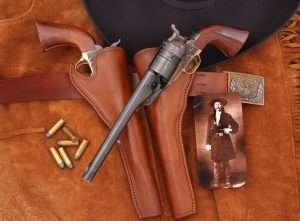 South of the Border
The greatest influence on American holster designs in the 1870s were those crafted in Mexico, where decoration was as much a part of an item's design as the item itself, be it an article of clothing, a hat, or a holster. In time, the influences of Mexican craftsmanship and the Mexican drop loop design brought about a more decorative form of holster making in the U.S., particularly during the post-Civil-War Western Expansion and throughout the remainder of the 19th century. The Mexican drop loop also inspired a number of ex-soldiers to modify their old Civil War flap holsters by cutting off the belt loop on the back (most were about ready to tear off anyway since they were narrow and poorly stitched on military holsters), cutting two slots into the flap and then bending the soft leather holster pouch to push through the slots, thus creating a faster holster to draw from and a large belt loop made from the rolled over flap. These were crude but effective ways to make do with what you had. Saddlers improved upon the drop loop design making it a style of holster that stood out from the traditional rigs of the 1860s and early 1870s.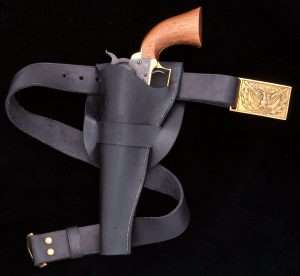 Back in the day a cowboy spent about $2 for a plain leather holster and another $3 for a bullet loop cartridge belt. Most gun shops just had a "holster barrel" with various holsters made by local saddlers who used their scrap leather to produce three basic sizes to fit most revolvers; you reached into the barrel, found a holster that fit your gun and that was it. Of course, there were custom holster makers in some of the larger cities like H.H. Heiser in Denver, Colorado, J.S. Collins in Cheyenne, Wyoming,  R.T. Frazier in Pueblo, Colorado, and El Paso Saddlery in El Paso, Texas. They sold more expensive gun belts, holsters and rifle scabbards, usually with a great deal of embellishment done with stampings and hand carved designs. But even these makers offered plain holsters that sold from around $2 to $3. The rest were several dollars more but better quality than you would find in a run of the mill small town general store or gun shop holster barrel. By the 1880s well established makers like H.H. Heiser were also selling their wares through mail order catalogs and sporting goods stores. El Paso Saddlery, by the way, is still in business today. The original company founded in 1889 is famous for making holsters for John Wesley Hardin.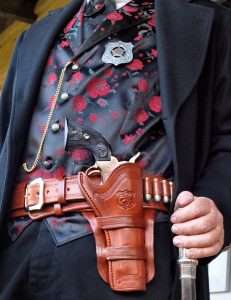 The most common holster for a Colt revolver was either a simple Slim Jim style contoured to the shape of the gun or the Mexican drop-loop style. Add a little border stamping and you had a good looking holster to protect your pistol that still cost less than $3 in the 1870s and 1880s. Today, even reproductions of those styles are pretty pricey but there are some affordable original style western rigs on the market that will work for Colt, Schofield and 1875 Remington CO2 models without breaking the bank.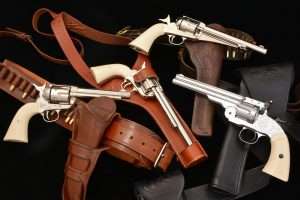 For the first part of this article I am showing several contemporary copies of traditional western holsters and cartridge belts that are priced considerably higher than the standard CO2 models of the Peacemaker, Remington, and Schofield, and close to the price of some of the hand engraved models shown. These are top of the line rigs built by some of the most famous holster makers in America, and are shown to give you an idea of what fits and what is historically correct for the guns.
In Part 2 we'll look at several new handcrafted holsters being readied for introduction just for Colt 5-1/2 inch and 7-1/2 inch CO2 models, the Schofield, and Model 1875 Remington.