And now for something completely different
By Dennis Adler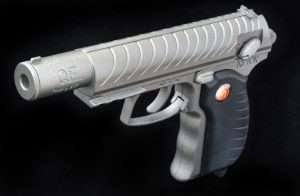 Hard to believe, but here we are at Airgun Experience No. 200, and to commemorate this little milestone we are going to look at a brand new CO2 pistol from Hatsan with an unusual name, Riptor. Now you're thinking, "don't you mean Raptor, like the dinosaurs in Jurassic Park?" Nope, Riptor but you're close. A Raptor is a predatory bird or the dinosaur genus Velociraptor, but Riptor is actually a real made up name. It is a futuristic, genetically engineered hybrid Velociraptor combined with human DNA in the video game series Killer Instinct. So, the folks at Hatsan didn't pull the name out of their hat(san) but picked one that might aptly be used to describe their new CO2 powered, blowback action, .177 caliber semi-auto pistol. Like the Riptor in the video game, this new pistol is a combination of advanced technology that also has some very prehistoric features for a new CO2 model.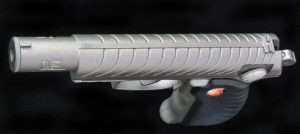 Hatsan is, of course, very well known as a manufacturer of high end sporting air rifles, but the company had already delved into the 12 gram CO2 semi-auto market with its Ruger MK III .22 LR Hunter based design named the 250XT TAC-BOSS, which uses a self-contained CO2 BB magazine but is a non-blowback action design. The Riptor not only adds a blowback action but a unique exterior design that borrows from a variety of classic semi-auto pistols dating back to the turn of the last century. Unfortunately that gives the Riptor one of its least desirable features, an antiquated magazine release at the heel of the grip that requires two hands to open and withdraw the empty magazine; shades of ancient Mausers, Walthers and FN Brownings.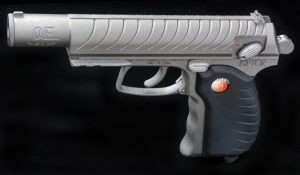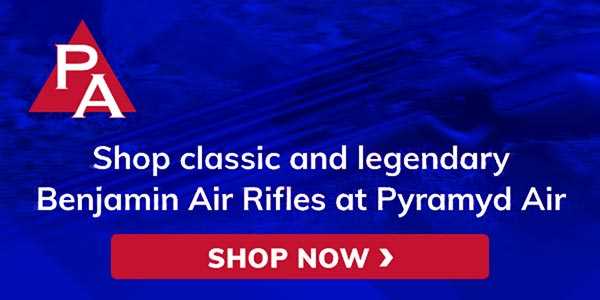 There is also a passing resemblance to the Savage Model 1907 semiautomatic pistol, a Tokarev-shaped knurled round hammer spur, and a modern, squared off variation of the Walther PPK triggerguard disassembly release (pulling down on the triggerguard unlocks the slide allowing it to be pulled fully to the rear, lifted up, and then pulled forward off the frame). The Riptor fieldstrips the same way.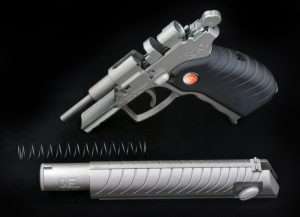 In the end the Riptor takes on a look all its own with its distinctive claw like grooves along the entire length of the rounded slide, a modern Weaver accessory rail on the dustcover and what, for all intents, looks like an integral sound suppressor, which is exactly what it is.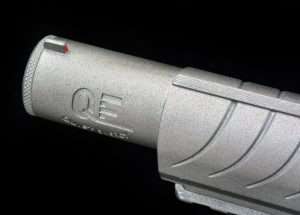 On the QE
Hatsan's QE (Quiet Energy) technology was developed to reduce dB levels. Essentially an internal suppressor, Hatsan refers to it as a "sound moderator" a design first employed in their precharged pneumatic air rifles like the BullBoss, SuperTact, BT 65, and lower-priced gas piston 87 QE, as well as the precharged pneumatic AT P1 Quiet Energy Tact Pistol. Quiet Energy is a suppressor-like design that reduces muzzle noise by as much as 50 percent in volume using internal baffles to absorb sound. This is done by redirecting the expanding gas as it exits the muzzle and enters the QE sound moderator. This is much more important on Hatsan's high-power, precharged pneumatic air rifles which have a pretty loud report, but it's still an interesting adjunct to the Riptor which is uncommonly quiet for a blowback action CO2 air pistol.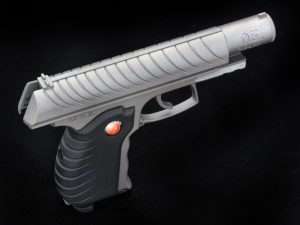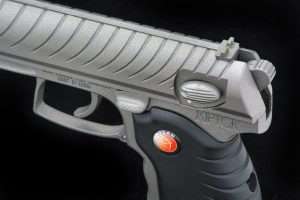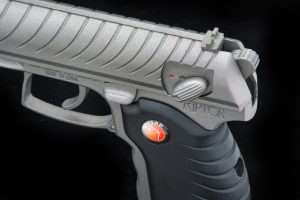 All of the Riptor's unique styling cues add to the airgun's character with the exception of one, the exposed CO2 seating key under the CO2 BB magazine. Considering Hatsan has already moved past this outmoded configuration with the older 250 XT TAC-BOSS it is the one unforgivable feature of the gun that really offers nothing either to style or function.
Saturday in Part 2 we will explore all of the Riptor's functions and shooting accuracy.