Handing and Accuracy
By Dennis Adler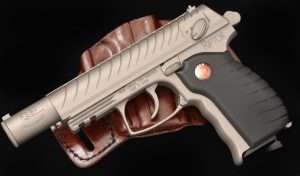 The Hatsan Riptor is somewhere between Sci-Fi and retro in appearance but inside it is all business. The 15-shot blowback action pistol weighs in at 22.5 ounces with empty magazine, has a compact-sized overall length of 7.5 inches, a height of 5.0 inches (not counting the seating key protruding below the magazine), and a width of 1.0 inches for the slide with an extra 0.125 inches for the thumb safety. Trigger pull on the test gun averaged a solid 8 pounds, 15 ounces, so no lightweight in the trigger department and this is a single action semi-auto. Trigger take up is 0.625 inches with no stacking but the first 0.5 inches has zero resistance; the actual pull to drop the hammer is 0.125 inches and it is a solid pull with a crisp break. Not a light trigger but a pretty good one, especially in the sub $80 MSRP price range.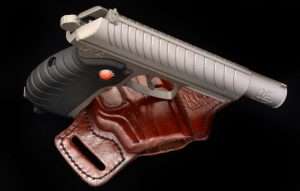 The Riptor has a good balance in the hand that weighs to rear, and the large molded wraparound grip and finger grooved frontstrap allow a solid hold. The oval shaped serrated safety is easy to set and release with the shooting hand thumb and is good enough to practice safety drawing and safety operation exercises. Same for the slide release on the reload (if you purchase extra magazines). The magazine itself has a large grooved follower that locks down for ease of loading and a large loading port, so once again Hatsan has hit all the right design cues with the Riptor, except for that pesky exposed CO2 seating key. Last, the non-adjustable sights, which are small but well designed, make it easy to square the red front dot between the green dots bordering the rear notch. However, on dark targets like Birchwood Casey Shoot-N-C, they are harder to keep aligned. They work much better on lighter colored targets.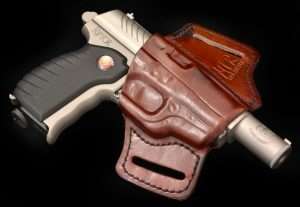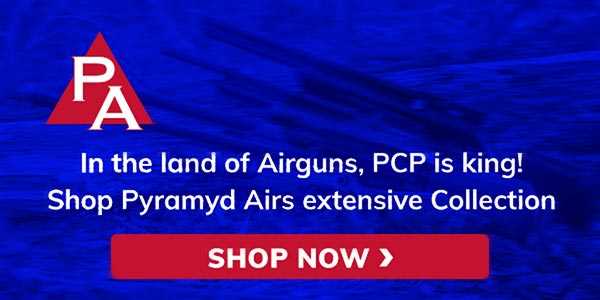 I was curious if the Riptor would fit in any commercially avialbale holster and interestingly it slipped perfectly into several made for the Glock 42 .380 ACP. I tried a belt rig designed by MTR, which not only has great contours to keep the gun close to the body but is a high-quality all leather holster with a great finish. So thus far the Hatsan Riptor has passed every litmus test for a good blowback action .177 caliber CO2 model.
Shooting time
The gun is advertised by Hatsan to have a velocity of 350 fps, but chronographs at a consistent average of 300 fps. Not screaming downrange but there is more going on here than velocity. What effect does the Quiet Energy sound moderator have on the pistol's dB rating? It is a little quieter than other blowback action CO2 BB pistols, but far from silent, then again, silenced (suppressed) cartridge-firing handguns are not really silent either, and nothing on the end of the barrel is going to reduce the sound of the slide and action, so for a CO2 pistol, the QE takes it down to a quick "popping" sound.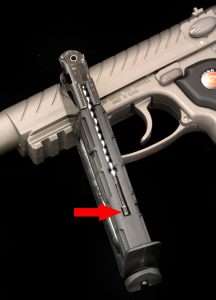 For blowback action airguns the optimum range, especially with a 300 fps velocity, is 21 feet for accuracy. It is a good, established norm, even with short barrel cartridge-firing handguns like snub nose revolvers and .380 ACP pocket pistols. So with 15 Umarex .177 caliber steel BBs on board, the Riptor has to prove it can shoot as good as it looks. The pistol shoots a little below POA and while it is a good shooter, it won't be bumping the Tanfoglio off the team roster. It is a darn good plinker though for the money, and I managed to plant an average of 15 shots inside the 9, 10 and X rings with a best five rounds measuring 0.94 inches with four of five in a line almost overlapping edge to edge in the 9 ring at 6 o'clock. Not great.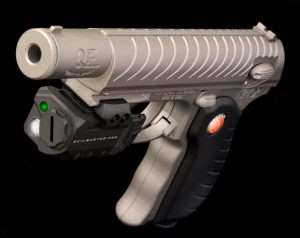 Remember that Weaver accessory rail?  Slap a laser on the Riptor (I used a Crimson Trace Rail Master Pro) and you can get groups that are much more impressive at 21 feet. I unloaded a couple of magazines into another Shoot-N-C target and got a best five shots at 0.74 inches all in the bullseye.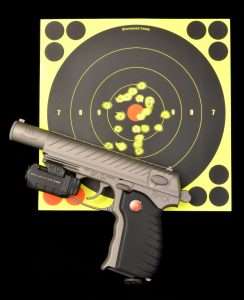 The Takeaway
For unique styling and operation the Riptor is almost in a class by itself but when it comes to accuracy, it is much closer to the gun its internal design is closest to, the Walther PPK/S BB pistol. To really enjoy this gun (without adding a laser) you need to shoot it in much the same way as the PPK/S, for fun.