Heckler & Koch pistols Part 2 Part 1
Revisiting two often overlooked CO2 pistols
By Dennis Adler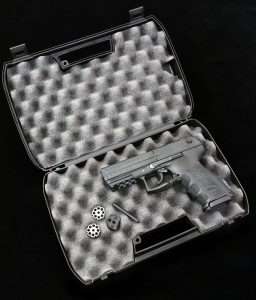 Throughout its comparatively short but highly successful history, Heckler & Koch has always catered to a variety of end users from civilians to military and law enforcement by tailoring certain models in multiple variants, like its P30 Series.
P30 features in centerfire and CO2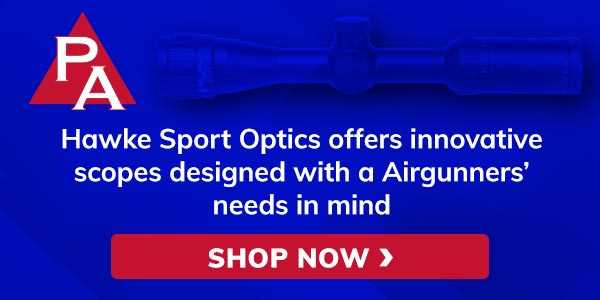 The centerfire models are offered in V1, V2 and V3 configurations. As categorized by HK, V1 is an enhanced DAO with light trigger pull or LEM (Law Enforcement Modification) which makes this version a much faster DAO to get into action than traditional double action only semi-autos or revolvers. As required by some law enforcement organizations, a light trigger is not approved, thus HK has the V2 LEM with enhanced DAO and standard weight trigger pull. Last there is the V3, a traditional double action, single action model with a hammer spur for manual cocking, and a manual decocker. The V3 DA/SA mode is also available with or without dual ambidextrous manual safeties.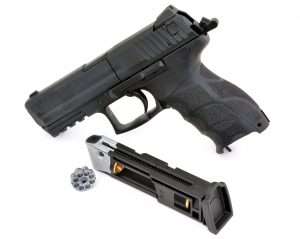 The Umarex HK P30 airgun is the full size V3 variation of Heckler & Koch's P30 Series introduced in mid 2007. The CO2 model has the same style V3 trigger design, manual safety, and decocker as the 9mm. The original P30 model has an overall length of 6.99 inches, a width of 1.37 inches, and height of 5.43 inches. The CO2 model also measures 6.99 inches in length, comes in at 1.25 inches in width, 5.5 inches in height (base of magazine to top of rear sight) and weighs 28 ounces empty, roughly 5-ounces more than the 9mm model.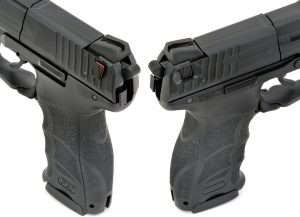 As a pellet-firing model it uses 8-shot cast alloy rotary magazines and loads the same way as earlier Umarex models like the Beretta 92FS and Walther P99. Made in Germany, the HK uses a polymer frame like the 9mm P30, with the balance of the components; slide, hammer, trigger, slide release and decocker, all metal with a black matte finish; the same as the 9mm model. The airgun also has a full length Picatinny rail to mount a weapon light or light/laser combination for enhanced training exercises.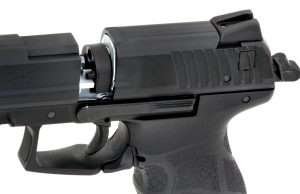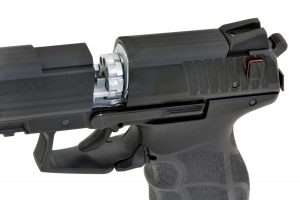 Another interesting feature of the Umarex HK P30 is the magazine, which can also be used to load 15 steel BBs, or if you prefer lead BBs (4.5mm round pellets like Gamo Round) which will be easier on the rifled steel barrel. Used in conjunction with a BB adapter (in place of the rotary magazine, the P30 becomes a non-blowback action semi-auto BB pistol with a self-contained CO2 BB magazine. A little more expensive than some CO2 semi-auto pellet models, with an MSRP of $249.99 (yes, better than four times the price of the USP), the dual firing system (rotary pellet and combined CO2 BB magazine) make the Umarex H&K P30 a double threat for accuracy and training.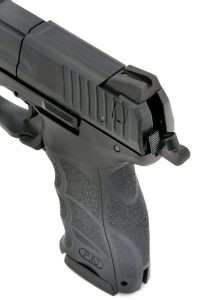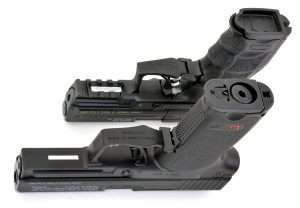 Downrange
I have tested the centerfire P30 models so I have a good working knowledge of this model and how well the CO2 pellet-firing version stacks up for training. The centerfire model I reviewed in Combat Handguns was the V1 Light LEM DAO version. The gun had an average trigger pull of 5.84 pounds (once the slide has been cycled and a round chambered), with a length of pull measuring 0.875 inches, no stacking, zero over travel, and quick reset with a positive click felt through the trigger finger. Since the LEM trigger is an enhanced DAO there is no decocker and once a round is chambered trigger resistance is reduced. The CO2 model isn't quite the same.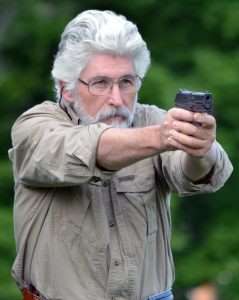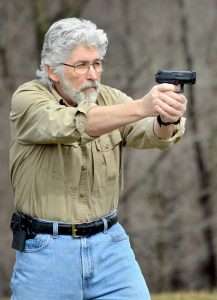 The double action trigger pull on the HK P30 airgun is 11 pounds, 10.5 ounces average. Single action, the trigger pull drops to a refined 5 pounds, 2.5 ounces average. The 9mm models average 5 pounds, 8 ounces single action and 11 pounds, 4 ounces, so the airgun's trigger is nicely matched with only 0.375 inches of travel fired single action, a crisp break and minimal over travel. The latter is irrelevant since you have to manually cock the hammer again before you can shoot single action, although with a two-handed hold you can cock the hammer with the support hand thumb pretty quickly. Either way, this is an easy pistol to handle, but technically it handles like a DAO.
Among other P30 features that carry over to the airgun are the elongated, ambidextrous slide releases. On the CO2 model only the left release operates and is used to open the slide, which separates allowing the front half to move forward and the 8-shot rotary magazine to be inserted. To close, just grasp the front slide serrations and push the slide back until it locks.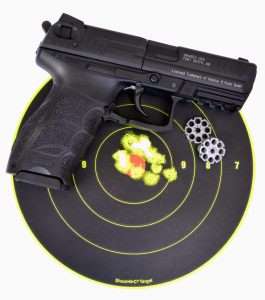 My best target, a total of 16 shots (two 8-round rotary magazines) placed 13 of 16 rounds almost overlapping and obliterating entire portions of the 10 and X rings. Best group, all overlapping, measured 0.68 inches.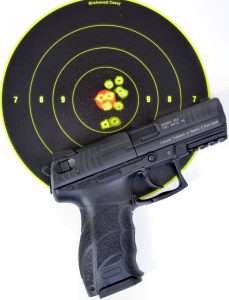 Considering the air pistol's internal barrel length is 3.35 inches and does not have the white dot sights used on the lower-priced USP (go figure), or even just a front sight white dot, at 21 feet the rifled barrel delivered very tight groups just slightly above POA. Even without the white dot sights, the P30 remains a well thought out pistol, versatile enough for target shooting with 4.5mm pellets and for use as a training gun.