Highest Velocity CO2 pistol Part 2
And the fastest BB
By Dennis Adler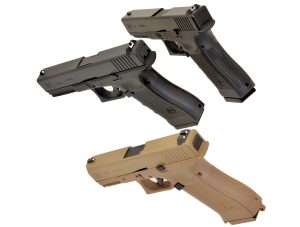 Can velocity carry the day? It depends upon the gun, the distance from the target, the ammo and the individual pulling the trigger. Certainly with long guns, the answer is yes, velocity can carry the day as it did back in the American West with rifles like the Sharps. Handguns played an entirely different role, then and now. Even in the military, the weapon of choice has always been a rifle or carbine, a handgun was more of a defensive weapon, a "sidearm" for use in close quarters, and that is still the role of the handgun in today's military. Less so for law enforcement, where the handgun is the primary weapon both for defensive and offensive uses, and almost always at close distance. Putting this in terms of air pistols (as training guns) higher velocity means a straighter trajectory downrange with a .177 caliber steel BB fired from a smoothbore barrel at 21 feet. This, however, isn't always enough.
Velocity is a very big part of how well a gun performs, but even a faster BB from a gun with so-so sights and a heavy trigger isn't going to be that impressive. It's just a fast miss. Holding over, holding under, correcting POA for windage with fixed sights is a constant issue, so when a model comes along that presents fewer or none of these problems, you have to applaud the manufacturer for doing the best possible job. We still criticize them for other things, like molded-in, non-functional parts and not being able to fieldstrip the gun like its centerfire counterpart, but with the G19X a lot of that pales in comparison to accuracy and performance. The Umarex Glock CO2 model has not disappointed. Then again, I'm right handed, and field stripping is great after you're done shooting, so the G19X is done well enough in my book to make it worthwhile owning as both a training gun and a decent target pistol.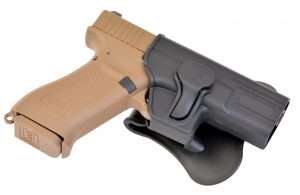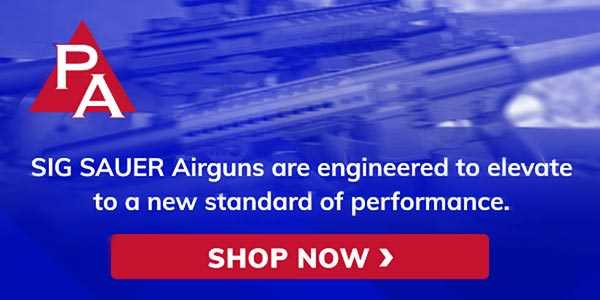 Pushing the limits  
To bring this two-parter to a conclusion, the facts of the G19X are already established from the original test reviews and the 2019 Replica Air Pistol of the Year competition. It is a good example of higher than normal performance with a modest tradeoff. I think most of us can live with the gun's few failings in order to have a BB pistol that consistently delivers tight groups at 21 feet. One reason for this is that the G19X is closing the distance from the muzzle to the target at a greater velocity than the overwhelming majority of comparable models which only have velocities between 310 fps and 320 fps. That extra 50 fps with a blowback action BB pistol is a lot, especially at only 21 feet from the target. Combine this with the right BBs and you have a tack driver. Picking the right tack is what will make this test worthwhile. Up to now, I have done my best work with the Umarex brand of polished steel BBs. Now, with equal velocity to the Umarex and a higher grade finish, the question at hand is will Daisy's precision ground un-plated chromium steel Match Grade BBs deliver the best accuracy possible from the G19X?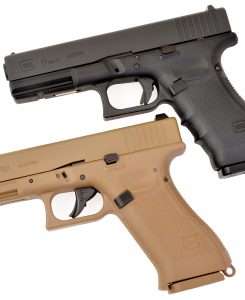 With pellet-firing CO2 pistols it is comparatively easy to find an ideal pellet for a gun, most often in my tests it is RWS Meisterkugeln or H&N Sport Match Green that delivers the best combination of velocity and accuracy (the H&N obviously with higher velocity being alloy rather than lead pellets), but with BBs shot from smoothbore barrels, things are less precise since most blowback action guns shoot at around the same velocity and BBs generally do not differ that much from one brand to another. Now with a blowback action pistol capable of 376 fps the slight variances in BB quality or manufacturing begin to appear. There are differences in velocity between BBs shot from the G19X by as much as 10 fps. Not an "oh wow" difference, but with a gun that is already pushing steel balls at 50 fps greater to start, it becomes really obvious that one is performing better than another. The added attention paid by Daisy to their Match Grade BBs does provide a little more velocity compared to most other BBs, and equal to within 1 fps of the Umarex Precision, which is one of the best BBs on the market. The higher grade finish on the chromium steel Daisy BBs may also enhance accuracy (or better, consistency) from shot to shot, and with the higher velocity of the G19X produce the best groups possible with this CO2 pistol.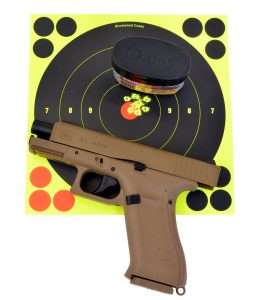 My best target fired off hand from 21 feet using a two-handed hold put 10 Daisy Match Grade in the bullseye and 10 ring measuring 0.75 inches, with a fest five rounds at 0.53 inches. That's 0.15 inches better than the Umarex for best five shot group. It's a small difference, and there were actually more hits inside the red with the Umarex at 0.68 inches, while the overall spread with Umarex was 0.875 inches. The beauty of the G19X and its 376 fps average velocity is that this BB pistol can shoot accurately out to 10 meters. The final test then is at that distance fired off hand, which would be equivalent to more serious training with the 9mm pistol at close combat range. My best 10-shot group spread through the 10 ring, with two cutting the edge of the 10 and two in the bullseye, measured 2.0625 inches with a best five rounds at 1.0625 inches with the Daisy Match Grade BBs. Fired off hand, I'd be happy to do that with the 9mm GTX at 10 yards.
The Takeaway
For a Compact semi-auto blowback action CO2 pistol, I don't see a better gun than the Glock 19X for this kind of practice. Yes, the Springfield Armory XDM 3.8 is a more authentic pistol and nearly as accurate at 21 feet, but beyond that anything shooting at less than 350 fps isn't going to hold accuracy out to 10 meters. The G19X was still aiming at 6 o'clock and still with about a 2-inch hold under. Yes, you read that right, under. Even at 10 meters the rounds are traveling with a very flat trajectory and POA is almost the same as at 21 feet. Certainly 10-ring accuracy would no doubt suffer, the G19X CO2 model will shoot out to 15 yards and retain center mass hits on a B-27 silhouette target and you can't do that a with pistol shooting at 300 fps, at least not with the accuracy of the G19X.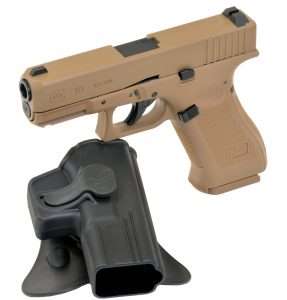 A word about safety
Blowback action airguns provide the look, feel and operation of their cartridge-firing counterparts and this is one reason why they have become so popular. Airguns in general all look like guns, blowback action models more so, and it is important to remember that the vast majority of people can't tell an airgun from a cartridge gun. Never brandish an airgun in public. Always, and I can never stress this enough, always treat an airgun as you would a cartridge gun. The same manual of operation and safety should always apply.