Lasers vs. Red Dot Reflex Sights Part 1
What Works Best?
By Dennis Adler
This is a subject that has many shooters seeing red. Red dots. Painting the target with a laser literally gives you a red dot on the target (and there are green lasers too, that are easier to see in brighter light). The laser indicates where your shot is going to hit when sighted in for POA. With air pistols, like blowback action, smoothbore BB models, this is not always as precise as with a centerfire gun, but even so, a laser is easy to see. However, with red dot scopes, the first developed over a quarter of a century ago, (I still have one of the early models manufactured by Aimpoint, a MK III that I purchased in 1983), sighting becomes more focused because you were no longer looking at a red dot projected downrange on the target, but rather a red dot within the scope that is as stable as the pistol's own sights. Why the distinction? With a laser any movement of the gun moves the laser on the target and the greater the distance the grater the movement. Trained operators (SWAT, military Special Ops) have little trouble with this, than say the average shooter, but at closer distances a laser is an advantage for anyone. This is still less of an issue with a red dot scope or reflex sight; today military and law enforcement use both. In civilian pistol competition the dominant use of red dot scopes and reflex sights (within specific classes of competition) really makes the case for their use. With air pistols, and primarily blowback action CO2 models, the options are more limited as only certain models are suitable for use with a reflex sight, while any air pistol with a dustcover accessory rail is laser adaptable.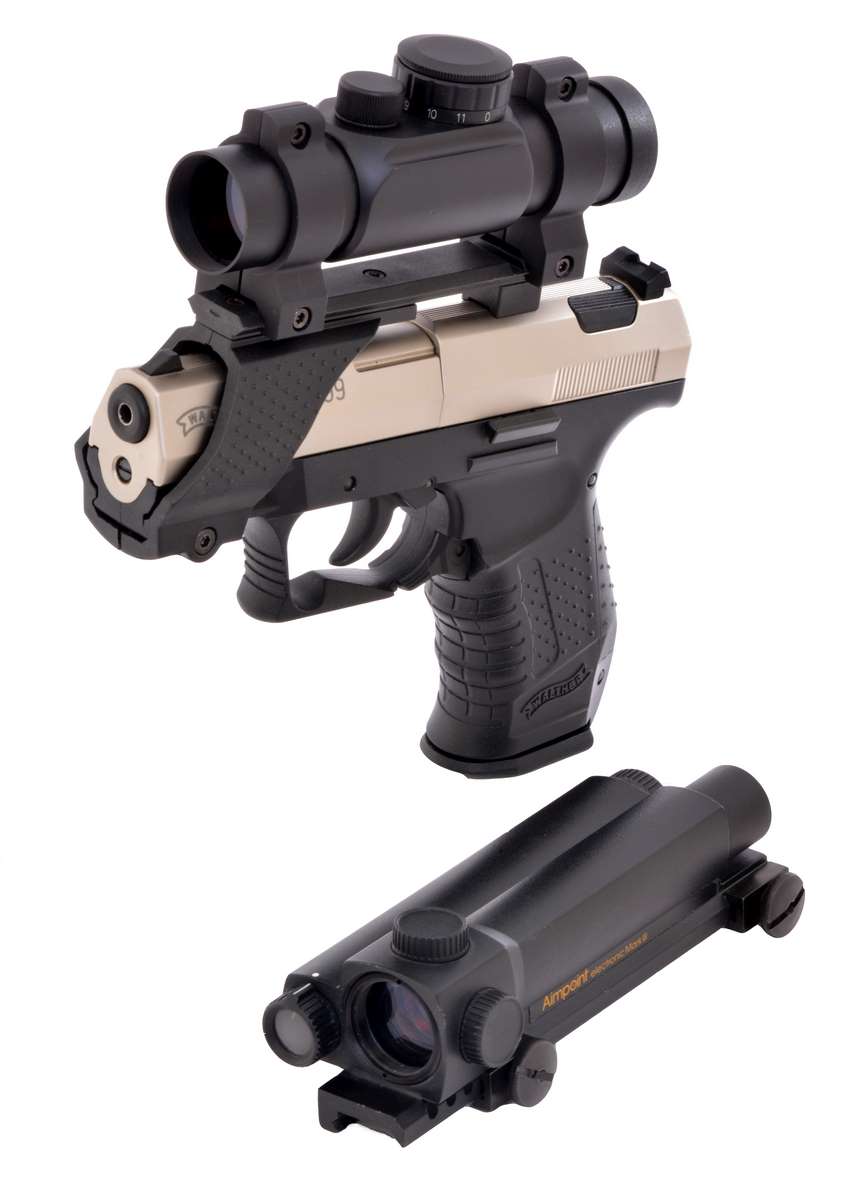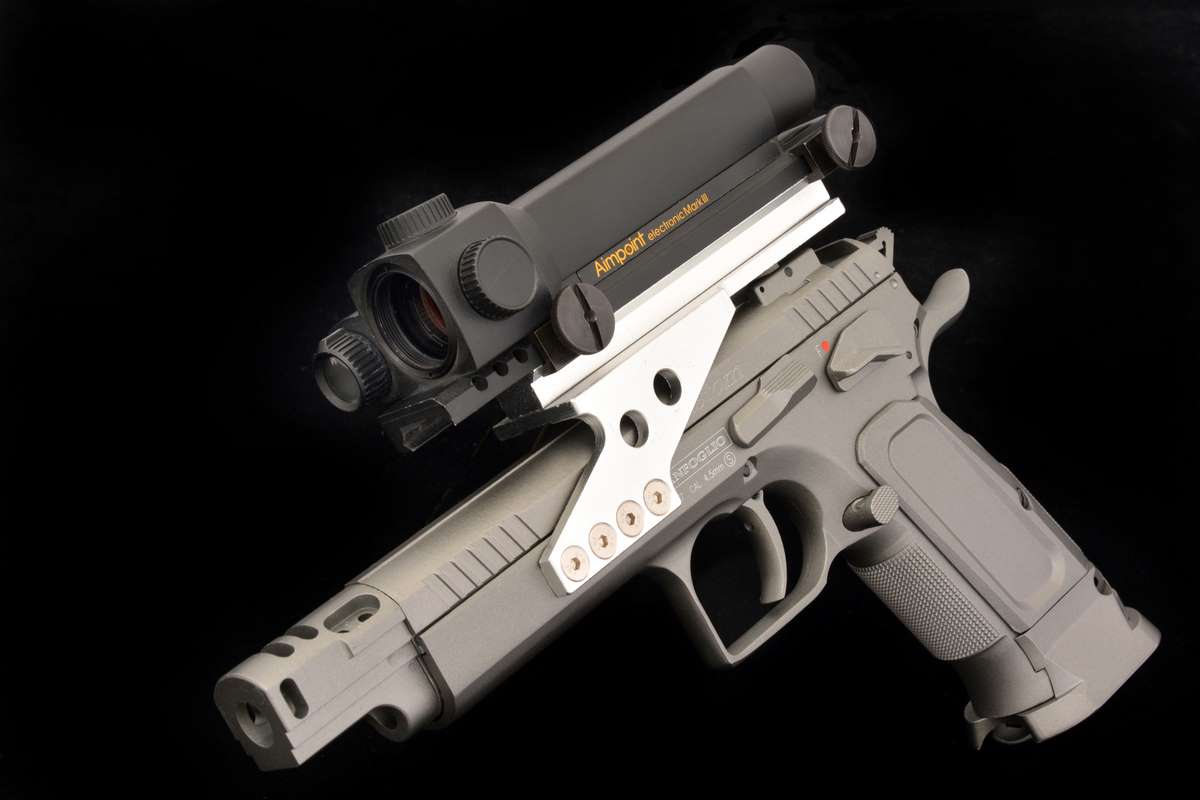 Origins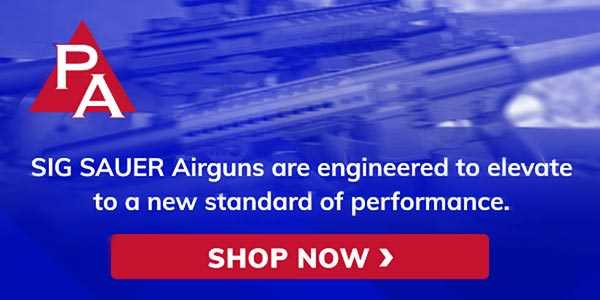 The red dot scope is the oldest and was originally developed in the 1970s. The innovative design was pioneered by Aimpoint in 1975, still the recognized worldwide leader of red dot sighting technology. To quote Aimpoint, "For over 45 years, we have been working closely with experienced hunters and marksmen as well as professional users around the world. During all these years, we have seen that the Aimpoint electronic red dot sight has revolutionized mid-range to short-range moving target shooting techniques. Aimpoint red dot sights are today globally recognized as the fastest, most rugged, and most efficient electronic small arms sighting system in the world." I couldn't agree more as I have had several centerfire guns equipped with Aimpoint devices over the years and I still have one of the early "large" Aimpoint MK III red dot scopes, and it still works after 37 years!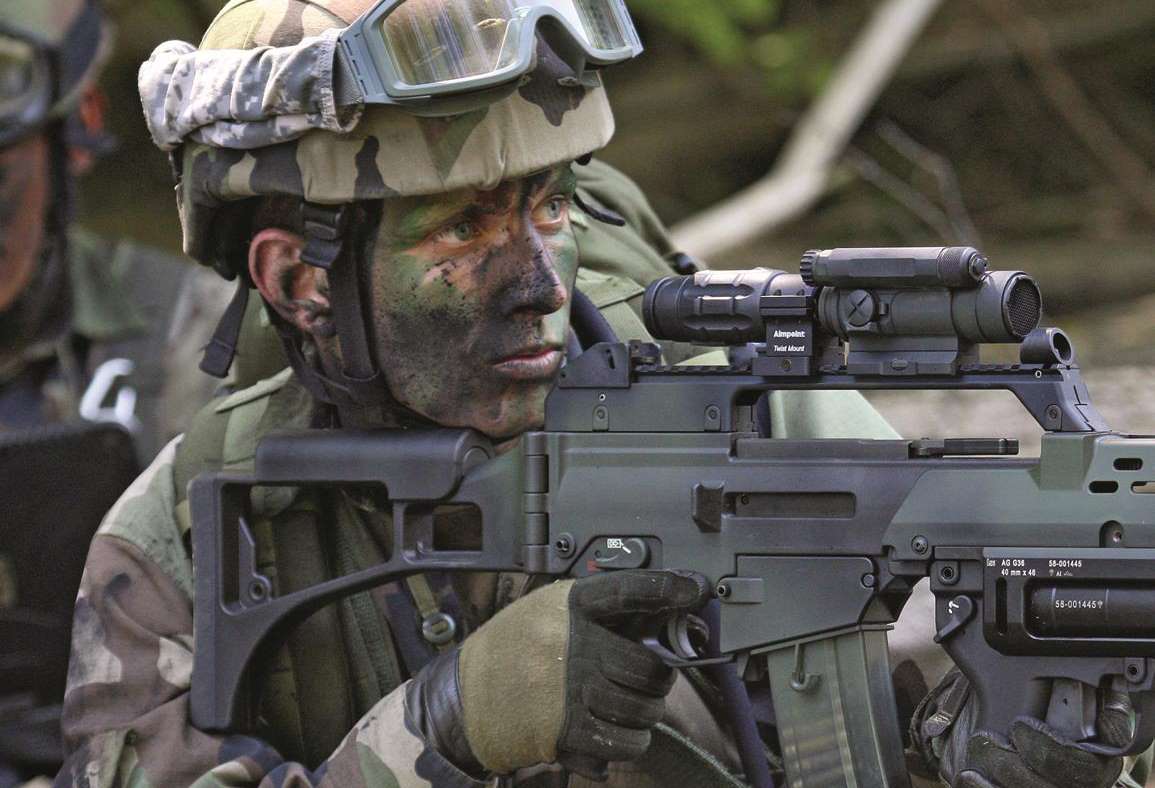 The red dot scope found its place with law enforcement and the U.S. military in the early 1990s. Aimpoint proved that red dot scopes could improve the speed and accuracy of operators in the field, and while we see this as commonplace today, a little over 20 years ago it was groundbreaking. In 1997, Aimpoint signed the first contract with the U.S. Army to deliver 100,000 Aimpoint CompM sights to the armed forces. Also known as the M68CCO, these sights have been continuously modified and improved over the years and over 1 million units have been delivered to the U.S. Army. Today, Aimpoint sights are also in service with most NATO countries and numerous police agencies and special teams worldwide. In addition to Aimpoint are other global manufacturers with tactical red dot optics for military and law enforcement use, and I have shown some of those very expensive devices in Airgun Experience articles over the years, but of course, they are financially unrealistic for an air pistol that costs a fraction of the sight (unless you also have the centerfire gun and use the air pistol version for inexpensive training sessions).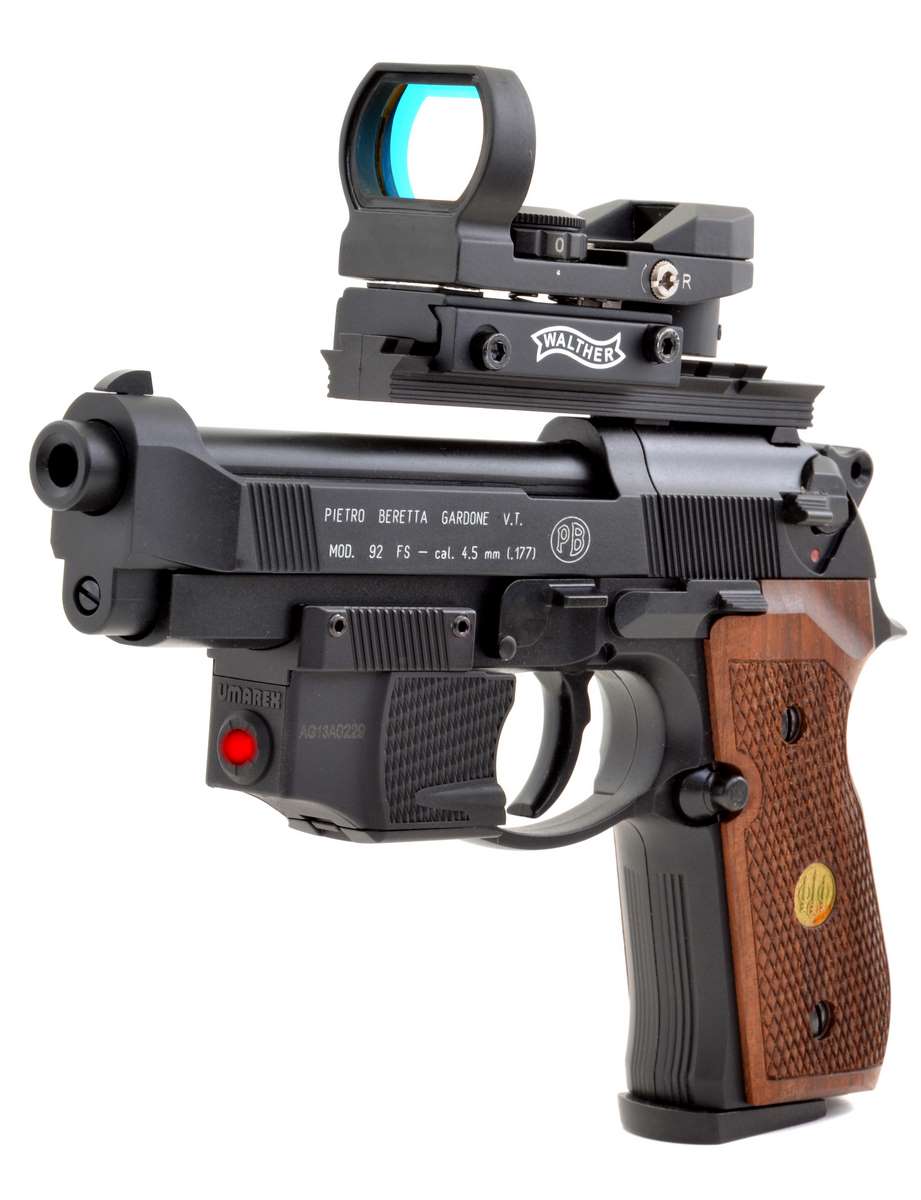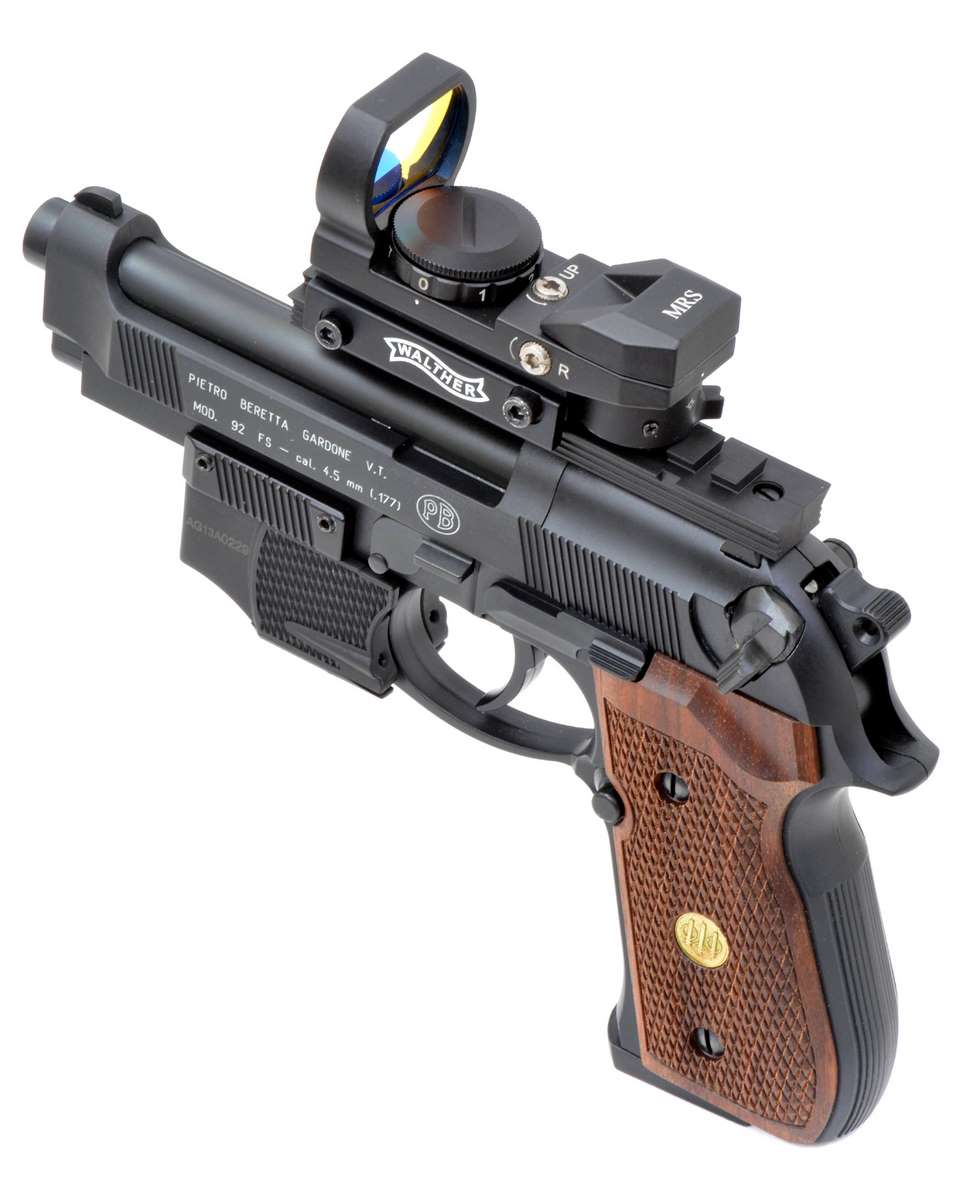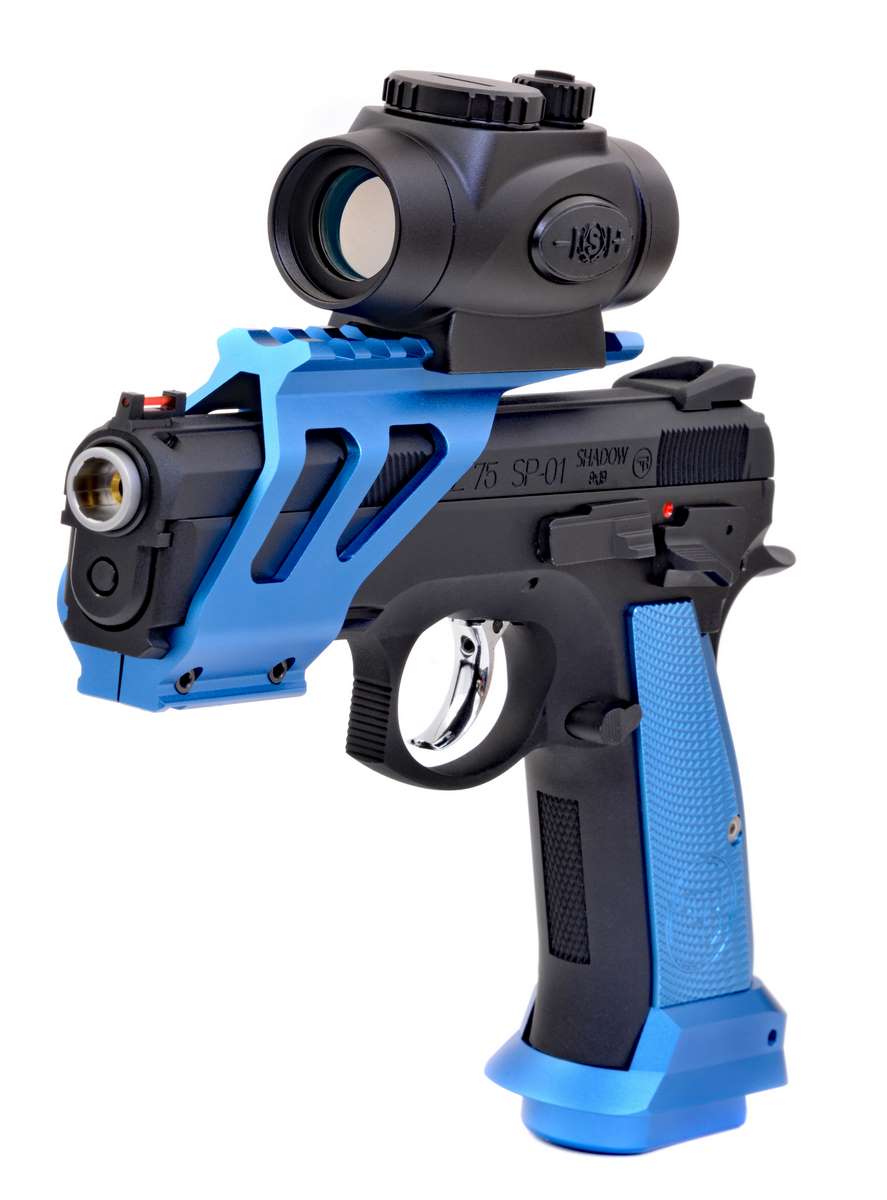 Fortunately, the cost of red dot scopes, red dot reflex sights and rail-mounted lasers has come down in the last half dozen years to the point where there are now quality-built dedicated models for air pistols, (which are also excellent for use with .22 LR rimfire guns), and they have done for air pistol accuracy what the red dot scope has done for centerfire competition and tactical pistols, rifles and shotguns. For red dot scopes, a handful of CO2 models are offered with available bridge mounts to place a rail over the slide for optics, even some CO2 revolvers like the ASG Dan Wesson Model 715.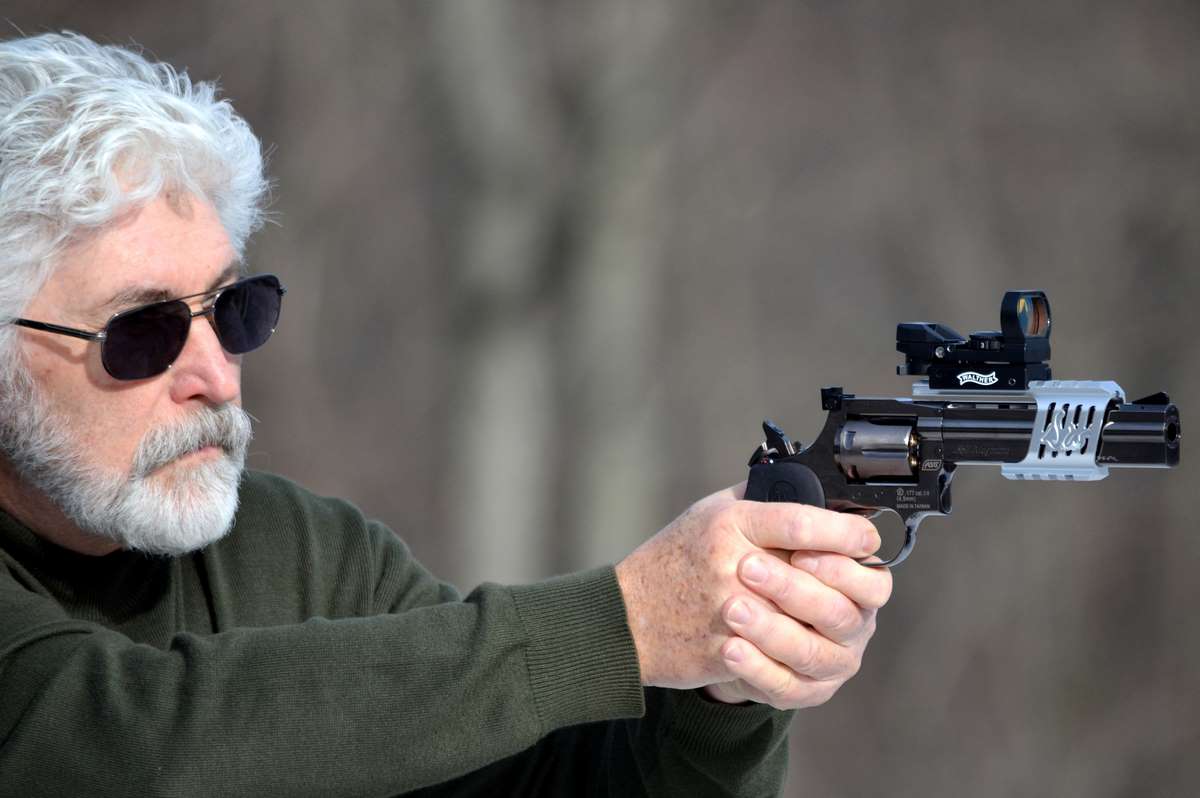 On the other side of the isle are early Crimson Trace laser grips originally designed for 1911 pistols, replacing the standard grips with a wraparound rubber grip that contained batteries (one on either side), the laser on the upper right hand grip panel, and the pressure sensitive activation button on the frontstrap. They wrapped around the front of the gun and used the same screw holes in the grip frame to attach. It took about a minute to install. That is still the basic design in use today for laser grips made to fit a variety of handguns. For air pistols, however, this is not a practical design, and it wasn't for many centerfire guns, either, so Crimson Trace branched out into the manufacturing of rail-mounted lasers and combination tactical light/lasers. This in turn led to most armsmakers adding accessory rails to their handguns, most notably Colt's 1911 Rail Gun design (now a 1911 industry standard for tactical models). And of course, there are 1911 CO2 Rail Guns and a number of others brands including recent CZ, HK, Beretta, and Glock entries.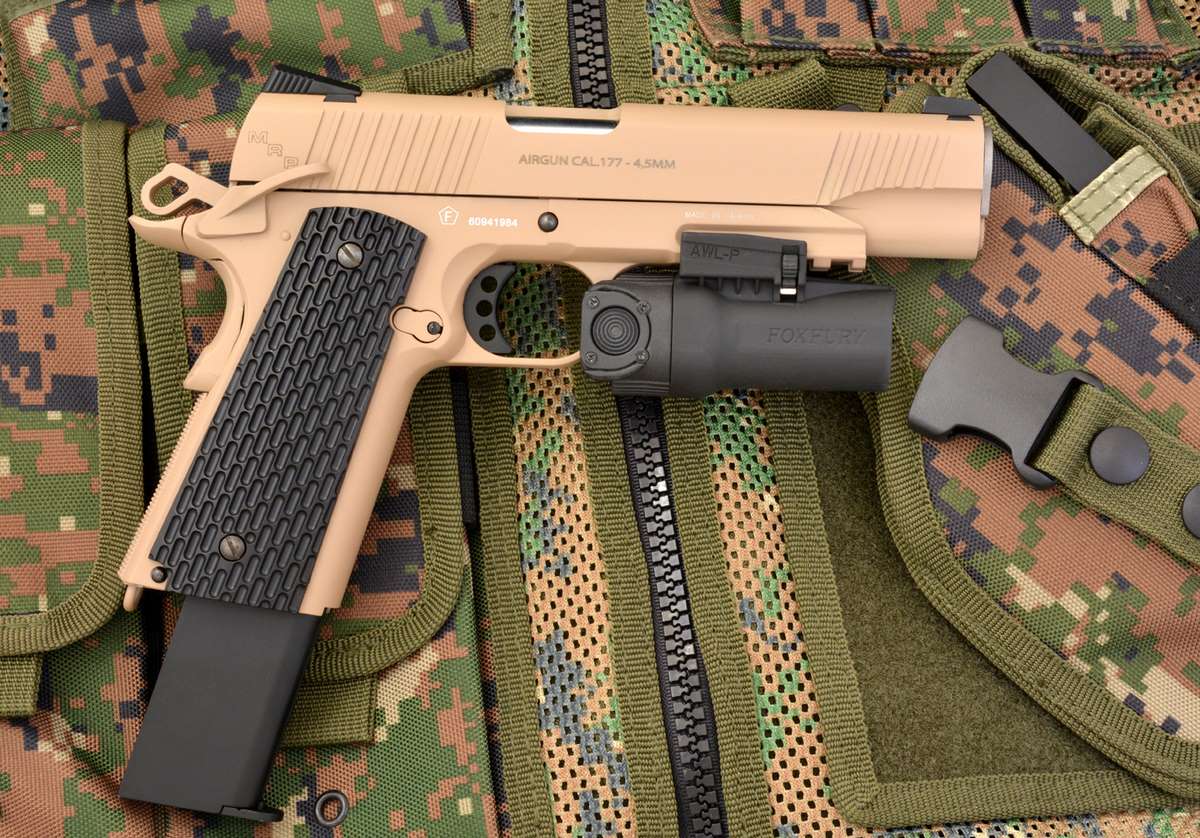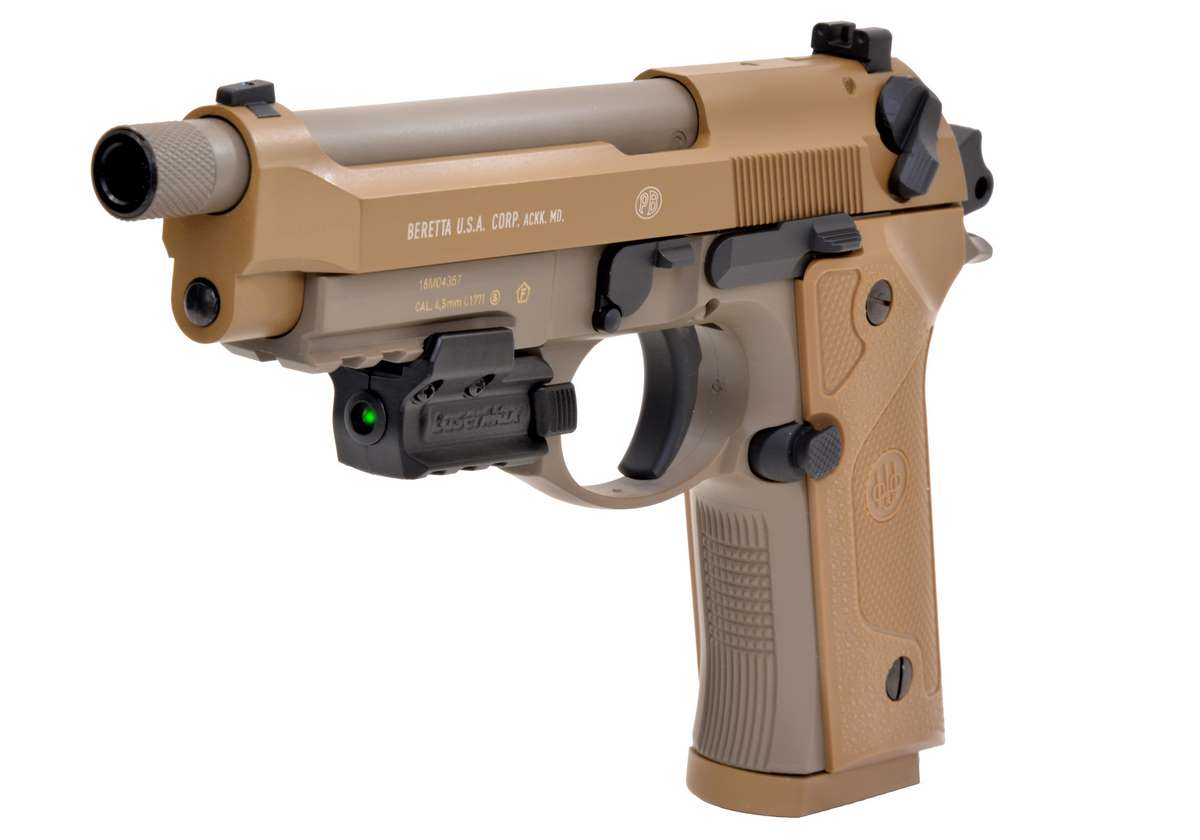 The models in this article are just a sampling of what is available today for air pistols and air rifles, including both red dots and lasers from manufacturers like LaserMax, UTG, CenterPoint, Hawk, ASG, and now Sig Sauer, (all of which are available from Pyramyd Air), as well as more expensive red dot sights from C-More, Styrka, and Crimson Trace lasers, all sold in retail gun shops and online. There are enough choices and price ranges today, in fact, that you'll be seeing red (or maybe green), but you'll be seeing your target better.