Lasers vs. Red Dot Reflex Sights Part 3
Can a laser do better?
By Dennis Adler
This is a much shorter challenge because lasers are a very discrete form of aiming a pistol (or rifle) and have been in use by law enforcement and military longer. Red dot scopes predate practical firearm's laser sights, but modern reflex sights, like those used on the Sig Sauer M17 and other pistols (centerfire and CO2), are comparatively new.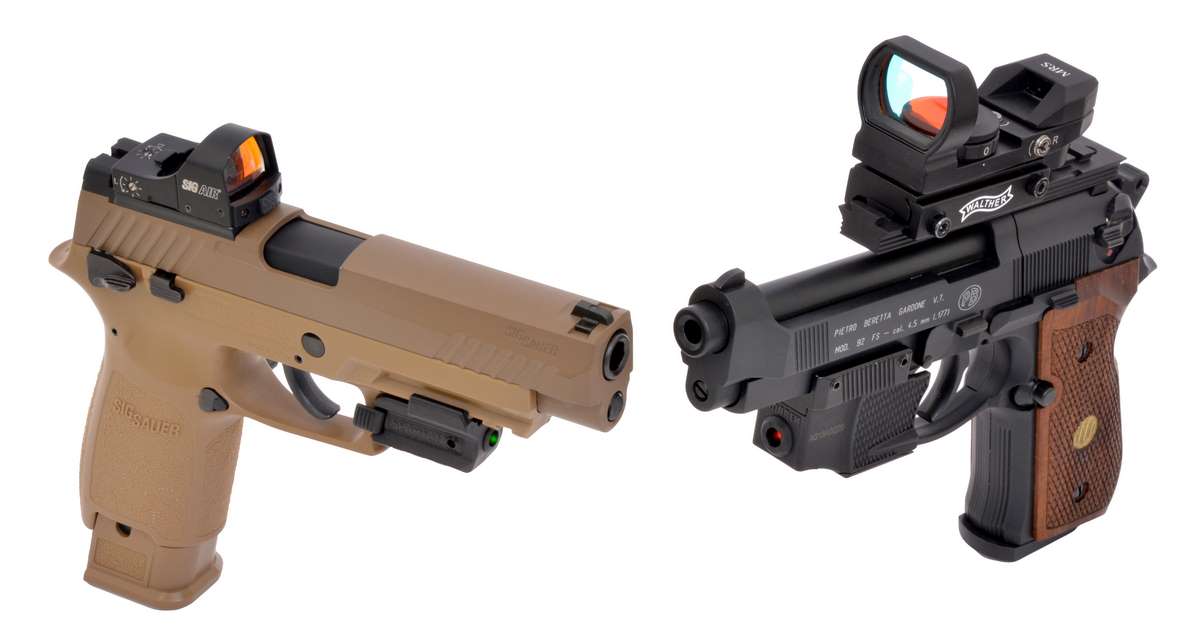 We do have some more context here when you add a laser to the Beretta 92FS. The Walther laser used on my 92FS is the same basic unit that is sold for the .22 LR Walther P22 semi-auto pistol. If we can just briefly segue here, there was a lot of overlap of designs between the Walther P22 rimfire pistol and its accessories and those sold by Walther (Umarex) for the CP99 CO2 pellet pistols in the early 2000s. The P22 bridge mount and Walther P22 laser are still available, along with a variety of accessories for the current full line of P22 rimfire models, including the P22 Target models shown. The laser on my 92FS is a version of the P22 laser.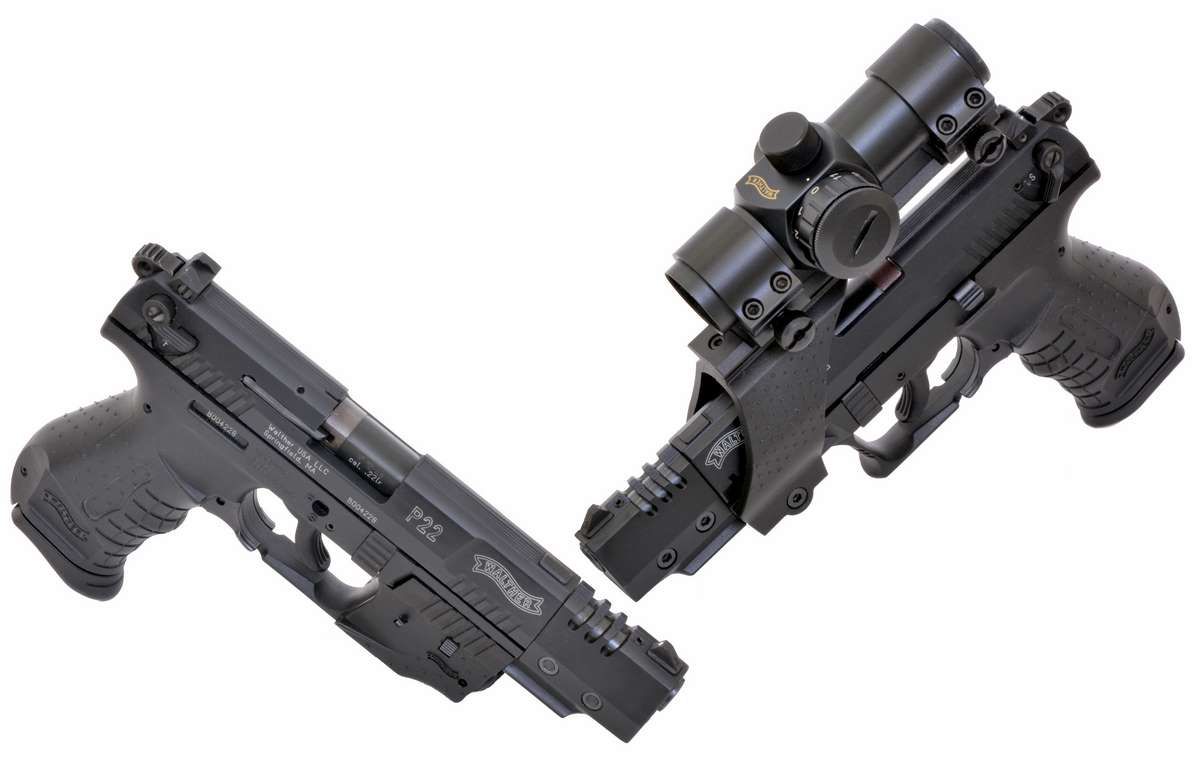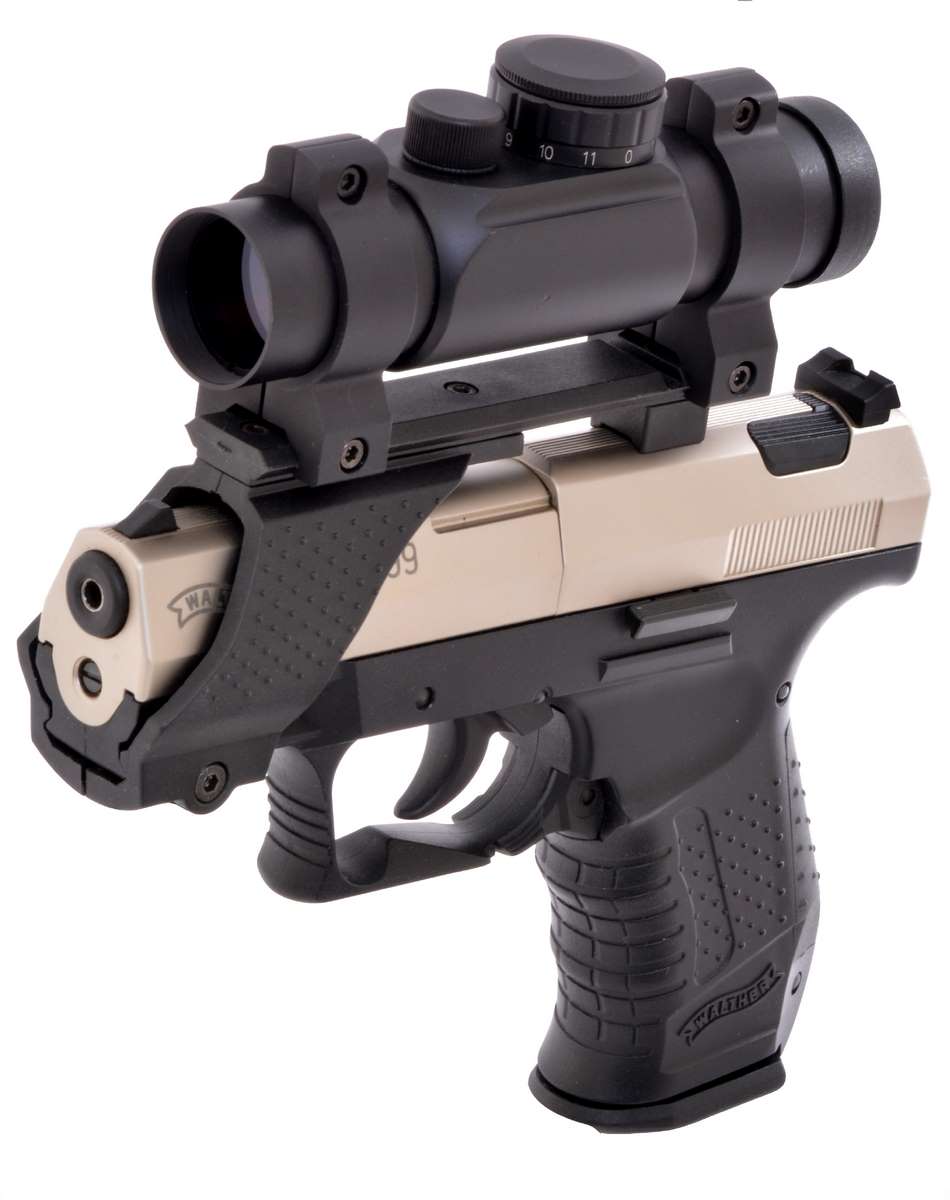 For the M17ASP I am mounting the very popular and affordable LaserMax Spartan green laser. This is an excellent for the Sig Sauer pellet pistol, so small and so light that it really has no effect on handling and proved very easy to adjust POA using the Sig Air reflex sight as a reference on target. A few test shots and adjustments to windage and elevation and the M17 ASP put eight rounds (again to keep it equal to the 92FS 8-shot rotary pellet magazine) into a large hole around the bullseye shooting at a Birchwood Casey Shoot-N-C target.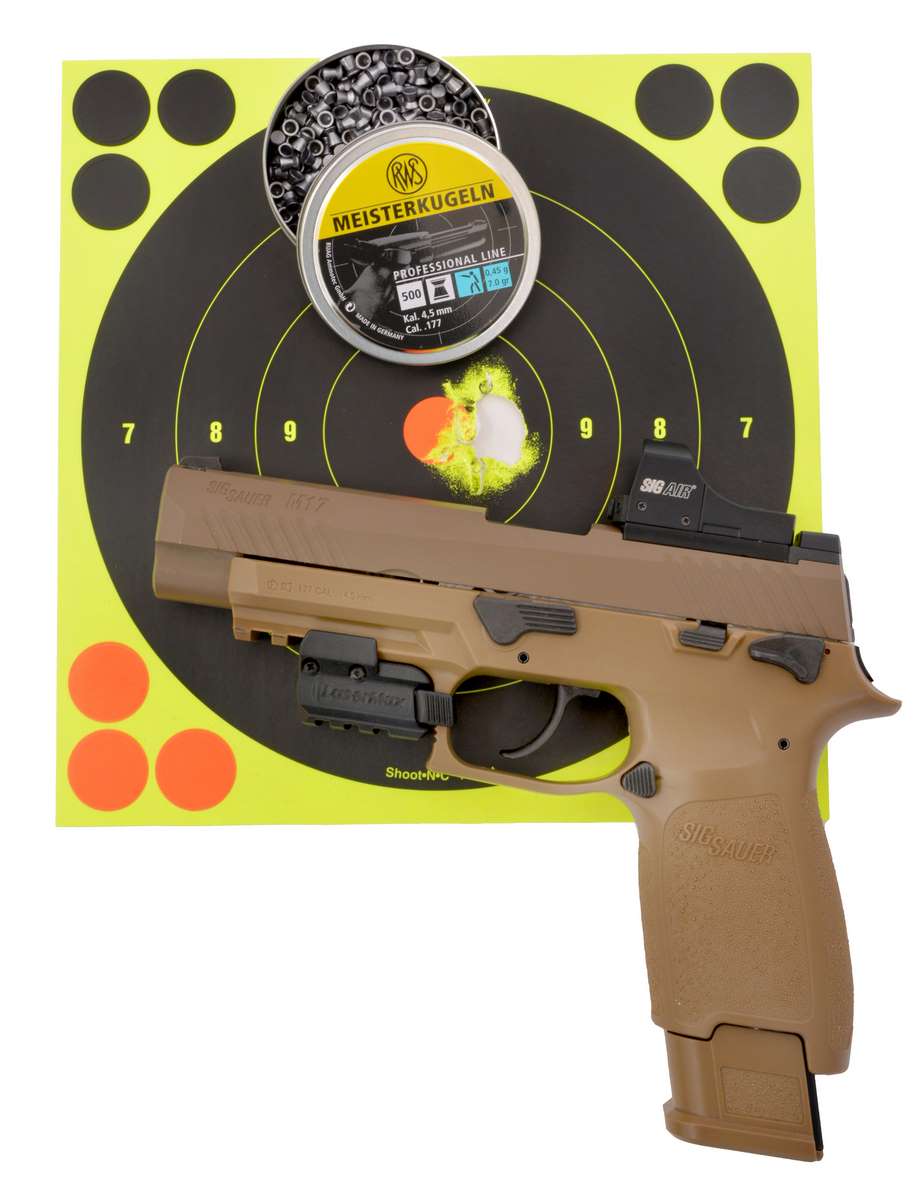 I went back to the 92FS and checked POA with the laser, which needed a slight adjustment before putting eight rounds into the bullseye and 10-ring, still hitting a little high but with six of eight overlapping. With the weight of the 92FS and trigger pull it is more challenging to keep the last on target with the same precision as the lighter and easier shooting Sig Sauer M17 ASP. It is close enough to make the guns very competitive with each other, but the overall upshot of this third evaluation of lasers and red dots is that size, weight, and handling all play a role beyond the shooter's own capabilities. With the old red dot scope and 92FS vs. the new Sig Sauer, the Beretta has a slight edge, but switch to lasers, and all the advantages of the M17 ASP fall into place and it gains the competitive edge.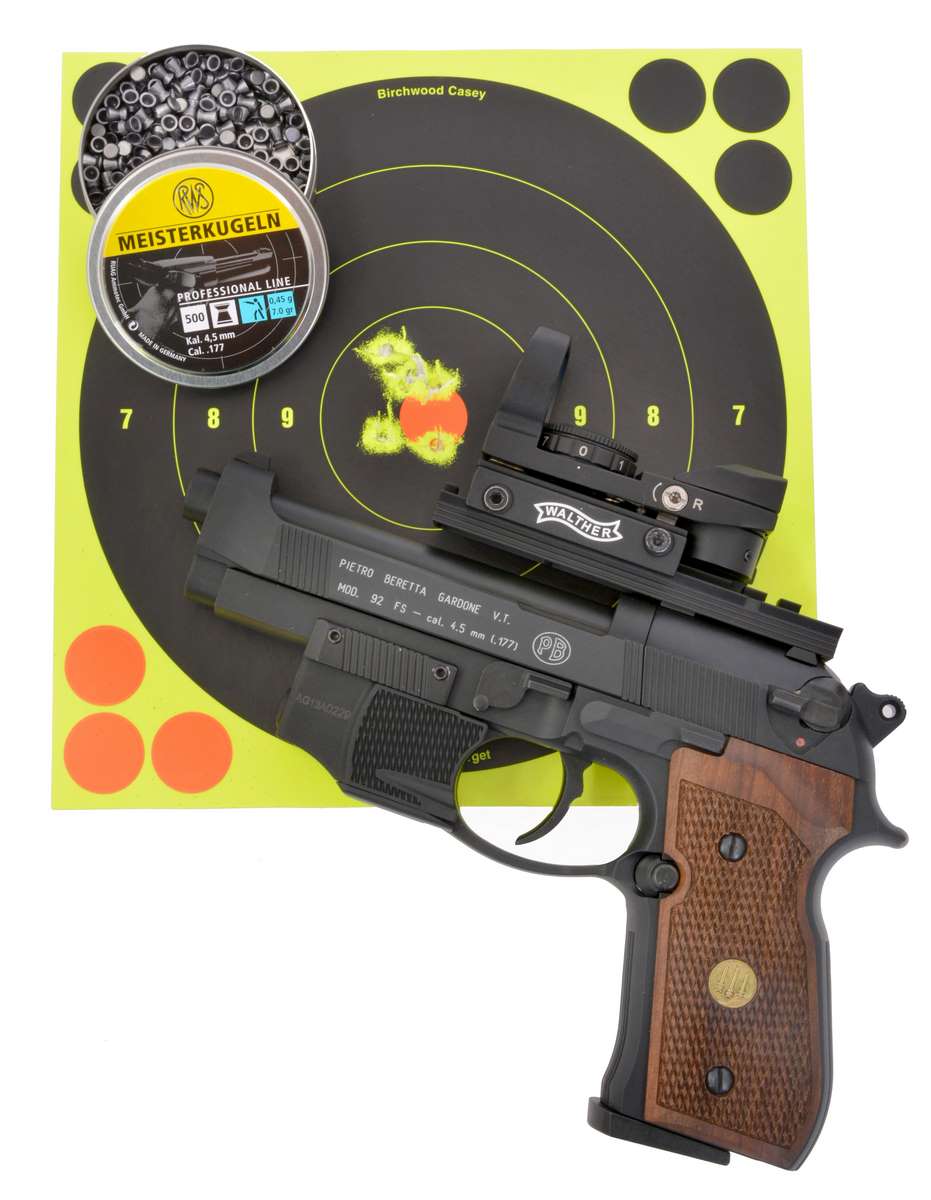 After sighting in, my Shoot-N-C test target with the M17 ASP and LaserMax put eight rounds into 1.125 inches with five tearing out a portion of the target with a hole measuring 0.635 inches. The Beretta 92 and Walther red laser put its eight rounds into a spread of 1.125 inches with six of eight in one overlapping line measuring 0.625 inches.
I made a slight correction in elevation with the Walther red laser and shot a 10-Meter Pistol Target punching all eight into 0.875 inches with six of eight blowing out a section of the 9, 10, and edge of the bullseye measuring 0.5 inches. I finished the day with the Sig and LaserMax on a 10-Meter Pistol Target and put eight rounds into 0.75 inches with a best five at roughly 0.56 inches.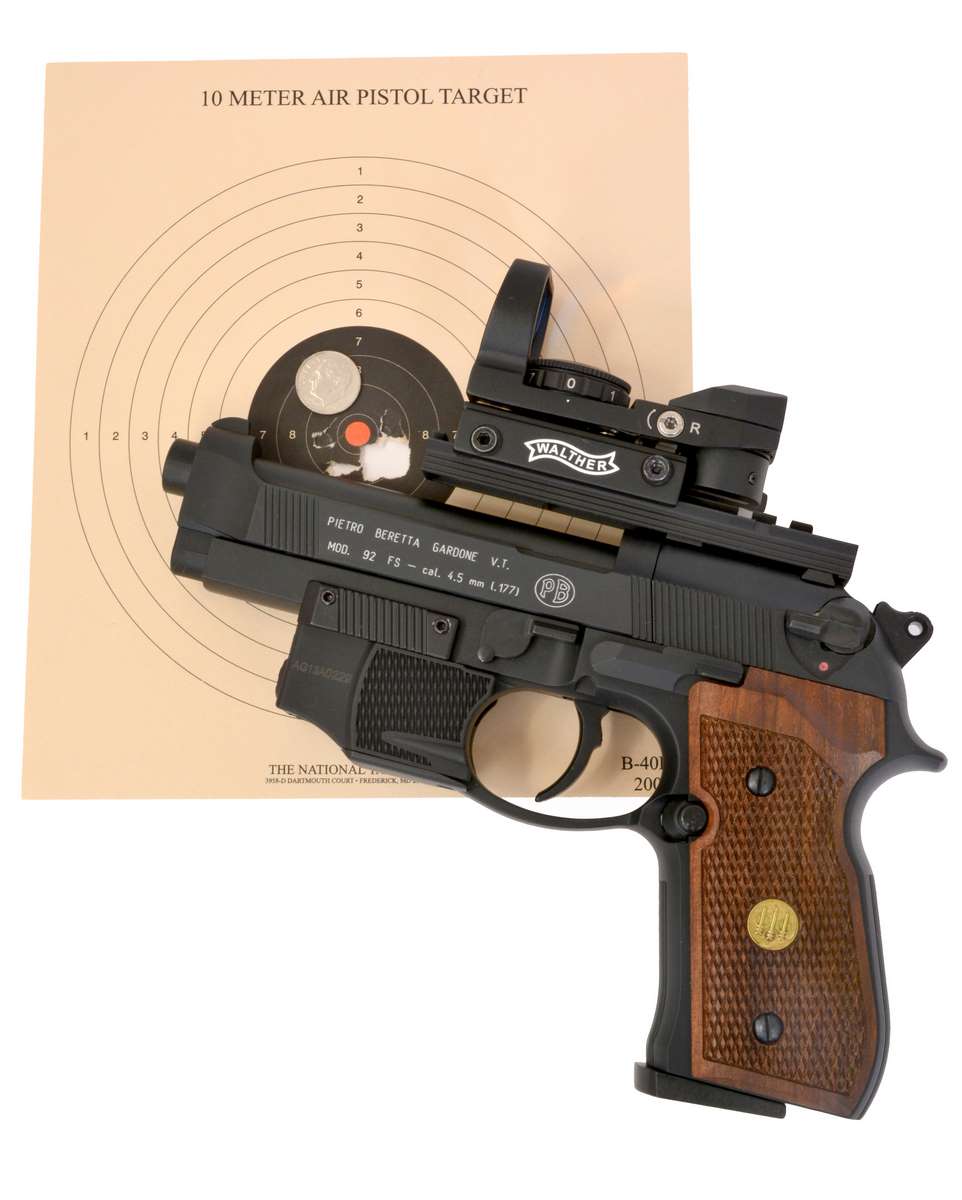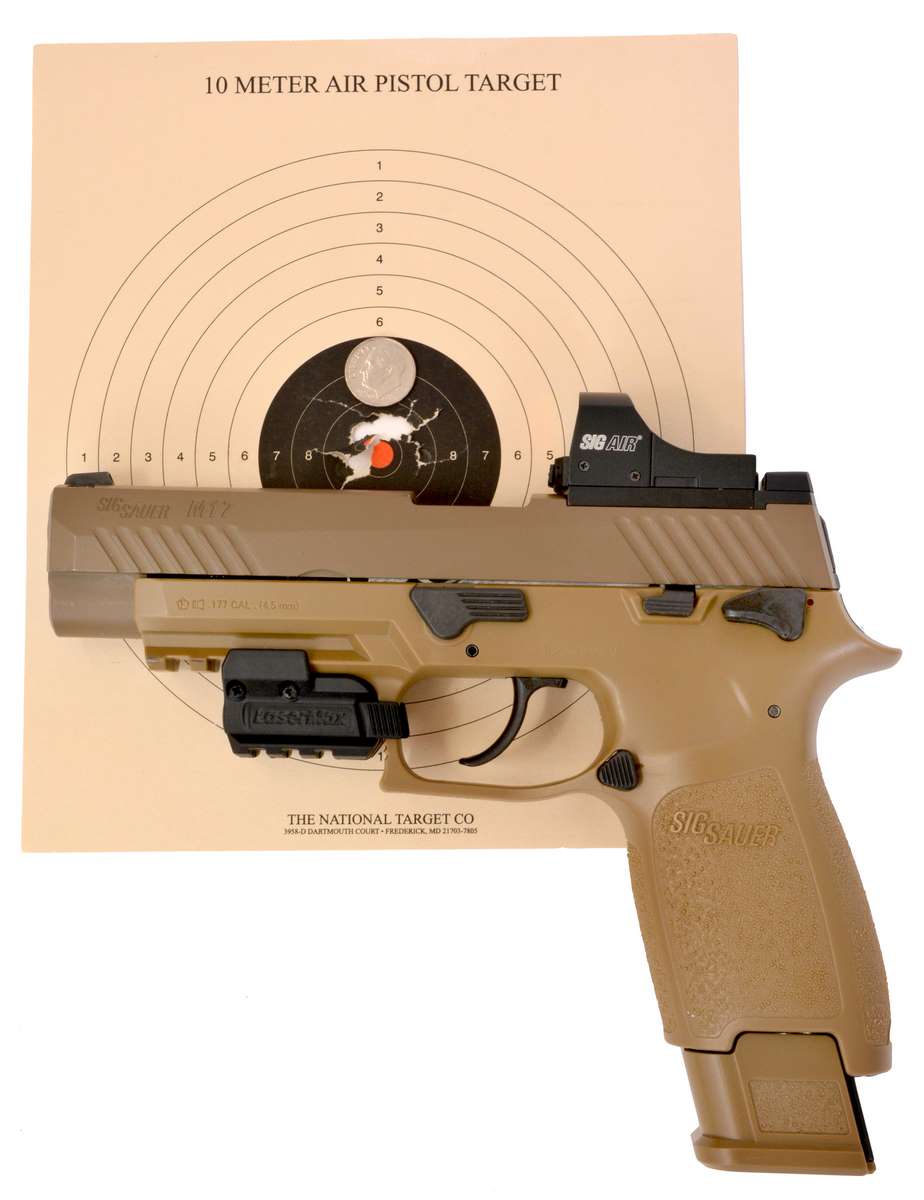 Twenty years of air pistol development in the Sig Sauer M17, an honest technological breakthrough in CO2 pellet pistol development, and the 20 year-old Beretta 92FS pellet pistol are rendered near equals (in accuracy) by simply adding a laser on the dustcover rail (actually mounting it on the older Beretta frame). Of course, if the gun is good to begin with, every enhancement will make it even better.
Whether it is a pellet pistol from 2000 or the latest pistol for 2020, the advantages of lasers and reflex sights (or red dot scopes) are undeniable. Which is better? I think the answer is not what you see but rather how you see it.