Last best semi-auto showdown Part 1
Three blowback action models that wowed us
By Dennis Adler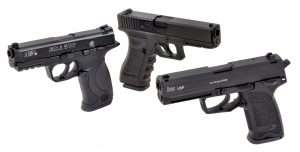 Now that the Umarex Glock 17 is available and ready to ship, (so get your gun before they end up on backorder), it is fair to make some hard comparisons between a trio of blowback action models that simply leave you asking, "If they can get all this right, why can't they get other things right?" Perhaps they do and we fail to recognize it. Let's start a few years back with what I consider the one semi-auto CO2 air pistol everyone who likes modern pistols should own, the Umarex S&W M&P40. It just doesn't get any more authentic than this. Or does it?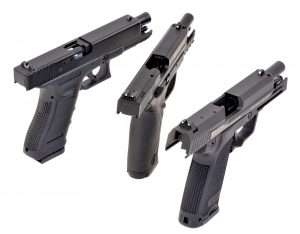 Last year Umarex came out with two new models that rival the M&P40, well one that simply is its equal hands down, the Heckler & Koch USP blowback action. The Umarex Glock 17 is the other, not quite as elaborate on the inner details as the other two, but impressive in its exterior design and operation. They are what comes when manufacturers step up and put quality and authenticity ahead of mass marketing and price point. Of course, there have to be lesser guns (with less expensive prices) like the Umarex Glock 19 and non-blowback USP to keep a balance. We might say they did them wrong or poorly because of a stick magazine or non-blowback action, but they have a market share as well, we just expect more because a lot of Airgun Experience readers are gun enthusiasts as well, and with air pistols like the G17, HK USP blowback and M&P40 we are getting more.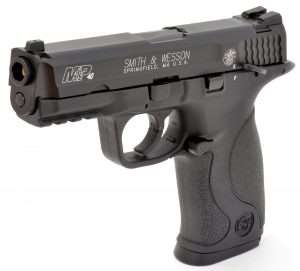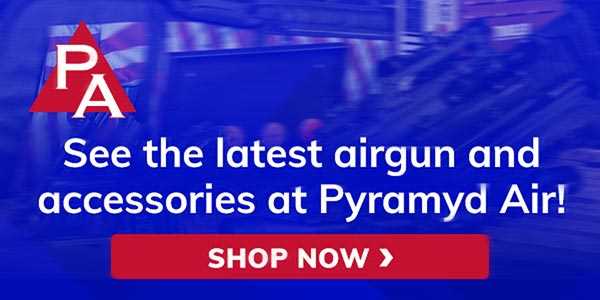 Authenticity has its value
TV and movie studio prop departments like these 100 percent authentic looking CO2 models (and others) because they can stand in for the live action guns in scenes where cartridge-firing models would be appropriate for a character in a modern drama. The use of special effects can make them appear even more realistic. But I'm really digressing here (unless you're making a movie…), the point is these three air pistols in particular have scored high with consumers and with yours truly as, "must have" CO2 models for any air pistol collection. With the G17, which was "all hat and no cattle" as the expression goes until this past week and the appearance of a green ADD TO CART bar, all three of these favorite contemporary blowback action models can now be your favorites as well.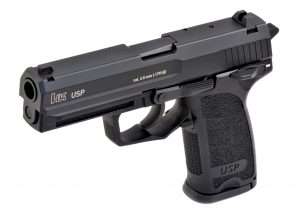 Why do I like the G17, M&P40, and HK USP so much? The answer needs context. If, for example, I lived in the U.K.or other less gun friendly parts of the world where firearms regulations greatly restricted ownership of centerfire and rimfire handguns, and many rifles and shotguns as well (with exceptions for sportsmen's clubs, hunting clubs, etc., which also have restrictions), the answer would be obvious; it is as close as you can get to enjoying the ownership and pleasure of firing a real handgun. Wow. A lot of red flags would go up with that statement on some forums, because so many people believe that guns are made for one thing and one thing only. But not everyone everywhere falls into that pigeonhole belief. Target shooting for sport is a centuries old and gentlemanly pursuit, and in modern times a well proven womanly pursuit as well! But even in countries that restrict firearms ownership (some with exceptions for the purposes of hunting) you will find competitive shooters who are allowed to step onto the world stage in Olympic competition and other sanctioned international shooting events. Often this is with airguns. The Chinese do extremely well in 10 meter air pistol and air rifle competitions, as do Russian, Italian, French, German, South Korean, Japanese, Austrian, British and American shooters, among others, which is curious because all those nations, many with very restrictive private gun ownership laws, manufacture centerfire and rimfire guns that are exported to other countries. Airguns, on the other hand, with few exceptions, are viewed differently.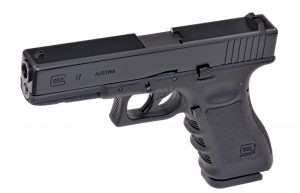 In Europe they are not the understudies to their cartridge-firing counterparts, they are what one can own and enjoy shooting without a lot of paperwork, expense, time and limitations. Where we may own an M&P40, HK USP or Glock 17 in 9mm, .40 S&W (or other calibers) and the air pistols are considered as substitutes, training guns, or understudies before stepping up to gun ownership, not everyone looks at them that way. I know from readers that enjoy air pistols and air rifles and correspond with me through Airgun Experience, that a lot of them have never fired a real gun, nor do they plan to, but that doesn't mean they don't like guns. No matter where you grew up, no matter what country you live in, guns are part of TV and movies, we see them, we read about them, and they are not for one purpose and one purpose only. Handguns, rifles, and shotguns are not by nature a military or law enforcement weapon, they are also for sports shooting, for the pleasure of it, to test your skills and abilities, whether it is shooting Sporting Clays, pistol or rifle shooting in sanctioned events like the Bianchi Cup, USPSA or IDPA, or wheeling a six-shooter, rifle and shotgun in Cowboy Action Shooting. Air pistols and air rifles allow that same interaction. And for those less inclined to the nature of those sports but still with an innate interest in guns as objects of mechanical art, history, and sport, air pistols like the M&P40, HK USP and Glock 17 fill a specific niche.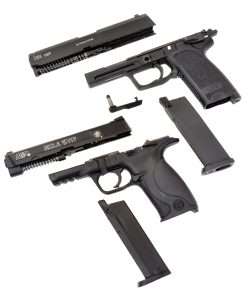 These three, perhaps, an even more specific one, as they are versatile enough to fit into multiple categories from simple back yard target shooting, to entry level competitive shooting practice, and as training guns for their centerfire counterparts. And no I don't live with blinders on, everything good can be corrupted in the wrong hands or when misused, but I like to think of Airgun Experience readers as members of a fraternity of responsible airgun owners who appreciate this choice in hobby and respect the opportunity it affords. I think these three examples, which all have counterparts used by law enforcement and military around the world, present the best of what is possible in a CO2 blowback action BB pistol, and Umarex has done an exceptional job of bringing these to market. As to which is the best, it is almost a comparison of equals in terms of handling and operation, just as past reviews have shown. Saturday, I'll run a 21 foot competition shoot with all three and find out which one scores the most bullseyes but with the addition of the G17, this trio is worth owning as a whole and priced reasonably enough that it is not going to break the bank. All three sell for $99.99 each.