The Last Word on the Umarex S&W M&P40
The first blowback action CO2 airgun to be adopted for law enforcement training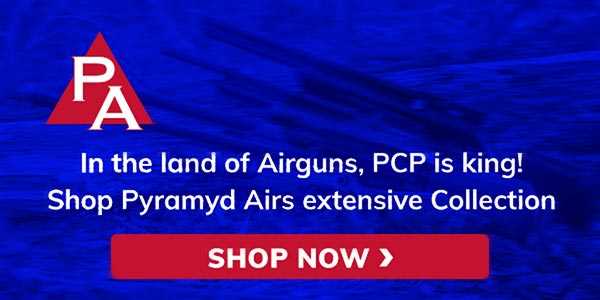 By Dennis Adler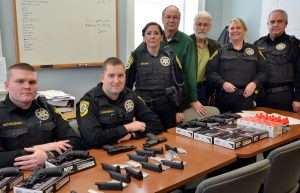 It is not often that I toot my own horn, first I'm tone deaf, and secondly it tends to blow back on you. But here goes. Late last year when I was testing the Umarex S&W M&P40, I went to visit the local County Sheriff (I have been a Special Deputy for the County Sheriff's Office here in Bedford, Pennsylvania, for over 20 years). Because the Sheriff is a great fan of airguns, I wanted him to try the M&P40, but the main reason was that all of the Sheriff's Deputies carry the M&P40.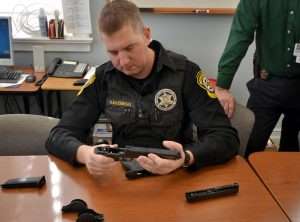 As things usually go, a short conversation turned into an afternoon, at the end of which we had shot, disassembled and reassembled my Umarex test gun, and come to the conclusion that the M&P40 airgun was absolutely identical to the department's duty guns, and could, in fact, substitute for the cartridge guns for training exercises. It was all theory at the time. We talked again and agreed that it was a viable project, and I approached Umarex-USA with a proposal to launch a pilot training program for small municipal and county law enforcement agencies beginning with the Bedford County Sheriff's Office. Umarex agreed that it was worth trying a pilot program. All the Sheriff and I had to do was show that it actually worked. Following is the end result.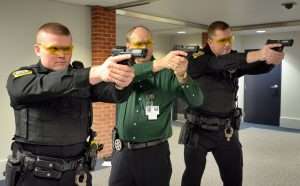 On Thursday, January 12, Umarex-USA and the Bedford County, Pennsylvania, Sheriff's Office launched a joint pilot training program for officers who carry the 9mm or .40 S&W Smith & Wesson M&P9 and M&P40 semi-autos. With the M&P's extensive law enforcement use throughout the U.S. the Umarex S&W M&P40 is an attractive alternative for use in training exercises that require firing the pistol at a target (but not for firearms qualifications). Both the M&P40 (and M&P9) and Umarex M&P models have matching polymer frames and metal slides; the external visual differences are minimal for fit, finish, and operational details. The CO2-powered Umarex model M&P40 also has ambidextrous manual thumb safeties required by some law enforcement agencies.
As a training gun in place of a cartridge-firing S&W M&P model, the handling characteristics are indistinguishable, including basic field stripping and cleaning. Every working feature of the M&P40 is accurately duplicated, so all training regimens can be taught and practiced with the airgun, creating matching responses right up to the moment you pull the trigger. In fact, the only significant difference between the 9mm and .40 S&W models and the .177 caliber CO2-powered Umarex is a lack of felt recoil and louder report. Being a 100 percent match to the M&P, all duty holsters, magazine pouches, and rail-mounted accessories can also be used with the .177 caliber training guns.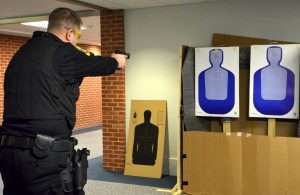 Dollars and Sense
For many small local and municipal police departments, as well as rural county Sheriff's Departments across the country, budgetary restrictions can and often do impede training due to the costs of ammunition, as well as the availability of ammunition solely for training purposes. These are problems that large metropolitan police and Sheriff's Departments also occasionally face, but for smaller departments, budgetary limitations are SOP. Bedford County, Pennsylvania, Sheriff Charwin Reichelderfer noted that, "Budget requirements are always present in law enforcement, and usually training is one that gets hit first in order to accomplish the overall mission for any agency. Time and money are always the forefront in training. The CO2 powered M&P is a perfect match as it requires no change to our issued holster and magazine pouch setup for deputies. The deputies will be able to draw, present, fire, and reload in the accustomed fashion with no deviation from current training. Being a small agency with this new training tool will increase the useful life of our issued firearms for the foreseeable future. Replacement firearms cost is a major step for any agency [an S&W M&P40 has a suggested retail of $569.] This does not include the increased costs for ammunition, which is also a factor in training/qualifications."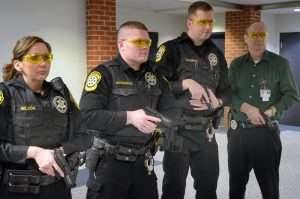 The Pilot Program
Working with Umarex-USA, M&P40 training guns, plus extra magazines, a supply of 12 gr. CO2 cartridges, and Umarex 1500 count steel BBs will be used to launch the pilot training program with the Bedford Country, Pennsylvania, Sheriff's Office. The Umarex M&P40 airguns will be used with the officer's duty gear to begin training exercises that incorporate all of the skills required to maintain proficiency with the firearm. According to Sheriff Reichelderfer, "We will be able to further enhance the skill level of deputies in house when the daily work load permits. The shooting backstop can be left in place or moved to storage very quickly. Repetition and familiarization, along with returning to basics in training with the Umarex M&P40 airguns equals skill level. Starting out a new program always has bugs. But, as with anything I believe we will improve as time goes on to other ideas and advances in training to make our deputies safe. I can only imagine the cost savings for small departments and even larger ones using these new blowback action airguns that match duty firearms. I am familiar with agencies that hardly have the ammunition budget. The airgun system may just be the ticket for them."
A word about safety
Blowback action airguns provide the look, feel and operation of their cartridge-firing counterparts and this is one reason why they have become so popular. Airguns in general all look like guns, blowback action models more so, and it is important to remember that the vast majority of people can't tell an airgun from a cartridge gun. Never brandish an airgun in public. Always, and I can never stress this enough, always treat an airgun as you would a cartridge gun. The same manual of operation and safety should always apply.