The Legendary Webley Mk VI 
A Webley airgun from Webley is as good as it gets!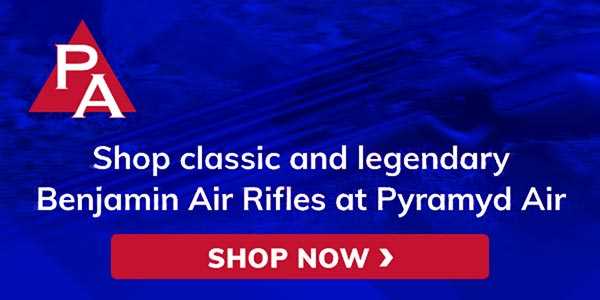 By Dennis Adler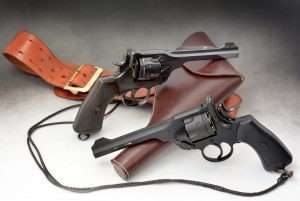 There is an almost inexplicable attraction to early military revolvers that has never diminished with the passing of years, particularly those from Great Britian's legendary armsmaker Webley & Scott. The British Empire's venerated .455 caliber Webley Mk VI revolver has neither lost its attraction (among arms collectors) nor its international recognition as one of the most famous handguns of all time. The Webley Mk VI has also had an illustrious film career being prominently featured in countless motion pictures including 1962's Oscar-winning Lawrence of Arabia starring Peter O'Toole as T.E. Lawrence. Sir Richard Burton used a Mk VI in the WWII classic The Longest Day, as did Robert De Nero, playing a young Vito Corleone in the Godfather Part II, (he used a Mk VI to shoot Don Fanucci outside his apartment in the flashback scenes to New York City in 1920), and lest we forget the Webley WG (Army Model with bird's head grip) used by Harrison Ford in two Indiana Jones adventures, The Last Crusade and The Kingdom of the Crystal Skull. Thus, when Webley introduced its .177 caliber version of the Mk VI, the air pistol not only caught the attention of arms collectors and airgun enthusiasts, but movie buffs as well!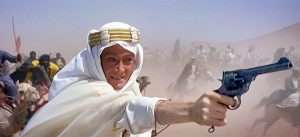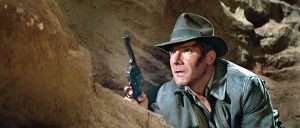 Webley & Scott is a company steeped in its own storied air pistol history dating back to the early 20th century, and in recreating the c. 1915 Mk VI, Webley & Scott followed the original .455 caliber specifications to exacting detail. The 1915 Webley Mk VI Self-Extracting Revolver became one of the most distinguished of all British handguns. The Mk VI was carried by British soldiers in WWI and WWII.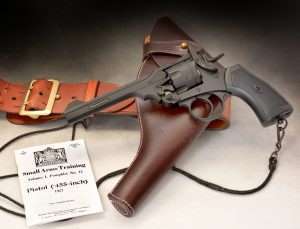 The Webley topbreak design was first adopted by the British military back in 1887 with the Webley Mk I. The pistol's design evolved over a period of nearly 30 years culminating with the Mk VI variation produced from 1915 to 1923 and kept in service until 1947! The smaller .38 caliber Webley Mk IV remained in service with military and law enforcement until 1963.
Having a very distinctive look, the Mk VI featured a square-butt grip with lanyard ring and military models had a dull finish (like the airgun) that was less reflective than the blued finish previously seen on Webley & Scott military sidearms. There were also commercially-produced models for the civilian and law enforcement market with blued finishes like the example shown.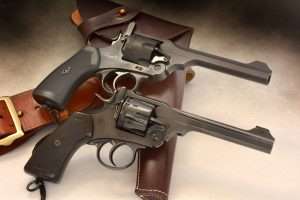 Among characteristic features of the Webley design is the flat-sided 6-inch barrel, large hammer spur, copious triggerguard and large crescent-shaped single action, double action trigger. It was a man-sized handgun overbuilt to endure, and while some might consider its appearance less than attractive, it's still a matter of opinion a century later. A Webley is unmistakable, especially with the gun's massive "stirrup latch." Hard to miss when reloading, the large release lever on the left side of the frame is pushed down to pivot and unlatch a locking bar over the back of the topstrap, thus freeing the barrel assembly to be tilted downward. Like the old S&W topbreak revolvers, opening the Webley activates an automatic ejector (working off an external cam lever on the left side of the frame) that drives the cylinder pin and extractor upward and simultaneously expels all six spent shell cases.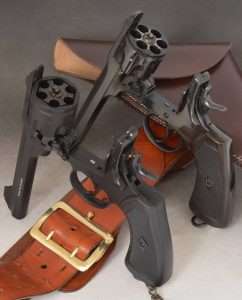 This was still a very efficient design despite the advent of the swing out cylinder and hand ejector introduced by Colt and S&W in the late 19th century. In addition, the triangular-shaped cylinder retaining cam on either side of the Webley frame had the added purpose of spreading open the holster pouch to prevent the cylinder from catching on the edges when re-holstering.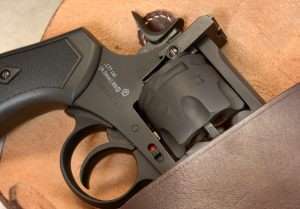 All of these detailed features are accurately reproduced in the Webley Mk VI air pistol from the original blueprints, with the exception of completely ejecting the unique .455 caliber BB cartridges, which can be reloaded and used over. You don't want to go hunting for them on the ground!
Weighing in at 37 ounces, measuring an exact 11.25 inches in length and 5.75 inches in height, the Mk VI air pistol is as close to the original Webley revolver as possible. The gun even comes with a copy of the c.1937 Small Arms Training manual for the Webley pistol .455. The Webley Mk VI is at the high end of the price range for BB pistols but worth every cent!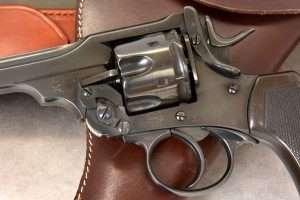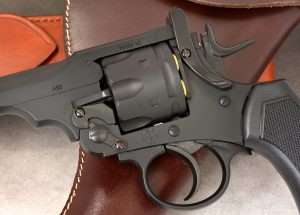 Put to the Test
Double action trigger pull on an original Webley Mk VI is in excess of 12 pounds, and single action trigger pull averages 10 pounds 10.5 ounces, not a gun for those lacking confidence to pull the trigger. The Webley Mk VI Service Revolver in .177 caliber is a bit more trigger friendly with a double action pull averaging 7 pounds, 10.5 ounces, and a single action pull of  5 pounds, 5 ounces, making this a more suitable target shooting air pistol than its legendary .455 caliber antecedent.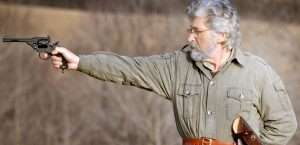 For the shooting evaluation of the Webley Mk VI, the precision of this all-metal, high-quality air pistol was put to the test using Hornady Black Diamond anodized .177 caliber steel BBs. All shots were fired single action (hammer cocked for each shot) and using a two-handed hold. The Webley was fired in a series of three six-round sets at a distance of 21 feet (7-yards), with a best six-round group clustered into 0.625 inches. All 18 shots struck inside the 10 and X rings (with a couple cutting the edge) and overall measurement was 1.75 inches center-to-center. Average velocity was 427 fps.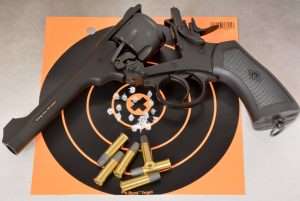 This is one of the very best military arms to be reproduced as a CO2-powered BB gun, and being a real Webley puts it in a class that's as real as it gets without firing bullets. If you are a military arms enthusiast or collector, the Webley Mk VI is one of those exceptional airguns that you just have to own.
A word about safety
Blowback action airguns provide the look, feel and operation of their cartridge-firing counterparts and this is one reason why they have become so popular. Airguns in general all look like guns, blowback action models more so, and it is important to remember that the vast majority of people can't tell an airgun from a cartridge gun. Never brandish an airgun in public. Always, and I can never stress this enough, always treat an airgun as you would a cartridge gun. The same manual of operation and safety should always apply.