Luger P.08 and Makarov pistols Part 3
Making a choice between two Makarov pistols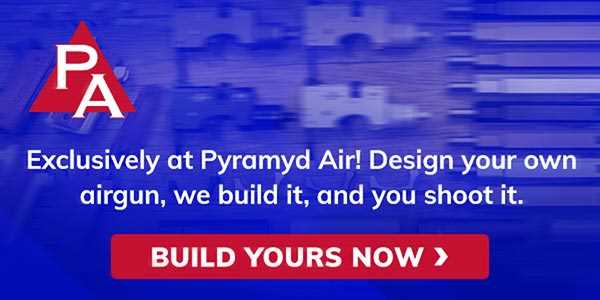 By Dennis Adler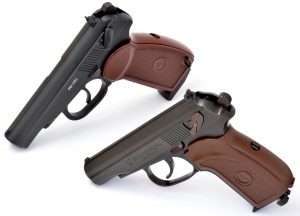 The Makarov or PM 1951 was a new design for the Soviet Union, but the Pistolet Makarova was, for the most part, a Russian variation of the circa 1930's Walther PPK, in fact, both guns are very much alike, not only in general appearances but internal design and operation. Nikolay Makarov made a very nice Walther and Gletcher and Umarex make very nice Makarov pistols.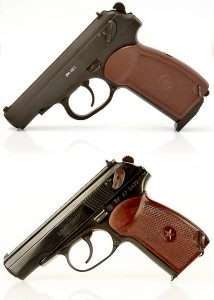 The Gletcher Russian Legends version is very accurate in design with proper grips (although a longer grip frame, (necessary for the length of the self contained CO2 and BB magazine), lanyard loop, muzzle shape and general contours. The trigger is slightly different in shape, but there is a big plus in that minor detail. In overall appearances it close to the Makarov.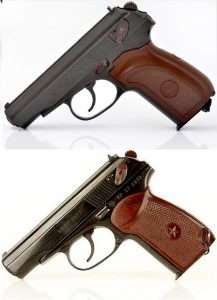 Conversely, the Umarex Makarov Ultra has a more accurate slide release, serrated hammer shape and more accurate trigger shape; it also has a proper length grip frame. The worst feature is the self contained CO2 and BB magazine, which has the seating screw extending from the bottom, rather than using a recessed hex head seating screw. Each has its advantages and disadvantages, the Umarex, however, would be a superior gun in overall design if it had a proper CO2 BB magazine.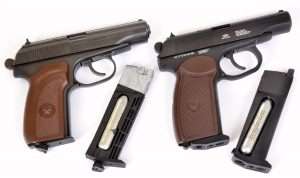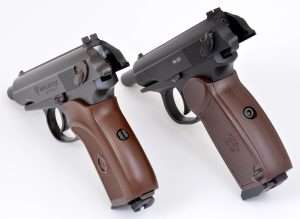 Best Shots
Velocity tests returned a little lower than expected 302 fps average for the Gletcher PM 1951, which is rated at 328 fps, and a little higher than expected 358 fps average from the Umarex Makarov Ultra, which is rated at 350 fps. The real upshot is that both are about equally accurate with their black military style dovetailed notch rear, and short blade front sights. The safety on the Umarex is hard to operate, while the Gletcher's is pretty close to working the real pistol's safety. The Umarex slide release is a superior design and easy to work, while the Gletcher's simply doesn't work unless you pull the slide back at the same time. Bottom line there is that the Umarex is built better. Neither gun is a prize when it comes time to change magazines as they use an original style Makarov release mounted at the base of the grip frame. You have to push it back to release the magazine. This calls for a strong thumb, although the Umarex requires about half the effort of the Gletcher.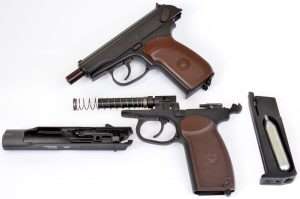 The accuracy of the two guns really comes down to the triggers, with the Gletcher having a significant edge over the Umarex. Average trigger pull for the Umarex Makarov Ultra is a hefty 11 pounds, 4 ounces, with a long 0.75 inches of low resistance travel followed by 0.25 inches of heavy stacking to a clean break. The Umarex also has sharper than usual recoil for a blowback action air pistol, which goes hand-in-hand with its almost 50 fps average higher velocity. The Gletcher, with a lighter and smoother 4 pound, 5.7 ounce trigger pull, feels more like a target pistol with a mere 0.25 inches of travel to drop the hammer. It also has very snappy recoil, so both blowback action Makarov pistols are great to shoot.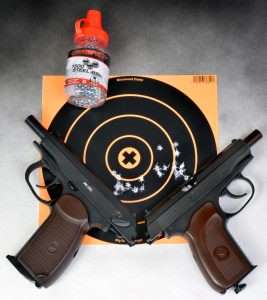 The test target was shot back to back with both guns at a distance of 21 feet. The Gletcher PM 1951 put 10 rounds at 1.75 inches, the Umarex Makarov Ultra, 10 shots at 2.0 inches. Both guns had 5-shot groups of 1-inch or under. Neither gun is a perfect copy of the Makarov, but Umarex has the sum total of better features. What it needs is an updated magazine screw (like the PPK/S just got) and lighter trigger. Until then, this is a match up where you are quite literally trading velocity for accuracy.
In Friday's Airgun Experience we are going to explore just how accurate some .177 caliber blowback action semi-autos are, not only on the outside, but on the inside!
A word about safety
Blowback action airguns provide the look, feel and operation of their cartridge-firing counterparts and this is one reason why they have become so popular. Airguns in general all look like guns, blowback action models more so, and it is important to remember that the vast majority of people can't tell an airgun from a cartridge gun. Never brandish an airgun in public. Always, and I can never stress this enough, always treat an airgun as you would a cartridge gun. The same manual of operation and safety should always apply.