Model 1911 Variations Part 1
The shape of the past, present and future
By Dennis Adler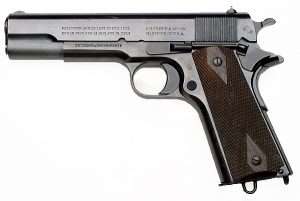 Shared design does not mean shared performance, or shared accuracy. This is true in the world of centerfire pistols and true in the world of blowback action CO2 pistols.
If there is one gun that epitomizes this statement, one handgun that has seen more variations, mechanical upgrades (internally and externally) and a greater variety of uses than any other, from a military side arm to a world class competition pistol, it is the Colt Model 1911. I honestly can't even say "Colt" Model 1911 anymore because there have been so many 1911 models that have nothing to do with the Colt's Patent Fire-Arms Mfg. Co., other than a shared design.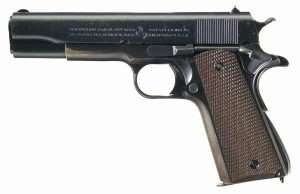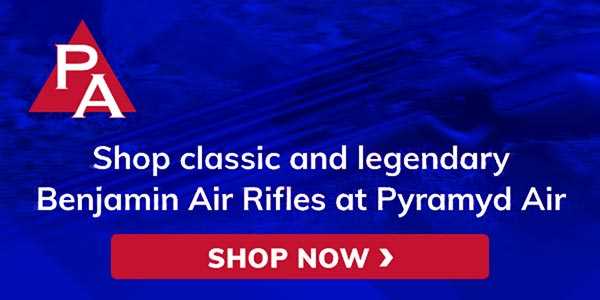 The original Colt patent for the 1911 expired almost 90 years ago, but long before that, during WWI, Colt was licensing its 1911 design to other manufacturers to meet U.S. Ordnance Department production demands for the U.S military and its allies. This repeated itself again during WWII with other U.S. manufacturers building Model 1911A1 pistols for the U.S. military and its allies, though by WWII the patent had expired. Today, the list of U.S. and overseas manufacturers of 1911 models exceeds any other handgun design in the world, even the CZ75, which comes in a close second, but is not nearly as old or legendary as the John M. Browning Model 1911 design.
It is this platform of frame, slide, barrel, and short-recoil, locked-breech design upon which all 1911 models are based, regardless of caliber, frame or grip size, barrel length, original Browning toggle link or later camming lug variations, and that includes today's top-of-the-line 1911 CO2 models. But, just as with centerfire 1911s either made in the U.S. or manufactured abroad, their shared design does not mean shared performance or accuracy, and certainly not shared price or quality.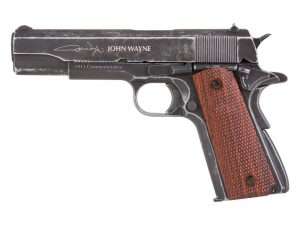 The 1911 platform
There are certain things, and I use "things" in a broad sense to imply everything from soft drinks, to automobiles, to brand logos, to handguns or rifles, that, by their very design, are universally recognized almost anyplace on earth. No translation is needed. A Model 1911 is one of those things. Within the U.S., the Model 1911 is currently manufactured by Remington, Ithaca, Smith & Wesson, Browning, Sig Sauer, Dan Wesson, Kimber, Ruger, Wilson Combat, Ed Brown, Cabot Gun Co., Springfield Armory, STI, and of course, Colt. And this is before getting into 1911s built in China, the Philippines, and other countries, and sold in the U.S. under varying brand names. There are a lot of 1911s, but when it comes to CO2 models, not quite as many, but the diversity of models extends to some examples that lack almost all of the essential qualities of a 1911 except a familiar shape.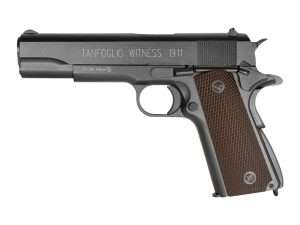 From the start I am going to discard any 1911 CO2 designs that have a double action trigger (unless someone wants to start making a CO2 version of the old Para LDA or short-lived Colt Model 1991 DAO Government model), any with non-functioning grip safeties, non-blowback action, or that use a stick magazine. That knocks out a lot of 1911 CO2 copies. What it leaves are the best of the 1911 models that stay true to the look, feel, and operation of a Colt Government Model 1911, or other current production 1911 centerfire (or rimfire) designs.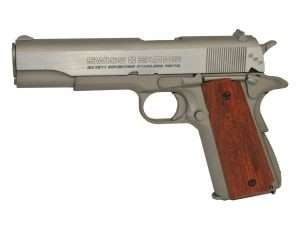 While there are highly modified centerfire (and rimfire) versions of the 1911 with ambidextrous safeties, integral MIL-STD 1913 Picatinny rails, numerous styles of combat sights, white dot sights, adjustable target sights, tuned triggers, custom hammers to reduce lock time, extended capacity magazines, optics mounts, and countless finishes and grip styles, the single action semiautomatic gun is nevertheless old school; a gun that was used in the early 1900s by Texas Rangers and U.S. soldiers, while they were still mounted on horseback, as well as a handful of government and law enforcement agencies in the 1920s. The first combat use of the 1911 was during General John J. "Black Jack" Pershing's Punitive Expedition into Mexico in 1916 pursuing Pancho Villa. The 1911 was equally popular with early 20th century outlaws and gangsters in the 1920s and 1930s, and we haven't even gotten to WWII, Korea, Vietnam, and the first Gulf War. Even to this day, despite the adoption of the Sig Sauer M17 and M18, variations of the Model 1911 are used by select special operations units within the U.S. military, as well as Federal, State, and local law enforcement agencies.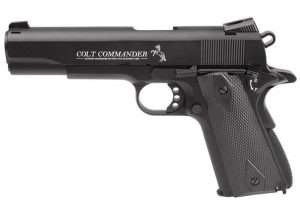 It is no surprise then, that there are many variations of the Model 1911 manufactured as fully field strippable, blowback action CO2 models that range from relatively stock configuration to those with ambidextrous safeties, various combat sights, grip frame and grip designs, and all of them matching centerfire examples. And these CO2 models share one other thing in common, self-contained CO2 BB magazines that are so well matched that, like actual .45 ACP Model 1911s, they are interchangeable.
Contenders
For those of you who have been reading this column for the past several years, this is all very familiar and many readers may already have one or more of the best blowback action 1911 CO2 models. This is really being written for new readers or those of you who may still be on the fence about getting a blowback action 1911 or adding one of the newer versions to your collection. For the contenders in blowback action CO2 1911 designs, the top models are the Umarex Colt Commander, Sig Sauer WE THE PEOPLE, Air Venturi John Wayne commemorative 1911A1, Tanfoglio Witness/Swiss Arms 1911, and Swiss Arms 1911 tactical models, including the TRS and MRP versions. The Swiss Arms tactical series all share ambidextrous thumb safeties and MIL-STD 1913 Picatinny rails, but differ in finishes.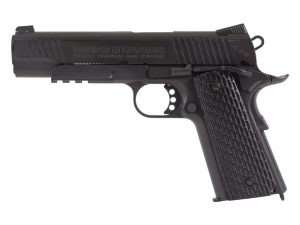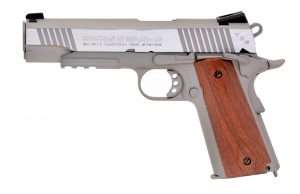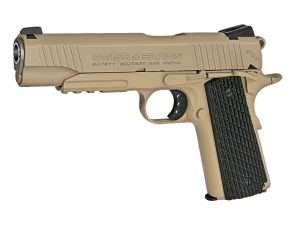 Ironically, Swiss Arms sells the most variations of the 1911 under their name but the company, (formerly Sig Arms AG until 2000) which own Sig Sauer GmbH, Sig Sauer, Inc. and SAN Swiss Arms, doesn't make a cartridge firing 1911 under the Swiss Arms name. It does, however, own Sig Sauer, which makes both 1911 centerfire and CO2 models. So, yes, the Sig Sauer WE THE PEOPLE 1911 and all current Swiss Arms CO2 models built under license compete directly against each other. And since all the CO2 models are manufactured in Taiwan (including the Sig Sauer WTP) and share a considerable number of parts (thus being able to use the same CO2 BB magazines in all the different brands), you have to wonder "Are they all the same gun with different names?" And the answer to that is no.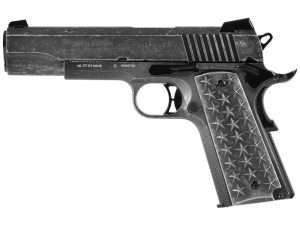 As an example, take the centerfire models. Is a lower-priced 1911 made in the Philippines by Armscor and sold in the U.S. under a number of different names and models by importers and retailers, as good as a much more expensive handcrafted Wilson Combat 1911, a 1911 made by Colt, or one by Springfield Armory? No, and the price spread is striking, as is the quality of fit and finish, operation (and wear of parts under heavy use), quality and type of sights, and above all, accuracy; you get what you pay for, yet all are essentially the same gun design. This is also true of the CO2 models. They are not all the same.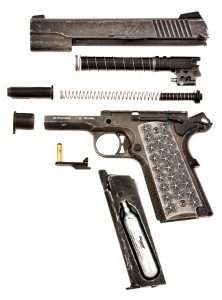 In Part 2, the top 1911 CO2 models go head to head for triggers, sights, safeties, and downrange accuracy to find the best "overall" 1911. 
A word about safety
Blowback action airguns provide the look, feel and operation of their cartridge-firing counterparts and this is one reason why they have become so popular. Airguns in general all look like guns, blowback action models more so, and it is important to remember that the vast majority of people can't tell an airgun from a cartridge gun. Never brandish an airgun in public. Always, and I can never stress this enough, always treat an airgun as you would a cartridge gun. The same manual of operation and safety should always apply.