My favorite CO2 air pistol of all time Part 2
And what makes it special
By Dennis Adler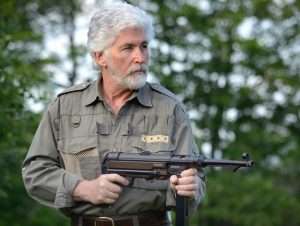 When you have a veritable history of American and European firearms recreated today in .177 caliber BB and 4.5mm pellet firing airguns, everything from selective fire pistols like the Mini Uzi, Broomhandle Mauser Model 712 and WWII German MP40, to state-of-the-art semi-autos like the Glock 17 and legendary guns from the American West, like the Colt Peacemaker, finding one gun that raises the bar or hits your "must have" list, is like going to a premier firearms auction with the determination that no matter how many guns catch your eye, you are only going home with one. And so we begin Part 2 back in 2017.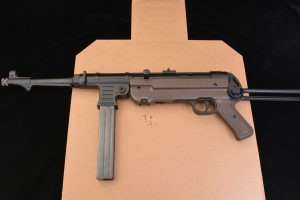 If there was one model that raised eyebrows and opened wallets that year, it was the Umarex Legends MP40 submachine gun. This was as much of a surprise as the M712 Mauser; Umarex was digging deeply into German gun making history once again and coming up with another out of the chute winner for military arms enthusiasts. The Maschinenpistole 40 or MP40 was a reworked version of the MP38 designed to be less expensive and time consuming to manufacture for wartime use. Its pioneering construction relied on welded and sheetmetal stamped parts compared to its more precision-built MP38 predecessor, which utilized mostly machined parts. Welded and stamped parts became the foundation for many later military weapons, including the Uzi, which used a similar manufacturing technique. With the select-fire CO2 MP40 (the actual WWII guns were full auto only), the CO2 Mauser M712 had a worthy WWII companion and military airgun enthusiasts another big choice. The MP40 was later followed up with a weathered WWII version which looks even more realistic and made an interesting counterpart not only to the WWII edition M712 (now out of production) but the Battlefield Finish Webley MK VI, the only one of the three still currently available.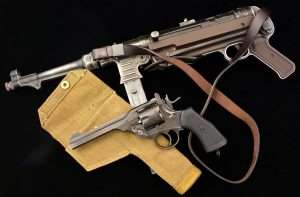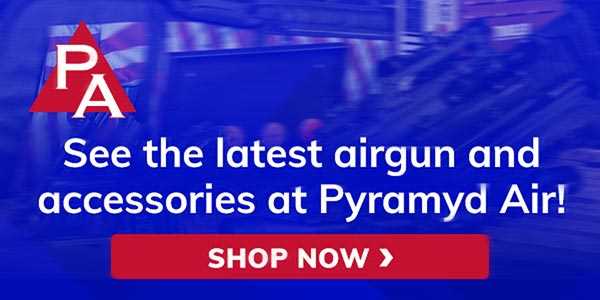 Early in 2017 Sig Sauer took its next big step forward with the P320 ASP, which, while still carrying forth the company's same conservative approach to molding in features that would not serve any functional purpose on the CO2 model, did introduce an innovative rotary pellet firing mechanism that in itself revolutionized the blowback action pellet pistol market.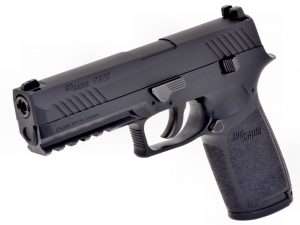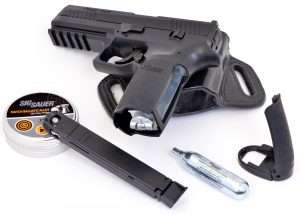 By early 2018 there was another rising star among CO2 blowback action pistols, the ASG CZ 75 SP-01 Shadow. This new blowback action version was based on the original centerfire CZ-75 Shadow model introduced in 2011 and variations of the Shadow through the SP-01 Shadow (built by the CZ Custom Shop) and the latest SP-01 Shadow II models.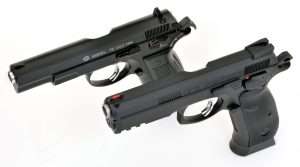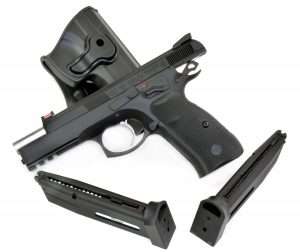 ASG began offering updates to the CO2 model (an interesting first) with accessories based on the Shadow 2 competition "Black & Blue" (updated from the original SP-01 Shadow Blue and Shadow II), with the same alloy grips and an extended magwell, in the same anodized blue finish as the 9x19mm models. Pyramyd Air also began offering this first step upgrade. ASG also added matching alloy blue anodized base pads and a blue anodized aluminum optics mount, making the SP-01 a very close rival for the CZ 75 inspired Tanfoglio Gold Custom CO2 model in looks and in accuracy. This Blue version quickly became another keeper.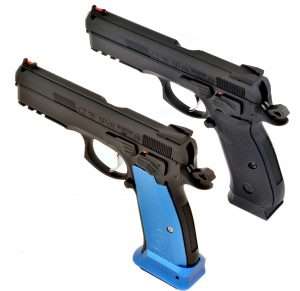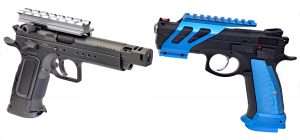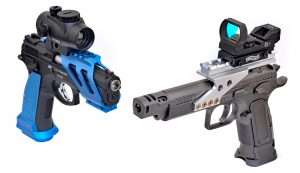 The previous year had seen Sig Sauer stumble with two stick magazine fed 1911 models based on their specialized Sig 1911 models, the Spartan and Max Michel. Both were nice entry-level 1911-based CO2 blowback action models, but with separate CO2 compartments and stick magazines they fell flat with a lot of Airgun Experience readers who were expecting a great deal more from Sig Sauer. In 2018 they got it, with a new 1911 model that broke the mold for 1911 air pistols, the WE THE PEOPLE.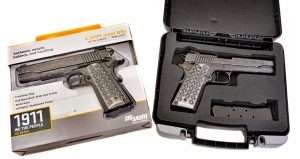 This was a 1911 model based on Sig's own .45 ACP custom version, which was so detailed, that without close examination, seeing the small white lettering on the right side of the slide and frame, looking down the barrel, or being so versed in the design to notice the absence of an ejector hole on the back of the slide, was otherwise indistinguishable from the centerfire gun. The Sig WTP became just about everyone's keeper if they wanted true authenticity to an actual cartridge-firing counterpart (if you like guns with wild custom finishes and grips), and one of the most accurate 1911 blowback action CO2 models on the market.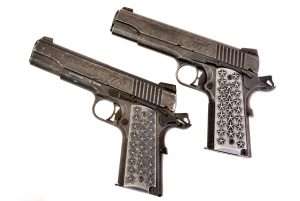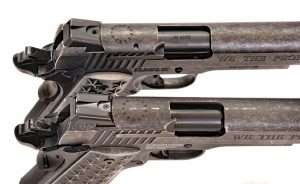 The middle of 2018 was really beginning to look up and Sig Sauer was taking the lead in best new guns. Sig had previewed a new blowback action CO2 pellet-firing model in the summer, based on the U.S. military's new standard issue sidearm, the P320/M17. That new M17 ASP CO2 model, with an improved rotary pellet firing mechanism and self-contained CO2 pellet magazine, an actual slide and barrel lug interface, ambidextrous thumb safeties, white dot sights, and field stripping capability, captured the spotlight and left air pistol enthusiasts waiting until almost the end of the year for first deliveries. However, the gun did not disappoint and went on to win the 2018 Replica Air Pistol of the Year title. Meanwhile, Umarex also weighed in with two new models late in the year that were simply going to be game changers.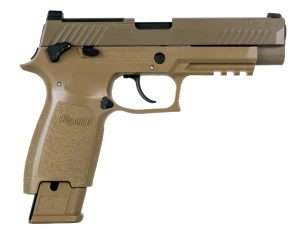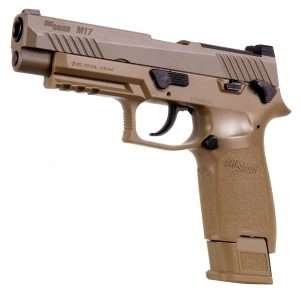 The first was a new blowback action CO2 model based on an older Heckler & Koch design, the USP. In terms of authenticity of design, this gun now rivaled the Sig Sauer WTP in every way, and was very close to edging the Sig M17 ASP out of the year's number one spot, but the innovative self-contained CO2 pellet magazine pushed it just over the line.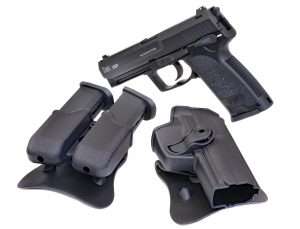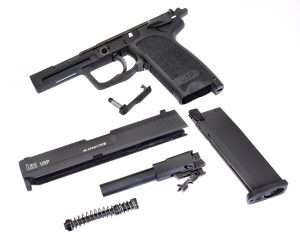 During 2018 Umarex decided to enter a new market with an air pistol that had never been made by forging a relationship with Glock. But before the Umarex Glock 17 (3rd Model) was released, Umarex fired a shot across the bow of other airgun manufacturers with a lower-priced, non-blowback action, stick magazine version of the Glock 19 Compact.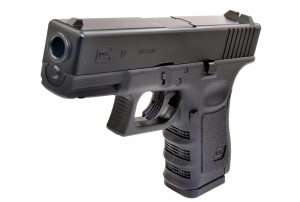 To everyone this seemed to be a disappointing decision, but was actually a hint at what was coming a few months later. For a low-priced, non-blowback, the G19 CO2 was magnificently constructed with more detail than most blowback action pistols, the kind of detail that could only be achieved with individual parts, not molded-in pieces. In addition, Umarex had managed to preserve the look of a centerfire Glock pistol by eliminating any white lettering from the gun except the model designation tastefully placed on the right side of the barrel lug. It was priced for entry-level BB gun buyers who could not imagine Glock ever making or allowing to be made, a CO2 version. The company wouldn't even build a .22 LR model. So the ice had been broken and at a very reasonable price leaving more gun savvy buyers to ask where the blowback action model was.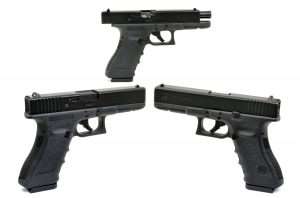 The Glock 17 blowback action CO2 pistol just got in under the wire for 2018 with a design that was, in a word often used by Glock, "Perfection." A short recoil design that could not be field stripped, it traded that feature for providing an impressive average velocity of 376 fps with a high of 395 fps. Numbers you don't normally see from a blowback action pistol. The Glock 17 would have been 2018's top gun but lost out for its only design compromise, not being able to fieldstrip like the rest of the top blowback action models.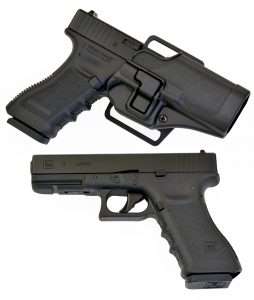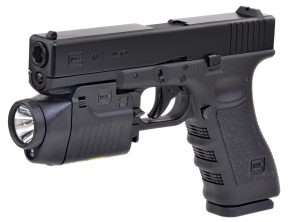 There were some other great models that came out including another Sig Sauer, the P226 ASP X-Five, which couldn't quite outpace the P320/M17 for overall features, but proved to be a more accurate gun for target shooters. There was also the groundbreaking Umarex Legends Cowboy Lever Action Rifle with CO2 BB cartridges and about as realistic a lever gun that ever used CO2 instead of gun powder. A handful of other updates from Umarex filled out the calendar, but these were the best of the best. And that was how last year ended up.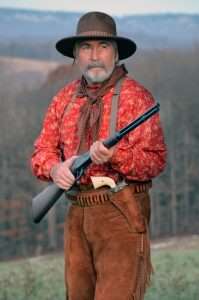 For 2019 the new models are coming more slowly but it will take something quite extraordinary to top the first completely new model of the year, the Springfield Armory XDM 4.5, simply the most perfect blowback action CO2 pistol made thus far. If it gets any better than that this year (and I think it very well might), 2019 will end up marking the greatest turning point in the short but extraordinary history of blowback action CO2 airguns.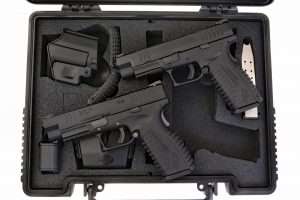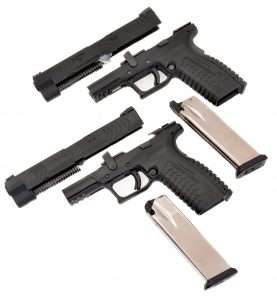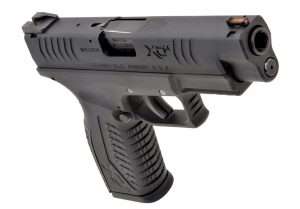 All of this has transpired in a little more than three years, making it hard for airgun enthusiasts to buy everything that looks good when every next gun to come along has even more appeal, especially for those who want as much authenticity in their CO2 pistol as possible. The burning question, however, is "what among all of these great choices is the one gun that has become my all time favorite CO2 pistol?"  I'll reveal that answer and the reasons why on Saturday.
Everyone who reads Airgun Experience on Tuesday and Thursday has a chance to win a brand new Umarex Beretta M9A3 by posting a comment with the gun they think I will pick on Saturday. This needs to be in the comments section before midnight Friday. You can only enter once and you have to post your comment no later than 12 midnight this Friday. The first person to guess the gun I'll pick wins the Beretta! I have to applaud those of you who boldly made your choices before reading Thursday's Part 2, and some of you even guessed which guns would be in Part 2. But has anyone guessed the gun?  We'll find out Saturday.