My favorite CO2 air pistol of all time Part 3
And what makes it special
By Dennis Adler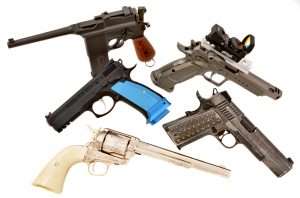 Having a favorite anything means you have had it for awhile, unless something comes along that is so overwhelming it surpasses everything before it. In the world of firearms that only happens once in a great while. With blowback action CO2 models based on actual centerfire guns, it can happen more often because air pistols not only have ties to the latest guns, but can just as easily be based on guns from the past; with air pistols a new gun is always interesting, but it isn't always new. One of the best examples of this was last year's Umarex HK USP, a gun that has been around for some time but as a new blowback action CO2 pistol really hit it out of the park. The next closest was the Umarex Glock 17, a design that has been around as a 9mm pistol since 1982. Both are great and maybe in a few years one of them will become a favorite for me, but what I consider a favorite gun has a deeper meaning.
Five Keepers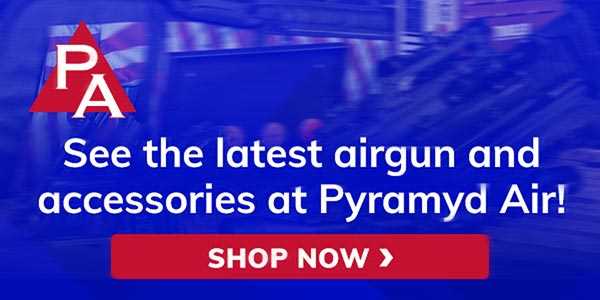 There are five CO2 pistols I consider my "absolute keepers." These are models that I would not want to part with. Every one of them is a gun that readers picked to be my favorite of all time. Of course, "of all time" in this context is only a period of about four years, prior to that none of them existed as air pistols. But they did exist as centerfire guns, and that's what makes these five very special.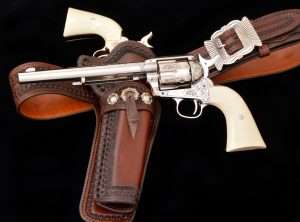 More people picked the Peacemaker than any other and it was a logical choice given my background. The 7-1/2 inch engraved nickel model is one of my very personal favorites because I was the one who suggested having these very authentic Umarex Colts given the same engraving treatment as the centerfire models. My 7-1/2 inch Umarex is the actual engraving prototype for the limited series of guns done for Pyramyd Air by Adams & Adams. If not for one other CO2 model that came along, the Peacemaker would be my all time favorite, but it is only one of five.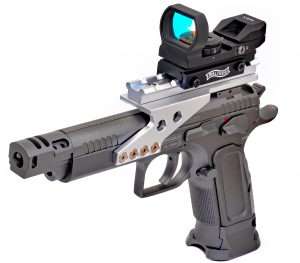 The gun that is my favorite has been my favorite since it came out. But first, the gun that almost knocked it out, the Tanfoglio Gold Custom. I have had this model since it was introduced. It has proven to be the most accurate blowback action CO2 pistol there is. Even though a few newer guns may be more appealing, they can't outshoot it, and that makes this very authentic copy of a championship competition pistol another of my five favorites.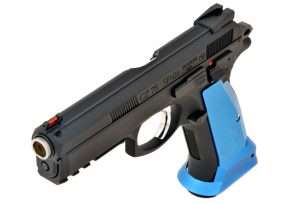 The closest I came to finding a better gun than the Tanfoglio was the aftermarket customized CZ 75 SP-01 Shadow Blue. From a purely visual perspective it is one of the best-looking blowback action CO2 target pistols there is (and if you don't like it in blue it can be done in CZ's competition orange or red versions, but I like the almost turquoise blue anodized aluminum accessories best). It can't quite outshoot the Tanfoglio, but it does give it a run for looks.
That leaves me with two great air pistols that I consider among the best ever. To understand my interest in these two you have to understand my motivations for selecting them. My first semi-auto handgun was a Colt Model 1911. It was an awful gun to shoot. I got rid of it after a couple of years but found myself drawn to the Model 1911's better self, and got into customized models, the first of which I still have over 30 years later. The 1911 is the very image of the 20th century American handgun, just as the Peacemaker is for the 19th. The Sig Sauer 1911 CO2 WE THE PEOPLE represents one company's view of that image, albeit a German company now rooted in the U.S. As 1911 CO2 models go, there simply isn't a better 1911 than the Sig Sauer. Is this my all time favorite?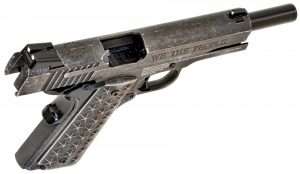 The back story
Long before I started writing about guns I was writing about American and European Classic Cars. Over more than 30 years, beginning in 1977, I wrote thousands of magazine articles and took somewhere around 10,000 photographs, edited car magazines, and authored and photographed over 30 books on automobiles, including three very popular ones for Random House and HarperCollins. And it was the cars that got me into guns! Car collectors are also very often gun collectors and this is where it started.
Back in the late 1970s I was working as the assistant editor of Car Classics magazine for the legendary Dean Batchelor, former editor of Road & Track, and director of the Harrah Automobile Collection. I learned a lot about writing and automotive history from Dean and a few of his old friends. You might say I became there young protégé. I will always be thankful for what they taught me and for introducing me to other influential collectors. And there was one who was a gun collector.
I had an assignment to shoot a Lamborghini and it required a European looking estate for the background. One collector I had met had such a house. And after contacting him we set a day and time for me to arrive with the Lamborghini. I had previously shot a Porsche 550 Spyder there, so we weren't strangers. Lighting is essential for outdoor photography and a bright sunny day really isn't what you want. Light clouds to soften the sun, or just before sundown is better, and with a red Lamborghini the day's harsh, bright sunlight put things on hold for awhile. (If I ever write a book on automotive photography, I'm calling it "Waiting for a cloud"). We decided to grab some lunch and somehow got on to the topic of guns. He collected all types of handguns but favored early (pre-war era) German pistols. When we got back to the house, the light was still not good, so I got a tour of his gun collection. What struck me first was a cabinet with guns I had only ever seen in movies. He put the very first Broomhandle Mauser I ever held into my hands. It was a Model 712, even then a very rare and expensive gun. That started me on collecting Broomhandle Mausers for the next 30 plus years. But the one I couldn't get (did find a couple over the years and knew all the paperwork that would be involved) was a Model 712. I simply could never afford it. Every time I had enough disposable income and found another, the value had gone up proportionally and I still couldn't afford it. I have photographed a few, handled a few, but never owned one. Then, one day Umarex introduced a CO2 version of the Model 712. I bought it, and have shot it countless times, written about it more than almost any other air pistol, and for all of the reasons I have explained, despite many newer and innovative CO2 models that I really like, the Model 712 was, is, and will always be my favorite CO2 air pistol of all time.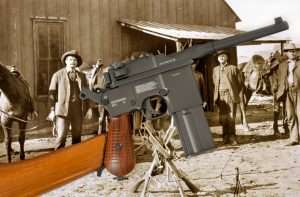 Reader Adventurist summed it up best when he said this was the gun I would pick: "It's a pistol that has a very diverse and colorful history including The Old West." It does indeed, and for this adventure, you have won the M9A3.
Thanks to everyone who participated.