New ASG Dan Wesson 4-inch Model 715 pellet revolver
An inch and a half more barrel, but what a barrel!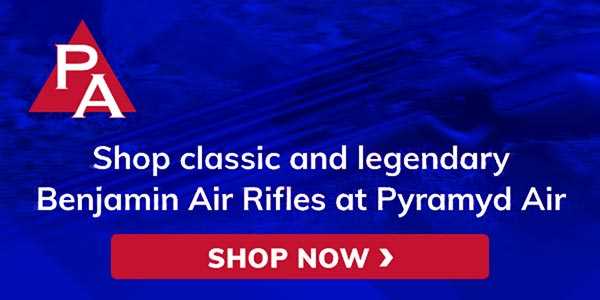 By Dennis Adler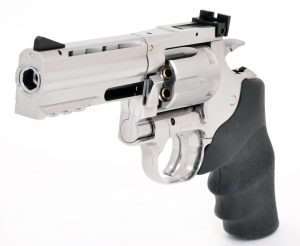 Dan Wesson designed a handgun that made having to choose a barrel length unnecessary because the frame was designed to allow changing barrels, and there were four standard options from 2-1/2 inches to 8-inches. That's a lot to ask from an airgun that duplicates the entire look of the Dan Wesson Model 715, so to have a 2-1/2 inch, 4-inch, and 6-inch barrel length Dan Wesson air pistol you need to purchase three guns. Considering the price of a .357 Magnum Dan Wesson Pistol Pack, (with three barrels, 4-inch, 6-inch and 8-inch), the trio of ASG Dan Wesson airguns are still a fraction of the price (about $420 for all three, compared to $1,688 for the Model 715 Pistol Pack).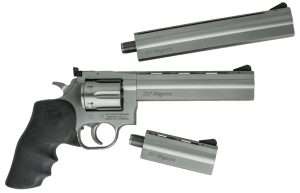 For airgun enthusiasts who demand authenticity in their CO2 models you can't get any closer in a revolver than the ASG Dan Wesson Model 715, and the new 4-inch version, offered in a blued BB or nickel plated pellet version, even adds something a .357 magnum Dan Wesson doesn't have, an under barrel accessory rail.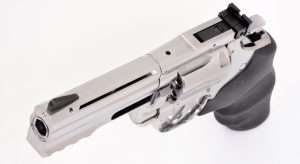 The new 4-inch ASG Dan Wesson uses the same Model 715 style frame and crane-mounted cylinder latch as the other two CO2 versions and also looks like it has interchangeable barrels with the correct design barrel bushing around the muzzle. It has the same double action/single action trigger, Hogue-style rubber grip design, and excellent front and rear sights. Both the BB and pellet models have full length vent rib barrel shrouds, so like the other DWs, this one also looks like the real deal.
Sizing it up
What I like about the 4-inch barrel is the weight and balance; it's the perfect size gun for combining compact barrel length without sacrificing too much accuracy, that extra inch and a half goes a long way. Snub nose revolvers, for all their worth as concealed carry sidearms, do give up a little something downrange. The 4-inch barrel length is a fine compromise.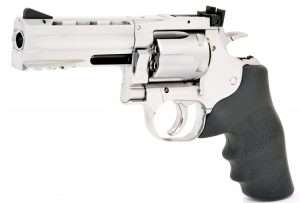 Testing this newest ASG Dan Wesson model presented me with an opportunity that is seldom found with wheelguns, the capability of adding a tactical light or tactical light/laser combination under the barrel. The majority of revolvers with red lasers have them incorporated into the grips, (like the Crimson Trace Lagergrips used by S&W). Arguably, the rail on a 4-inch CO2 revolver is more a novelty than an asset, but with airguns, looks are almost as important as function, and with the ASG Dan Wesson you get both!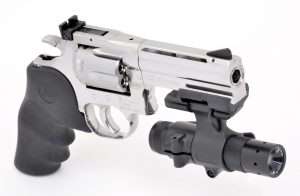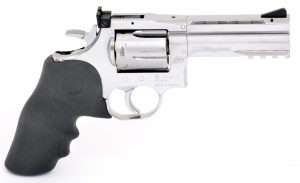 The rail is an asset for practicing indoors with a light or light/laser combination, but it also keeps this gun out of almost every holster made for a 4-inch Dan Wesson or S&W revolver. It does fit nicely into most traditional ballistic nylon rigs that attach to tactical vests.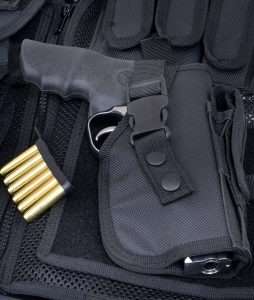 The 4-inch model checked in with a carry weight of 38 ounces (empty), overall length of 9.68 inches and a lighter double action trigger pull than previous models tested, with an average of 9 pounds, 12 ounces. Single action trigger pull also came in lighter with an average of 5 pounds, 9 ounces. This prompted me to shoot the test both DA and SA. I hope this is a portent of better triggers to come from ASG on its Dan Wesson models, if so; this gun raises the bar even further. (If not I'm definitely keeping this one!)
For the test I shot at 10 meters (33 feet) firing offhand using a two-handed hold. The pellet cartridges were loaded with Meisterkugeln Professional Line 7.0 gr. lead wadcutters, which chronographed from the rifled barrel at 393 fps average. The gun is factory rated at 410 fps.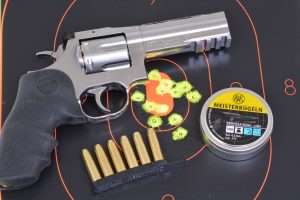 I fired two 6-shot groups single action at the targets and the best total for 12 rounds measured 2.5 inches, with a best six at 1.74 inches. A second target was shot firing double action. The best 6-shot group was fired in rapid succession and measured  2.75 inches with three inside 0.75 inches, making this as good a shooter double action as single action.
As a pellet cartridge-firing CO2 revolver, I not only like the authentic look of the new 4-inch ASG Dan Wesson Model 715, I like its weight, balance, and accuracy, and I particularly like the DA/SA trigger on this one. I can't promise every 4-inch Dan Wesson will have a trigger this good, but if they do, you really want to add this airgun to your collection. Yep,  I'm definitely keeping it.
A word about safety
Double Action/ Single Action airguns provide the look, feel and operation of their cartridge-firing counterparts. Most airguns, in general, look like cartrrige guns, this Dan Wesson Model 715 even more so, and it is important to remember that the vast majority of people can't tell an airgun from a cartridge gun. Never brandish an airgun in public. Always, and I can never stress this enough, always treat an airgun as you would a cartridge gun. The same manual of operation and safety should always apply.