New Sig Sauer P226 X-Five Silver Part 3 Part 2 Part 1
Fine tuning the sights for bullseye accuracy
By Dennis Adler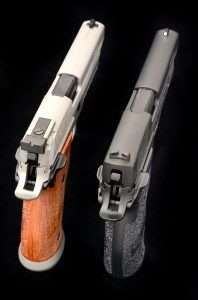 The P226 X-Five has proven to be one of the easiest to handle and most accurate both in detail and downrange of any of the current blowback action CO2 models. The new X-Five Silver has dressed up the otherwise basic black landscape of this gun to competition pistol status with its outstanding fit and finish and adjustable target sights. Almost perfect except that the new Sig left one thing behind, the white dot front sight from the standard model. Some will say, target sights do not need the white dot, and I'd agree with this gun since it has already matched the standard model for accuracy without it. But since I have shown readers how to add a clean (and removable) white dot front sight, I'm going to take the X-Five Silver up another notch for the final shooting evaluation.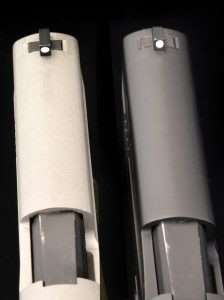 Adding the white dot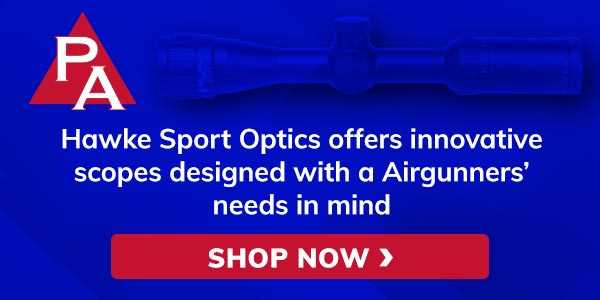 I explained how to make a white dot sight in Airgun Experience No. 192 "Out of Sight" and for the P226 X-Five I am starting with a comparison of the front sights for the size of the dot. Nothing about the P226 is discreet, everything is bold and easy to handle and that goes for the sights, the front blade is tall and wide and easy to center in the rear, whether with the black fixed rear on the standard model or the adjustable sight on the X-Five Silver. The white dot measures a handy 0.12 inches. I punched out an approximate white dot on an Avery Multi Purpose white gummed label and positioned it in the same spot as the standard model's front sight. This will stick in place until removed. Now, all things are equal.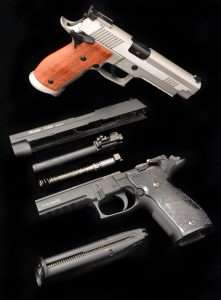 Shooting at 21 feet  
For this final accuracy test I selected three different .177 caliber BBs, Umarex 1500 steel BBs, Hornady Black Diamond black anodized steel BBs, and Remington plated steel BBs. This time around the Umarex delivered a total spread for 10 shots of 0.81 inches and a best five shots at 0.68 inches. This is just a fraction different than the previous test with Umarex steel BBs, which landed a best 5-shot group at 0.50 inches.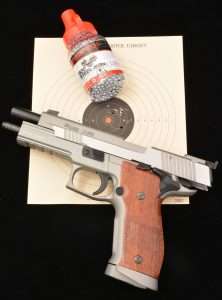 I chronographed the 5.1 grain Hornady Black Diamond BBs at a high of 345 fps and an average of 335 fps for six consecutive shots. The rated velocity for the X-Five is 300 fps so it is consistently shooting above the factory rating.
At 21 feet my best 10 shot group with the Black Diamond measured 0.75 inches including a bullseye. One 5-round spread measured 0.625 inches and a best 5 shots at 0.45 inches with three overlapping, setting a new 21 foot standard for the Sig.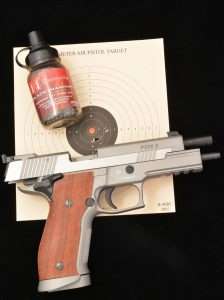 For the final test I switched to Remington plated steel BBs. Chronograph speeds were a high of 340 fps, a low of 328 fps, and an average of 334 fps for six shots. For the final 10 shot group I had 5-shots at 0.625 inches, a best 5 at 0.5 inches, and a total spread of 1.06 inches.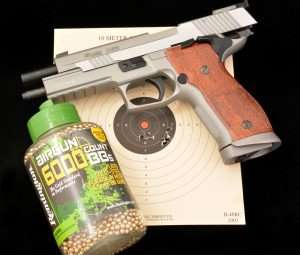 Overall for total targets my average 10-shot groups were 0.80 inches with a best five shot group of 0.45 inches. Without the added white dot my best 5-shot group was 0.5 inches. Either way, white dot or not, the new X-Five Silver is one of the most accurate blowback action pistols, downrange and for overall design and operation. This one is a keeper.
A Word About Safety
Blowback action models provide the look, feel and operation of their cartridge-firing counterparts. The Sig Sauer P226 X-Five models a little more than others. Most blowback action airguns look like real centerfire handguns, but those based on models like the Sig Sauer are even more difficult to distinguish at a glance. It is important to remember that the vast majority of people can't tell the difference between a blowback action airgun and a cartridge gun. Never brandish them in public. Always, and I can never stress this enough, always treat an airgun as you would a cartridge gun. The same manual of operation and safety should always apply.