Old Tech – The Luger Parabellum Part 2 Part 1
An airgun with a history older than almost any other
By Dennis Adler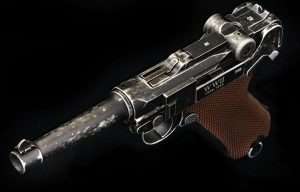 It is easy to forget just how old the Luger design is because most everyone, except Luger collectors and firearms historians, think of it as a WWII handgun. You can thank the movies for that, for the most part, but George Luger's innovative semiautomatic pistol design was patented before the turn of the last century and already in the hands of Americans as early as the 1900s.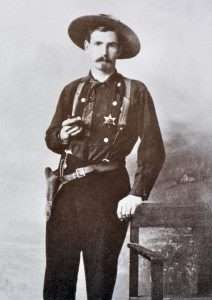 Around 1908, an Arizona lawman was photographed carrying a Luger as his sidearm in a modified western holster. Imagine someone with a Colt Peacemaker coming up against a Sheriff packing a Luger! There were actually a lot of lawmen carrying semi-auto pistols both of European and American design in the very early 1900s including Colt's Model 1903 Hammerless, the FN Model 1900, Broomhandle Mausers, and Lugers among others. It is not as strange as one might think, so looking at the P.08 in that context makes it a very old gun and an excellent choice for an air pistol.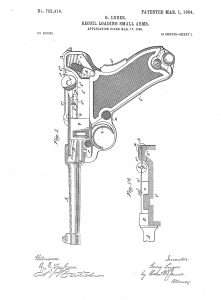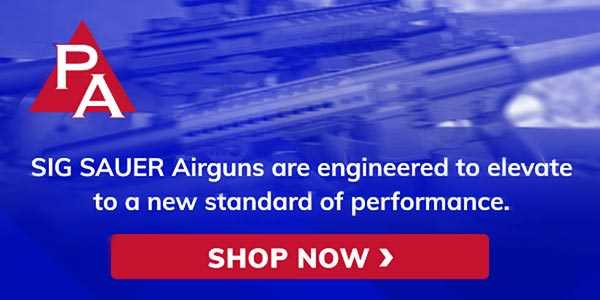 The Luger design, with its toggle link action, demanded a cartridge with sufficient power to not only send its bullet downrange at an effective velocity but generate enough recoil energy to drive the toggle link back the full distance in order for the pistol to eject the spent shell case, re-cock the striker and chamber a new round. This was more demanding than the recoil needed to drive the slide back on one of John M. Browning's early semi-autos and the Luger also distributed a good deal of energy back into the shooter's hand. Muzzle flip was another minor issue one had to overcome. Lastly, if a cartridge was not of sufficient power, the toggle link could malfunction. None of these problems translates into firing the CO2 model, however, with the Umarex P.08 using the exact same toggle link design (and power being commensurate for a CO2 pistol), the air charge released upon firing must provide sufficient power to operate the blowback action toggle, as well as send the BB downrange. That is why the P.08 has a lower velocity than other blowback action models using more traditional Browning-type designs.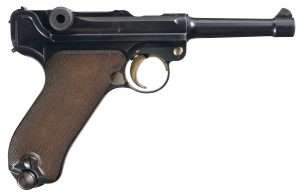 It is also a bit more complicated. There are 14 parts involved in the toggle link action, including the rear toggle link, forward toggle link, coupling link, and the breech block into which the toggle connects, plus various pins, springs and firing pin components, all of which attach to the receiver. What I did not mention is screws, because a Luger does not use them. Everything fits together with pins and grooves. In fact, the only screws are the ones used for the grips.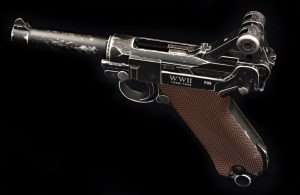 Likewise, the Umarex P.08 has the same conspicuous absence of screws except for one small Phillips head inside the frame, which is not found on the centerfire models. And, of course, there are a few differences inside the frame to accommodate the CO2 firing mechanism, but overall, it is one of the most accurately built CO2 pistols. Just for the record, there are a total of 39 parts in an original Luger P.08 model including the grips and magazine.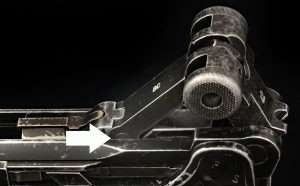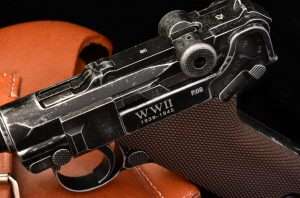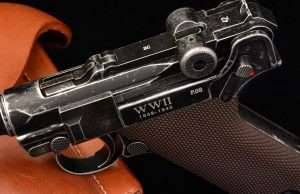 Steel and air downrange
As noted in Part 1, the Legends WWII model being tested has an average trigger pull of 4 pounds, 8.4 ounces. With Umarex .177 caliber steel BBs and a fresh Umarex 12 gr. CO2 cartridge, average velocity for 10 shots was an even 300 fps with a high of 307 fps duplicated three times, followed by 301 fps, 298 fps duplicated twice, and a low of 297 fps four times. Standard deviation was just 4 fps. An impressive result for the P.08 which averaged the factory spec high velocity. My sighting target with roughly aimed shots showed 10 hits within 1.43 inches. Chronograph tests are shot 15 feet from the target. Before moving on to the 21 foot accuracy test I decided to answer the first question that is apt to come up. "Will the P.08 work with Dust Devils?"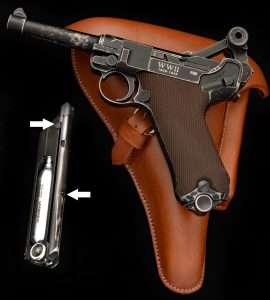 Considering the Luger needs all the velocity it can get and Dust Devils average 4.35 grains, compared to Umarex Precision steel BBs, which average 5.1 grains, how much can 0.75 grains add to velocity? The answer is a lot, with average velocity increased to 315 fps, a high of 322 fps and nothing under 310 fps for 10 consecutive rounds. This gives the blowback action just the added increase in velocity needed to put the P.08 up against the 300 fps average class CO2 pistols. The lighter weight frangible Dust Devils also make the P.08 capable of shooting reactive metal targets, and there is a slight up tick in felt recoil and dB with the composite BBs. There were zero issues with function using the Dust Devils, either with the gun or magazine.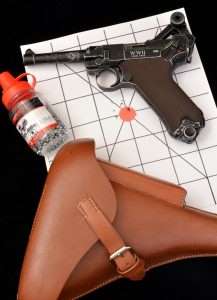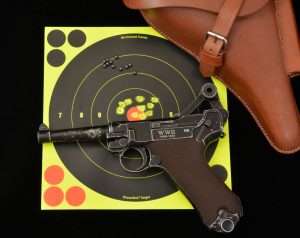 With Dust Devils already loaded I stepped back to the 21 foot mark and fired another 10 rounds at a Shoot-N-C target. Using a two-handed hold and Weaver stance, very un-cinematic for a Luger, I put three rounds in the bullseye, and another seven around it for a 10-shot spread of 1.55 inches with a best 5-rounds at 0.75 inches.  Switching to Umarex Precision steel BBs my best 10 shots landed at 1.25 inches slightly left of center with a best 5-rounds grouped at 0.81 inches. My earlier sighting target with the Umarex Precision steel BBs had 10 shots at 1.52 inches with a best 5-rounds grouped into 0.75 inches. That makes it a split decision between steel BBs and Dust Devils with the P.08, but the frangible rounds certainly have the clear advantage for velocity and the Umarex Legends Luger P.08 Parabellum knows how to use it.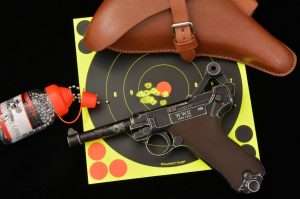 Next Week in the Airgun Experience, the Mosin-Nagant M1944 rifle is back!