"One Gun, One Carry and Master it" Part 1
Lessons from the professionals
By Dennis Adler
"One gun, one carry and master it" is the principle taught by John Bianchi, the master of concealed carry and the world's most famous holster maker. I wrote John's Biography in 2009 (John Bianchi – An American Legend) and he taught me his rules for concealed carry, the first of which was to find one gun and master it from holster, to drawing, aiming, shooting and concealment. If your are in law enforcement, as Bianchi was early in his career when he first began designing and making holsters for fellow police officers, this is easier to achieve. For civilians it is a precept that is easier to embrace than actually accomplish, at least it has been for me, because I have made a profession out of testing guns, and aside from a few favorites, have never had one gun long enough to consider mastering it for CCW use. Over the years I have gone from one to another, from DA/SA revolvers to semi-autos, full-size duty guns to subcompacts, and as for reviewing guns, it is hundreds of guns in and out of my hands for more than 20 years. So for me, mastering one gun is still a personal goal because my carry guns have changed a dozen times over the years (one of the benefits and pitfalls of having so many options from testing new models). There's a handful I am proficient with to the point that I have total confidence in carrying them, but to be totally honest, the older I get the smaller my EDC gun gets. Still, I have never narrowed it down to one gun or even one holster. But I'm getting closer; more about that later.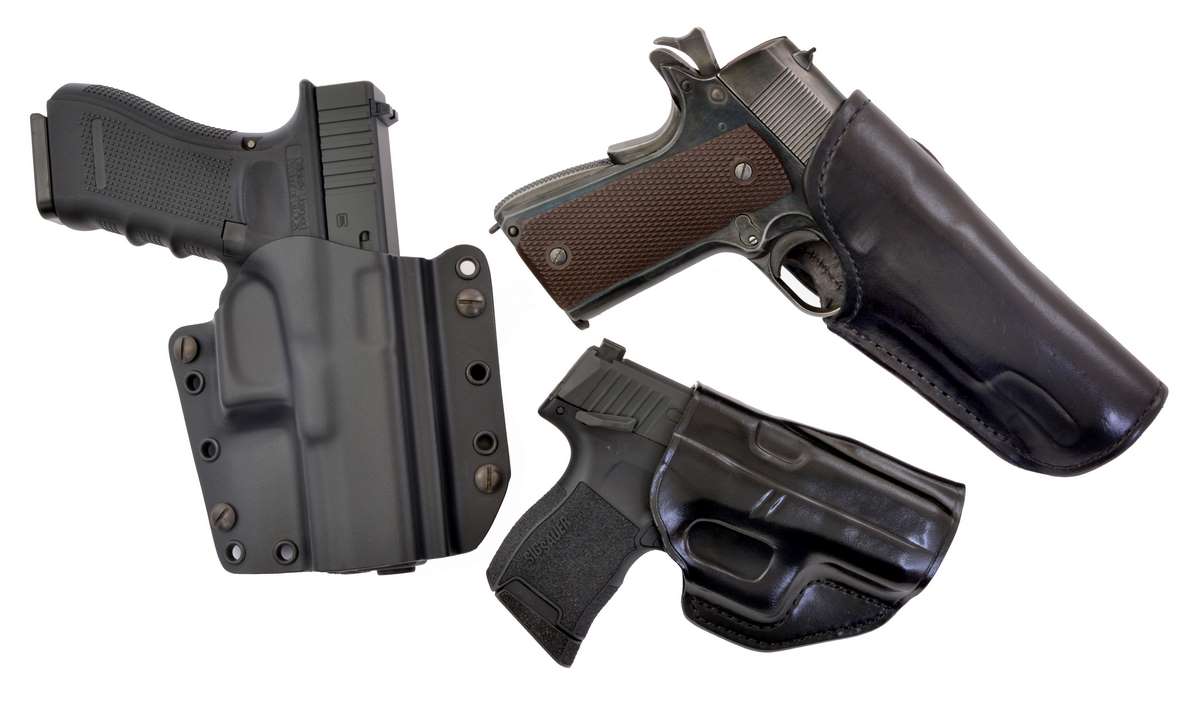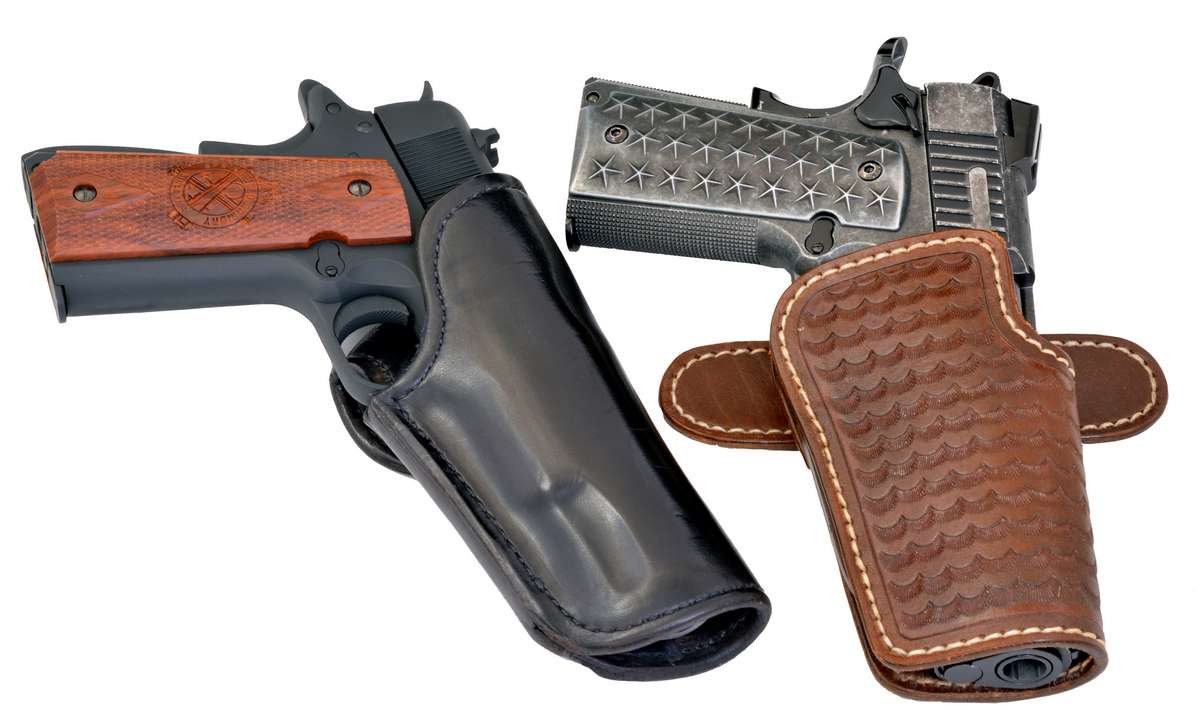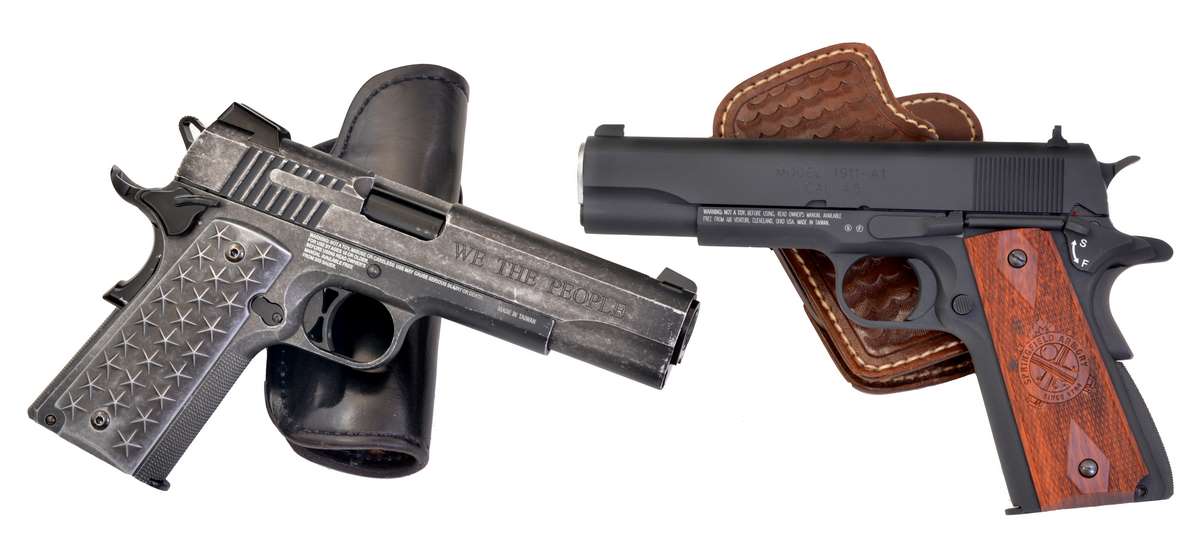 Training for Concealed Carry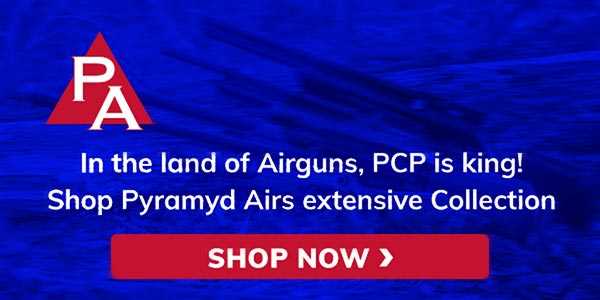 At one point we all feel confident that there is a gun and holster combination that works, but that is most often after a few false starts. This is a situation many gun owners with CCW permits face making the choice for an EDC sidearm. Every Day Carry is something you become accustomed to, to the point where you no longer feel the presence of the sidearm. It becomes as customary as wallet and keys. This too, is part of Bianchi's teachings, or "Bianchi's Law" which again is one that requires dedication to follow. In his book, Blue Steel and Gunleather Bianchi wrote that "Violation of Bianchi's Law leads to misery and/or failure to conceal the sidearm…It has been my observation that the average person needs to try about three different rigs and guns before the right combination is discovered" (unfortunately I have squared that number several times over but arrived at subcompacts and belt rigs as my favorite). This is, of course, based on the premise that an individual is being realistic about their carry gun. "Before attempting to conceal a gun on your person," wrote Bianchi, "make sure the gun you have selected is right for you. Does it fit your hand? Is it too large or too small for your size, height, weight, and build all considered?" Not only in Bianchi's Law but in common sense law, can a square peg fit in a round hole.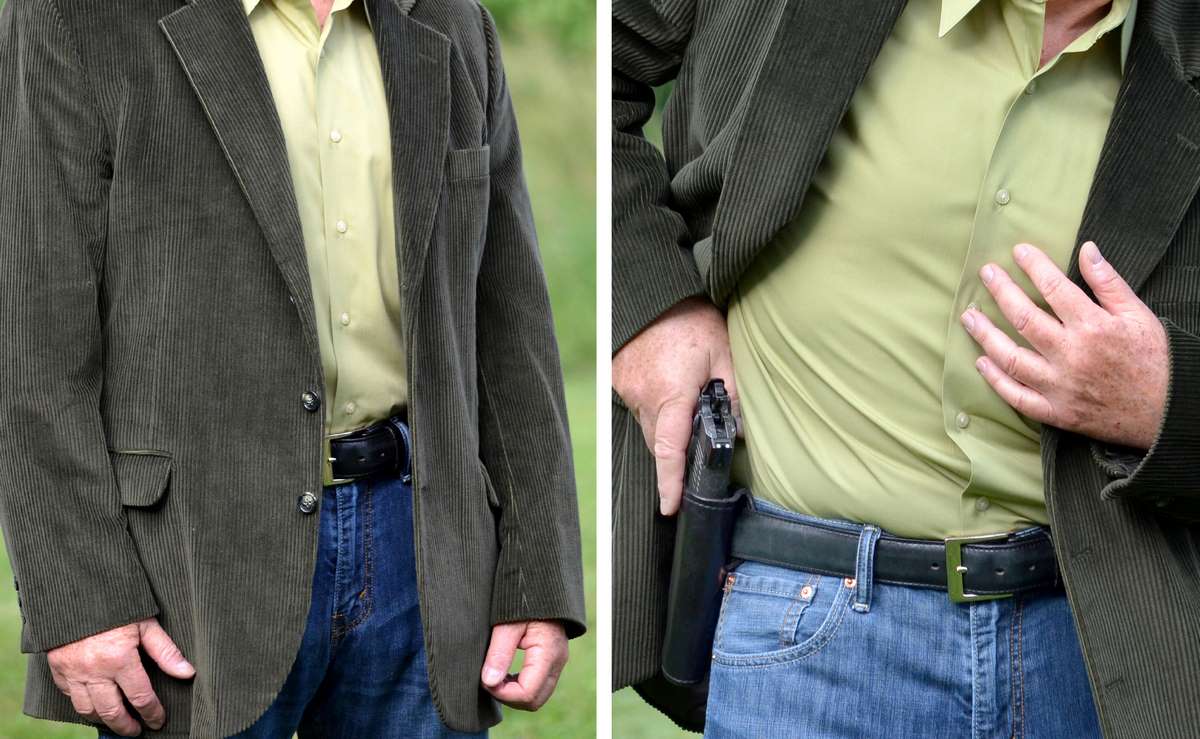 Back in Bianchi's day, in the 1960s and 1970s when he designed many of his groundbreaking CCW holsters for law enforcement and civilians, the choices in handguns were far fewer than today. Most people chose a Colt M1911, a large caliber S&W or Colt revolver, or a smaller .38 S&W Chief's Special or Colt Detective Special. All still viable choices today, either with older guns or more modern versions of their design.
One thing I learned from Bianchi over the years is that sometimes you can't improve on perfection. In the 1960s, John developed the Speed Scabbard for carrying a full-size Model 1911. If you have the build for concealing a 1911, nothing to this day has surpassed the Speed Scabbard for comfort, ease of carry and concealment, either with a jacket or other outer garment for cover. The big emphasis with that holster was and still is "comfort" because there are more effective concealment methods, like inside the waistband holsters for full-size duty guns, but for many they come at the price of comfort. For professionals, that may be acceptable on an as needed basis, but for the rest of us, it's a pain. I'm not a big fan of IWB rigs. Another good friend and holster maker, Jim Lockwood, developed a 1911 holster for lawmen many years ago called the Justice, which has become another classic for full-size and compact 1911 models. Like the Speed Scabbard it is well concealable and very comfortable with a large frame gun. I still wear one from time to time that was made for me to carry the Taurus Judge, and that's another story. (Unfortunately Jim has since retired and you can only find his holsters on the secondary market.)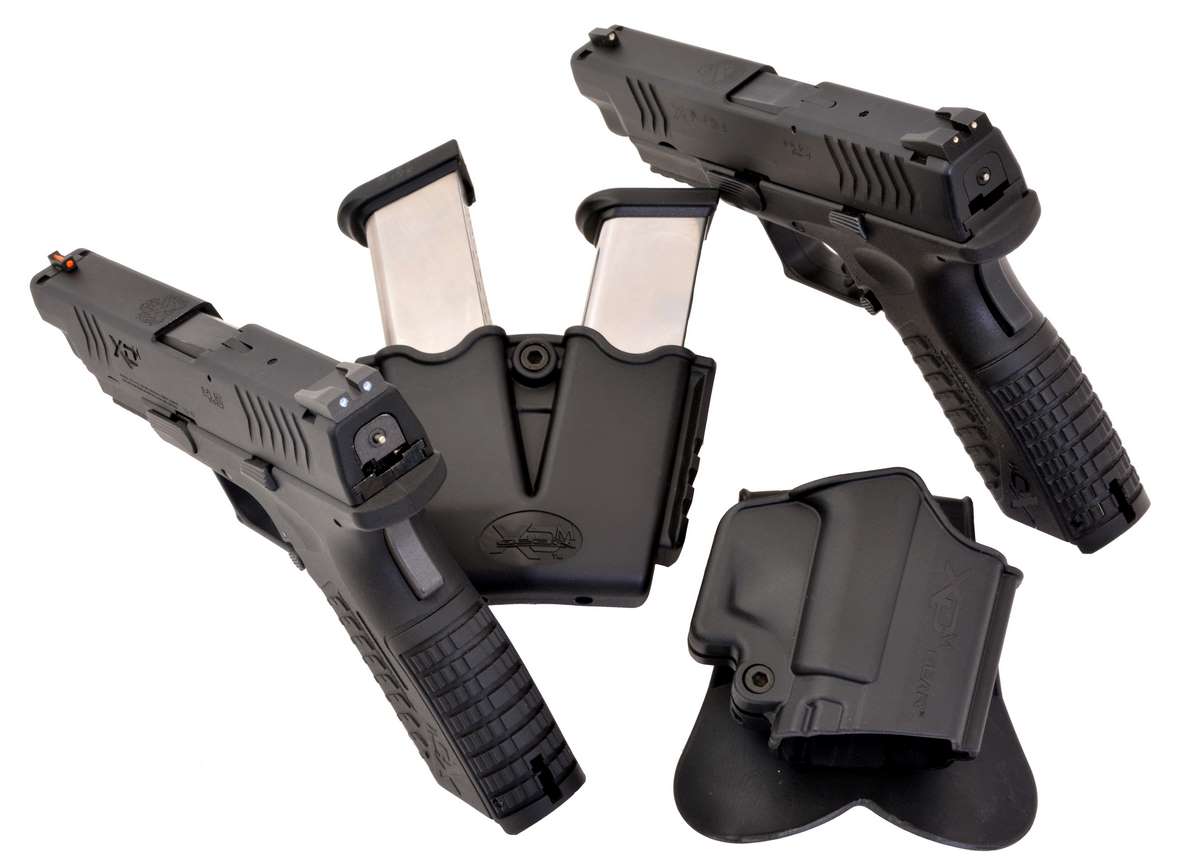 The One Gun theory
There are two forces at work here, practicality and enthusiasm. The first is finding the right gun, the second is finding guns you like, which often leads down the road to collecting (not just guns but holsters). I fell into the latter category long ago but not for practical carry, as my interests lie in the 19th and early 20th century. Contemporary guns have far less appeal (to me) lacking the aesthetics of classic firearms design, so they become more tools of purpose than the gunmaker's craft. The wonderful thing here is that the exact same divergence is taking place with CO2 pistols, and more of us are becoming air pistol collectors, too. And that makes it even harder to use an air pistol to decide on a carry gun, if that's your intension. Since many Airgun Experience readers also own centerfire and rimfire models, it is a supposition that a good number also have CCWs, (in the U.S.), while others may be considering the purchase of a cartridge-firing handgun and obtaining a concealed carry permit. The latest CO2 models are becoming a more relevant stepping stone to that end.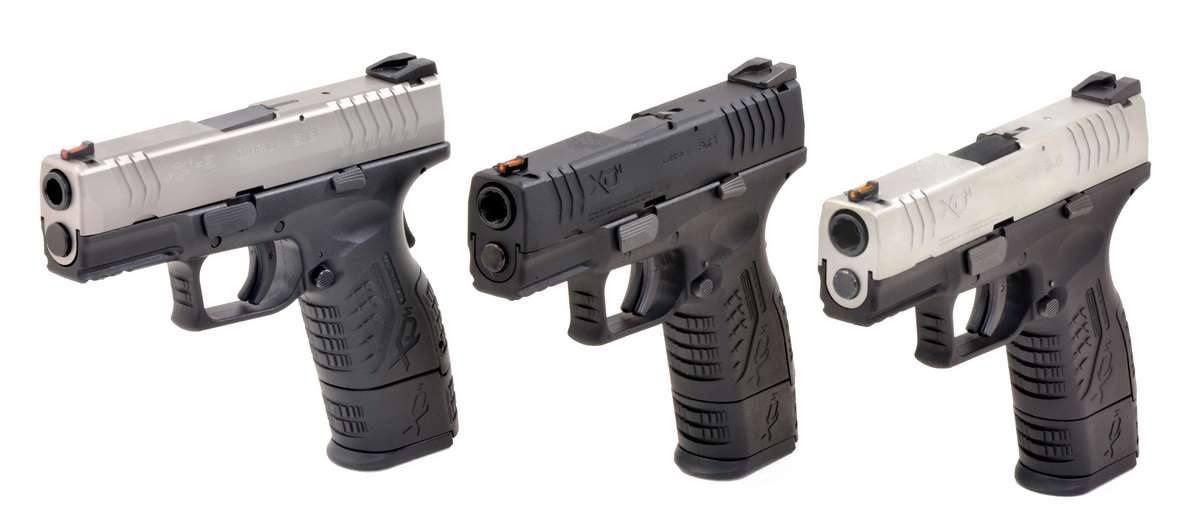 When manufacturers like Sig Sauer and Springfield Armory get into the air pistol market they have two goals, airgun enthusiasts and handgun owners who may be considering a change to one of their centerfire models, or using their CO2 surrogates as more cost-efficient training aids. From that perspective, air pistols are a cheap way to see if the gun fits the person.
As much as I admire Sig Sauer for the 1911 WTP, P320 M17 ASP, and Micro-Compact P365, I am more impressed with the Springfield XDM and Umarex Glock models, because they are exactly what one might look for in a modern centerfire carry gun (the Glock in particular). The P365 falls into that category as well, as its centerfire counterpart is the smallest 9mm on the market, but as a CO2 training gun to a lesser extent compared to the Glocks and XDM 3.8, which have nailed down the training aspects from features to field stripping. Then there are individuals who want even larger caliber sidearms, and the .45 ACP still scores with most, especially modern versions of the Model 1911.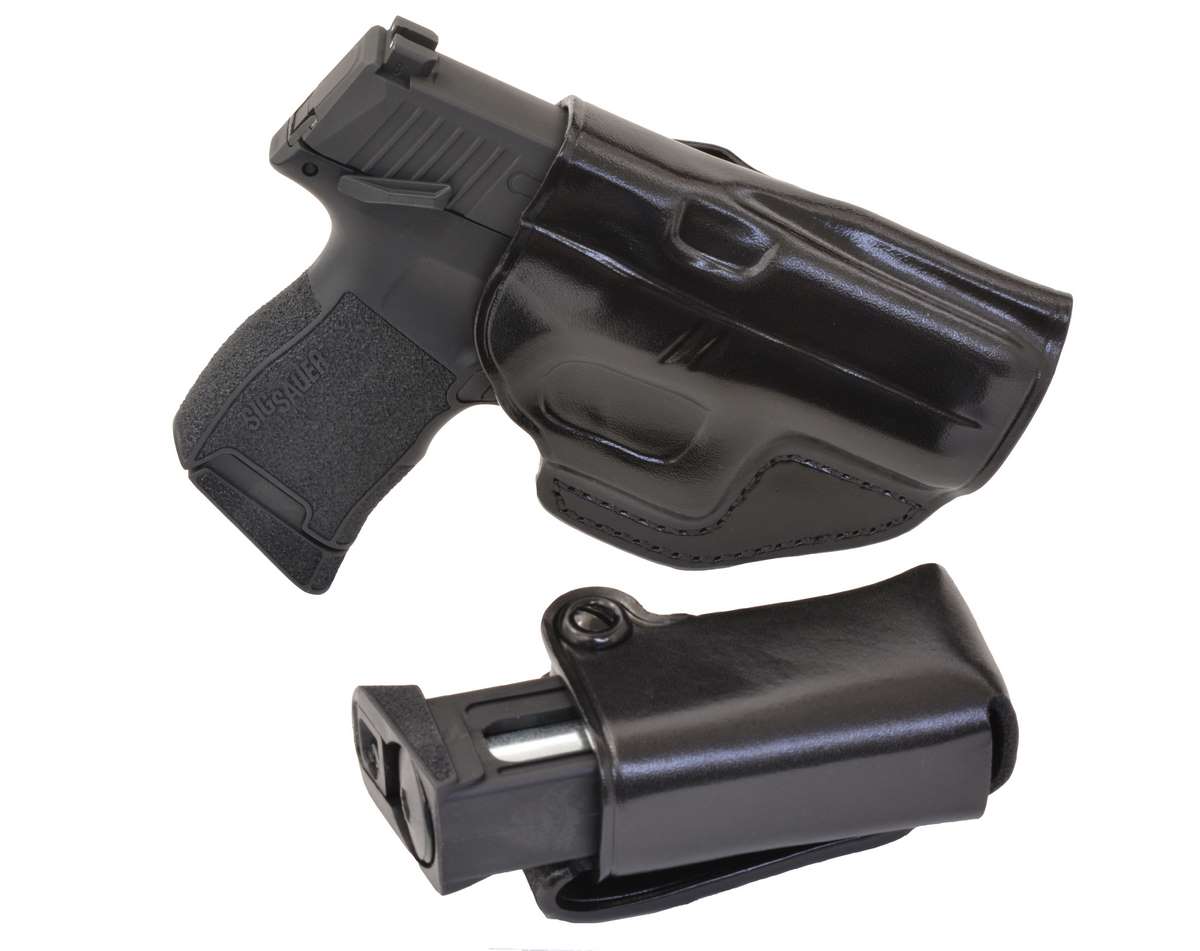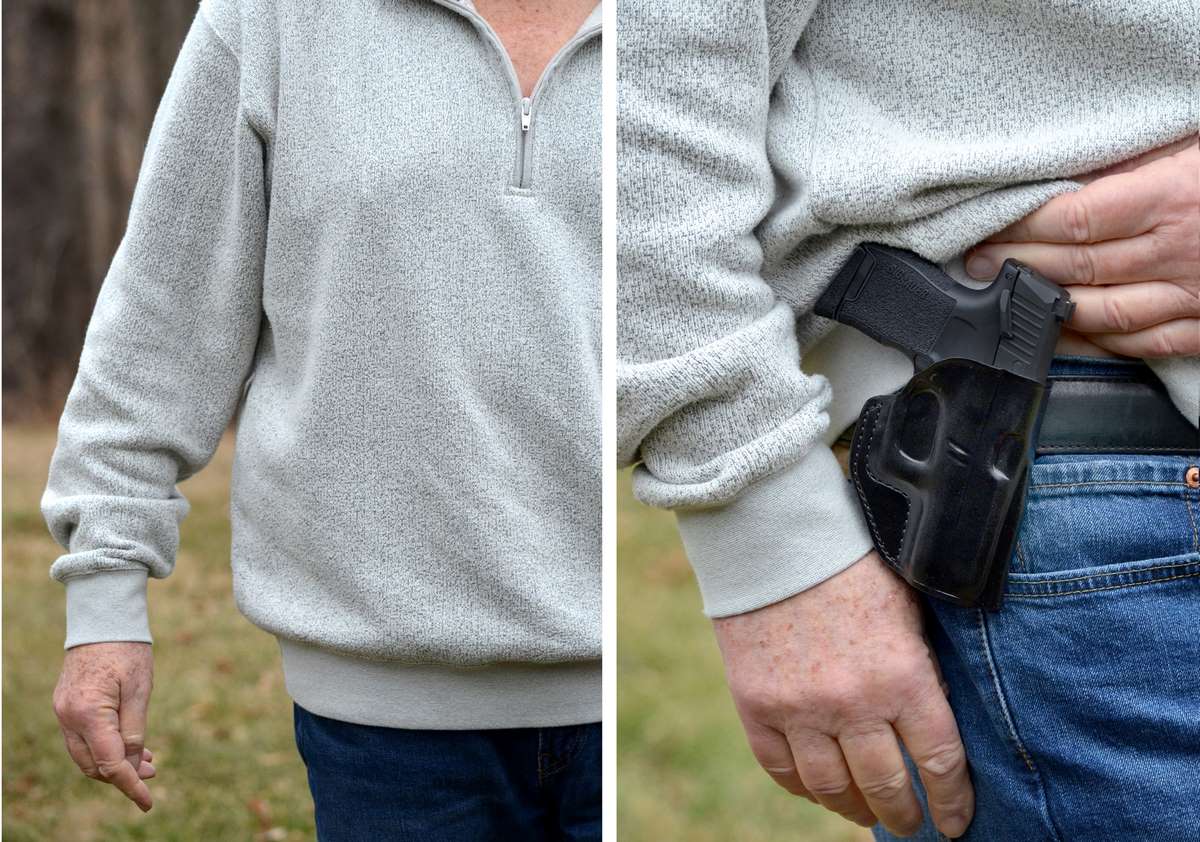 As readers of this column well know, there are CO2 models and holsters that suit exploring almost all the choices in an EDC gun. But there is a caveat covered by Bianchi's Law that also applies to CO2 training gun choices. He was wise to state that what you want and what you can handle are two very different things and it is easy to be misled by a larger caliber design in CO2. "[One must] accept the fact that because people come in an endless range of sizes and shapes, it is not possible to conceal every model of gun/holster combination on a given person. If it doesn't fit, don't force it. Move on to something else."
In Part 2 we will make two choices and work through them. This is the practical side of CO2 models.