One last look at The Shootist
As 2016 comes to an end, we remember the last John Wayne Classic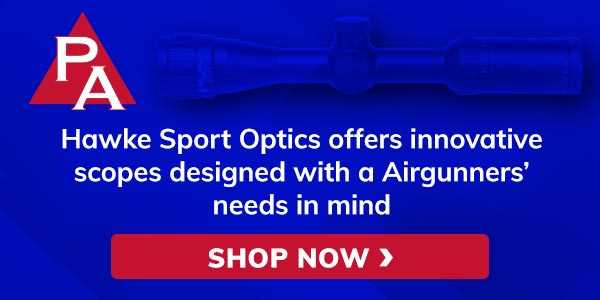 with the finest 4.5mm caliber Colt ever created
By Dennis Adler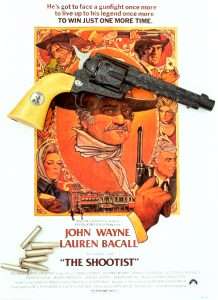 It is hard to believe but four decades have passed since John Wayne appeared in his last film, the 1976 classic The Shootist.  It was a film populated with memorable characters created by novelist Glendon Swarthout and his son Miles, who wrote the screenplay for the film adaptation. To bring life to the Swarthout's characters required actors of unparalleled talent and an acting experience deeply rooted to the American West. No one other than John Wayne could have portrayed John Bernard Books. Wayne was the perfect embodiment of an aging gunfighter, tall, heavy, craggy faced and filled with the sorrow and understanding of a man who had lived on both sides of the law, taken too many lives and lived too little of life without a gun. It was his wisdom that gave him solace to face a fight he could not win. Books was dying of cancer, a diagnosis twice confirmed, the second time by an old friend, Dr. E.W. Hostetler, played by the legendary Jimmy Stewart, also in his last film role. Stewart was remembered for two celebrated westerns of his own, Winchester '73 and The Man Who Shot Liberty Valance (the latter also starring John Wayne). The film's casting also required two equally dynamic villains, roles appropriately filled by another pair of unforgettable western actors, Richard Boone as gunman Mike Sweeney, who is seeking revenge for Books having gunned down his brother, and Hugh O'Brian as gambler and opportunistic gunfighter Jack Pulford. Boone and O' Brian were cast against type having both been TV western heroes, but their roles in The Shootist gave them an opportunity to play off Wayne as few actors had. (Boone had actually done this before opposite Wayne in Big Jake).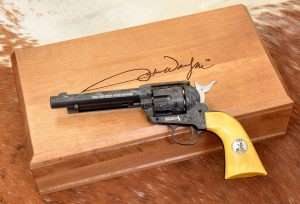 The Shootist unfolds in a very short time span in the town of Carson City, Nevada, in January 1901. Still very much the Wild West, Carson City is a perfect backdrop for this tale of ageing gunmen in search of one last fight. Books wants to die with guns blazing rather than wasting away in a sickbed, Sweeney wants one last attempt to avenge his brother's death, and Pulford, one more notch in his grips for shooting down one of the Old West's most famous lawmen. It is a masterful exploration of men at their best and their worst. It was also a final gathering for four of the most famous western and dramatic actors of the 20th century; Wayne, who passed away in 1979, Jimmy Stewart who died at age 89 in 1997, Boone, who's career continued right up until the time of his death in 1981 at age 63, and O'Brian who lived the fullest life of all four actors, passing away this September at age 91. Ironically, screenwriter Miles Hood Swarthout also died this past March at the age of 69. The Shootist was truly the end of an era for western films.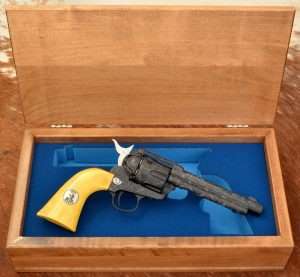 While not touted as being one of John Wayne's best films, The Shootist has become more critically acclaimed over the years, as much for the actors who brought the Swarthout's characters to life, as for the story itself. The one piece of the film that looms large, even to this day, are the two single action revolvers Wayne carried as J. B. Books. They were actually the Duke's personal guns, and they were not Colt Peacemakers, but a rare hand engraved pair of Great Western Single Actions presented to Wayne by the company back in the 1950s. Wayne decided to use them in The Shootist because he felt his character would have carried engraved guns. This was a noteworthy departure for the actor who had always deferred to well worn Colt Peacemakers in his westerns. (The cased pair of Great Westerns can be seen today on display at the National Cowboy & Western Heritage Museum in Oklahoma City).
The Shootist Colt 4.5mm Peacemakers
To commemorate the 40th anniversary of the film Umarex, Colt, and John Wayne Enterprises authorized a limited edition of 100 hand engraved Single Action, pellet cartridge firing air pistols in the exact style of the Great Westerns used by Wayne in the film. The guns also have tea stained white Micarta grips, something that Wayne liked to do to his gun grips to make them look aged. They also have a John Wayne coin medallion on each side. With nearly 100 percent coverage, this is the most handsomely embellished of the current hand engraved Umarex Colt Peacemakers, and it comes in a handmade wooden presentation case with the John Wayne signature on the lid.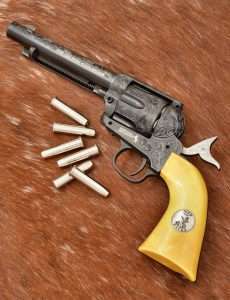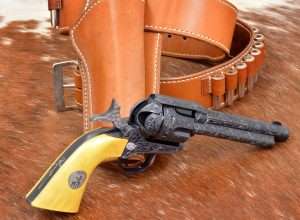 There is only a handful left in the edition of 100 guns, and thus like J.B. Books when he arrived in Carson City, Nevada, this too, is the end of an era. The Shootist Umarex Colt Peacemaker will never be done again, making it a lasting tribute to John Wayne's cinematic legacy, and the 40th anniversary of his final film.