Out of Sight
When black sights won't work and how to fix them
By Dennis Adler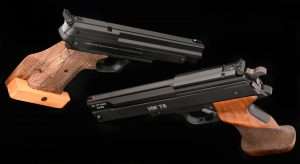 There are all types of sights for handguns, some you can change and some you can't, and sometimes you have to play the hand you're dealt. Or do you? With the series on single shot pneumatics completed, the topic of sights, in particular those on the Air Venturi V10 and Weihrauch HW 75, was brought up, because while fully adjustable, they can be hard for some people to see. I can vouch for that because I'm one of them.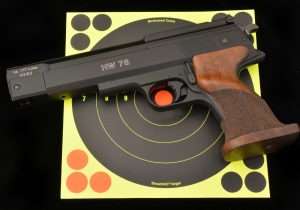 At some point in life most people end up wearing glasses, others have been wearing them since they were kids. I was fortunate for the first 50 years of my life to have had 20/20 vision. That changed in my early fifties to glasses for reading. Add another decade and it was glasses for reading, driving, and yep, shooting. Shooting glasses are a necessity, prescription shooting glass are as well. But even with glasses and adjustable sights, if you are putting back on black sights (rear notch and front blade) on a black target like a simple Birchwood Casey Shoot-N-C it is hard to tell if the sights are perfectly aligned. I do this three times a week and sometime five, so I've learned to compensate; that's a fancy word for putting a piece of masking tape on the front sight to make it easier to see when I have trouble. I've mentioned this a few times with certain airguns in the past. It's a quick fix. Sloppy, and of course, I never photograph the guns with masking tape left on the front sight. Most of the time the guns go right back after the article is done and I don't want to make any changes that would be permanent, like using nail polish or paint. I'm pretty much that way on airguns I own, too. Like them left as they were. However, there are better things to use than masking tape if you want to make a semi-permanent change to the front sight. Here are two of my favorites, and they are easy to do with simple items you might have around the home or office.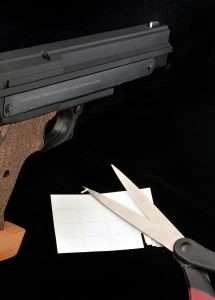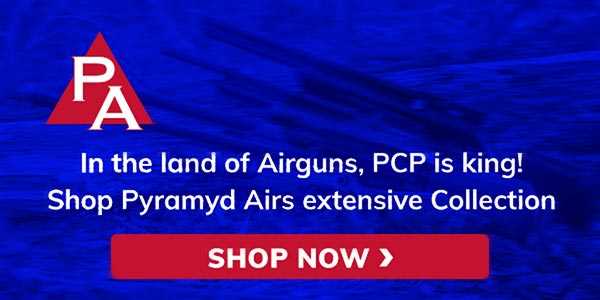 Seeing in black and white
If you live in a world of hard copy (i.e. not digital notes and folders) you probably have Avery Multi-Purpose removable labels. They are 3/8 x 5/8 inches and have very good gum backing so they stick to whatever you put them on. They also make color coding labels in red. I've had a package of each in my desk for, oh 15 years and have yet to use them up. For changing a matte black blade target front sight, which is usually fairly wide, all you need is to cut a strip of correct width from a multi-purpose white label, make sure it the right height, and then carefully (with tweezers) place it against the back of the front sight. I used a thin wooden stick (wooden shish kabob skewers work great) to move it around and then use the side of the stick to put pressure on the label to make certain it is adhering to the sight. I'm making it sound easy because I've done it a number of times but it seriously takes patience to get it just right.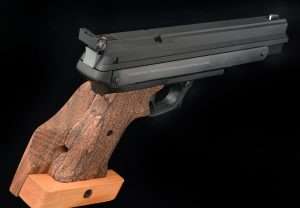 The Air Venturi V10 is exhibit A. I found this thin, vertical white line a perfect fit between the black rear sight notch, and it makes aiming at a black circle on the target a lot easier, even without glasses!
White Dot sights
I took the V10 one step further and removed the vertical white label and replaced it with a perfect white dot. Where do you get a perfectly-sized white dot to stick on the back of the sight? You might have to go shopping for this one unless you do a little leather work and have a leather punch around the house. I just happen to have one. You find the hole that is the right diameter for the front sight and making sure it is cleaned out of any old leather (so you get a clean sharp cutting edge), put the white multi-purpose label, still on its backing, under the punch and press it closed. Not so hard that you punch it out altogether and into the opening of the punch (which is what you are supposed to do when making a hole in leather, it's kind of the donut hole of leatherworking). What you want is to leave it still on the backing (shown in the photo) and then peel it off and carefully put it on the back of the front sight just below the top edge. Again, using the stick to adjust it dead center, and then use the round back end of the stick to push the dot hard against the sight so it stays put. Now you have a white dot front sight on that hard to see black front blade!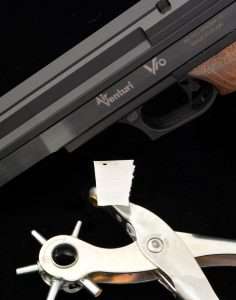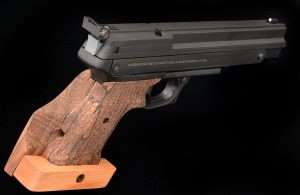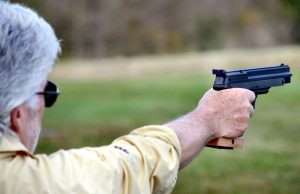 My last alteration was to repeat the same process on the Weihrauch HW 75 by adding a red square on the back of the front sight. It is a little narrower than the V10 pistol's and quite a bit shorter; actually harder to see than the one on the Air Venturi. I used the Avery red labels for this job and with sharp scissors cut a square just the right size, and using the tweezers and then the wood stick, put it right where it needed to be to give me a red front sight dead center between the rear notch.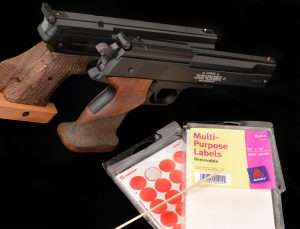 You can probably dial in your windage and elevation a little closer, too, with the easier to see front sight. And that's how you "compensate" when your eyes aren't quite what you need to use a traditional black front and rear sight combination; nothing permanent, just practical, easy to remove, and cheaper than dirt. And if you don't get it right on the first try, stick to it.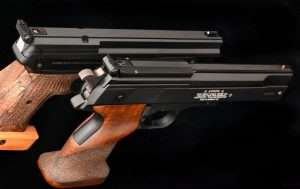 The Airgun Experience will return on Tuesday, October 10th. Until then, keep shooting bullseyes.