Sig Sauer's 4.5mm P320 ASP Part 2 Part 1 Part 3
9mm vs. 4.5mm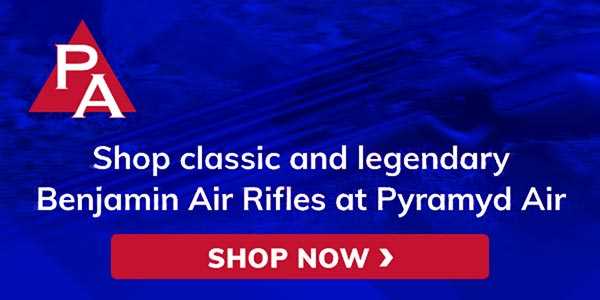 By Dennis Adler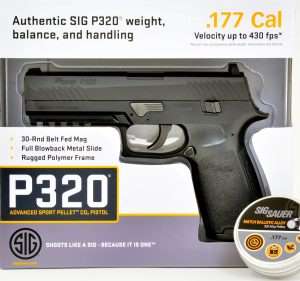 "Authentic Sig P320 weight, balance and handling" are the first words you see on the box for this new pellet-firing, blowback action airgun from Sig Sauer. Following the launch last year of the P226 ASP, Sig set out to build the P320 CO2 model to duplicate their polymer-framed, striker fired semi-auto in weight, balance and trigger pull, so that it too, could be used as a training aid like P226 ASP. Many on the consumer side are not impressed with what becomes a limiting factor in the Sig Sauer ASP designs, i.e., their non-functional components, and use of a traditional separate CO2 chamber and magazine. As a pellet firing pistol this latest model from Sig Sauer still raises the bar on overall design by introducing an innovative 30-round, rotary belt-fed magazine. As a blowback model, this is a benchmark in pellet-firing semi-auto air pistol design, making the small investment in a P320 ASP well worth while on that point alone.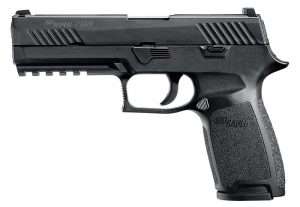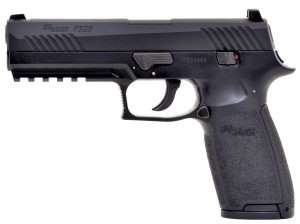 Comparable features that count
The P320 ASP is based on the standard P320 Nitron Full-Size centerfire model. Looking at the P320 ASP solely as a training aid, what is actually required to fulfill that role? The airgun has to duplicate the size, so that it fits the same holsters as the centerfire models; it has to allow for mounting of accessories such as tactical lights and light/laser combinations; it also must simulate the centerfire models carry weight, grip design, sighting system, and DAO trigger. That's a long list of requirements. Add in blowback action, and the Sig Sauer P320 ASP meets every requirement for a training counterpart.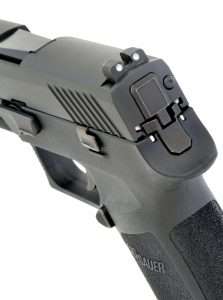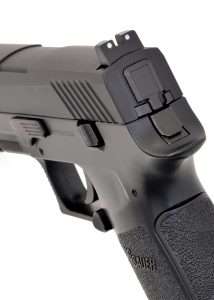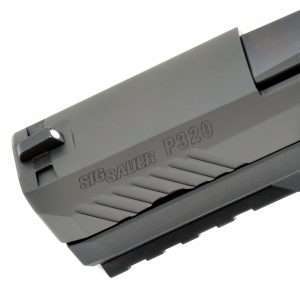 Where the Sig falls below expectations is in not having a slide that locks back on an empty magazine, nor a functioning slide release (ambidextrous or otherwise). There is also the mandatory airgun manual safety that replaces the left slide release, and lastly, the ASP lacks a self-contained CO2 BB magazine, thereby eliminating accurate tactical and empty magazine reloading practice. If, in Sig Sauer's estimation, these missing features are not as important as the primary functions duplicated from the centerfire model, the P320 ASP is better suited as a training gun than an "enthusiasts" air pistol. On the other hand, the ASP air pistol line is dedicated to firing more accurate 4.5mm (.177) lead or alloy pellets from a rifled steel barrel, and Sig did make one intriguing concession with the P320 ASP, designing the 30-round magazine to load either a pellet or a steel BB in each loop of the rotary belt.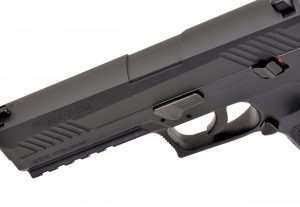 The rifled steel barrels also make the ASP models suitable for shooting at 10 meters, rather than 21 feet, which is the optimum distance for blowback action CO2 BB-model accuracy. The P320 ASP has an internal barrel length of 4.68 inches, and overall length of 8.0 inches, height of 5.5 inches (base of grip to top of magazine and not counting the height of the rear sight), a width of 1.25 inches and carry weight (empty magazine) of 28.5 ounces (1.81 pounds).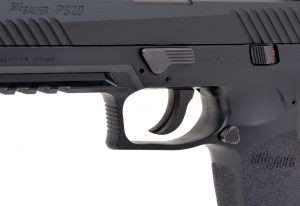 By comparison, the P320 Nitron has an overall length of 8.0 inches, overall width of 1.3 inches, height of 5.5 inches, and carry weight (empty) of 29.5 ounces (1.84 pounds). The ASP is clearly a close enough match to allow it to replace the centerfire model for training exercises.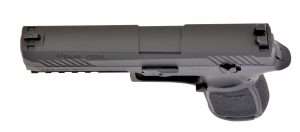 When it comes down to pulling the DAO trigger, standard trigger pull on the centerfire P320 is factory rated at 5.5 pounds (and if required a heavier 7.5 pound trigger is offered). Trigger pull on the 9mm model I tested in 2014, averaged 6 pounds 4 ounces, which with the gun's short trigger pull (0.625 inches), zero over travel and quick reset was a nominal deviation. The P320 ASP has a trigger pull of 6 pounds, 3.5 ounces average, right in the middle between the standard and heavy trigger, with 0.725 inches of take up and moderate stacking. It does require almost a full release to reset. The P320 ASP is nevertheless a very easy gun to handle and shoot just like the cartridge-firing Sig Sauer P320.
In Part 3 the P320 ASP heads downrange for training practice and accuracy testing at 10 meters.
A Word About Safety
Blowback action models like the Sig Sauer P320 provide the look, feel and operation of their cartridge-firing counterparts. All arguns, in general, look like guns, but those based on real cartridge-firing models even more so. It is important to remember that the vast majority of people can't tell an airgun from a cartridge gun. Never brandish an airgun in public. Always, and I can never stress this enough, always treat an airgun as you would a cartridge gun. The same manual of operation and safety should always apply.