Past Perfect
Crosman Model 1377
By Dennis Adler
Somewhere there's an old photo of me with one of my very first air pistols, it was taken in the late 1970s and it was only my second air pistol since I was a kid. Back then I was an automotive journalist and editor of a now long forgotten magazine titled Custom Vans. It was in the days before gasoline soared to almost .50 cents a gallon (and those were the good old days), vans were very popular, not as family vehicles for moms to haul the kids to baseball practice (this is before soccer practice), but rather for single guys to cruise around in. These were not tradesmen's vans with tools and shelves and storage compartments, but customized vans with interiors designed like mobile homes, well not the entire home, just the living room. Others were decked out like lounges, some had rear sunroofs, there was even one I wrote about that had a full bar inside. I'm not sure how that worked with open container laws in California, but I'm digressing. What I want to do is set up a time period in America, a time when service stations still had attendants that pumped your gas, cleaned the windshield and checked under the hood. Imported cars were in the minority and Detroit's Big Three, (actually Big Four because back then there was still AMC/Jeep) all ruled the automotive roost, on road and off.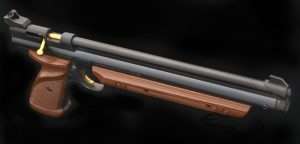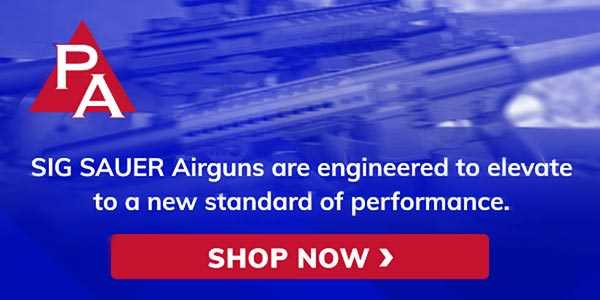 Even though I was more interested in cars than guns back then I still had an affinity for air pistols and a .22 caliber semi-auto I had purchased in the early 1970s; a now rare 12-inch barrel length Erma Navy Luger. To get to the point of this whole trip down memory lane, when I decided to get a new air pistol in 1979, I went with one that also had a long barrel like my Navy Luger, a Crosman Model 1377. There was no such thing as a CO2-powered Luger semi-auto with blowback toggle action back then, and air pistols were almost all single shots, though Crosman was pretty innovative in the 1970s offering a revolver styled after the Colt Peacemaker (Crosman Model 36 Frontier) and an S&W-style double action, single action (Model 38C Combat), but their strong suit with air pistols was the traditional single shot pneumatic pump. The Crosman Model 1377 I bought was also known as the "American Classic" a design that had evolved over time since 1947 with the first Crosman Model 105. The Model 1377 was introduced in 1977.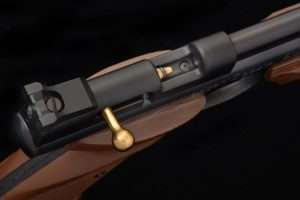 Remarkably, all these years later the Crosman Model 1377 is still manufactured, now as the Model 1377C, which was introduced in 1998. That's the gun you see here. I bought it from Pyramyd Air at a time when I was deeply involved with writing about air pistols and black powder pistols, the topics for two books that came out in 1998 (Colt Blackpowder) and in 2000, the (1st Edition Blue Book of Airguns).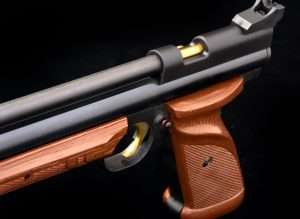 Evolution has many faces
As many of you have no doubt read in some of Tom Gaylord's articles, the evolution from black powder cap-and-ball pistols (which had their beginning in the 1830s) to the very earliest metallic cartridges, including the Smith & Wesson patented .22 caliber rimfire, c.1855-1857, have a very significant overlap with the development of early air rifles and gallery guns (shooting galleries at amusement parks and fairs). Air rifles are actually much older than percussion (cap-and-ball) arms; Lewis & Clark carried a .31 caliber air rifle that resembled a traditional flintlock on their famous 1804-1806 Corps of Discovery Expedition from the Mississippi to the Pacific Northwest.
Airguns have as long and as interesting a history as handguns and rifles, which brings me back to the Crosman Model 1377 which remains one of the most popular air pistols ever made after 41 years. Even to this day it is still listed among the top 10 most popular and best-selling air pistols on the market!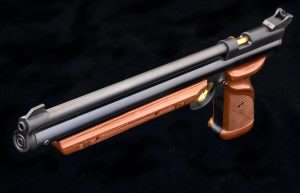 Downrange with an Old Friend
With 20 years on the clock I decided to give my old Crosman Model 1377 a quick cleanup, a touch of Pellgun oil and then run chronograph tests with 7.0 grain Meisterkugeln lead wadcutters and lighter weight Sig Sauer alloy wadcutters, the first time this gun has ever fired an alloy pellet. The first test shots with the 7.0 grain cleared the screens at an average of 454 fps. The alloy pellets raised the average to 501 fps. This was all shot with five pumps per shot. If you want a little more energy, 10 pumps will give you around 550 fps with lead wadcutters and 600 fps with alloy. It will also give your hands a good workout.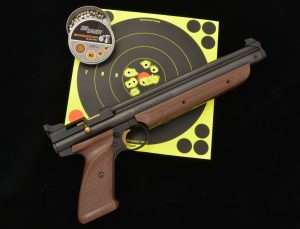 For my accuracy test I stepped back to 10 meters with the 10.25 inch rifled steel barrel shot a best 10-rounds measuring 1.65 inches in the 10 and bullseye, with a best five shots grouped in the center at 1.4 inches, including a trio overlapping through the bullseye at 0.68 inches. The adjustable rear sight was right where I had left it years ago and still holding at 6 o'clock on the target. So, when I go on about airgun technology, blowback action, authenticity to centerfire counterparts and how far we have come with the design and manufacturing of airguns, and as many of you lament, not far enough, or fast enough, let the Crosman Model 1377 remind us (including me) that just because something is old, and appears out-of-date, doesn't mean that it is. Sometimes the past is perfect.  I've certainly changed since 1998, but the Crosman Model 1377 hasn't.