Pellet firing cartridges vs. pellet firing cartridges Part 2 Part 1
The Long Game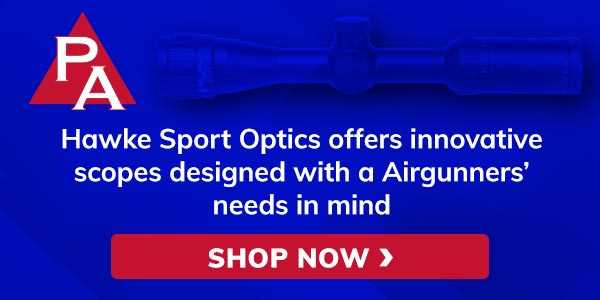 by Dennis Adler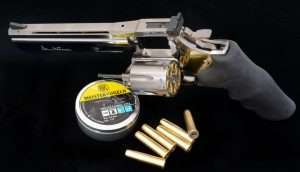 I have to admit to a certain degree of disappointment with Tuesday's test of front and rear loading pellet firing cartridges. The difference in both velocity and accuracy were greater than I expected. Was it the gun, the CO2, or just that there is that great a difference between the two types of pellet loading shells? To get another answer I have changed guns to the ASG Dan Wesson Model 715 with 6-inch barrel and the two types of ASG Dan Wesson pellet loading cartridges. The longer barrel should help bring the pellets up to factory spec which is 410 fps. Today's ambient temperature is 60 degrees, sunny and light wind. The Meisterkugeln 7.0 gr. Professional Line wadcutters will be chronographed the same way with two sets of six rounds for each cartridge type and an overall average velocity. The test will also be shot at 21 feet, which is close for a 6-inch rifled barrel revolver; this is a solid 10 meter gun, but the idea is consistent accuracy. So, one more time down the rabbit hole.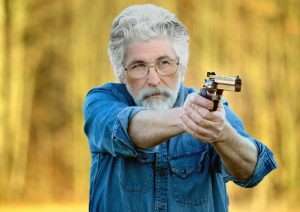 Using the 6-inch Dan Wesson Model 715, the 7.0 gr. wadcutters fired from the ASG front loading pellet cartridges clocked 289 fps, 302 fps, 299 fps, 303 fps, 295 fps, and a high of 314 fps for an average muzzle velocity of 298 fps. This compares with the 4-inch revolver's speeds of 274 fps, 275 fps, 273 fps, 281 fps, 275 fps, and a hig have drh of 284 fps. The 6-inch model is just marginally better with a higher velocity of 314 fps vs. the 4-inch model's 284 fps.
The Meisterkugeln wadcutters fired from the ASG rear loading pellet cartridges cleared the Chronograph's traps at 378 fps, 372 fps, 375 fps, 373 fps, 377 fps and a high of 393 fps. This compares with the 4-inch model's speeds of 375 fps, 368 fps, 375 fps, 365 fps, 368 fps, and a high of 377 fps. The 6-inch model showed higher average muzzle velocities and a high of 393 fps which is the closest to the factory specifications of 410 fps. The tests are now two for two supporting the theory that rear loading pellet cartridges provide superior velocity than front loading shells.
Accuracy at 21 feet
The final evaluation was fired offhand using a Weaver stance and two-handed hold from a distance of 21 feet. The sights on the Dan Wesson had to be adjusted up and right and on this gun the elevation adjustment screw worked perfectly (there had been comments about it not adjusting up high enough on the Model 715 but not so with this test gun). Once dialed in, I was able to shoot decent groups. Some days you just don't have a great run for consistent accuracy, and this was one for me, but the end results once again proved that the edge for velocity goes to the rear mounted pellets, and better accuracy to the front mounted rounds. At 21 feet offhand, I fired two 6-round groups with each type of cartridge. The rear mounted pellet loading cartridges put 12 rounds at 2.5 inches with a best 6 shots covering 1.0 inches across the 9 and 10 rings at 9 o'clock. The front loading rounds, aimed just below the 10 ring, grouped 12 rounds at 2.18 inches with a best 6 shots measuring 0.875 inches clustered in the 9 ring at the 8 o'clock position. I have had better results with the Dan Wesson 6-inch model.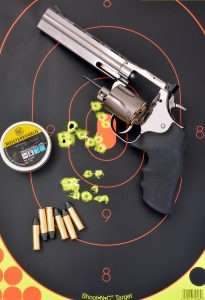 Bottom line here is that the front loading pellet firing cartridges do not increase accuracy in proportion to what they give up in velocity compared to the rear loading shells. Additionally, the rear loading rounds come in a pack of 25 shells, while the more costly front loading cartridges only come in a 12 count pack. After conducting two back-to-back tests with two different revolvers, I would have to go with the easier to handle rear loading ASG pellet shells over the front loading rounds, especially for shooting at 10 meters where the added velocity could really make a difference. 
The Airgun Experience will return on April 4th with a look at the Sig Sauer P226 X-Five Open Competition Version. 
A word about safety
Double Action/ Single Action airguns provide the look, feel and operation of their cartridge-firing counterparts. Most airguns, in general, look like cartrrige guns, this Dan Wesson Model 715 even more so, and it is important to remember that the vast majority of people can't tell an airgun from a cartridge gun. Never brandish an airgun in public. Always, and I can never stress this enough, always treat an airgun as you would a cartridge gun. The same manual of operation and safety should always apply.