Perfecting your Double Action trigger pull Part 2 Part 1
DA/SA and DAO airguns can help improve your shooting technique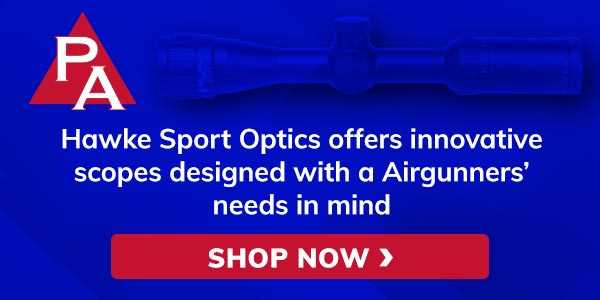 By Dennis Adler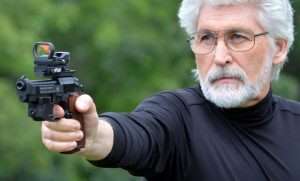 As I noted in Part 1, shooting with double action triggers is more demanding upon the shooter in several ways; length of trigger travel (to rotate the cylinder and cock the hammer on a revolver, or cock the hammer or striker on a semi-auto), the weight of the trigger pull, keeping the pistol on target throughout the long trigger press, and reacquiring the sights. Firing single action is almost always easier and more accurate whether you are shooting a double action revolver or a DA/SA semi-auto. However, firing double action is a skill that can be mastered through the use of CO2 models like the Umarex Beretta 92FS and ASG Dan Wesson Model 715, which has a DA/SA trigger of almost equivalent resistance to the average cartridge firing revolver. To demonstrate double action trigger pull and several training regimens that can improve your trigger control, I am primarily going to use the ASG Dan Wesson.
One method of practice I have seen is a coordination and balance test. I have never done this before but it is equivalent to walking across a room trying to keep a book balanced on your head. After making certain your pistol is unloaded, (and no CO2 is required either), you will need an empty cartridge case (simply use one of the pellet loading shells from the Dan Wesson). Holding the pistol aimed with one hand, balance the cartridge case on the topstrap. You can then go to a two-handed hold if you like. Now slowly pull the double action trigger without knocking the cartridge case off. (This will also help you get some great bending exercises for your back and knees!) When you can consistently pull the trigger and keep the cartridge case in place, you have achieved both a level of balance and trigger control that assures you are not jerking the trigger but pulling it smoothly through the action of rotating the cylinder, cocking the hammer and firing.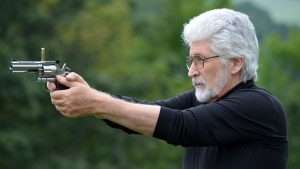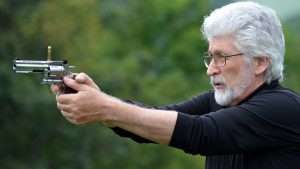 The Traveling Trigger
Trigger travel varies from one make of handgun to another, especially with DA/SA and DAO trigger systems, but most average around 11 pounds with moderate to heavy stacking. For comparison I am showing the Lyman trigger pull gauge results from three different DA/SA cartridge revolvers and then the ASG Dan Wesson. The first comparison is with a classic 1960s Colt Diamondback .38 Special. Trigger travel to rotate the cylinder, cock the hammer and fire was 0.94 inches with an average trigger pull of 11 pounds, 3.5 ounces. An S&W Performance Center Model 627-PC .357 Magnum measured a shorter 0.75 inches of travel with an average trigger press of 11 pounds, 7.0 ounces, and an S&W Model 17-4 .22 LR, again with 0.75 inches of travel, had a trigger pull averaging 11 pounds, 8.0 ounces. In comparison the ASG Dan Wesson trigger has 0.75 inches of travel (equivalent to the S&Ws) and an average trigger pull of 10 pounds, 3.5 ounces. Close enough to be used for training. The Umarex Beretta 92FS pellet firing semi-auto has an average DAO trigger pull of 8 pounds, 15 ounces. Trigger travel measured 0.93 inches. This is a little lighter than the 9mm model, but within the average for a semi-auto DA trigger pull.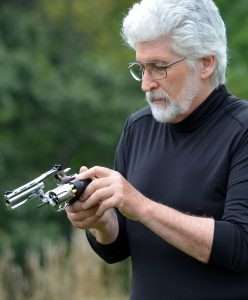 Firing line
With a two-handed hold and using the middle joint of the trigger finger on the trigger, firing the Dan Wesson with Meisterkugeln Professional Line 7.0 gr. lead wadcutters from 10 meters, delivered a best six rounds at 0.68 inches. Switching to a single action trigger finger position, my best six rounds opened slightly to 0.75 inches. While very close the bullseye group shot with the middle joint of the trigger finger had a slightly tighter pattern. Bear in mind I do this three times a week on average but there is still a difference by changing trigger finger position when firing double action.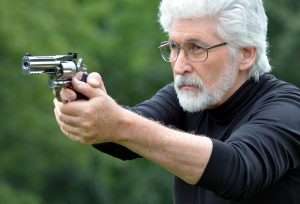 The learning curve here is not very long but practicing is a must to maintain proficiency and with CO2 pistols it is not only affordable to do but has the added benefit of allowing you to actually see your training improve with live fire. To quote Sean Connery in The Untouchables: "Here endeth the lesson."