Photo Finishes
What is it about battlefield weathered guns that is so appealing?
By Dennis Adler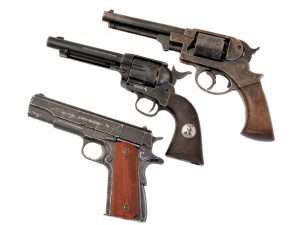 When you look through high end firearms auction catalogs, like the Rock Island Auction Co. Premier Auction catalogs, the first thing you want to see is the photo or photos of the gun for sale, then the item description, and at the very end, what is written after the word Condition:
What you want to see is "Excellent" or "Very Fine" or at the worst "Fine" which usually indicates a worn but attractive patina with 60 percent of the original finish remaining. The rarity of the gun is part of what makes "Fine" actually fine because the gun is either hard to come by in any condition, and this usually applies to guns that are over a century old, or to those used in battle where the finish has been worn or faded over time. When it comes to WWII firearms, gun collectors look to find Very Good and Excellent guns, Fine, once again, is only appealing if the gun is rare or has historical provenance, and that is what makes Battlefield Finish CO2 pistols particularly interesting, they have the look of a gun that has a story to tell!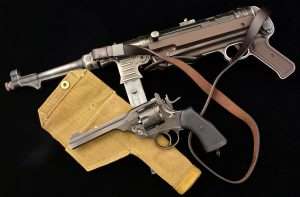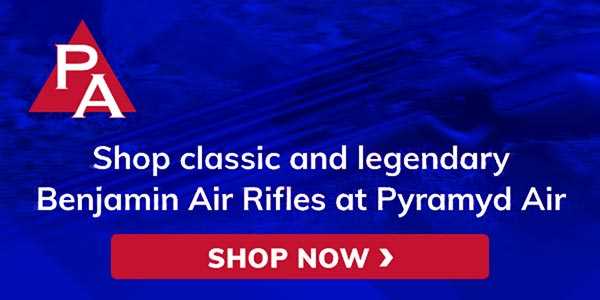 The weathered finished on current CO2 models became popular with the first Colt Peacemaker special editions like the John Wayne 5-1/2 inch and later John Wayne Model 1911. There were also some earlier limited models like the U.S. Marshall Colt Peacemaker. These caught the attention of airgun collectors and eventually led to a number of weathered finish models from Umarex, including current special edition Peacemakers. But when we get to WWI and WWII era guns, the choices are far more varied and once again that "fine" condition rating becomes appropriate for models like the Luger P.08 Parabellum, Mauser Model 712, the MP40 submachine gun, and Webley MKVI revolver, as well as the Model 1911, which all constitute a sub category of CO2 models just for weathered or Battlefield Finish guns.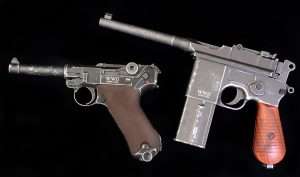 The court of appeal
What really draws us to old guns with worn finishes when they are reproductions and not the originals? Few would pick a 60 percent or less condition gun over an 80 to 95 percent condition gun, and the main reason is that condition is more than finish, it is also mechanical, and that is the appeal for CO2 models, they are perfectly functioning new guns that have the look of battle tested old guns without the mechanical infirmities that lesser condition actual WWI and WWII guns often suffer. Catalogs often state, "Mechanically fine" with comments about issues such as "cylinder doesn't lock" or "trigger needs work" and other mechanical problems that may or not be repairable.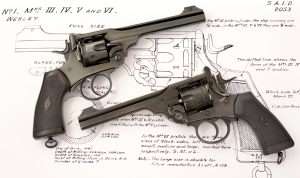 Now here's a little bit of finish trivia. The Civil War era Starr double action revolver pictured in the lead photo is not 158 years old. It is about 10 years old. It was originally a brand new Pietta Starr black powder revolver manufactured in Italy. This 100 percent authentic reproduction chambered in .44 caliber was completely stripped of its blued finish and antiqued to appear as an original Civil War era gun with a well worn and aged patina. The sample for this process was then proofed at an antique arms show, where it was inspected by a number of firearms appraisers and judged to be an actual old Starr revolver from the Civil War era. Of course, everyone was let in on the secret after the fact, but it had passed through the hands of some very credible firearms appraisers unscathed by its true identity. This speaks to the authenticity of the Pietta reproduction and the art of refinishing a new gun to look old and authentic.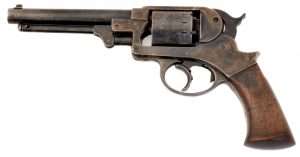 This gun had been antiqued by a professional, which is fine so long as it is never really passed off or sold as an original. It was even used in the Blue Book of Gun Values Photo Percentage Grading Scale as an example of a 60 percent condition Civil War era revolver. What makes these so popular today is that one might be hesitant to load an actual 158 year-old gun and fire it, and that's the beauty of this gun, and many others like it today, they are made of tougher stuff than the originals and they are only old on the outside. These are desirable for movies and television and to collectors who like authentic looking "holster stuffers." The desirability of aged guns, however, has translated remarkably well to the airgun industry giving collectors a choice between a modern airgun finish and one with a worn, blotchy, faded patina.
The best part of that deal is that the price is usually the same or just slightly more for the Battlefield Finish. A professionally antiqued gun costs more to do than the gun is actually worth, so it is strictly for the satisfaction of the owner. Most are done for movies and usually in sets of three identical guns so there are backups if one gets damaged or broken during filming. There are companies that specialize in taking modern reproductions and defarbing them and ageing them to look as authentic as the Starr pistol in this article.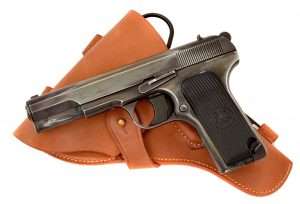 The aged CO2 models shown, are so much more affordable that for the sheer fun of having an authentic looking old pistol you can't beat them for the money or for the looks. With these CO2 models age before beauty is the same thing!