Postscripts Part 1
Updating some of the most interesting airguns of 2018
By Dennis Adler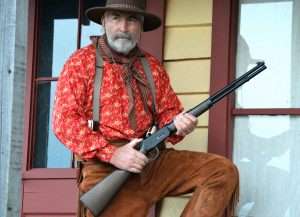 One of the minor disadvantages of doing Airgun Experience is that I occasionally get a test gun that is not from the production line; it's not a prototype, but one of the first of a new model that is reserved for photography and evaluation before the product is actually available. The advantage is that you get to see them first, and read a review before the gun is even on the shelves. This happens quite often with centerfire guns that I review for Guns of the Old West and Combat Handguns, and usually those guns are not for sale until months after the article comes out. Sometimes all the stars align and a magazine hits the newsstands the same month or even week that the new model comes out. Lead time for print publications is measured in weeks and months, for the internet, its days and hours and it is rare that you get to read about something that isn't available. But that happened with my test of the new Umarex Legends Cowboy Lever Action. I had one more than a month before it was to be released and you all had the benefit of that early review to know if you wanted to add one to your collection.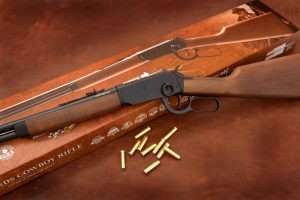 As some of you have noted in your comments, after receiving your brand new, in the box, Cowboy Lever Actions, the gun is performing better than my original test gun! Mine was a very early U.S. model (it had already been on sale in Europe before arriving on our shores), and the word was that velocity was going to be around 410 fps, which was a bit discouraging, as the expectation was for something pushing 500 fps or better. When I first tested the Lever Action last December I noted the following: "According to my ProChrono chronograph, a fresh pair of CO2 cartridges will send an Umarex Precision 5.1 grain steel BB downrange at an average velocity of 452 fps, with a high of 463 fps, and a low of 441 fps for 10 consecutive shots. So, the Umarex actually does better than the factory spec 410 fps average." Still this was far from 500 fps, or, as the box the new Legends Cowboy Lever Action rifle comes in states, "VELOCITY: 600 FPS" which is what everyone had hoped for when the word first came that the lever action would only have an average velocity of 410 fps. Now, before I say mia culpa, bear in mind that my test gun came in a plain cardboard box (no illustrations or a photo of a cowboy up in the right hand corner that looks a lot like me, but isn't), no instruction book, not even the 10 BB shells that the production guns come with, but I had a test gun and an audience eager to read about it.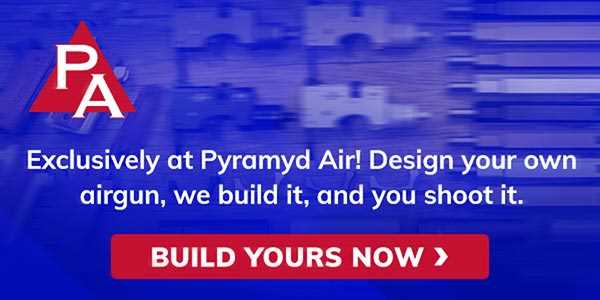 My chronograph showed the best that test gun could do was 452 fps average. Has Umarex made a change in the guns that are being shipped? European readers say their Lever Actions are rated at 180 meters per second; that's 594 fps (multiply by 3.3 to convert meters to feet), so round it up to 600 fps, which is what the freshly released U.S. models state.

Now I have a fresh, off the shelf gun, and that is what I am going to chronograph today with BB shells using Umarex Precision .177 caliber steel BBs, Air Venturi Dust Devils, and then with pellet shells from the rifled barrel pistols loaded with H&N Sport 5.25 gr. alloy wadcutters. When I ran the pellet shells through the early test gun the H&N clocked 445 fps. With 600 fps advertised now for steel BBs, it will actually be more interesting to see what his gun does with alloy wadcutters and pellet shells.
Downrange with a new shooter
Just so we are all on the same page here, this is the same bottle of Umarex steel BBs I used before, the same Umarex brand of 12 gr. CO2 and the same ProChrono chronograph. The only difference is the rifle and the 10 BB shells that came with it. The new Cowboy Lever Action shot an average velocity of 625 fps with a high of 645 fps and a low of 614 fps for 10 consecutive shots fired at 15 second intervals. The ten shots clocked as follows: 645, 632, 620, 623, 624, 616, 619, 614, 630, and 628 fps with a standard deviation of 9 fps. Even the lowest shot was above 600 fps. I dare say I am more impressed with this gun's performance than the first Lever Action tested. Now for something I didn't do with the first gun, a run of 10 shells loaded with Air Venturi Dust Devils, because at this velocity you're talking metal targets at a lot more than 21 feet.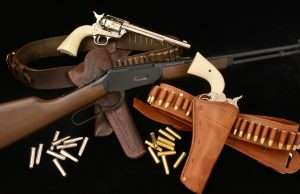 The lightweight, frangible Dust Devils are a little more interesting to shoot. First, they are slightly smaller than a .177 caliber steel BB and do not seat as precisely in the rubber grommet of the BB shells. They do, however, have an uncanny consistency averaging 624 fps, with a high of 630 fps and a low of 619 fps for 10 consecutive shots. No greater velocity than with steel BBs, which is a surprise, but at 620-plus fps they will make a ding on a steel target before disintegrating.
I have now cranked 20 rounds through the Lever Action and it is time for the switch to pellet cartridges and H&N Sport 5.25 gr. alloy wadcutters. I expect the air to be a little down but still capable of keeping the H&N at 600 fps or better. If that is the case, you can shoot steel targets at 10 meters and probably out to 45 feet. But suffice to say for reactive targets with alloy pellets, the pellet-firing Peacemakers and Cowboy Lever Action rifle with the same cartridges and ammo are two legs of a Cowboy Action Shooting match.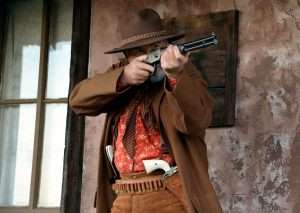 Now for the final rundown on the Lever Action with alloy pellets, the H&N clocked an average velocity of 629 fps with a high of 664 fps and a low of 609 fps. Quite a spread but the air was getting low. Another 10 shots and the air was down to the point where the H&N were cruising downrange at 568 fps before dropping to 536 fps for shot number 10. Even running almost on empty the H&N were still traveling at nearly 100 fps faster than the previous test gun with fresh CO2 cartridges.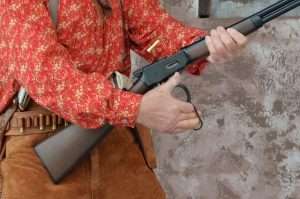 Bottom line, the guns being sold today are vastly superior in performance to the original test gun. This is very good news, because other than velocity the original Lever Action model was already good news! Will significantly increased velocity also increase accuracy at 10 meters and beyond? We'll just have to find out.