PREVIEW: Sig Sauer WE THE PEOPLE Part 2 Part 1 Part 3
Drafting a new framework for blowback action 1911s
By Dennis Adler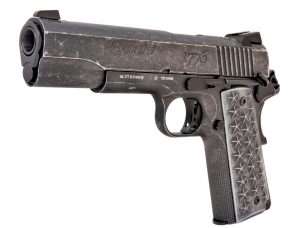 Authenticity has many faces. Building an "authentic" CO2 pistol has just as many interpretations. If you want total authenticity then there is no better example than the Umarex S&W M&P40 blowback action CO2 model. If you want a 1911 that toes the line you won't find it in the Colt-licensed Umarex version (sold in the U.S.) which comes close but gets a fail from purists because it has the S arrow F safety markings and a finish that leaves you wanting for (a) an antique or weathered finish – which they did with a limited edition model some time back, (b) any of countless Cerakote-like finishes, like FDE, or (c) the best possible option, nickel plating. Aside from that the Umarex Colt Commander is an excellent model with white dot sights, skeletonized trigger (and a darn good one, too), skeletonized hammer, 1911A1 raised mainspring housing, full field stripping capability, and a self-contained CO2 BB magazine. In fact, everything you can find desirable about the Colt-licensed model can be found on any number of blowback action 1911 CO2 models. But, what you can't get is the one thing no one, not Umarex, Swiss Arms, Tanfoglio, Remington, or anyone else has done until Sig Sauer, match it feature for feature to an actual .45 ACP production model 1911. Sig's WE THE PEOPLE does it and does it right with everything that made the Umarex Colt Commander a leader in its class, everything that Swiss Arms and Tanfoglio got right except for branding (or over branding if you will), everything that makes the aforementioned 1911 models great CO2 pistols (particularly the Swiss Arms and Tanfoglio 1911s), and then doubled down with an authentic distressed finish and branding that matches the centerfire Sig Sauer WE THE PEOPLE. This is what makes the difference to those of us who want "authenticity" even if it comes packaged as a special edition model. When you look at all the upgrades and options for finish and features that are available today for 1911 models from Kimber, Colt, Sig Sauer, Springfield Armory, Wilson Combat, Ed Brown, Les Baer, Nighthawk Customs, (and that's just U.S. manufacturers), as well as custom finishes, custom grips, hammers, triggers, sights…well you get the point, the WE THE PEOPLE is almost middle of the road and done in a patriotic theme that certainly can't be regarded as flashy.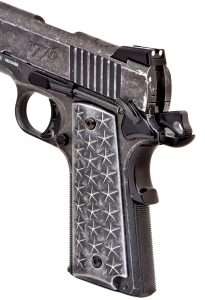 What is it that makes this gun stand out from other nearly identical blowback action CO2 1911 models, guns that share the same internal components and general construction, even the same self-contained CO2 BB magazines? It all comes down to seeing everything through to the end, and building a model that stands apart from the rest, even though the rest are almost "technically" the same gun.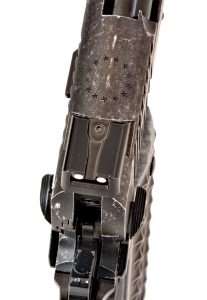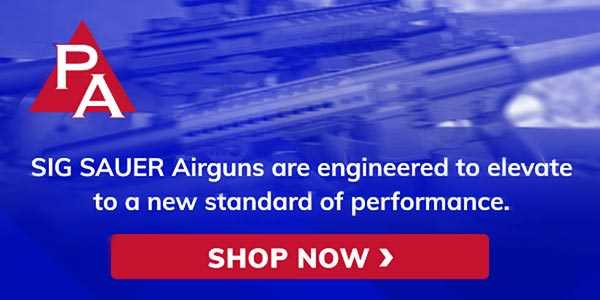 Dialing in the details
Forgive me if I belabor the point, because it is all about the small stuff, and at this juncture, everything is the small stuff from the Sig's safety design to the trigger, hammer, sights, fit and finish and even the disassembly. On the inside, the Sig is no different than the Colt, Swiss Arms or Tanfoglio, just as could be said of many centerfire 1911 models that use the same John M. Browning-designed platform of frame, slide, barrel, and recoil system. What separates many of the centerfire guns from one another and what separates the Sig Sauer WE THE PEOPLE from the rest of the 1911 blowback action CO2 models, is the attention to details.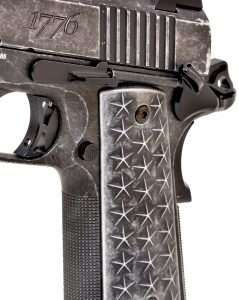 Let's begin with the grips. The Model 1911 began with wood grips, used bakelite (plastic) grips, checkered wood grips, deluxe checkered wood grips, ivory grips and all before WWII. In the last 20 or so years you can add various injection molded grips and G10 grips in a wide variety of finishes, colors and patterns. But 1911s have also been fitted with cast metal grips, and in recent years cast alloy grips, which we will discuss in greater detail in coming weeks. Bottom line, alloy grips with patterns, various finishes and colors are not uncommon for a 1911, unless it is a blowback action CO2 model. The Sig Sauer breaks the mold with its duplicates of the centerfire model's alloy 50 star grips. There are 25 deeply relieved stars on each grip panel affixed to the grip frame with the same style hex-head screws as the .45 ACP versions. They not only add style but a unique gripping surface.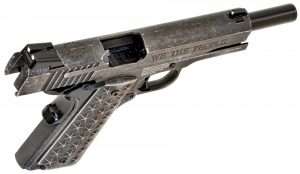 While the Sig Sauer CO2 model has no spent shell case to eject when the slide comes back, it still has an authentic-looking external extractor (rare on 1911s except custom models) and a lowered, flared ejection port; again perfectly duplicating the features of its centerfire counterpart. You will not find this on other blowback action 1911 CO2 models, mainly because most centerfire 1911s do not have external extractors.
Checkering is another "option" that is offered on 1911 models. Flat mainspring housings are almost always checkered. The Sig Sauer has a finely checkered flat mainspring housing; a design that dates back to the pre-1911A1 era. Now frontstrap checkering, that's a different story. This has always been an upgrade. And take note that the Umarex Colt Commander has a smooth frontstrap. The Swiss Arms has a smooth frontstrap. The Sig, however, has fine checkering to match the flat mainspring housing. This provides a better gripping surface.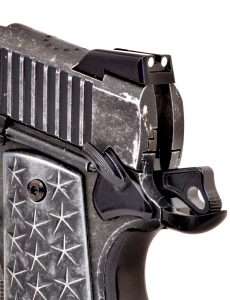 Ambidextrous thumb safeties can be found on several CO2 1911 models, but the ambidextrous safeties on the Sig are a unique shape that falls between the original 1911 left-hand small safety and the 1911A1 safety. The pieces are also finished in gloss black to match the slide release, raised palmswell grip safety with extended beavertail, and skeletonized hammer (these pieces are flat black on the centerfire model). The ambidextrous safety on the CO2 model operates exactly like 1911 centerfire thumb safeties. What do I mean by that? A 1911 thumb safety (single or ambidextrous) should only work when the hammer is cocked. Those of you with an Umarex Colt Commander may now set your thumb safety with the hammer down. Thank you for making my point. This is not to degrade the Umarex but to again illustrate "authenticity." There are other blowback action 1911 CO2 models with correctly operating thumb safeties, including the Swiss Arms models. The safeties on the Sig Sauer click on and off with authority and feel like the safety on a centerfire model. This is a training must. The same for the slide release, it can't drop the slide too easily; it must be solid and take a modest effort to operate. The Sig feels like the release on a centerfire model.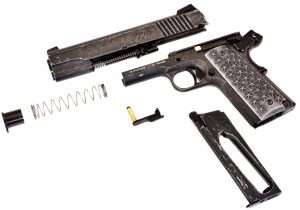 Triggers, hammers and sights
These three can become a little enigmatic, triggers can be adjusted to either a standard (like a military or law enforcement standard) or for competition and they can also be adjusted by the shooter to their specific skill level. Trigger shape is also variable, skeletonized triggers, alloy triggers, and custom competition triggers are all available. The Sig Sauer has a best combination by Sig's standards for the centerfire WE THE PEOPLE model and the air pistol copies those features. The finely checkered magazine release is a standard 1911 design but offers low resistance for a quick drop of the empty on the reload. Are all blowback action CO2 1911 magazine releases the same? Pretty much (with self-contained CO2 BB magazines), but the Sig has a really nice feel to it.
The skeletonized hammer is a typical design for modern 1911s and there are quite a few variations. The Sig's is identical to the design used on the centerfire model which provides minimal weight and reduced lock time. While this really means more in a centerfire pistol, it is also part of Sig's commitment to make this 1911 CO2 model as accurate as possible.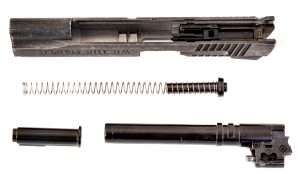 Sights can drive you crazy. The older you get, (or if you have vision problems at any age), the crazier it can get. There are more personal preferences than you can imagine but just about everyone who has handled a 1911 agrees that the old-style military sights are the worst. The Sig WE THE PEOPLE uses a non-tritium version of the low profile sights on the centerfire model. Those of you who have other blowback action CO2 1911 models will recognize these as similar to the Swiss Arms TRS, Umarex Colt Commander and a few others, but I said "similar" not the same. Sig uses a larger sight that has the same low profile but is wider and has larger white dots. This is a real dovetailed sight that is locked down by a small hex-head screw. Everything about the Sig Sauer model is just a little different and a little better if you are serious about 1911 CO2 models.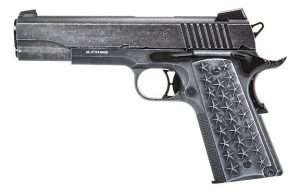 In Saturday's Part 3 conclusion, we put all of this to the test.
Be sure to check our Pyramyd Air's new .22 Caliber Club. Just follow this link for great deals: /22-caliber-club