Proofing a theory
Shooting .177 (4.5mm) Round Pellets through a rifled barrel pistol
By Dennis Adler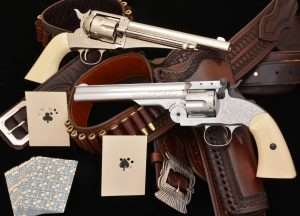 As we have proven in earlier articles, cartridge-loading smoothbore CO2 BB revolvers that have pellet cartridge-firing counterparts (or pellet-loading cartridges available), can also shoot 4.5mm lead or alloy pellets quite well; not as accurately as a rifled barrel model, but well enough to make it worthwhile with models like the Schofield and Remington. The cartridges are interchangeable, but you would not want to shoot a steel BB in a rifled barrel Colt Peacemaker; it's a one-way street, unless you want to risk damaging the rifling with a steel BB.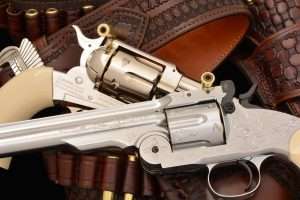 On the other hand, some semi-auto style pellet-firing pistols with rotary magazines can shoot pellets or BBs. This started back in 2007 with the Umarex Beretta PX4 Storm, which uses a reversible 8-shot rotary magazine that will hold pellets or BBs. The downside to this, as has been pointed out numerous times, is that if you shoot steel BBs through the PX4 Storm, over time you will erode the surface of the barrel rifling and accuracy with pellets will begin to decline.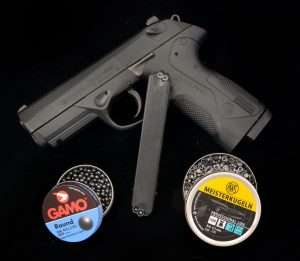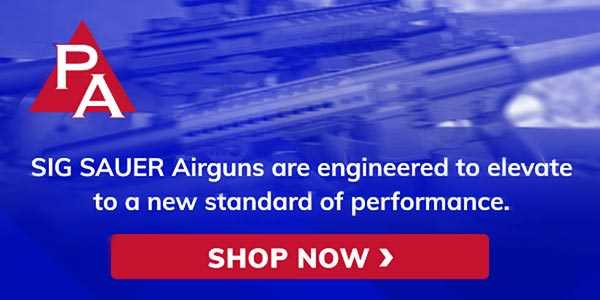 The idea behind the PX4 Storm and other similar designs that have followed, (like the Gamo PT-85 and new Umarex Walther PPQ among others), is allowing shooters to practice with lower cost BBs and use more expensive pellets for serious target shooting. In comparison a 500 count tin of Meisterkugeln Professional Line 7.0 grain lead wadcutters (my personal choice) retails for $15 while a 250 count tin of Gamo 4.5mm lead round balls sells for $5.95. Double that and 500 round balls retail for $11.90. Discounted price for Gamo round balls on Pyramyd Air is actually $3.95 and Meisterkugeln wadcutters $12.55. Either way, 500 rounds are not prohibitively expensive for target shooting or plinking with any pellet pistol that can also shoot BBs (or 4.5mm round lead balls).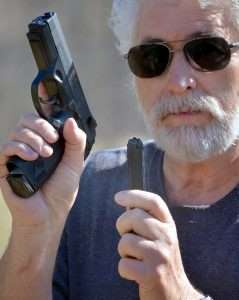 To evaluate the PX4 Storm with pellets, BBs and 4.5mm round balls I am doing back-to-back tests for velocity and accuracy at 21 feet, which is the best distance with BBs. Pellets should be accurate to 10 meters or a little beyond, but to keep things even all tests will be at 21 feet.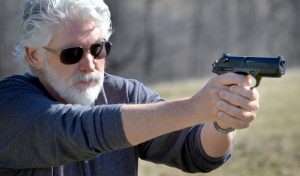 Using Meisterkugeln 7.0 grain lead wadcutters the PX4 Storm clocked a high velocity of 360 fps, a low of 340 fps, and an average velocity of 350 fps with a standard deviation of 12 fps.  Switching the magazine over to the 8.2 grain Gamo 4.5mm lead rounds, the PX4 Storm's velocity dropped to a high of 304 fps, a low of 281 fps, and an average velocity of 287 fps with a standard deviation of 12 fps. While using the lead round ball ammo may save the rifling, it certainly cuts into the gun's velocity. How much? With .177 steel BBs (the magazine uses magnets to hold the steel BBs in place); the gun clocked a high of 339 fps, a low of 316 fps, and an average of 330 fps with a standard deviation of 12 fps. Velocity with steel BBs falls in the middle between average velocities for pellets of 350 fps and lead round ball of 287 fps. The big difference is going to come from accuracy.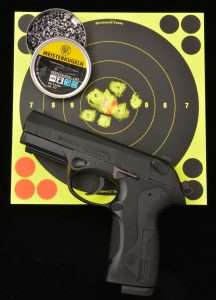 At 21 feet the PX4 Storm punched eight lead wadcutters into 2.125 inches (all in the X ring of the Shoot-N-C target) with a best five measuring 1.50 inches. Not exactly a target pistol. The 4.5mm lead round balls offered a small advantage at the same distance giving me a best eight shots at 1.75 inches but below POA gathering seven of the eight in the 9 and 10 rings from 7 to 8 o'clock, with a measurement of 1.43 inches. The group opened up to 1.75 inches with a flyer in the bullseye! Switching to Umarex .177 caliber steel BBs for the final test, I ended up with eight shots at an uninspiring 2.75 inches but as I shot and corrected I managed to plant five of the eight inside 1.25 inches and my first three, all low, strung together at 0.687 inches.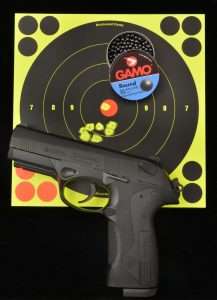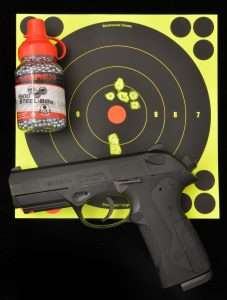 Cast alloy rotary magazines
Stepping this back to earlier rotary magazine pellet-firing models, like the highly regarded Umarex Walther CP88, raises an interesting question. This is the original rotary pellet semi-auto model introduced in 1996, and it is still manufactured today. I am loading the magazine with eight Gamo 4.5mm lead round balls instead of wadcutter pellets. You have to be sure the balls are well seated in the magazine but the round pellets deliver an average velocity of 359 fps. The high was 379 fps, the low 345 fps with a standard deviation of 11 fps. This compares with Meisterkugeln lead wadcutters which delivered an average velocity of 417 fps with a high of 439 fps, a low of 406 fps and a standard deviation of 11 fps. The Meisterkugeln Profession Line wadcutter pellets have a grain weight of 7.0; the heavier Gamo 4.5mm round lead pellets weigh 8.2 grains, which explains the lower velocity.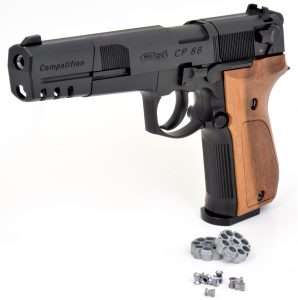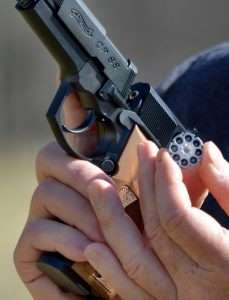 While you can do this, I am not sure why you want to with a fine target pistol like the CP88. But you could also shoot the 4.5mm lead round balls from a CP99, the PX4 Storm, or other multi-load rotary magazine air pistol, but let's look at the accuracy differential between round ball and pellets; the latter designed for target shooting.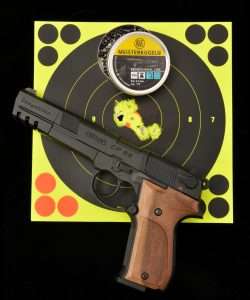 At 21 feet with the CP88 my best group measured 1.75 inches in the 10 and X rings with five of eight shots just under 0.74 inches blowing out the red dot X. From the same distance using Gamo round balls I actually did better placing eight shots at 1.25 inches with three in the X. (In case you're wondering, you cannot load steel BBs into the cast alloy rotary pellet magazines, they will fall out). At 10 meters I doubt the lead round balls could match the accuracy of the wadcutters, but at 21 feet they aren't bad!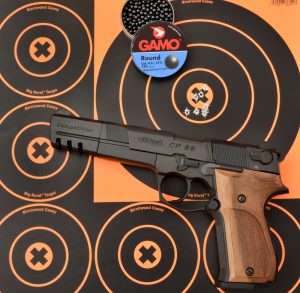 Conclusions
Whether or not you decide to shoot 4.5mm round pellets in a rotary magazine fed pellet pistol is strictly a matter of choice. You can't hurt the gun because the 4.5mm round lead balls run down the barrel rifling the same as a 4.5mm wadcutter pellet, and pistols that can alternately shoot steel BBs are better off with the lead balls in my opinion.
While I can't see the logic of shooting BBs in a pellet pistol, unless it is just to shoot less expensive ammo for practice, the rotary stick magazine fed models like the PX4 Storm and Walther PPQ are built to do it. But any rifled barrel 4.5mm pellet firing pistol will aslo handle the 4.5mm round lead ball, even though it is primarily for single shot pellet rifles and pistols; what's good for one, is good for eight.